Cold calling and cold email are powerful channels to start genuine conversations with your target customers. If you can master them, you'll be able to book more meetings and grow your sales pipeline. In this article, I'm going to show you what each one is, the benefits of each, and explain how you can combine both channels into a multichannel approach to get the best results. Let's jump in.
What is Cold Calling?
Cold calling is the process of reaching out to your target prospects over the phone to start a conversation.
The people you call won't have heard from you before, so it's a cold introduction. This is part of what makes cold calling so challenging – in just a few seconds, you have to show your prospect why you're calling and why it's worth them staying on the phone with you.
What are the Benefits of Cold Calling?
1. More Personal Than Any Other Sales Channel
Cold calling allows you to have a one-to-one conversation with a key decision-maker.
They'll hear your voice and know that you're a real person on the other side.
Compared to ads, email, or LinkedIn outreach, it's going to boost the trust your prospect has in you and ensure you start the interaction on a positive note.
2. Easily Handle Key Sales Objections
A cold call is interactive. Your prospect isn't just going to stand and listen to you – they're going to interrupt you to ask you questions they have to help them verify if it's worth continuing the conversation.
To an experienced sales rep, this is good news.
It means you can start learning your prospect's sales objections from the first conversation and show them why the protests aren't going to be a problem.
Even after a short conversation, your prospect will feel like they're familiar with what you can help them with, and they will have already gotten their main objections out of the way. When you send a follow-up email, they'll be happy to continue the conversation or schedule another meeting with you.
3. Tools Help You Eliminate Manual Processes
In the past, cold calling was arguably the most time-consuming sales channel of all.
You had to dial every number by hand, and if someone didn't pick up, you'd have to repeat your voicemail script in its entirety.
Today, there are cold calling tools that can help you automate this process.
Power dialers mean you can upload a list of phone numbers and automatically call each one.
Extensions like Ringostat Smart Phone mean you can make calls directly from your browser.
Voicemail drop enables you to automatically leave voicemails if someone doesn't pick up.
Tools like sales CRMs, which integrate with Ringostat, mean you can automatically log your interactions to stay organized.
With a relatively simple software stack, you can make hundreds of cold calls per day and connect with qualified prospects with ease.
What is Cold Email?
Cold email is the process of reaching out to your target prospects using a personalized email. If your email makes it clear that you have something of value for the recipient, there's a strong chance they'll reply. If they don't reply, you can automatically follow up using a cold email tool to increase your chances of a reply.
What are the Benefits of Cold Email?
1. Easier to Automate than Cold Calls
Compared to cold calling, cold email is an easy channel to automate. Once your campaign starts, you'll be sending emails to your prospects on autopilot, and all you need to do is to monitor for replies.
To automate the process, you'll need to use a cold email outreach tool.
With a cold email tool like QuickMail, you can send personalized emails to everyone on your email list.
When you're writing your templates, you can include attributes. These will automatically populate with data from your prospect list when you send your emails. They'll look like this:
When your email is sent, your template will be fully unique to each recipient.
You can also add as many emails to a sequence as you need to get a reply, with automated delays between emails.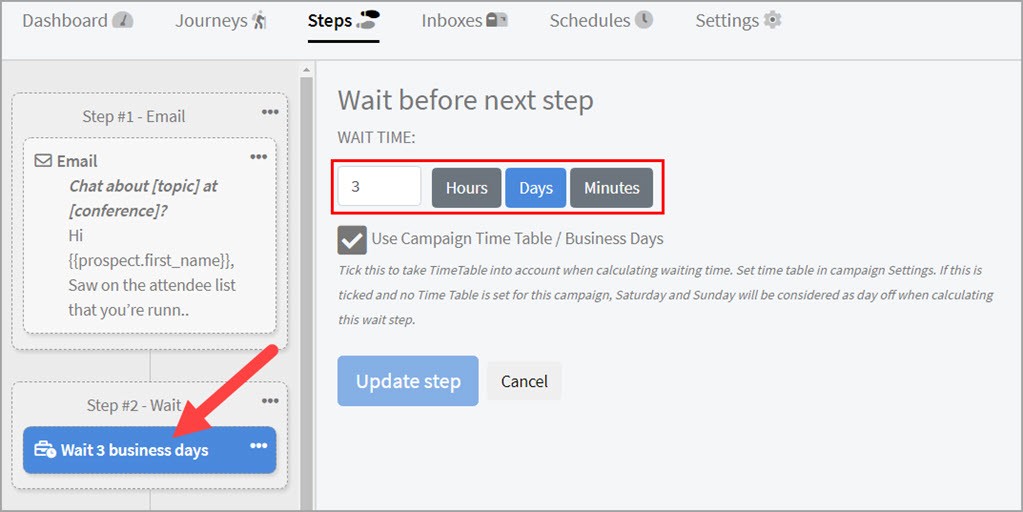 In your follow-ups you can test the following:
new subject lines;
different value propositions;
new call-to-actions.
If your recipient sees your follow-up email and they see you've mentioned a key pain point for them, they'll be happy to reply. It's an automated and powerful way to reply.
2. Business Emails Are Easy to Find
Whether someone works in an office or remotely, they'll have an email address you can contact them on.
You can use email finding methods like:
Tapping into a B2B database like ZoomInfo or UpLead;
Using your local chamber of commerce;
Using Sales Navigator to identify email addresses.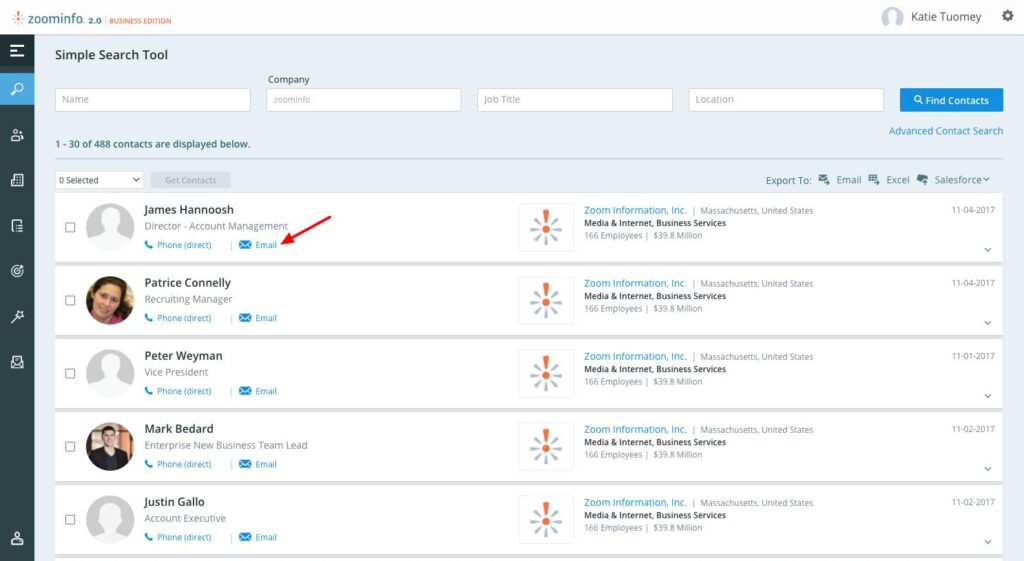 After you source someone's email address, make sure to verify that it's real using a tool like NeverBounce.
This extra step of verifying ensures that you don't reach out to email addresses that will bounce back, and could raise suspicions about your email activity by ESPs like Gmail and Outlook.
3. Run A/B Tests to Perfect Your Messaging
You can use your cold email campaigns to run AB tests on your messaging.
If you're wondering whether to approach prospects with one of two value propositions, you can use a cold email tool to A/B test them against each other. As long as you run your test for long enough to generate a statistically significant result, you'll be able to definitively know which option your sales prospects prefer.
You can then bring this knowledge to other channels, like your cold calls. When you introduce yourself to a prospect, you can break the ice by bringing up a value proposition you know they will care about.
Cold Calling vs. Email: Which One Should You Use?
Both cold calling and cold emailing have their benefits.
Cold calling is highly personal, and cold emailing gives you a way to reach out to more prospects than you could by cold calling alone.
One excellent way to maximize your overall sales results is to combine cold calling and email into a multichannel approach.
You could run a sequence that follows steps like:
Day one: Send a personalized cold email introducing yourself and your business;
Day two: Cold call 3 hours later if they don't reply;
Day three: Send a follow-up email;
Day four: Make a follow-up cold call;
Day eight: Make another cold call attempt, and email them if they don't pick up.
It takes an average of 8 cold call attempts to reach a prospect, so you must include these follow-up steps in your outreach process. If someone doesn't pick up, you can leave a friendly voicemail, and try again in a few days.
If they don't reply, there's a strong chance they'll see your email and will reply there instead.
Combining both channels into a multichannel outreach strategy will get you more replies and ensure you reap the benefits of each.
Tools to Help Your Cold Email and Cold Calling Workflow
A successful outreach strategy requires having the right tools in place.
Here are some of our recommended tools for running cold calling and cold email campaigns.
Ringostat: Ringostat's Virtual PBX and Smart Phone features make it easy to make cold calls and track your results. You can make cold calls directly from your browser, automatically dial people, and then track all of your cold calling activity in the built-in CRM.
QuickMail: QuickMail's cold email platform lets you create personalized cold email campaigns and send them to your prospects at scale. You can automatically follow up if someone doesn't reply, and there are email deliverability tools to ensure your emails always land in the primary inbox.
ZoomInfo: One of the best platforms for building your prospect list. You can search by criteria like company name, size, location, revenue, and job title to build the perfect list. You can then export their email address and phone number to reach out and start conversations.
NeverBounce: You can use NeverBounce to verify that the email addresses of your prospects are valid. It's over 99% accurate and will ensure you never send a campaign with a high bounce rate that will hurt your chances of success.
Zapier: This tool helps connect your cold calling and cold email tools. For example, you could automatically trigger an email to go out if someone doesn't answer a cold call, or, automatically save your email replies in your CRM. Zapier is highly customizable so you can make it suit almost any workflow you need in your sales process.
Wrapping Up
Both cold calling and cold emailing are great channels for starting conversations with qualified sales prospects.
They're direct, and personal, and you can use software like Ringostat and QuickMail to automate the process.
When you're running campaigns, make sure to always personalize your outreach and ensure every conversation you have is tailored to the person you're talking to.