Are you looking for the most effective digital marketing tools to help you grow your online business? So, we have compiled a list of the best resources for your website. We have put together a list of the most effective digital marketing tools for you to try out. Keep reading the article of Georgi Mamajanyan to learn about the top digital marketing tools for 2022.
There is a lot to think about when it comes to digital marketing. Digital marketing encompasses almost every form of internet marketing, whether it's creating content for your site or creating a YouTube video. Digital marketing covers topics such as search engine marketing, email marketing, video marketing, outreach marketing, social media marketing, influencer marketing, etc. Let's take a look at useful tools for all of these areas.
Best SEO tools
These SEO tools will assist you in executing your SEO strategy perfectly.
Netpeak Spider
Netpeak Spider is a desktop platform for SEO audit, comprehensive advanced analysis with fast issues checking, and website scraping. It can find broken links, duplicate pages, texts, missing meta tags, errors in redirects, and much more.
For easy data importing, Spider can integrate with Google Drive and Sheets. Thus, it is possible to quickly share reports with your team or upload PDF files to Google Drive.
In addition, this software allows you to generate and validate sitemaps with HTML, TXT, and XML validator. Google Analytics, Search Console and are also integrated.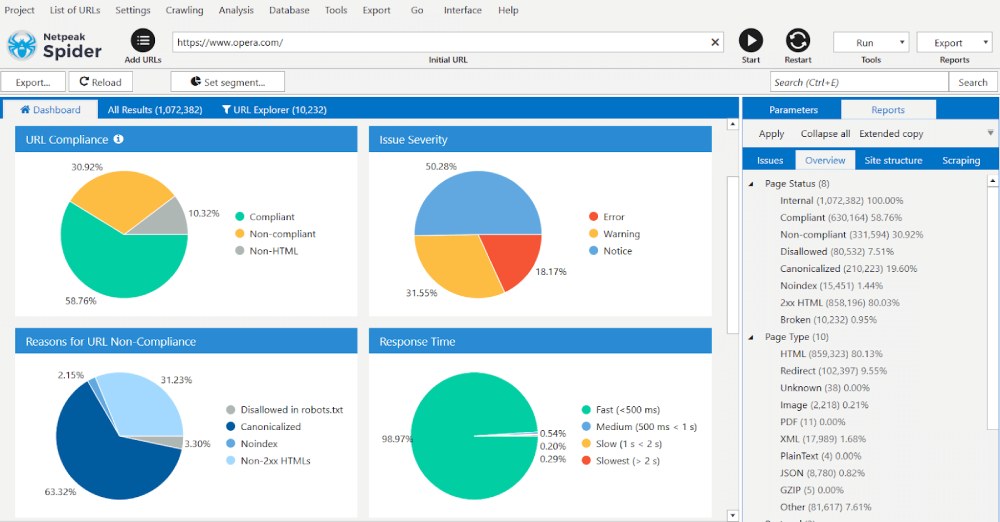 SE Ranking
SE Ranking is an all-in-one SEO platform designed to help digital marketers, SEO specialists, agencies, and website owners optimize their websites for search engines.
Using this software, you can track keyword rankings, conduct site audits, analyze backlinks, investigate competitors, run on-page checks, research and cluster keywords, create content briefs, and more. The platform analyzes website performance from different angles, giving users a complete picture of their site's strengths and weaknesses.
SE Ranking provides all the essential metrics and accurate data to make well-informed SEO decisions. It has a user-friendly and customizable interface and is easy to work with.
Screaming Frog SEO
Screaming Frog is an SEO crawling tool that is simple to use. This tool will provide you with valuable SEO information about your site that you can download and save for future reference.
It makes it simple to find broken links, audit redirects, and find duplicate content, all of which can have a negative effect on your SEO ranking.
Screaming Frog can help create an XML sitemap so that search engines can easily index every page. Google Analytics API is also integrated.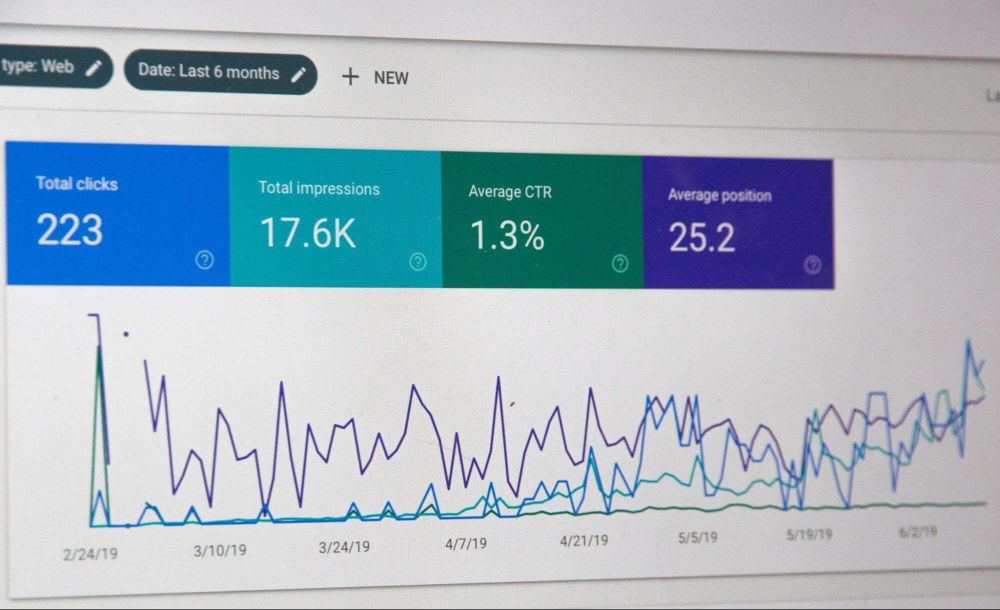 KWFinder
Finding the right keyword is one of the most critical aspects of SEO. With KWFinder, you'll be able to find the long-tail keywords with the least amount of competition and start driving organic traffic to your platform. It aids in the discovery of easy-to-rank keywords and key phrases. You can find hundreds of long-tail keywords that are missing from your competitors' lists.
Email Automation Tools
MailChimp
MailChimp's automation features, another well-known name on this list, assist you in strengthening your brand. It has built-in segmentation, in-depth reporting, eCommerce integrations, and back-in-stock notifications for companies of all sizes.
ActiveCampaign
One of the few tools on the market designed specifically for intelligence. ActiveCampaign is a well-known brand in the industry, with impressive email marketing and automation features including a drag-and-drop interface and free templates.
Social Media Marketing
Hootsuite
Hootsuite is one of the most user-friendly and effective social media scheduling tools available, and it works for all major channels including YouTube, Instagram, Facebook, WordPress, and others. Hootsuite is an industry favorite in social media scheduling because of its simple dashboard and easy setup.
It offers the option to schedule several social media pages at the same time. Tagging, searching, and usage statistics are just a few of the powerful content curation options available. You'll also have access to detailed reports on your social media campaigns. Using keywords, hashtags, and location, you can find and filter social conversations.
Sprout Social
Sprout Social is a collaborative network that helps you build meaningful connections with your audience and customers. This tool will help you achieve revenue and overall growth which are largely dependent on your customers' loyalty and interaction with your brand.
Sprout Social includes all of the resources you'll need to start and sustain engaging social conversations. It will assist you in managing all of your social media platforms in a single interface.
Sendible
Sendible is a social media marketing platform aimed at agencies that need to handle many social media accounts. It will give a more detailed picture of the return on investment of each social media campaign.
In minutes, you'll be able to produce reports for social media promotions to present to your clients. Each brand will have access to a single social inbox.
Ad Campaign Managers
AdHawk
AdHawk, one of the most well-known and highly regarded Ad Campaign Managers, was founded by two former Google employees. All of the features of this tool have one purpose: to simplify the ads.
Celtra
Celtra is a very viable choice in this list that supports not only high-end skilled brands and companies but also highly innovative for smaller-scale businesses.
Basis
Basis is an all-in-one marketing campaign manager app created by the Centro team that not only simplifies your advertising campaign but also helps with digital media strategy, financing, reconciliation, operations, and more.
Design Tools
Marvellapp
Marvellapp is one of the best design tools for prototyping app and website mock-up models. It's packed with a variety of resources and cool features that designers can use right away. On this list, this is one of the most highly recommended tools.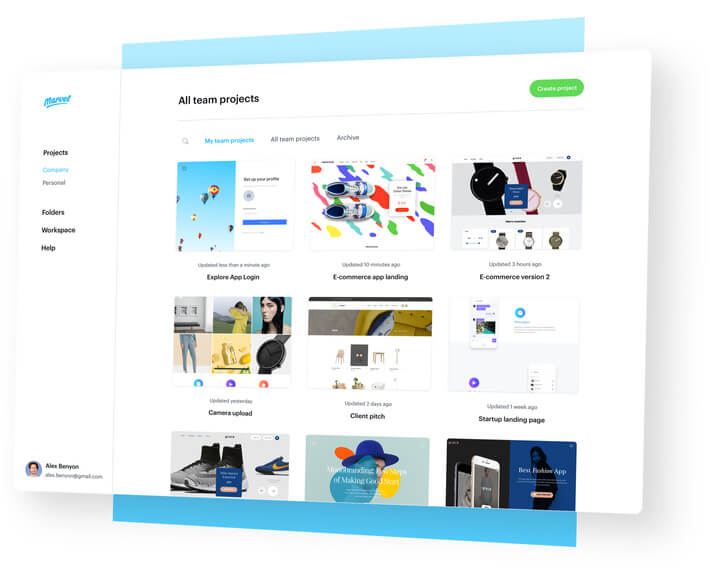 Canva
Canva is without a doubt the simplest and most well-known name on this list. Using Canva, you can easily design creative for a website, as well as create social media messages, stories, ad banners, infographics, etc. This is the most user-friendly tool and has the most impressive built-in features on the market.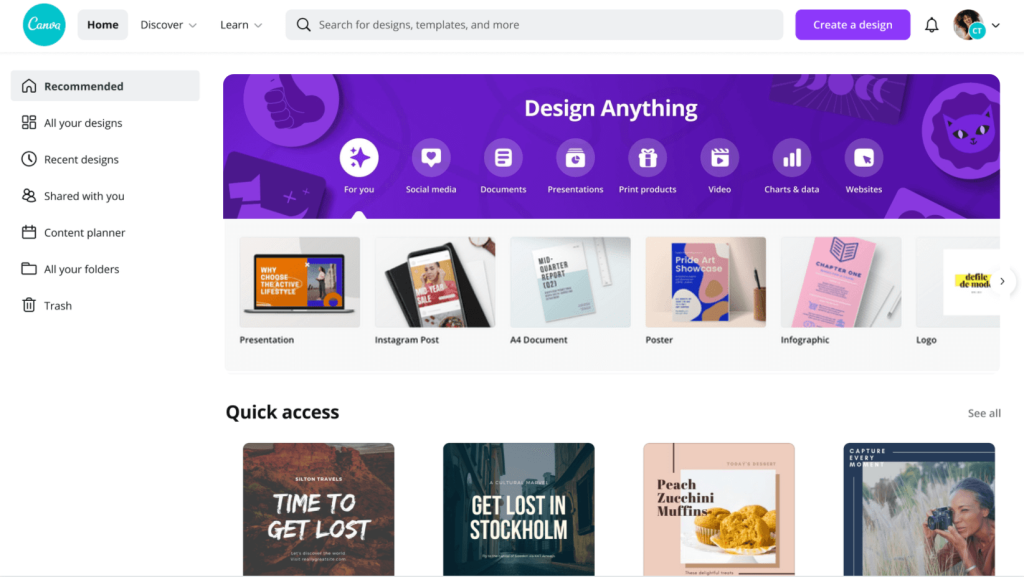 Softr.io
Softr is a tool that allows you to easily create authentic websites, web apps, and client portals. Using Softr's SVG wave generator, you can supercharge your designs by creating colorful, multilayer, random and organic-looking SVG shapes and waves.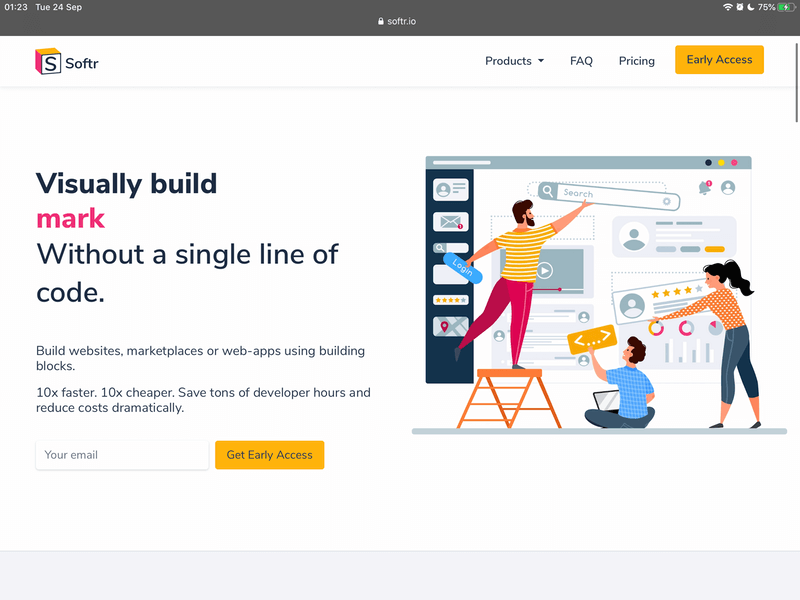 Ucraft Logo Maker
Ucraft, which is mainly a website-building tool, now allows users to design a custom logo for free. It's easy to use and has a lot of icons and design elements to help you structure your logo.
It's completely customizable, with the ability to change the color and font styles of the document.
Ucraft offers a preview feature that allows you to see the design in a real-world setting, such as on business cards, websites, or clothing.
Customer Relationship Management (CRM) Tools
Salesforce
Salesforce provides a fully web-based CRM infrastructure that enables businesses to provide excellent customer support even while they are on the go.
You will take advantage of a cloud-based app that will help you with sales and marketing, community building, and providing excellent customer support at any time and from any place. To help you refine and fine-tune your campaigns, you will get access to comprehensive analytical insight.
OnePageCRM
OnePageCRM is by far the most basic and user-friendly CRM on the market. All required information is contained in a one-page interface that is highly intuitive and facilitates a smooth workflow.
A robust lead generation framework with a fantastic contact management interface is a perfect solution. You will have access to tools for predicting revenue and automating the sales process.
Clevertim
Clevertim is a web-based contact management system designed specifically for small businesses. Many useful features have been integrated with an emphasis on productivity and simplicity.
All of your sales opportunities are shown in one place with the ability to assign tasks and reminders to your salespeople. Clevertim offers a versatile contact management system with a case management system that allows you to keep track of all customer issues, concerns, and even leads.
Content marketing tools
PDFLiner
PDFLiner is one of the excellent document management solutions when it comes to creating PDFs or infographics for your blog and business. It helps to edit PDF documents or create new ones, convert PDFs to JPG, submit tax forms, and do any other manipulation with PDFs.
Also, it offers an extension forms library that you can use to find the right PDF blank for creating additional values for your blog posts.
HotJar
If you want to improve your content marketing strategy, you must first comprehend the user experience that your content generates. HotJar will help you quantify the user experience aspect of your content marketing so you can figure out how to make it better.
It implements features such as heatmaps and session replay to analyze user actions. On-site polls and surveys, for example, allow you to get direct feedback from your users about your content.
Kred
By analyzing users' social media behavior and audience interaction levels, Kred will help you identify social media influencers that are specific to your niche recommending influencers who would be beneficial to your brand.
It measures the presence of possible influencers on Facebook and Twitter and allows you to create your own "influencer" status to aid in the promotion of your online presence.
Buzzsumo
Buzzsumo assists you in analyzing the "content forum," determining what content is trending in the market and identifying topics to write about in order to engage your audience.
With Buzzsumo, you can examine what content is being posted on social media to gain content insights. It will help to get in touch and develop relationships with an influencer in your niche. Also, you will be able to understand how the competitor's content is performing by using competitor analysis.
HopperHQ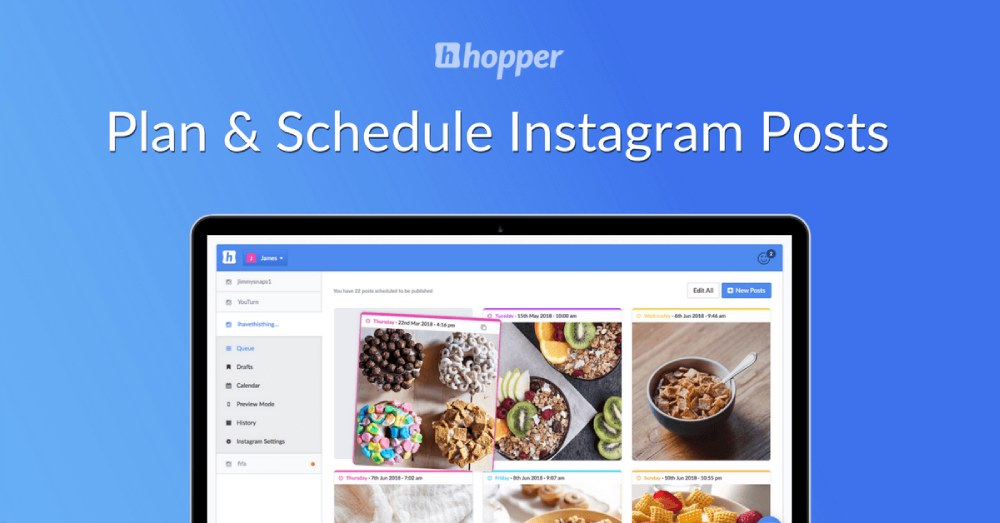 Hopper is the perfect marketing management tool when it comes to effective social media planning and analytics. It helps schedule social media posts as one bulk, create drafts for upcoming posts, and use Instagram analytics for making future decisions. Knowing when to post is a key piece of your overall social media marketing strategy, so you definitely need this tool for an improved marketing management.
Some of the features that Hopper includes are the Calendar Planner, Draft Posts, Queue Postings, and more. The platform also allows users to upload and edit images in bulk, include team members, and manage their overall performance from just one spot.
Landing Page Creation Tools
Unbounce
Unbounce provides you with a strong landing page builder that includes conversion-enhancing tools. You'll be able to add maps, sticky headers, and popups as well.
You will get 100+ ready-to-use models in a drag-and-drop landing page builder. The option to incorporate keywords to aid your SEM campaigns is really wonderful. CRMs, email marketing systems, and social media networks can all be integrated.
Launchrock
Launchrock is the most popular online tool for creating beautiful "coming soon" pages. Build your "coming soon" page with a subscription form using ready-to-use themes. You can add your own logo and message to the theme with ease. Advanced user analytics and reporting are also available.
Crazy Egg
Crazy Egg is primarily a heatmap tool that will show you how visitors perceive and interact with your website. Although it will not assist you in the development of landing pages, it will assist you in determining which sections of the landing pages are being skipped by users so that you can customize them accordingly.
It makes a heatmap of your website so you can see how your guests interact with your landing page.
Email Marketing Tools
CampaignMonitor
CampaignMonitor focuses on assisting you in creating mobile-friendly email marketing strategies for subscribers who use small-screen devices.
The tool offers a versatile email editor with a variety of skilled design email templates to assist you in creating mobile-friendly emails. Custom code and video embedding in emails are also supported.
You can take advantage of options for segmenting the subscribers to help you send more targeted emails.
Drip
E-commerce companies that want to communicate with their customers and increase online sales can use Drip email marketing services. You can increase your conversion rates, create tailored campaigns with a focus on hyper-relevant content and suggestions.
Drip offers email marketing automation tools that are extremely powerful. Custom conversion monitoring is available via a user-friendly dashboard.
Sendinblue
Sendinblue is a cost-effective solution that combines the power of email and SMS to help you build and manage marketing campaigns.
You can use a drag-and-drop editor to produce beautiful emails. Marketing automation features can help you improve your contact management by allowing you to create a customized workflow.
Email open rates, click-through rates, and deliverability can all be tracked using this tool.
Dexatel
Dexatel can easily become your favorite tool for SMS integration to help target the right people and reach out to larger audiences in a small period of time. It provides you with many other tools for successful SMS marketing.
Dexatel allows you to keep in closer touch with your customers, send out your important messages, and build stronger relationships. In the long-term, it helps with better customer retention, loyalty, and satisfaction.
The tools offered by Dexatel also help send out bulk messages that save time and effort. Another tool-SMS alerts, helps automate customer communications, achieve higher response rate, and a higher open rate. Overall, this is the perfect platform if you're looking for an effective, quick, and manageable solution for your business development.
Conclusion
Different tools are available for digital marketing, and you can select your tools based on your priorities. There are tools to customize the content for search engines. Similarly, if you're concentrating on social media marketing, you can use a variety of resources. In this post, we've organized the best digital marketing tools into categories to make it simpler for you. You can achieve digital success with these tools!