Since the beginning of the year, we released more than 250 updates which means almost one update for each workday. There are global ones among them: end-to-end analytics and "intelligent" phone in the browser. As well as other, smaller ones but still crucial for comfy work with Ringostat. Read more about these and other events of the year in the article and infographics below.

1. End-to-end analytics
Let's begin with the most important and global update — we released end-to-end analytics. Now Ringostat has an instrument that shows the cost recovery of each cent invested in ads. We want to say thank you once again to those people who participated in an open beta testing in September and October.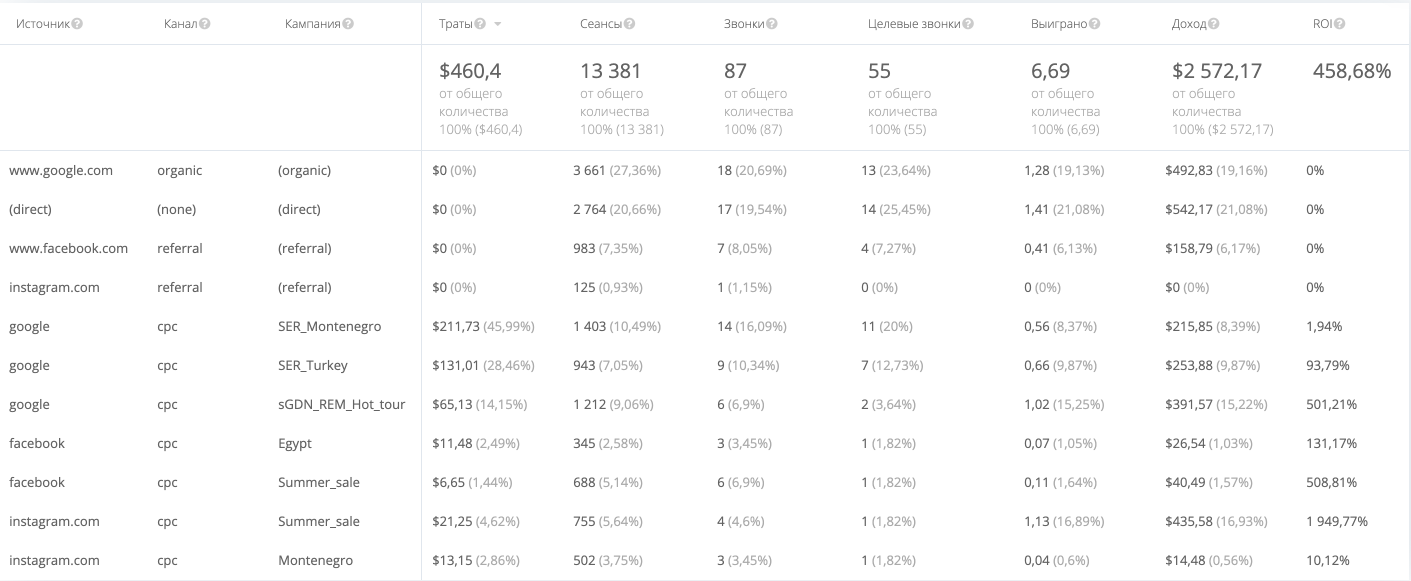 Example of Ringostat end-to-end analytics report
How end-to-end analytics works
Ringostat automatically drives information on the costs of campaigns from

ad accounts of Google, Facebook, and Instagram

. Import on costs from other channels can also be uploaded there. End-to-end analytics will count the cost recovery of these investments as well.

The data on deals and revenue from marketing sources are transferred from the CRM after each closed deal.

By consolidating this information, a service counts the return on investments by each channel. Thus, you will be able to evaluate the effectiveness of all investments in advertisements. Ringostat visualizes the general dynamics of ROI and other metrics via charts and a table for better clarity.
2. Ringostat Smart Phone + Insider
An "intelligent" phone appeared in the Google Chrome browser of multiple clients. Ringostat Smart Phone increases the sales department's productivity and helps to close more deals. Now sales reps are able to:
call from a browser in one click that saves up to 5 hours monthly;

accept calls even when Google Chrome is minimized;

send SMS right from Ringostat Smart Phone interface during the communication with a customer or exactly after the conversation.
There is also a Ringostat Insider that is a part of Ringostat Smart Phone and represented as a "smart" assistant of a sales rep. Data on the client are displayed there even before an employee answers a call. Thus, a sales rep knows in advance what to discuss. Ringostat Insider shows the following information:
history of all customer's visits and calls;

previously viewed pages of a lead and the ones that he is watching during the conversation;

ad source that brought him to the website;

user's geo, etc.
Recently Insider becomes able to display users who are online on the website and have called the company before. Their phone numbers may be found in the tab "Identified customers online". It also possible to discover the history of visits of this lead, send him SMS or call in one click.
Read how to receive the maximum insights from the virtual assistant in the article "Ringostat Insider 2.0: even more information on a customer and a higher probability of the closed deal".
3. Reports creation and management in the
Analytics
section
We released the Analytics section last year. At that time it included reports that give answers to the key questions of marketers and business owners.
The workflow in the Analytics was so comfy that clients wanted to discover even more data in its interface. That's why we added an opportunity to edit reports. Now you can easily change metrics or create a custom selection needed to solve exactly your tasks.
That's how new reports in the Analytics section look like
4. A new generation of integrations with CRM systems
A year ago we had default settings of integrations with CRM systems. However, now you can decide on your own what will happen after this or another event.
The window of integrations is represented as a matrix. The rows there represent events and columns a possible action in the CRM. To do so, it is required to put a tick in the checkboxes that correspond to the needed event and condition.
The contact will be created each time in the moment of answering the incoming call
The grading of calls by funnels is already available in several CRM. For example, this will allow separating calls made by new leads from post-sales requests. This feature can be used by users of Pipedrive 2.0 and Hubspot.
5. Integration with Hubspot and Salesforce
Well, if we are talking about CRM we have to mention the integration with Hubspot and Salesforce. In 2019 we configured a data transfer with both these systems. Salesforce is one of the leaders in the niche. According to Forbes, it occupies more than 19% of the CRM world market. HubSpot is used by 60 500 users in 100 countries and the service constantly continues to grow.
Recently Ringostat has made a global investigation about HubSpot advantages. We had 5 hours of interviews with experts in different fields to discover their experience in HubSpot usage. There was so much feedback that we weren't able to place all of them in a single article
Thus, you can enjoy both our articles about HubSpot: "4 reasons to choose HubSpot: expert opinion. Part 1", and "5 reasons why you need HubSpot: expert opinion. Part 2".
We will remind you that call tracking and CRM integration allows automating the workflow of a sales department. Sales reps don't need anymore to manually enter a client's phone number, create new tasks and deals after the conversation. "Smart" integration logic does this routine work instead of the employee and gives him more time for selling, by doing so. The full information on a call is transferred to the CRM:
source, channel, and campaign that led a client;

conversation duration;

call recording;

the employee who is responsible for the task, etc.
A sales rep only has to write a comment and choose the status of the deal after a conversation.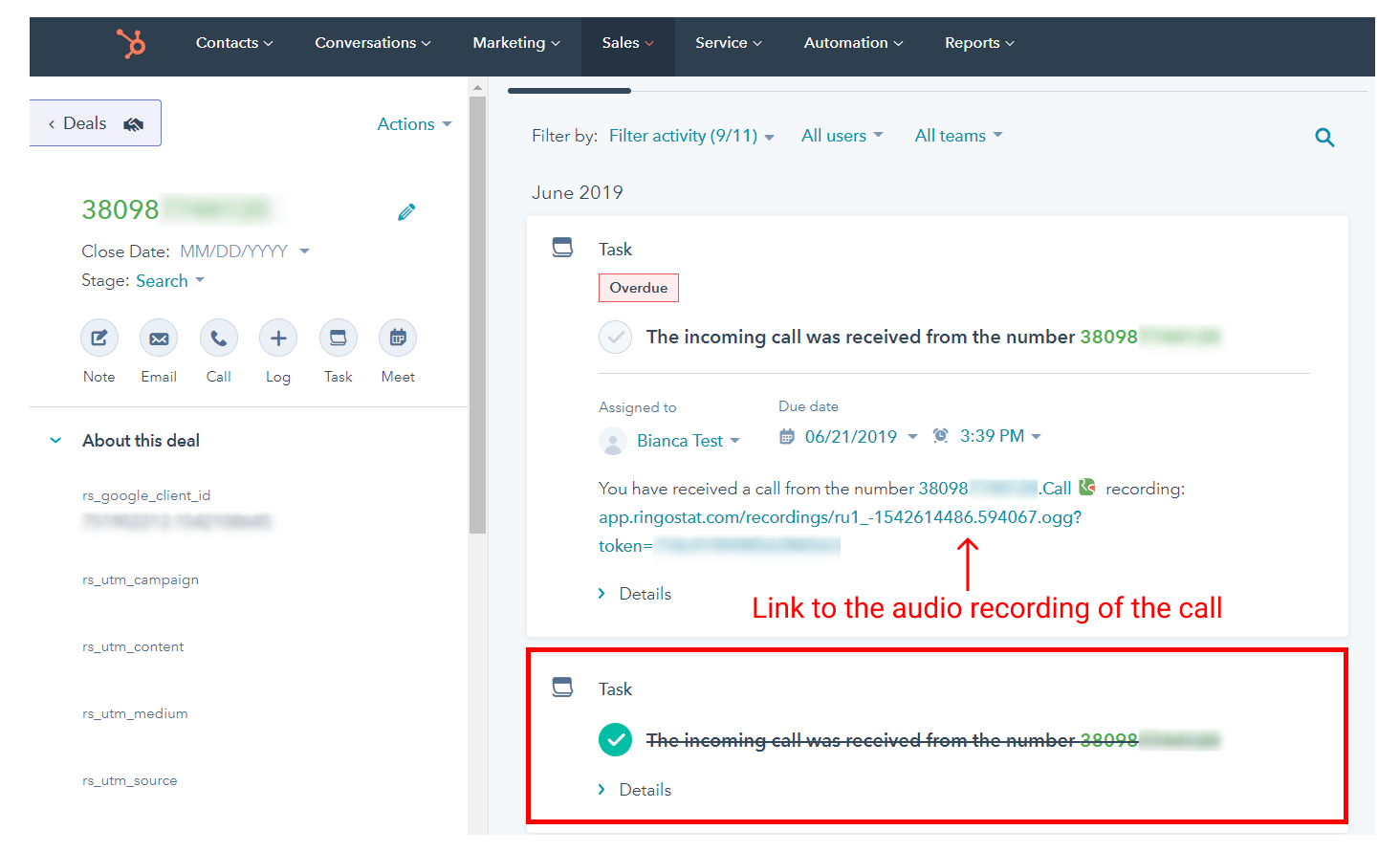 That's how looks like a task to "Call Back a client" that is created in HubSpot by the fact of a missed call
If calls a user whose contacts are already entered in the CRM, the "smart" call forwarding scheme connects it to "his" sales rep. In other words, the one who is responsible for the lead or deal. If he can't answer the call, the client will talk to another sales rep who is free at the moment. Meanwhile, a responsible employee will receive a notification and the recording of the conversation.
Read more in the article "Profitable cooperation with the world-famous CRM — Ringostat integration with HubSpot and Salesforce".
6. Callback integration with forms on the website
This year we created a system that integrates callback widget with forms on the website. I guess, there is the same one on your website: online requests where visitors enter their name, phone number, and email. Now you can increase the conversion of existing forms on the website without involving a programmer or designer.
For example, it may work like that:
a customer fills in a form on the website and mentions his phone number there;

Ringostat instantly calls a sales rep;

as soon as an employee replies, the system automatically forwards a call to the customer;

a user is surprised by the speed of the reaction and makes an order as he even didn't have the time to get acquainted with offers from competitors.
7. Flexible settings of outbound connection
First of all, call tracking works with the inbound connection. It substitutes phone numbers to track sources of calls from customers. For now, it is possible to set the number that will be displayed at the moment of the outbound call. Increase customers' loyalty by showing them a phone number of the required region or a sales rep that they have already communicated with.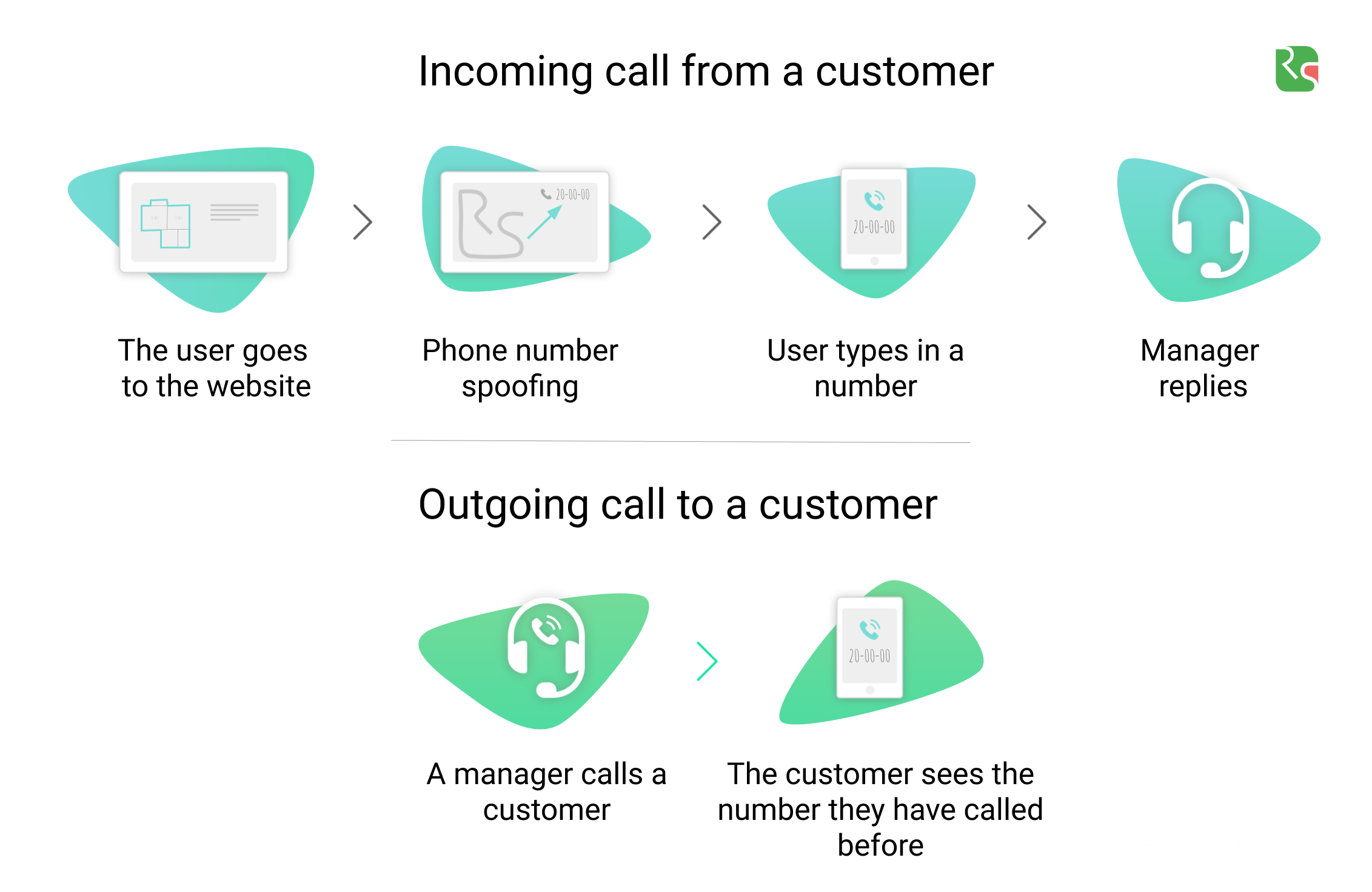 While customizing outbound connection you can:
set a single number that will be displayed as a phone number from all employees;

choose separate numbers for each department;

assign unique numbers for sales reps.
It is also possible to make calls via the number of a chosen provider. Then the cost for connection will be set by his pricing.
8. Displaying the name of the employee who answered a call
Now it is easier for sales department managers to control their employees. The name of the employee but not his SIP account is displayed in the call log and reports. It became more simple to understand:
who has missed the biggest number of calls;

whose customers have to wait on hold for the longer period;

who has processed most of the target requests, etc.
If you want this to work on your project, open the Settings section — Agents and enter the name of the employee for each SIP account or phone number.
To display a report you will have to create a special report. Don't worry, it won't take more than a minute. Open the Call log and click Create a report. Then click on Add more and select Agent in the drop-down list.
We hope that this feature will help you increase and strengthen the sales team the next year and all the future ones. Happy New Year from the Ringostat team 🙂