Looking to create a successful PPC budget? You've come to the right spot! In this article, we'll break down for you how to set a budget and efficiently manage your PPC spending. We'll provide you with some actionable tips to allocate your expenses and optimize your ROI without draining your resources. Useful tips were provided by Alladdine Djaidani, an internet marketer and founder of Hustler Ethos. Buckle up and get ready to skyrocket your PPC game!
Have you ever noticed the ads that pop up when you search for something on Google? Or the ones that follow you around on social media or other websites? Well, those are examples of PPC advertising.
While SEO is more of a wallet-friendly approach to generating organic traffic in the long run, Pay-Per-Click advertising, as the name suggests, offers immediate results to a specific audience in a highly customized way. Not only that, PPC allows businesses to measure and adjust their campaign performance in real time. Providing valuable insights for ongoing optimization.
So when it comes down to paying for ads, the outcomes of your campaigns heavily rely on your monthly and annual budget. That's why it's crucial to take a moment to review if you're truly maximizing your spending.
In this guide, we'll walk you through the nitty-gritty of PPC budget management. So whether you're an expert in paid ads or new to the game, keep reading to find out how to take your PPC campaigns to a whole new level!
Sounds good? Let's explore how to set a PPC budget first.
Five factors to consider when setting a PPC budget
You may already know that there are some fundamental elements to evaluate before determining the expense plan related to the PPC campaigns. So, before setting your annual budget, make sure you tick every box in the list below.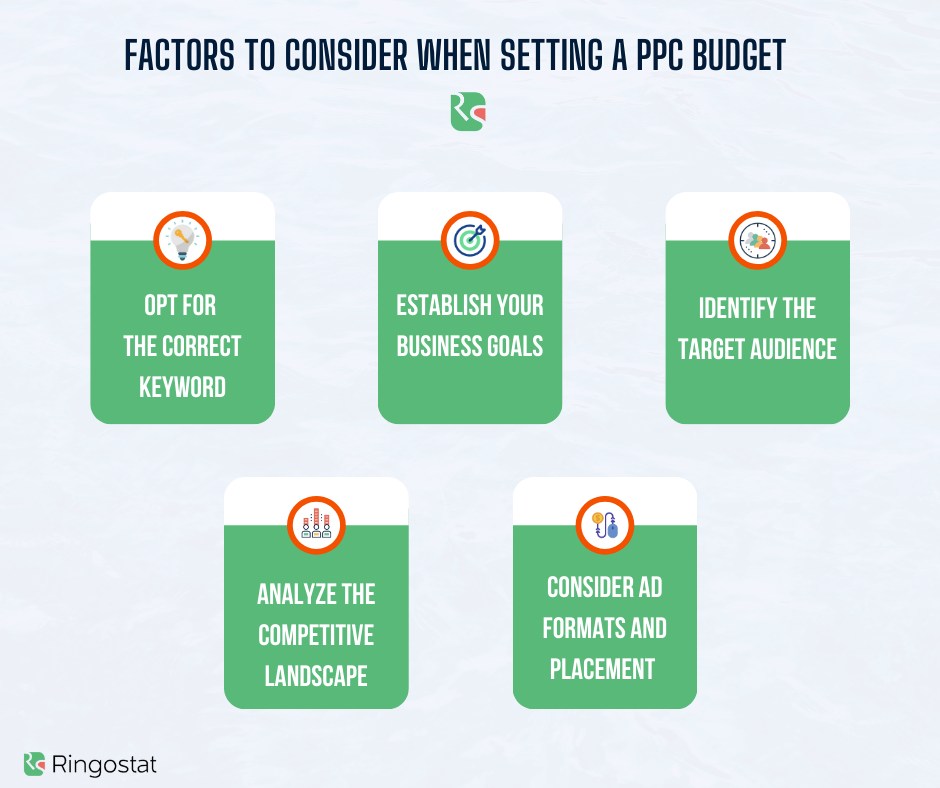 Opt for the correct keyword
Let's not forget that customers use specific keywords when searching for products or digital services. To attract new clients and skyrocket your cost-per-click (CPC) rate, it's vital to do the homework and identify valuable keywords for your industry. Optimizing the use of relevant keywords will not only improve your search engine rankings but will also drive more traffic to your website.
Let's explore some tips that might come in handy for identifying the right keywords.
Put yourself in your audience's shoes
The first step in selecting the right keywords is to understand your target audience. Try to anticipate the potential terms they may use when googling your services or products. This way, you can identify relevant keywords likely to drive a ton of traffic.
Conduct keyword research
With the state-of-art SEO tools available in the market, you can find relevant and high-quality keywords with a click of a button! Platforms like SEMrush, Ahrefs, Serpstat, and Moz can deliver remarkable insights such as the search volume, competition level, and suggested bids for each keyword.
Prioritize long-tail keywords
If you want to select a keyword that has great potential for traffic and is less competitive, just go for long-tail keywords instead of trying something new. Long-tail keywords are more specific and targeted phrases than broad keywords. They usually consist of three or more words and are used to optimize content for a particular niche or specific search query. Though they may have lower CPC rates, they can definitely help you reach a more specialized audience.
Say you have an online store that sells shoes. You want to optimize your website for search engines so that people who are looking for shoes online can easily find your website.
A broad keyword for your website might be "shoes." However, this keyword is extremely competitive, and there are countless other websites targeting this same keyword. It's also very broad and doesn't provide much information about the type of shoes you sell
You'll have a better chance of ranking for a long-tail keyword like "ankle shoes for men". So, considering long-tail keywords is definitely the way to go if you want to tell search engines and potential customers exactly what your website is about.
Establish your business goals
The goals you aspire to reach behind your PPC advertising will undoubtedly affect how much you'll end up spending. Let's say your main priority is to generate leads and boost sales conversions. You'll have to allocate a considerably higher budget than if your primary objective is to increase your brand awareness.
That's why it's imperative to consider your priorities carefully and allocate the resources following the outcomes you want to achieve.
Identify the target audience
When you're planning a PPC campaign, it's essential to think about who your audience is. Who are you trying to reach? What are their characteristics and behaviors? Answering these questions can help you determine how much money to allocate to your campaign.
Let's say you own a yoga studio and want to launch a PPC campaign to attract new customers. Your tangible target audience could be defined by these factors below.
Location: People who live or work within a certain radius of your yoga studio.
Age group and gender: Women aged 25-55 who are interested in fitness and wellness.
Interests: People who are interested in yoga, mindfulness, meditation, and healthy living.
Behavior: People who have searched for yoga classes online, visited yoga-related websites, or liked yoga-related pages on social media.
Average Income: People with an average household income of $50,000 or more.
So, to sum it up, understanding your target audience is definitely the way to go if you want to make informed decisions about how much to spend and where to allocate your resources when creating a PPC campaign.
Analyze the competitive landscape
Regardless of their size, the level of competition will have a massive effect on how much businesses need to spend on their ad campaigns. For instance, if your direct competitors are really pushing their products or services through advertising, spending more might be the go-to option for your company to remain competitive in the market.
Consider conducting a competitive analysis where you pinpoint your direct and indirect competitors and monitor their ad campaigns. Look at different metrics to see how your campaigns stack up and spot the areas where they're well and try to enhance your ad campaign on this basis.
Another thing you can do is to keep up with the ad trends to see what other players are doing. Are they using new ad formats or placements that you're not using? Are they targeting a different audience or offering a unique value proposition? Staying in the loop is much needed to stay ahead of the curve and most importantly to rationalize your ad budget.
Consider Ad Formats and Placements
Unlike many other marketing campaigns, PPC ad formats and placements play a huge role in maximizing the results of your PPC plans. The reason is simple: the choice of ad format and placement can significantly impact the cost per click (CPC) and the overall effectiveness of your campaign.
When it comes to picking the right ad format for your PPC campaign, it's indispensable to take into account some factors and choose based on your goals and target audience.
So, if your initial idea is to promote a specific product and drive traffic to a landing page, or run a brand awareness campaign, then Text ads are the way to go. They may not be as visually appealing as other ad formats, but they are effective for targeting specific keywords.
For remarketing campaigns with personalized animations, images, and videos, Display ads are a better choice. They can target users who have already engaged with your brand or visited your website.
On the other side, video ads are highly engaging and can be used for short-term and long-term campaigns. They are particularly effective for targeting specific demographics and interests on both YouTube and the Google Display Network.
While this strategy may deliver better results, it may not be the most cost-effective option. Therefore, it's imperative to weigh out the costs and potential returns of different ad formats and placements when setting your PPC budget.
How to allocate your budget across campaigns, ad groups, and keywords?
Do you know what every business wants? A maximized ROI through cost-effective advertising,
And to make this a reality, you must efficiently allocate your PPC budget.
Start by identifying which campaigns and ad groups drive the most traffic, leads, and sales.
Once you've identified your top performers, increase the budget allocation to those campaigns and ad groups while scaling back on the less successful ones. This strategy allows you to capitalize on your ad spend and guarantees that you're Stretching your advertising dollars.
To have an overview of your campaigns' performance on Google Analytics, all you need to do is to click on the "Acquisition" tab in the left sidebar.
As for Google Ads, you will have to click on the "Campaigns" tab in the left sidebar, and if you want to allocate more budget for your best campaigns and ad groups, you must head over to the "Settings" tab for each campaign or ad group and adjust it as necessary.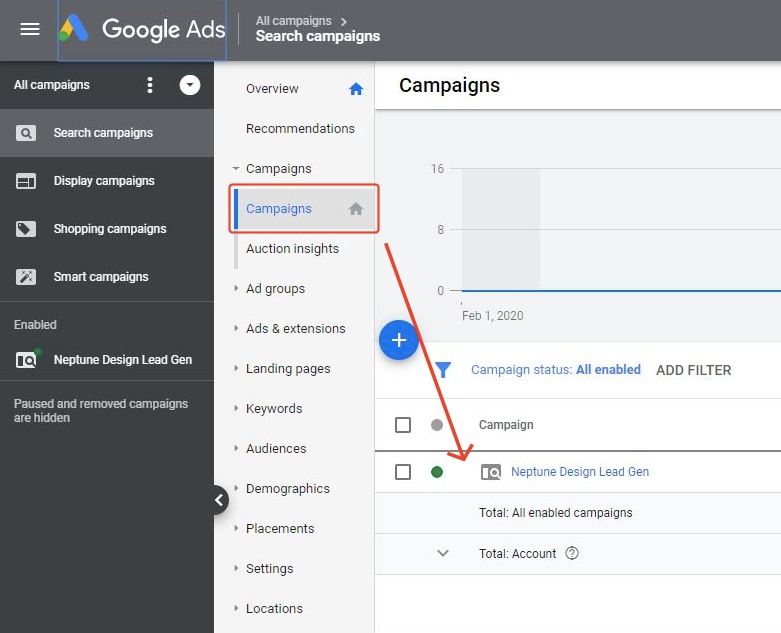 But don't stop there! It's also essential to enhance your keyword bids to avoid overspending on keywords that aren't driving results. Also, don't forget to monitor your budget allocation as needed consistently.
Keep Your PPC Budget in Check: Strategies for Monitoring and Managing Your Spending
When it comes to setting a PPC budget that drives results, there's no magic formula — it takes meticulous planning and analysis, that's why plenty of businesses fall short and make mistakes in their PPC campaigns.
But now you don't have to do any of the heavy liftings, follow these recommendations below, and you'll be on your way to creating a budget that aligns with your goals and delivers a solid return on investment.
Ready to take the plunge and learn more? Here are six practical tips we picked for you!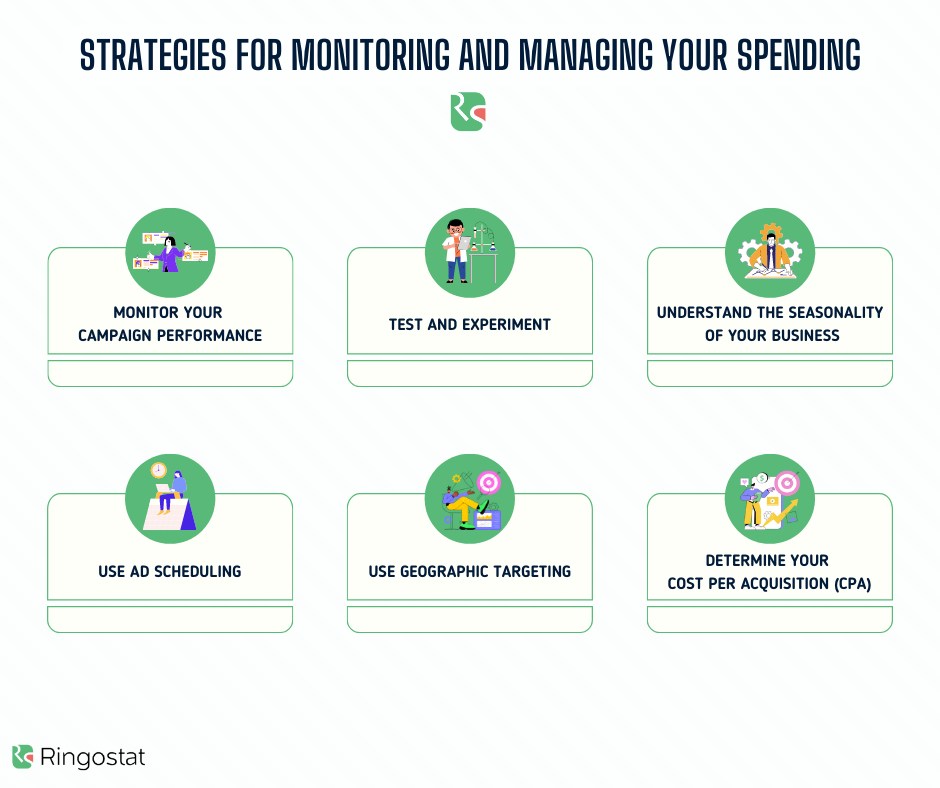 Monitor your campaign performance
Make sure to track and monitor the performance of your PPC campaign regularly. By doing so, you can make well-considered choices about whether to increase your ad spend to reach a larger audience or simply cut costs to improve the outcomes of your campaign. Most importantly, each decision should be based on actual data.
When monitoring the performance of your PPC campaign, several metrics should be taken into account.
Implement conversion tracking in Google Ads or other advertising platforms to measure the conversion rates driven by your current ads.
Regularly analyze your key metrics, such as click-through rates, conversion rates, cost per conversion, and return on ad spend (ROAS). This will help you identify which areas of your campaigns need improvement.
Use A/B testing to compare and test different ad versions and landing pages. By doing so, you can focus on the best-performing elements of your campaign.
Test and experiment
One great way to set a realistic PPC budget is to test different budgets to realize what works best for your business.
When it comes to ad formats, there are plenty of options out there to explore, from eye-catching images to engaging videos and everything in between.
You can also try out different targeting options. Narrow down your audience to the people most likely to engage with your ads. Make sure to test various bidding strategies as well. You can find the best way to bid for ad placement and make the most out of your budget for maximum impact.
So why wait? Start playing around with your advertising strategies and see how you can take your ad campaigns to new heights!
Understand the seasonality of your business
If your business experiences significant seasonal fluctuations, then adapting your PPC budget to this reality becomes necessary for you to leverage your ad spending fully.
Let's think of it as a ski equipment store. It would be more rational to allocate a more significant portion of your PPC budget during the winter months when demand for your products peaks, capturing the attention of avid skiers and snowboarders seeking the latest gear.
Use ad scheduling
According to WordStream, Ad scheduling can boost click-through rates by up to 50%. This clearly shows the effectiveness of targeting ads when potential customers are more likely to Google your products. This entails displaying ads exclusively during peak days and hours.
For the sake of example, let's say you own a sports merchandise store and want to cash in on the biggest sporting event of the year: the Super Bowl. How can you get your products in front of the right people at the right time?
Here's how it works. You can schedule your ads to display exclusively during peak days and hours when potential customers are most likely to Google your products. For instance, you could choose to run the ads during the week leading up to the Super Bowl, on the day of the game itself, or even during the halftime show when viewers are taking a break from the game and browsing online.
This approach not only will help you to optimize your ad budget but also leads to increased engagement and higher click-through rates.
Use geographic targeting
When your business is operating in specific geographic locations, opt immediately for the geotargeting option, so there's no chance you'll be squandering funds on clicks originating from users beyond your designated service zone.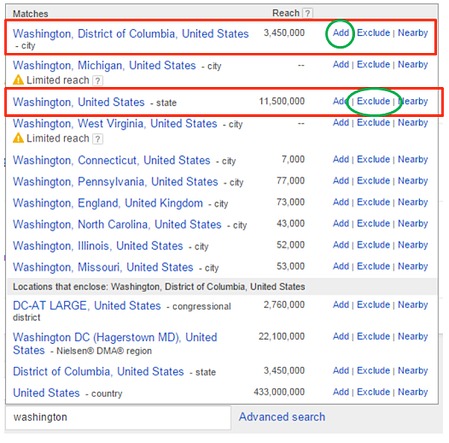 Take, for instance, a Washington D.C.-based pizza delivery business with a 5-mile delivery radius. Using geotargeting in the PPC campaigns ensures ads are only displayed to users within the designated zone, eliminating clicks from users outside the service area and keeping your ad spend focused and cost-effective.
Determine your cost per acquisition (CPA)
Your CPA (Cost per Acquisition) refers to the total amount spent to acquire a new customer through PPC advertising. This metric is a measuring stick to the success of your PPC campaigns as it uncovers the amount of money you are spending per client conversion.
Understanding your CPA allows you to set a budget in line with your target ROI (Return on Investment) goals. This is how you can streamline your ad spending and ensure you generate revenue that surpasses the amount spent on converting new customers.
Let's say your goal is to get a 3x return on investment (ROI), and you spend $50 to acquire a new customer through PPC advertising. This means you need to make at least $150 in revenue from each new client to hit your target ROI. With this information in hand, you can establish a budget tailored to your goals at a rate that aligns with your target ROI.
Final Thoughts
Now that we've addressed the ins and outs of the PPC budget Hope we've got you covered!
But let's face it, just reading about it isn't enough, as it's in your hands now. It's time to take action and implement these game-changing tips to get the most out of your PPC campaigns while adopting a budget-friendly strategy.
The best part? You can optimize your ROI without breaking the bank. Less money spent on CCP campaigns? Yes, please.