For the fourth year now, we are celebrating Call Tracking Day. Let's be honest. We created this holiday on our own. We did so to enjoy it ourselves and to please you with special conditions. Despite its complexity, this year was no exception. So don't miss the opportunity to upgrade your sales and marketing departments — even if they work remotely. Read what Ringostat has prepared for you.
Everything changes rapidly during the quarantine, so it's better not to risk it and provide yourself with telephony and analytics in advance. Here what we offer as part of the campaign for Call Tracking Day.
Extend your project for six months, a year, or three years, for a profit of up to 50%. You can find out via this link what it means for your project if we talk about money. If you don't have a project yet, text us in the chat, and the sales rep will help you calculate everything. We remind you that once connecting Ringostat, you regularly receive free updates. And often they are quite large-scale ones. Let's remember below at least those of them that have appeared since the last Call Tracking Day. But, first of all, a couple of numbers:
From Call Tracking Day 2019 to Call Tracking Day 2020: Significant Updates of Ringostat
1. Ringostat Messenger
In April 2020, we released a new product to help online stores and businesses accept requests online. With its help, you can communicate with customers from different messengers in one interface. Ringostat Messenger is now integrated with Telegram, Viber, and Messenger.
The user sees the icon of the needed messenger on your website and writes there. Thus, a sales rep receives a message in the Ringostat Smart Phone. He also sees detailed information on the customer there. Moreover, he can send him an answer.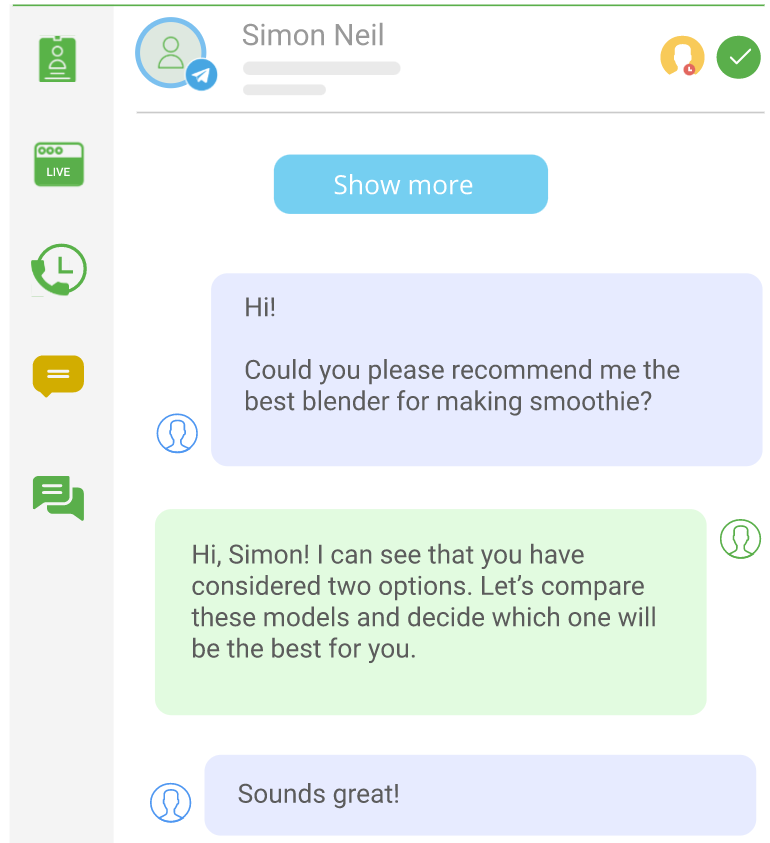 Advantages of Ringostat Messenger
Work in one window and time-saving.

You don't need to keep all messengers open at the same time. For any active, in other words, not closed dialogue, you can check the communication history.

Increase website conversion.

A person can request a messenger that is convenient for him; this increases loyalty. A sales rep has access to detailed information on the customer, so there are more chances to close the deal.

Understanding of ad that brought the customer.

This information is available for each user. That's how you will understand which campaigns are really working.
Make sure that you checked — "Ringostat Messenger: communicate with customers in one window."
2. Bids management in end-to-end analytics
Since July, you can manage bids for paid advertising in Ringostat end-to-end analytics. Now you can add new metrics to user reports:
the current bid for paid advertising;

recommended bid;

the difference between the current and recommended bids;

conversion rate forecast;

average check forecast.
And the most important thing: you can manage bids without leaving Ringostat. Green font and an up arrow indicate that it is recommended to raise the bid. Red and a down arrow indicate a recommendation to decrease it.
There is a "Play" button next to the recommended bid, by clicking on which you can change the size of the bid: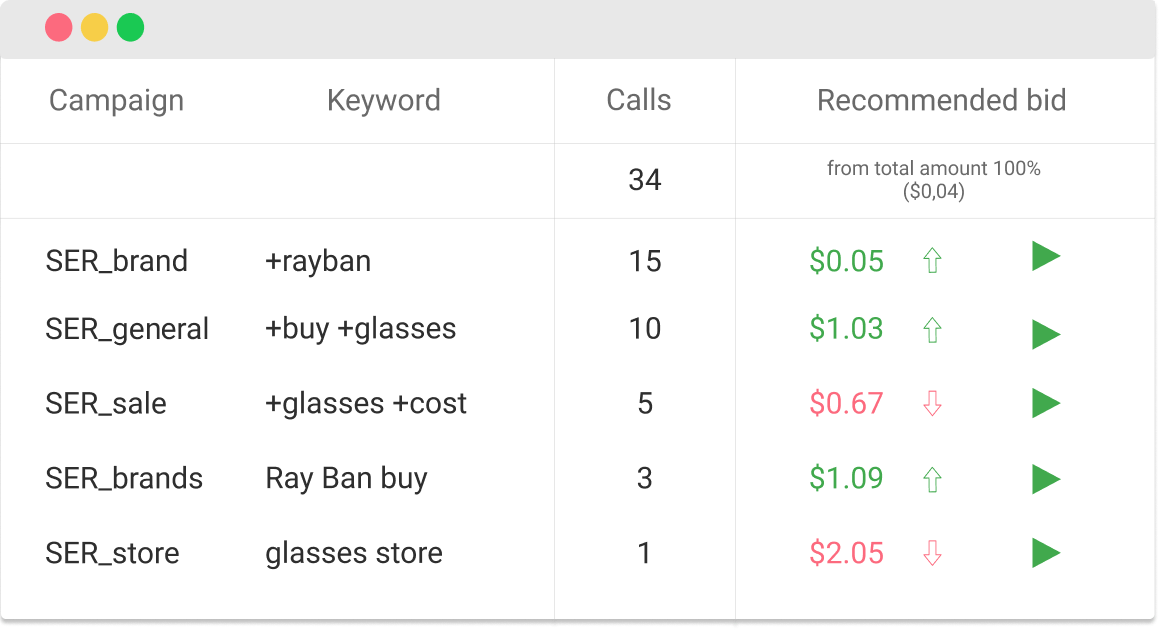 Advantages of bids management
Increase profit while maintaining a positive ROI.

Ringostat finds optimal bids so that ROI remains positive, while profit tends to the maximum.

Convenient management of bids in one window.

The platform calculates the necessary rates automatically. You just have to monitor the data and make changes in a few clicks.

Real-time control of the cost recovery of campaigns.

With Ringostat, you will immediately notice if an ad is unprofitable so that you can adjust your bids. If some campaigns don't bring profit, you will see it in time and minimize risks.
How Ringostat calculates the optimal cost per click — read in the article about bids management.
3. Ringostat Smart Phone update to "catch" users who are on the site
In October 2019, a new tab appeared in Ringostat Smart Phone. It shows users who have already called you and are now on the site. Information is displayed in real-time.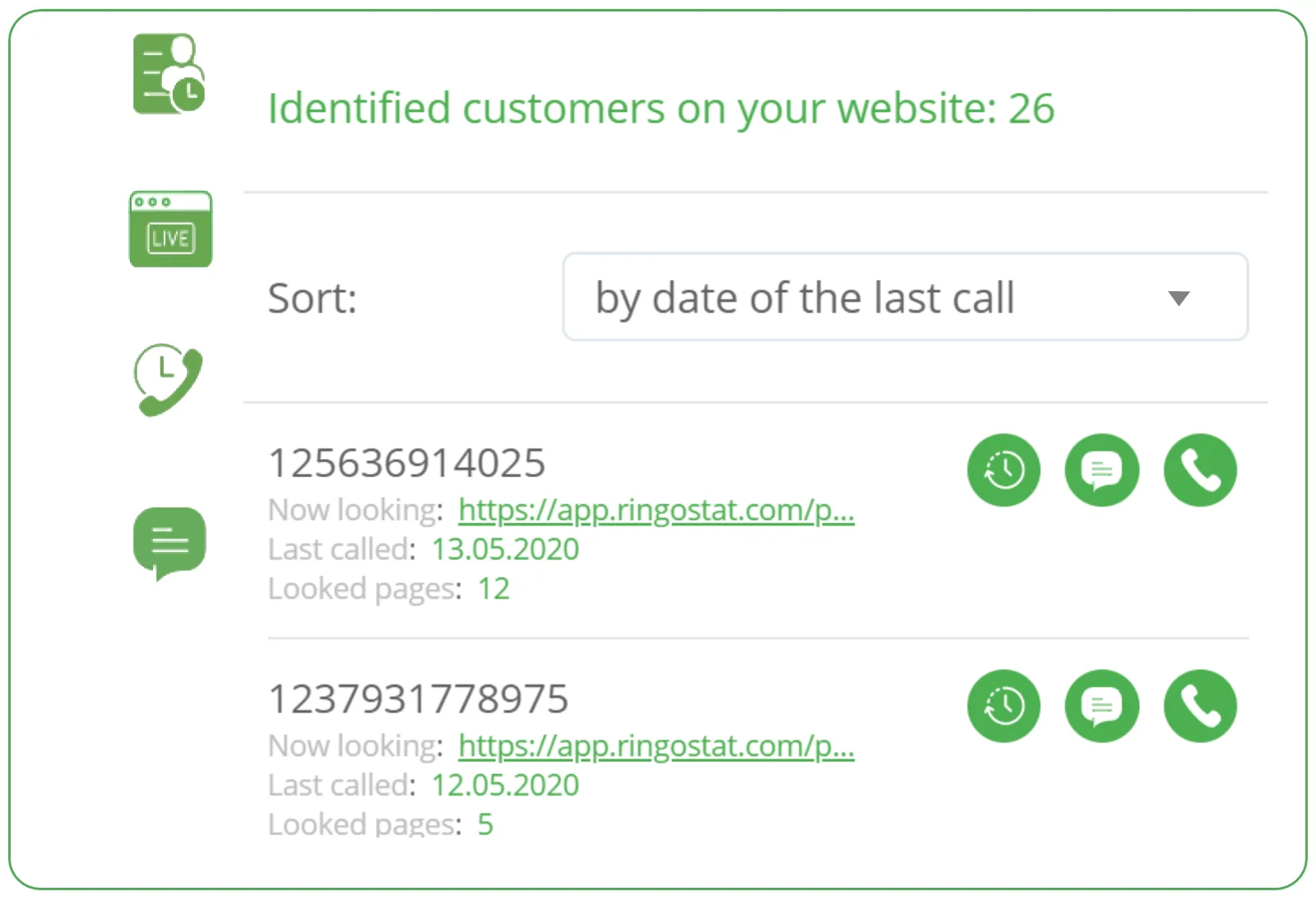 Advantages of Ringostat Smart Phone update
You can quickly "catch" a customer while he is as "warm" as possible.

Call him directly from the extension or send SMS.

Get valuable insights on customers to close a deal.

The following information is available for all users: which pages of the site he most often viewed and which one he is watching now, how many times he called, etc.

Increase the productivity of your sales team.

Sales reps are not wasting time when there are no calls but can themselves call interested customers.
Read more in the article with updates.
4. Marketplace + new integrations with CRM, bids management services and integration builders
Ringostat now has a full-fledged marketplace that allows you to connect the platform with hundreds of other services. Some integrations are ready-made or "one-button"; in other words, they can be connected in 10-15 minutes without the programmer. The setup process itself is intuitive, and you can find detailed instructions in the knowledge base. The other part can be connected using the ApiX-Drive connector; we will discuss them below.
The marketplace is conveniently divided into categories, and there is a search bar for the desired integration.
Ringostat has released five integrations since last September. Now in total, we have 30+ ready-made connections with third-party services.
Advantages of new Ringostat integrations
Integrations with Zoho CRM and SalesDrive

— sales department automation. When there is a call, the system automatically creates contacts, deals, and tasks. Smart logic will direct the call to the right sales rep and help you not to lose the customer.

Integrations with ApiX-Drive

— fast Ringostat integration with other tools. In the first case, these are 70 services, and in the second — 80+

.
5. Antispam for callback
Ringostat callback is reliably protected from fraud. For example, in case if an unscrupulous competitor wants to massively order callbacks. With our callback form, you don't risk of overpaying for call forwarding in vain, and your sales reps will not be distracted and will be able to respond to real customers.
We do not specifically share the algorithm that protects the callback form. You don't need to configure anything as it works by default. Also, Ringostat callback is protected by reCaptcha V3. Unlike the old version, it doesn't annoy customers as they don't need to enter anything. The system assigns a rating to each user, depending on whether he is similar in behavior to the bot. This way, you will definitely not become a victim of automatic fraud.
6. Ringostat ratings
These are not updates, but they are essential. Our goal is to make the digital market more transparent and understandable for companies. Therefore, we conduct such ratings regularly.
From last September to the present day, we have conducted five ratings. And we are still looking for future ratings 🙂
Rating of digital agencies in Kazakhstan 2019;

Rating of CRM integrators in Ukraine 2020;

Rating of digital agencies in Ukraine 2020.
Due to the ratings, the business could find the best advertising contractors; meanwhile, the agencies and integrators — clients. We also told the media about the winning companies, which helped them to interest a broad audience.
Just think about these numbers:
748 participants;

169 jury members;

40 press releases on thematic platforms;

18776 votes.
As you can see, we are continually improving Ringostat. And by paying for it once, you get a tool that is constantly upgrading. We only mentioned significant updates here. You can read about all the others in the "News" section.