Now you can manage bids for paid advertising in Ringostat end-to-end analytics. This will not only save your time but also help increase the cost recovery of the campaigns. The platform will do the same work in seconds that would take hours for a specialist. Read how to work with the feature and what benefits it gives the user.
Bids management is the next step in the evolution of Ringostat's end-to-end analytics. That's why it must be enabled in your project if you want to use the feature. Hurry up to try your bids management. It is available to everyone while connecting end-to-end analytics.
In brief: what's the point
For now, it is possible to add new metrics to reports for users who have end-to-end analytics configured. The following data is displayed there:
the current bid in paid advertising;

recommended bid;

the difference between the current and recommended bid;

conversion bid forecast;

average bill forecast.
New metrics are displayed in a separate block. Green font and an up-arrow indicate that it is recommended to raise the bid, both red color and a down arrow indicate a recommendation to decrease the bid.
There is a button next to the recommended bid, by clicking on which you can change the bid with one click. We will describe below how it works and what advantages it gives.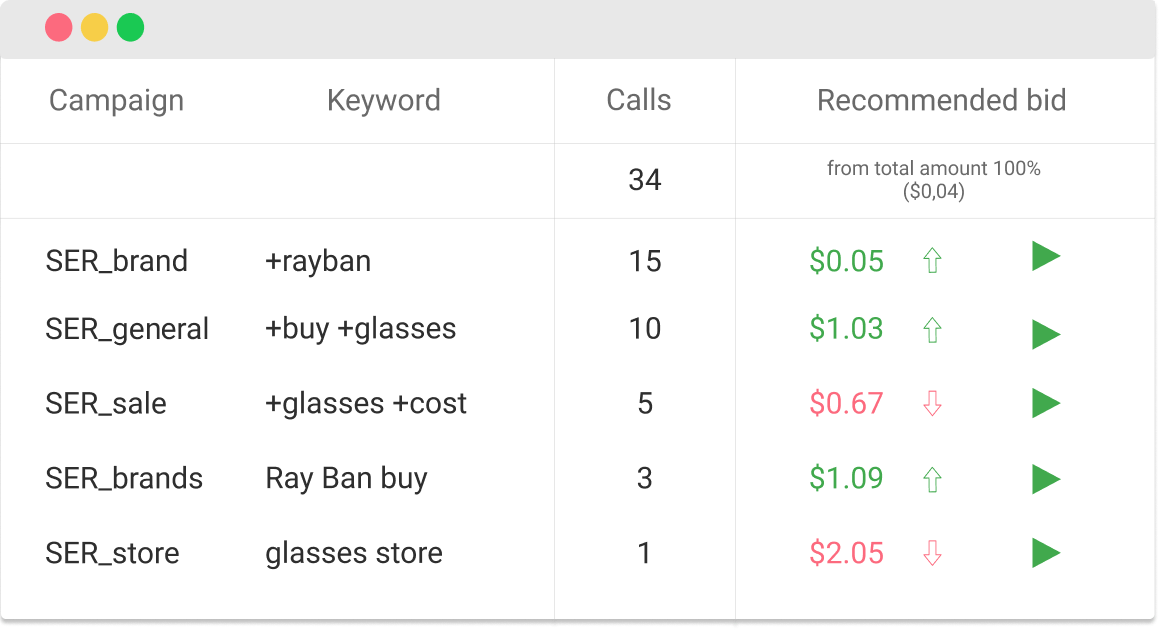 IMPORTANT: Ringostat only recommends how to change bids using the automatic algorithm of work with data and is not responsible for your actions. It's up to you whether to follow the recommendations or not.
What are the advantages of automatic bids management right at Ringostat
1.
Profit increase while maintaining a positive ROI
Ringostat recommends smart bids based on sales and conversion forecast. You don't have to pay an analytic specialist to consolidate separate data and make conclusions. A couple of clicks and ad campaign brings more target requests.
The task of this update is to provide a balance for the client. Therefore, Ringostat does not increase ROI but finds optimal bids so that ROI remains positive, meanwhile, the profit tends to maximize.
2. Convenient management of bids in one window
What is the usual process of ads management? Let's say a business has 10-12 campaigns, each with 15-20 ad groups and 20-30 keywords. Keeping track of every keyword and making changes in time takes hours and hours of work. And there is always the possibility of missing something or making a mistake.
With Ringostat, you can see the effectiveness of keywords exactly in the end-to-end analytics reports and apply bids right there. The platform will calculate the necessary indicators automatically and recommend the optimal cost of a visitor per each keyword. You just need to monitor the data and make changes in a few clicks.
The usual determining of bids with an insufficient number of sessions for a keyword becomes a difficulty. After all, you do not have the required amount of data for calculations. Ringostat easily solves this task, using special statistical methods — we will describe it below.
3. Real-time control of campaigns' cost recovery
With Ringostat, you will immediately notice if an ad is unprofitable and you will be able to adjust your bids. If some campaigns are loss-making, you will notice this on time and minimize risks. You also get not just recommendations on bids but an understanding of how this will affect sales.
Why is it so important to always see the relevant image? By promoting using paid advertising, the business is constantly competing in the auction. If competitors change their bids a lot, everything changes, even the ones applied a couple of days ago, will be in vain. You will have to re-collect data, analyze, and think over a new strategy. Ringostat makes it as easy as possible to control the cost recovery of ads.
What do you need to manage bids at Ringostat
To manage bids, end-to-end analytics must be set up correctly on the project. What do we mean by this:
integration with your CRM is configured;

the concept of a won deal is configured, in other words, after which stages the sale takes place;

weight of different deal stages are set, for example:

marginality is mentioned;

integration with Google Ads

has been configured to import costs, while bids management is available for this ad account, but Ringostat makes calculations for all traffic sources.
Everything mentioned above is described in detail in the article "4 ways to boost your business via end-to-end analytics"
The project also must be connected to the Ringostat MCC. When you integrate Ringostat with Google Ads, you will receive an email inviting you to join your manager account. By giving your consent, you will be able to change bids in your Ringostat account.
Based on what parameters are given recommendations on the size of bids
The global task of end-to-end analytics is to provide an understanding of the required bids for paid advertising. And the task of the company, to put it simply, is to generate such profit, so it would be greater than the cost of traffic. Let's imagine the following chain: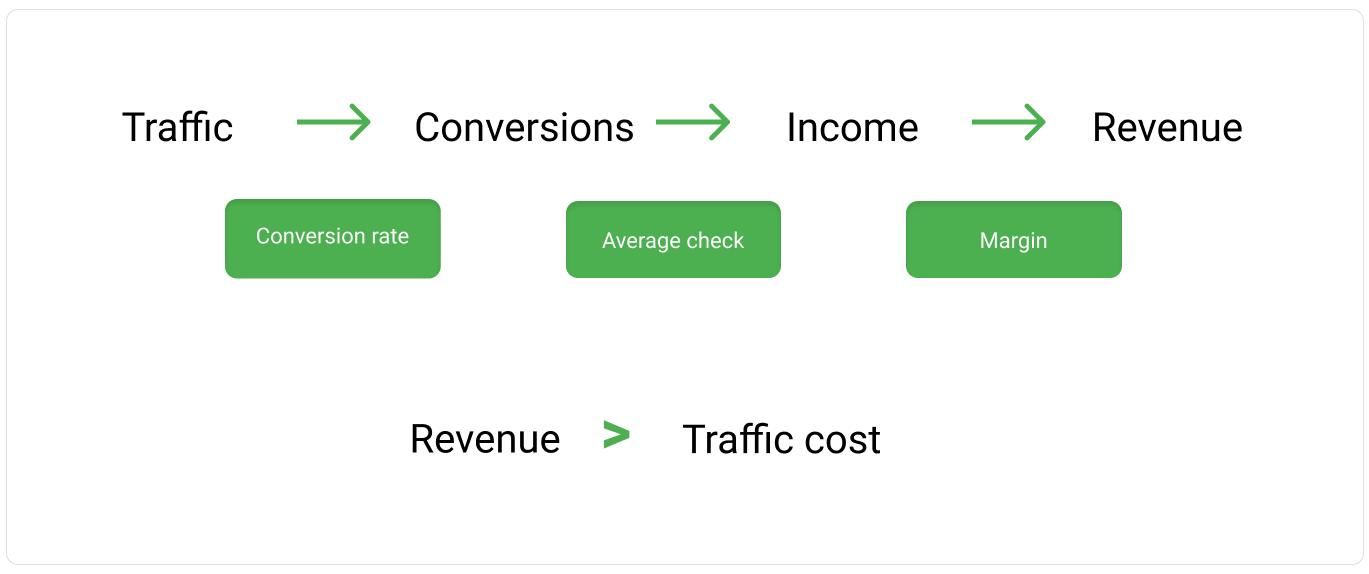 Let's say, we have a perfect situation where there is an infinite amount of traffic and a lot of conversions. In other words, we can collect a lot of data to make conclusions. Thus, a clear conversion rate is formed — the average ratio of the number of interactions with the ad to the number of conversions in percentage terms.
Ideally, you would need to get a profit from every deal. But just a few of the users may collect revenue in the CRM. Therefore, Ringostat is forced to proceed from the multiply of the average margin by income, which gives approximate profitability of closed deals.
Thus, by multiplying the income by the margin, it would be possible to calculate how much profit we get from a unit of any traffic as well as the maximum allowable cost per visitor. However, there is a nuance, this is possible only in a perfect situation, with an infinite volume of traffic and conversions.
In reality, hundreds of keywords can lead to traffic, and for most of them, there will be few conversions. This makes it difficult to understand whether it is cost-effective to pay for specific keywords. Let's say we have only ten sessions for a certain unit of traffic, and in the end, we get one conversion. Then the conversion rate is 10%? Or the opposite situation: 10 visits and no conversion. In this case, the conversion rate is 0? Perhaps yes, but it's not a fact.
To calculate this more accurately, you need to apply the probability theory and various statistical methods. This is what Ringostat does. If you are interested in the algorithm for calculating recommendations, we relied on the pooling method described in detail by Andrey Belousov in his article on Searchengines. We will not describe the method further here, we will explain it briefly.
Ringostat uses pooling. The platform averages the data of a keyword and a certain group of keywords, collected according to different criteria. For example, ads, campaign, target page, peculiarities of user's behavior on the site. The more clicks a keyword has, the less data is averaged.
Let's say there is not enough data for a keyword, but there is data for a group of keywords. Ringostat can guess the metrics you want by "placing" the value of a more specific unit on top of a more abstract one. Group data are placed on a separate keyword, etc.
To make recommendations on bets, Ringostat calculates:
conversion rate forecast;

average check size forecast.
The platform also takes into account the margin that the user specifies while setting up end-to-end analytics. During the calculation, the number of closed deals and traffic for a specific keyword, ad group, campaign, account, etc. play a major role.
IMPORTANT: The more closed deals, the higher is the accuracy. You can create a formula for determining a specific number of closed deals based on the account structure, traffic cost, and a number of other parameters. But in general, we recommend you to apply bid management after Ringostat has accumulated data on at least 100 won deals in your account.
An exception is a business that operates in simple niches where campaigns have, conditionally, 30 keywords in five ad groups. Then the results can be considered applicable for 30 deals.
How works bids management at Ringostat
After all the settings, end-to-end analytics users have new metrics that can be added to reports. They can also be added if desired while editing the report.
Go to the Analytics section — Your reports and click "Create report" in the upper right corner.
In the report settings, you will see a new field — Recommended bid. There, you can mention the indicators you are interested in or all of them at once.
Let's consider parameters that can be added.
The

current bid

for the keyword on Google Ads.

Recommended bid.

We advise you to choose an indicator in conjunction with the "Keyword" parameter. The suggested bid for a keyword is calculated based on your account data, margin, and conversion forecast. In case of a large difference, more than 50%, we recommend increasing your bid step by step in the Google Ads interface.

Delta

is the difference between the current and recommended rates. It is convenient to first sort the indicators from highest to lowest. Find where the bids are too high and the conversion rate forecast is low, and bring the cost down to the recommended one. Then you can find the most successful keywords and increase your bid for them.

Conversion rate forecast

. That is, what conversion rate you can expect for a specific campaign or keyword. The calculation is based on the statistics accumulated on the project.

Average check forecast

. It is also calculated based on the statistics accumulated on the project.
We recommend you to add the number of closed deals to the report. You also won't see bids recommendations until at least one deal is closed.
After saving, you will see a report like the one below:
It contains the data that is needed to make a decision:
you can view the current bid for a keyword without visiting the ad account;

estimate the difference between the existing and recommended bids;

if green numbers are displayed, it means that the keyword brings enough conversions, and the bid can be increased to the specified number;

if the numbers are red and the arrow next to them points down, the ad does not pay off, and it is better to lower the bid to the specified number;

by the average check for each keyword, you can estimate how the average check size for a specific keyword differs from the other ones.
There may be cases when the current bid is 0 but the report displays a recommendation for it. This can have several explanations:
the keyword is disabled in Google Ads but considering the data, it can be effective, therefore, Ringostat recommends including it;

transfers from organic, referral transfers;

in situations where the platform cannot receive the current bid;

for advertising systems from which Ringostat does not drive bids.
The platform may not display integers based on the number of deals won. For example, keyword A from campaign B in Google cpc brought 2.4 deals that were won. This happens as Ringostat calculates the channel's contribution to closing a deal based on the applied attribution model. Due to this, the influence of the channel on revenue is taken into account as accurately as possible. For more information on these models, check the article "Examples of attribution models configuration in Ringostat end-to-end analytics".
Example of work with bids management at Ringostat
Let's say the end-to-end analytics report shows that the keyword "where to buy the juicer" brought nine clicks. Their total cost was $2.66 and everything ended up closing one deal. The platform calculates conversion and income based on closed deals. This information is driven to end-to-end analytics, due to the Ringostat integration with CRM.
In this example, the revenue from a closed deal was $500. Ringostat will recommend increasing the bid from $0.41 to $0.71. The amount is small because there were only nine visitors brought by the keyword. Ringostat takes information into account at higher levels of abstraction. The system uses this data to make final conclusions on the size of the recommended rate, without overestimating it.
If you click the "Play button", the information will be transferred to your Google Ads account, and the new bid will be applied to the specific keyword. Meanwhile, the bid is converted to the currency of your account.
Unobvious advantage: insights about keywords that can be used for SEO-promotion
Let's continue the example with a keyword that brought nine conversions and one $500 sale. Due to the report, we found a low-frequency keyword that could generate sales. After all, we already have the fact of a closed deal on it. The marketer, seeing this, gets the following insight — you can not only raise bids but also write an article for the site, filling it with keywords that pay off. This will allow you to receive free organic traffic to it. In addition, as the key is low-frequent, the competition won't be high there.
To sum up
The ultimate goal of a business is profit growth. For example, a company might pay $0.40 for a keyword but shows up in third position in the search results with it. If a business pays more for traffic, its ad will appear higher. And here's an important task of optimization — to find a balance when the cost for advertising brings the maximum profit. If the cost is exceeded, the ROI becomes negative. Ringostat's bids management helps to solve this issue — it allows you to notice changes in time and adjust bids before everything becomes loss-making.
We offer to test bids management on your project as well. Connect end-to-end analytics or you can immediately text our technical support. We will help you with the settings and give you recommendations on how to manage your bids.