Every business owner must be aware of how important it is to have a website these days. The pandemic made it clear — online business activities, especially in e-commerce, are a must. But what can you do to make your website bring real profit? If you are puzzling over it and have already done some research, chances are you've come across the concept of SEO. In this article, Katarzyna Zielosko Marketing Team Leader Delante Agency, will explain what is it, how to do it, and what effects you can expect from optimizing your website. Are you intrigued? Keep reading to find the answers!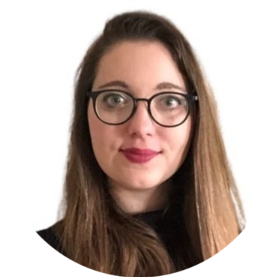 What is SEO — The Basics Everyone Needs to Know
SEO (Search Engine Optimization) is a process of activities on the website and beyond that helps improve the website's position in the search engine.
SEO is a very diverse activity. However, we can distinguish three main areas:
on-site –optimization activities within the website;
off-site –off-page activities, creating external links leading to a page;
content – creating valuable content for users;
I will discuss all of them in detail later in this article. A crucial thing to remember is that SEO is a process. Making a few changes within two or three months is not enough to get your website to the first place in the search engine.
Of course, you will certainly notice some results, but the key to success is constant work on the website, its development, and continuous optimization. Only then – with appropriate and consistent actions you will succeed.
SEO Results — What Can You Expect From Optimizing Your Website?
You need to know that optimizing a website is a complicated process. You have to wait a bit for the first results. But believe me when I tell you that being patient pays off. The results are long-lasting, and traffic from organic results is often the largest source of sales in online stores.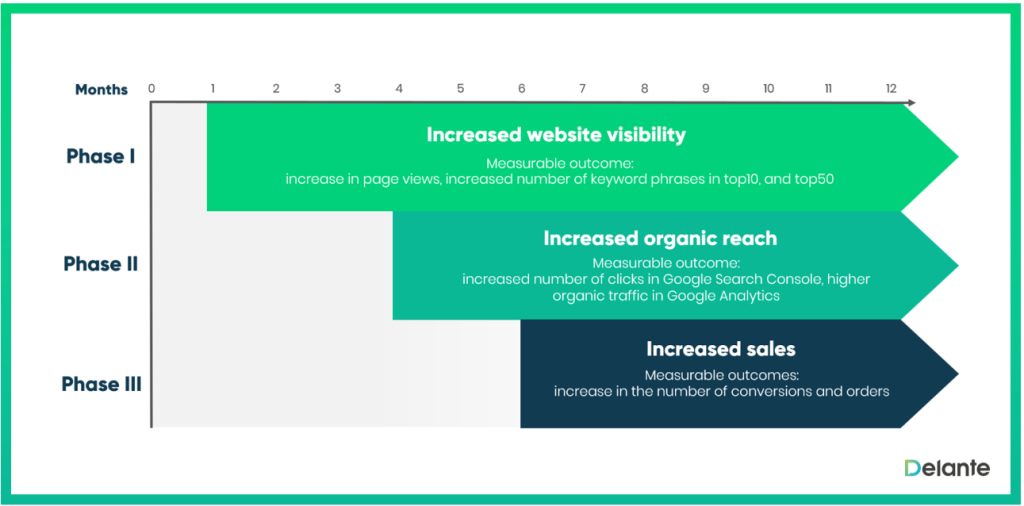 So, when will you notice the results? You can see the first results in just a few months. In the beginning, there will be an increase in the website visibility in the search results. With the right keywords, your page will be displayed more often on Google.
The next step is to increase organic traffic. What's that, you may ask? To put it straight, organic traffic takes place when a user enters a given phrase in the search engine and receives free search results — located under the paid ones. From there goes to a given page, usually one of the top ones.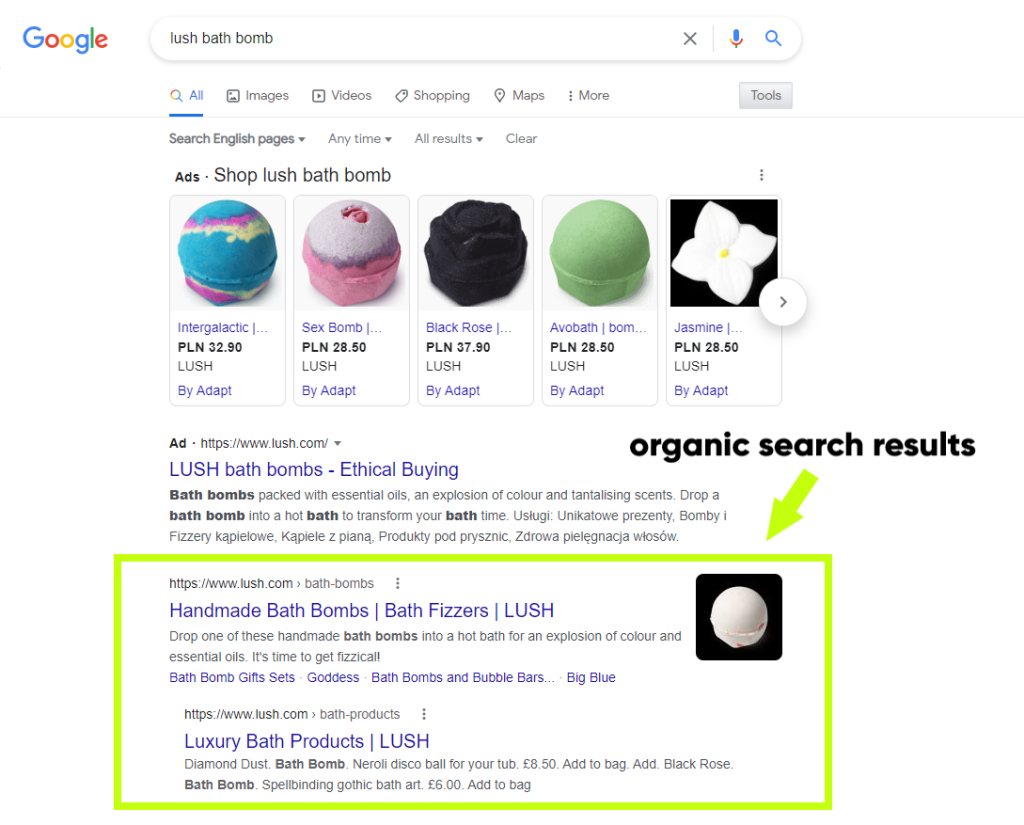 If you continue the SEO process, the website will be displayed for an increasing number of key phrases. It will achieve a higher search engine ranking and thus increase its organic traffic attracting more users. It's no secret that the best traffic comes from the first page in Google, i.e. the first 10 search results. The higher your site's position in the search engine, the better. Hardly any users check the results on the second or third page. To check site rankings, you can use special SEO tools. For example, one such tool is Sitechecker.
Can you remember the last time you ventured beyond the first Google page? When you optimize a website, strive to be at the TOP10 of search results otherwise, you might be overlooked.
The third aspect that is certainly interesting is the conversion increase. The goal of the vast majority of businesses is to sell. It is also one of the main goals of the website. With proper and consistent SEO activities your website will bring you real profit!
When can you expect increased conversion as a result of optimizing your website? Unfortunately, the answer to this question is not that simple. When we see the real results of SEO activities depends on many factors:
competition activity;
the domain's history;
penalties from Google;
the amount of content on the page;
the number and quality of links leading to the page;
previous activities within the website.
When working on a website with low visibility and low traffic, you will probably have to wait a bit longer for the results. But this is not always the case! For example, you can find a product niche and optimize the website for more detailed key phrases, to be able to compete with bigger players in the industry.
SEO — The Key Elements
As I mentioned before, SEO is a complex process with many elements. What can't you forget when positioning a website?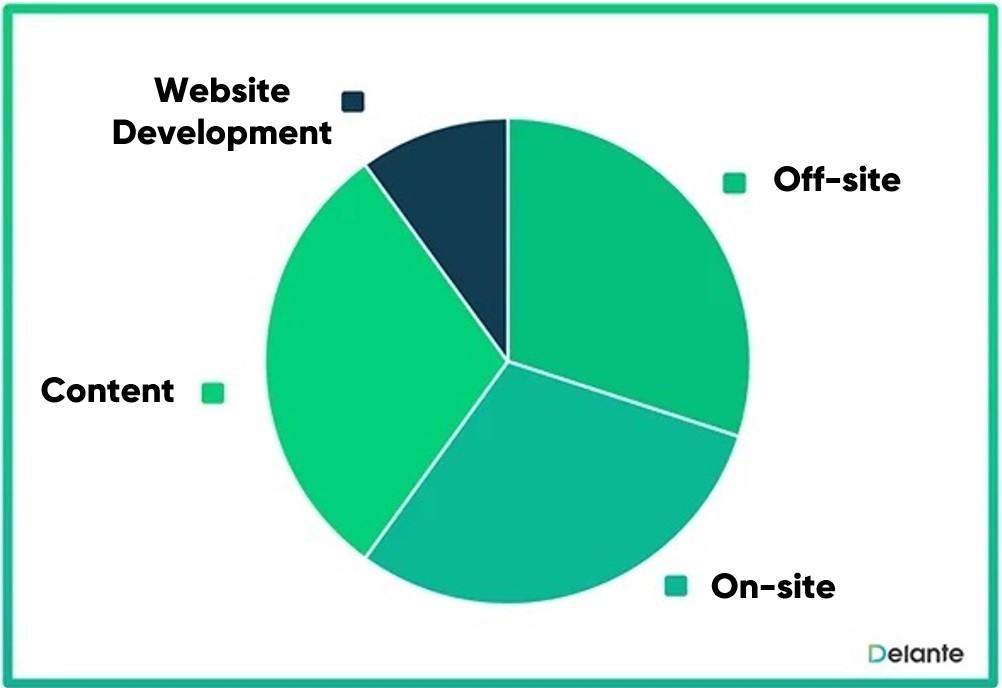 On-Site
On-site activities, i.e. all activities that we perform on the website, do not make sense without proper keyword research. Before you even start thinking of optimizing your website, you should choose the key phrases for which you want to be displayed in the search engine. That's one of the most important elements because poorly selected keywords are unlikely to bring the expected results.
To conduct keyword research for a website, you can use several tools such as Serpstat, Ahrefs, or the Keyword Planner. It's also a good idea to keep an eye on the competition that ranks high on Google. Consider how customers can search for your products or services, what are the most important categories in the store, and then match the selected phrases to the home page, categories, and products.
Pro tip! Well-done keyword research is an absolute must-have and a base for an effective SEO process. Every SEO expert can vouch for that!
Have you selected the keywords to optimize your website for? Great! You can start working on the site. On-site activities consist of optimizing elements on the website with appropriate key phrases. When carrying out these activities, you should focus on:
metadata,
website headings,
content,
internal linking
image alt descriptions
Is that all? Not quite. Working on the site also means optimizing the footer or menu, improving redirections, etc. Many elements require your attention to help your website's ranking. It is worth trusting SEO specialists in this matter as it may take a lot of time and effort, especially with a larger website.
Off-Site Acquiring Links to Your Site From External Sources
Off-site activities, i.e. link building is about creating links from external websites referring to an optimized website. The main goal of this type of activity is to improve website parameters: mainly Domain Authority, Domain Rating. Pages with high parameters are more likely to be in the first places in the search engine.
Where can you find links to your site? There are many places, but the most popular are social media, website directories, websites (NAPs), forums, and internet profiles. Guest blog entries with a link to your website are also a good idea.
There are many possibilities to get valuable links to the website. However, it is worth remembering quality is more important than quantity. A large number of poor-quality spam links may harm a website instead of helping it.
Content — Creating Valuable Texts for the Website
The last area I would like to mention is content on the website. Currently, Google more and more appreciates websites with content that is valuable to users. Therefore, it is worth taking care of the content on the website that will answer users' questions and bring them real value.
What kind of content am I talking about? E-commerce shops should have unique descriptions for each category and each product. It is also worth placing a description on the home page, which will describe the general activity, indicate the most important products or services, and inform potential customers about what the company does.
Of course, your content should contain relevant keywords you want to rank for.
In addition to descriptions for the home page, categories and products, it is worth setting up and running a company blog regularly. It is a perfect place to constantly expand the content on the website and your keyword basis.
High-quality blog articles will present your company as an expert in the industry. Properly optimized entries can guide users to product pages and thus support sales in the store.
SEO and Conversion — Does It Really Work?
You already know what elements the optimizing process consists of and what is the characteristic of each of them. You also learned what results in you can expect from conducting SEO activities on your website. Now, the real question is, can SEO actually sell?
As a result of a well-conducted SEO process, your website will get high positions in Google for selected keywords. If the optimized website is ranked high in the search engine, the number of users' visits increases. With more users — potential customers — on the page conversion increases = more sales.
Is it always the case, though? Achieving a high position in Google for given phrases will increase traffic to your website and thus may also support sales. However, you should take into account that whether users will finally decide to buy your products or services depends on many factors.
One of the most important is the price, the ability to choose the various payment and delivery methods, or the overall ease of placing an order in the store. Your potential customers compare prices and look for the most advantageous option. So, even if your store is higher in the search results than the competition but you won't take care of the mentioned elements, you may lose potential customers.
How Can You Measure Your SEO Efforts? A Few Practical Tips
Finally, I would like to show you how you can check if SEO on your website is working and brings tangible effects.
Visibility — the things you can measure:

Increase in page views — you can check the views in a free tool from Google — Search Console. You need to create a project for your website and verify your website. The tool will collect data on an ongoing basis, including clicks and page views in organic results every day.
Increase in the number of keywords for which the page is displayed in TOP10 and TOP50 search results — you can check it in external tools, such as Ahrefs.
Organic traffic — the things you can measure:

Increase in clicks = visits to the website — you can check this element in the Google Search Console.
Increase in organic traffic — you can check in another free tool from Google — Google Analytics. To start monitoring traffic in this tool, you also need to create a website design and then add GA tracking code to your website.

Conversion — the things you can measure:

Increase in the number of orders.
Increase in sales on the site.
Summary
SEO is a process that requires constant effort, expanding the content and improving the website. You cannot forget about acquiring valuable links to the website, as well as adapting it to the changing Google algorithms.
Only constant SEO activities can bring satisfactory results in the form of increased visibility and organic traffic, which then lead to increased conversion to the website. I mentioned it at the beginning of the article, but I will repeat it once more- patience in the case of SEO pays off. It is worth remembering that!