What do you need to go omnichannel and implement omnichannel analytics? Well, not programming skills. It's possible to gather all the data in one place without a single line of code.
Omnichannel analytics is a real trend that creates a buzz in a marketing world. This is what marketers are talking about as there're a lot of things to learn, a lot of experience to share. The article you're starting to read is written by one of our partners, online marketing agency Convert.
As you know, omnichannel approach helps companies selling through many different channels to tie them all together. Thus, they can give a consistent experience to the buyer. Microsoft Power BI, for example, is a tool for gathering information from different sources and representing the data in a user-friendly format convenient for analysis.
But how to gather all figures together? Here is a scheme we will follow.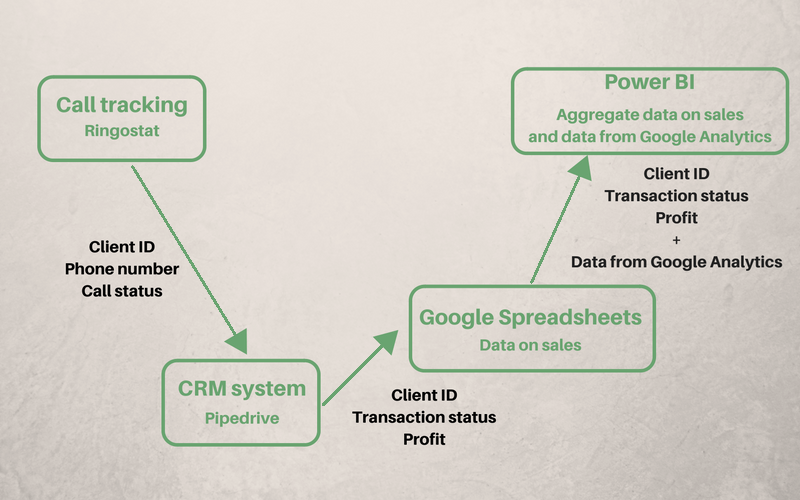 Let's discuss it.
From call tracking service to a CRM system
Where to start? At the beginning, you have to merge the information about online and offline conversions in a CRM system. In order to do this, you can use Ringostat Webhooks. It is a kind of API that provides a real-time data transmission from one service to another.
What are webhooks?
We can draw an analogy between webhooks and UTM parameters.
Let's take a link providing an access to API you use for CRM system as a URL. Instead of UTM source here let's type CustomerID. The link is done. Now you have to add it to Webhooks in Ringostat and the data on each call will display in your CRM.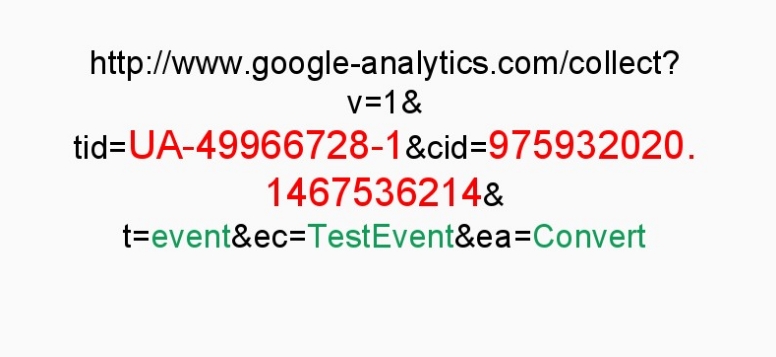 Compare it to UTM tag: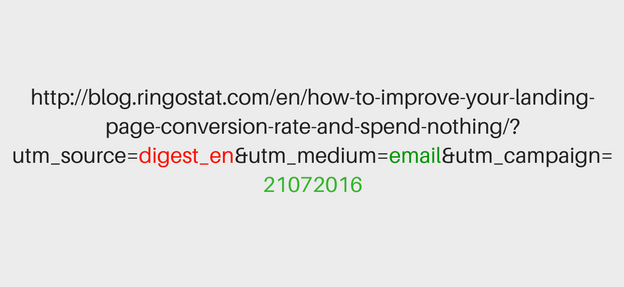 With Ringostat Webhooks you don't have to analyze phone numbers as separate parameters anymore. All the information about phone calls in CRM is attributed to Client ID. These are:
phone number;

call status;

transaction status;

profit.
And this is how you can adjust this in Ringostat interface:
From CRM to Google Spreadsheets or Excel
Why should you do this? As has been said, our goal is to merge data in Power BI. This tool can't obtain any information from popular CRM systems, that's why we use Google Spreadsheets or Excel as an intermediate link. In order to transfer data from CRM to Excel, you can use Zapier. It is the service that moves the data between web apps or services you use automatically. Login, choose a file in Google Docs and setup the data transfer from CRM.
From Google AdWords to Google Spreadsheets or Excel
Though not in the scheme, Google AdWords is also an important source of data you can analyze, but it has a serious disadvantage: the summary format of data doesn't allow to g single out the information about a specific user. This can be age, gender, device or geolocation. Therefore, you need to use such service as Supermetrics Data Grabber for this purpose. It allows to get the information you need through API Google AdWords and thus receive a basis for user analytics, calculations and researches. Why Excel? It's a simple and clear tool you can use for calculation and analysis.
Here is how its interface looks like: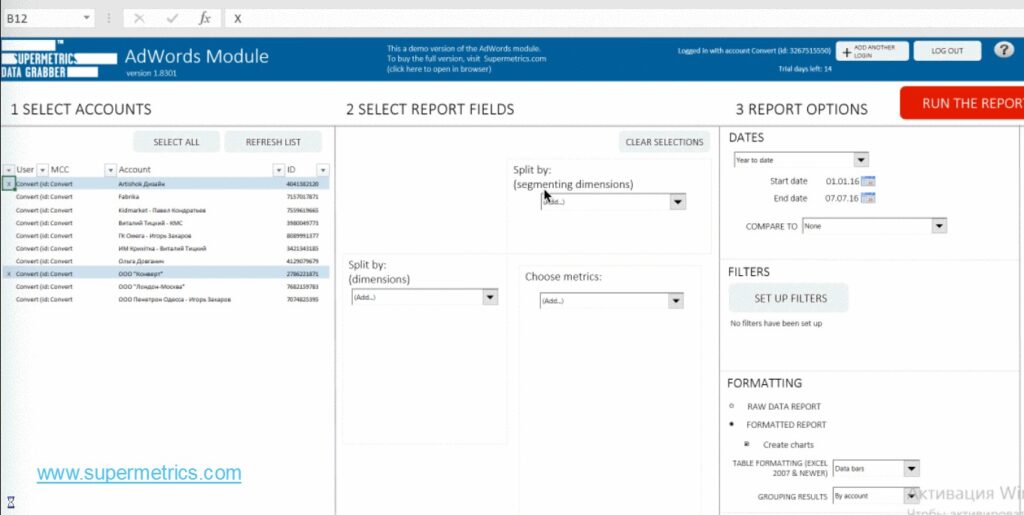 Transfer the data from this service to Excel and follow the algorithm:
Delete the columns you don't need.

Calculate the rates and other aggregate figures that will form the basis of your future report.

Segment data into categories you need.

Think about several data significance tests.
Now your report is ready and you can use it to determine different behavioral characteristics of narrow target segments or even separate users.
From Excel report to Microsoft Power BI tables
No doubt, Excel is an indispensable tool for small business owners. But when it comes to analyzing the large amounts of data and relating figures from several tables, you need to look for another tool. A really good one is Microsoft Power BI. It's a business analytics service that provides interactive data visualizations where end users can create reports and dashboards by themselves, without having to depend on any IT and Database administration.
As the last stage, you need to move data from tables in Excel and Google Analytics to Microsoft Power BI. Open the last tool and choose the sources of data like this: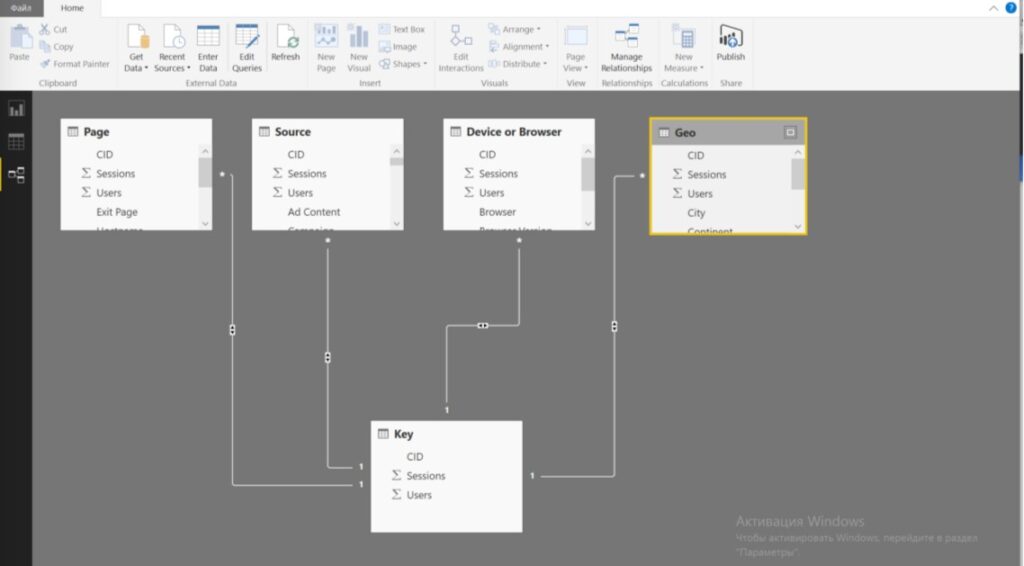 Thus, you receive a full-fledged dashboard with all the data you need and the ability to calculate ROMI and other indicators.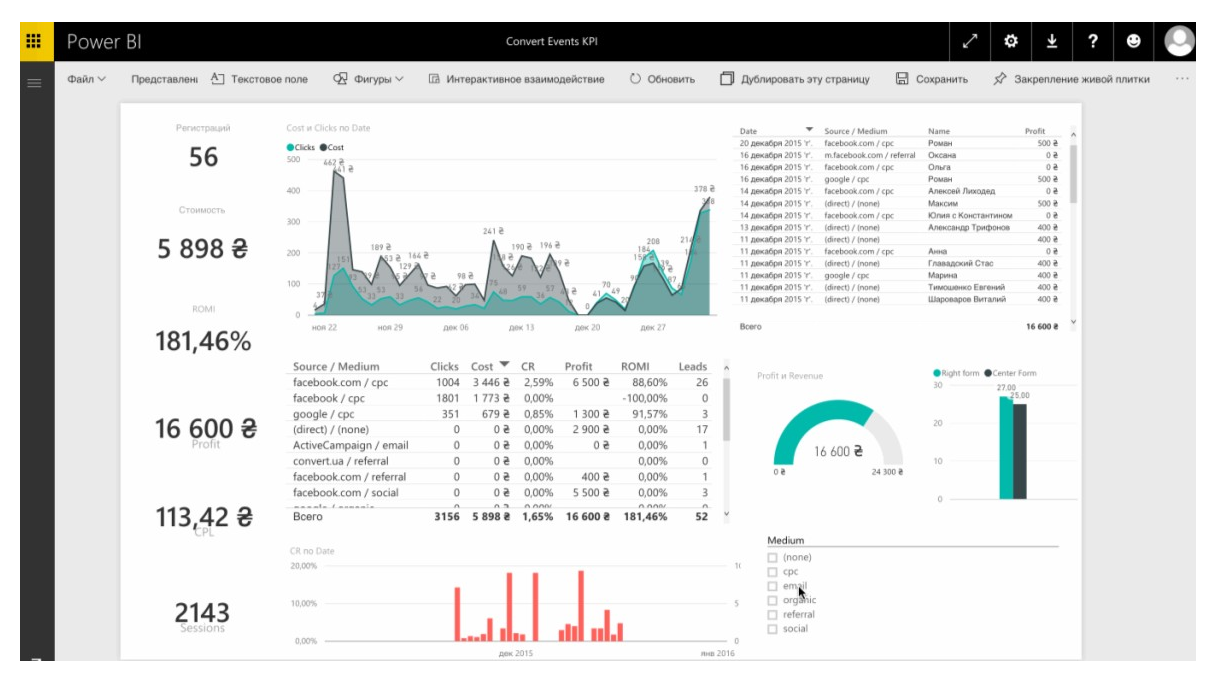 This is an example of a dashboard created by Convert marketers, and it shows:
Total marketing expenses;

Profit from all marketing channels;

Number of leads and registrations;

Successful transactions rate;

Different indicators: ROMI, CPL.
Of course, you can choose another data for analysis, it will depend on your business goals.
Conclusions
Omnichannel analytics implementation is possible without a programmer! The most important thing here is to understand the principle of UTM parameters creation, because Ringostat Webhooks have the same nature. Let's remind that you'll need them to move data from call tracking to CRM.
Such services as Zapier and Power BI will simplify you the rest of your work. In order to work effectively with omnichannel analytics, you should understand what Client ID is and how the metrics attached to it can help you to improve your business performance.