Ringostat has been celebrating Call Tracking Day for the sixth year and giving gifts in its honor. Don't miss the opportunity to upgrade your sales and marketing department! Moreover, the conditions are the most interesting. Go to the site to connect a business phone, call tracking, and end-to-end analytics with up to 30% benefit. In the meantime, let's remember what's new in Ringostat since the last September promotion.
What do we offer
No matter how the world changes, some things always remain the same:
companies never miss an opportunity to save;
the client prefers that the business can be easily reached by phone, and the manager should be well heard;
the marketer wants to know how advertising works and optimize it so that it brings more customers;
business wants to communicate with colleagues, partners, and customers around the world.
And every September Ringostat simultaneously solves these tasks. This year we traditionally provide business phone, call tracking, and end-to-end analytics with up to 30% profit. So your marketing and sales will always be on top.
What each of the Ringostat products provides and how to connect them, read on the website. But, in short, with our platform you can:
build the sales department of your dreams — with the Ringostat business phone, your employees will be able to handle more calls and close more deals;
make your advertising effectiveness skyrocket — call tracking and end-to-end analytics will show which campaigns work and how to optimize them;
get an exorbitant number of sales from the site — using the callback widget.
We remind you that by connecting Ringostat once, you regularly receive free updates. And often quite large. Let's remember the biggest ones that have appeared since the last Call Tracking Day.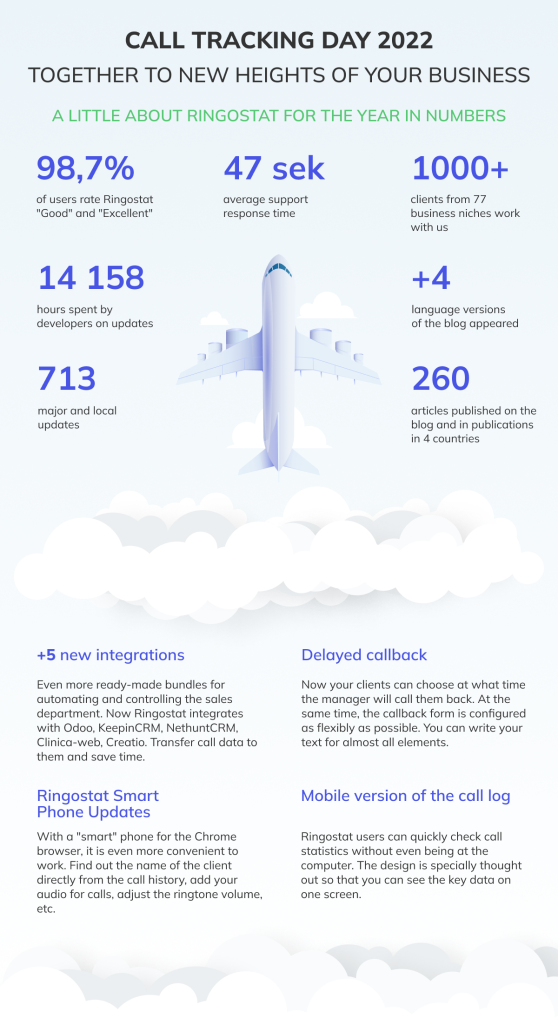 5 more integrations
Ringostat now has almost 40 integrations with various systems. But the most popular of them are bundles of business phone and call tracking with CRM. And this is not surprising, because they greatly relieve sales managers and allow you to put sales on stream.
Over the past 12 months, we have even more ready-made integrations. Such integrations are called "one-button" for a reason — they are configured as easily and quickly as possible. And also do not require the involvement of a programmer. So, let's consider the integrations with which systems appeared:
Odoo is a set of software tools for business management: CRM, modules for e-commerce, invoicing, accounting, etc.;
Creatio is a platform that combines the capabilities of a customer relationship management system and business processes;
KeepinCRM is a system that collects everything in one place: leads, customers, orders, tasks, inventory, finances;
NethuntCRM is a system for sales and marketing: deals, sales funnel, process automation, reporting, etc.;
Clinica-web is an information system for private medical centers: automation of processes, accounting of medical and financial information, and connection to eHealth.
Integration options may differ depending on each system, and the logic can be changed independently. But basic linking with Ringostat will allow:
automate the sales department: after a call to CRM, deals, contacts, and tasks are automatically created – this saves managers from manual routine work;
control the work of sales reps: audio recordings of calls are automatically transferred to the transaction card — so the manager can evaluate how employees process leads;
understand where the marketing budget goes — this happens due to call tracking data, which transmits the source, channel, campaign, and keyword that led to each call to CRM.
Mobile version of the call log
Ringostat users can quickly check call statistics without even being at the computer. This is especially handy for business users or sales executives who want to control sales even when they are away or on vacation.
The design of the mobile version is especially thought out so that you can see the key data on one screen. And if you wish, you could go below to get more detailed information. The mobile version loads much faster on a smartphone than a standard call log.
At the top of the call log there are three icons to manage:
filters — you can configure them in the same way as on the desktop;
summary information;
the range of dates for which the data is displayed.
Delayed callback
An update that has been appreciated and implemented by many of our customers. After all, it is not convenient for all interested site visitors to talk right now. For example, if a person can view your site at work or on the road. If the user postpones communication with you, then most likely they will simply forget about it.
Thanks to the delayed callback, this problem is easily solved. Now your clients can choose at what time the manager will call them back. At the same time, the callback form is configured as flexibly as possible. If you wish, you can write your text:
button, which will open the callback time selection interface:
a button that will open the standard call order interface;
which will be displayed in the form for ordering a delayed call;
for a suggestion to change the time to a new one, etc.

Ringostat Smart Phone Updates
Ringostat Smart Phone is part of Ringostat telephony, a phone built right into the Chrome browser. It also includes a sales manager assistant that shows customer information before the employee even picks up the phone.
This useful tool, on the one hand, allows you to receive and make calls faster. On the other hand, it increases the chances of a sale, because the manager more clearly falls into the needs of the client, knowing valuable insights about him.
We are constantly improving Ringostat Smart Phone to make it even more convenient and enjoyable to work with. And the last 12 months have been no exception in this regard.
Full name of the client on the "Call History" tab. It will be displayed if you have communicated with a person who is already included in your CRM.
Add your audio for calls. When an incoming call from a client, the manager usually hears the standard call sound. But if you wish, you can replace this sound with any other.
Adjust the volume of the melody in the extension. When a client calls you, Ringostat Smart Phone plays a pleasant melody. Now you can adjust how loud it will sound.
Possibility to update Ringostat Smart Phone by yourself. As soon as there is an update in the Google app store that affects our extension, you will see a notification. When you click the "Now" button, all updates will be pulled automatically.
And this is only a small part of the updates — we have described only the most ambitious of them. Do you want to get products that are constantly improving, with up to 30% benefit? Take advantage of our promotional offer for Call Tracking Day.