People are used to the fact that someone always wants something from them: purchases, registrations, reviews, and subscriptions. The easiest way to stand out is to do the opposite thing. Don't ask for anything, but offer a user something valuable. This will increase loyalty to your company and can quickly expand your contact base. That's precisely how lead magnets work. Read about advantages, as well as offers that work best for different types of businesses. 
Reading time: 12 minutes
You can instantly go to the required chapter:
What is a lead magnet
A lead magnet is a unique content or service that you offer to a user in exchange for their contacts.
Requesting a phone or email is an invasion of private space, so users don't really like to share data. However, when you give something valuable for this, the person perceives such a request as an equal exchange.
The main thing is not to confuse lead magnets with the standard offers that can be found on almost all sites. "Subscribe to our newsletter to be the first one to discover our updates" is not a lead magnet. In this case, the user clearly understands that your brand simply wants to get his email to become more remarkable for a person. In this case, a company cares about its own benefit.
"Get the book 50 Tips for Boosting Sales for free" is a lead magnet. There is nothing about the brand here, but such a book might become useful. Ideally, a lead magnet is something that the user would otherwise pay money for. But thanks to you, he gets it for free.
For example, the Infusionsoft service used a guide for converting leads using lead magnets as a lead magnet 🙂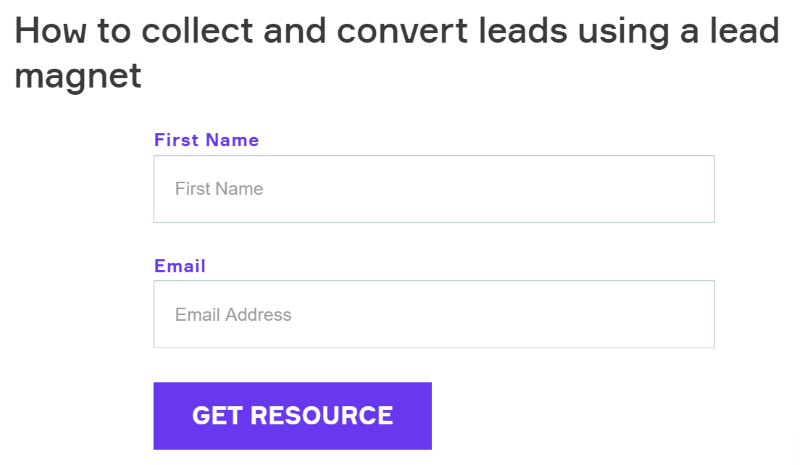 Advantages of lead magnets
An opportunity to expand the base for email broadcasts or get phones for SMS-mailing or cold calling. Make sure you provided the so-called agreement button for the collection and processing of personal data if you are planning an email broadcast. Otherwise, you are violating the law and the

GDPR

.

95% of users don't buy on their first visit and 70% will never return to your site. Due to the lead magnet, you "catch" a visitor at the stage of product research and establish a connection with him. Thus, you have a chain: lead magnet — contact — contact warming, using an email broadcast or a call — a deal.

By sharing useful materials, tips, instructions, you increase your expertise for a customer.

If the lead magnet is really good, the user would like to share it. Thus, in 2017, HubSpot created over 130 lead magnets. Users have shared them on social networks

54,000 times

.
Consider one non-obvious point. If we are talking about a complicated service, then it is difficult to implement it even by a manual for a non-professional. After reading the description of the process, many customers prefer not to risk and immediately contact a specialist. This is how the agency, for example, can get additional clients using lead magnets.
What should your lead magnet be like
Useful and practical.

People easily figure out empty shells under a value proposition or exclusive content. If you cheat while choosing a lead magnet, you will get feedback. Offer people something that they really need only. We will explain below how to find out their needs.

Related to your product.

Of course, you can gift Imagine Dragons tickets to everyone who leaves their email 🙂 But this is unlikely to inspire to buy your product. Something that you offer should involve engaging with the brand. You satisfy the needs of a potential customer, but after that, he should want more and buy a product/service from you.

Narrowly directed.

Target a specific audience and solve one issue. As CXL founder, Peep Laja jokes, a good lead magnet phrase is "If you're a single, left-handed woman from Minnesota, you absolutely must watch this." This micro-targeting will convince the target audience that you understand their specific difficulties and are able to solve them.
Where to find ideas to create lead magnets
Google Analytics.

Analyze which pages of your site receive more traffic. Create a lead magnet that can complement its content.

FAQ.

Write down the most frequent questions asked by users. And create lead magnets that respond to them.

Search.

Google customers' interests in your sphere. Additionally, pay attention to the search tips.

Trends in your area.

This is relevant both for the digital world and for beauty salons, interiors, and online boutiques.

Feedback on your product or a competitor's product.

Here you can find out what is most important for potential customers.

Quora and other Q&A services.

Make a selection of the most frequent questions on your topic and make lead magnets with answers to them.

Comments on the blog

, if you have one.
How to create a lead magnet
Discover your audience. If necessary, divide it into several segments. For example, segment A — people who are just learning about the product, segment B — visitors who are already at the selection stage, comparing you and your competitors. They will need radically different lead magnets.

"Pains" of your audience. The best way to find out is to ask the customers themselves. Analyze what situations your client encounters frequently and how you can make their life easier. For example, a marketer, accountant, or sales analyst can be offered document templates that he has to create every month.

List all ideas in a spreadsheet. For each of them, indicate the audience for which you create the lead magnet and on which page of the site it will be located.

Choose a service to create a lead magnet. For example, this could be

Canva

.
Structure:
"hook" — specify the benefit in the title, preferably with specific numbers;

something that a user will receive in exchange for his email, if appropriate, also indicate the time frame for achieving the result;

why did you create it and for whom;

briefly indicate the issues you are analyzing and solutions;

a clear call to action — download, sign up for a webinar, "yes, I want to …";

urgency, exclusivity, limited supply.
Don't ask to fill in too many fields. An email and name will be enough.
Now let's discover examples. In this article, we will not go into detail about such lead magnets as free shipping, discount coupons, etc. These things work well on their own and the benefits are clear.
Example of lead magnets
1. Ebook
Probably the most popular format of content lead magnet. You don't have to write a book from zero. Think about the most read articles on your blog. Convert them to a new format by adding an introduction and conclusions. Not everyone is comfortable reading blog posts. If you offer in the form of a book, a person can save the content and read it later.
An ebook doesn't have to be big. Barely someone would like to read 300 pages of text in PDF format. The faster a person uses a lead magnet, the more likely it is that the lead will convert. There is one more nuance, reading a book takes time, so it must give real benefits for a person, so he agrees to spend it.
2. Guides, tips
Create a guide to solve your customers' difficulties. It should be understandable, clear, and contain simple step-by-step recommendations. This format demonstrates that you are an expert in your field and can be contacted for help.
It might be tempting to write an article on how to achieve something with your product. You don't need to do so. Such text can be useful, but you are already trying to sell, and at the first stage of the funnel it is not desirable. A lead magnet is an advantage, without being related to your company's benefit.
3. Checklist
If you are an expert, you can easily find material for creating checklists. Oleg Poddubny, founder of the Digital Chief agency, in his interview, told us about the checklists that he often shares. He structures his own experience, the mistakes he faces at work, and turns them into checklists. You can do the same and turn your checklist into a lead magnet.
Articles from a blog can be processed into this format. Simplify the material and offer it in several steps. The checklist can be made, for example, in a printable format or in Google Sheets.
4. Templates
Nobody likes a routine that consumes a lot of time. Save it for your potential customers and they'll be grateful to you. These can be tables that can be downloaded, blank forms for reports with customized formulas, templates for contracts.
Detailed customization guides can be attached to the template: changing the ranges of formulas, cell colors, and so on. For example, an email marketing service can propose HTML email templates to which users will insert their content.
Document templates aren't the only option for such a lead magnet. For example, the Bitrix24 system offers free business process templates and a system for processing incoming requests based on two of them. Participation conditions include subscribing to the company's YouTube channel and signing up for a consultation. Thus, Bitrix24:
receives emails of potential clients;

increases loyalty;

proves the expertise;

grows YouTube channel audience.
We at Ringostat also created a template of a dashboard for marketers. Thus, users can put their data there and easily use it. You can read more about it in the article "A dashboard for the marketing department: description, settings, and template. "
5. Webinars, masterclasses
This is an opportunity to visually show your expertise and communicate with clients. Registration for such an event is a good reason to request a user's email. An additional bonus: users will ask questions and you will better understand what is bothering them. Consider this as a topic for the next webinar.
Webinars and masterclasses should not take lots of time, with the participation of several specialists. Your task is not to "overload" the future client, but to show that you are a professional and it is comfy to work you.
6. Report, research, statistics
Provide research and offer to share the results by email. This will prove to the potential client that you are an expert in your field. Research on a topical area will be referenced and shared, so you get a better reach. This format looks especially clear and attractive in the form of infographics.
However, the format is only suitable for those companies that have access to a sufficient amount of data. Make sure you can claim to be an expert in your niche. Otherwise, you will waste time and your research will not be taken seriously.
7. A collection of the best materials on the topic
It is not necessary to write something on your own, it is enough to collect and offer articles on a specific topic. Thus, with your help, the user will save time on collecting information. Similarly, you can offer a selection of the most useful materials on your blog, if they relate to one relevant topic.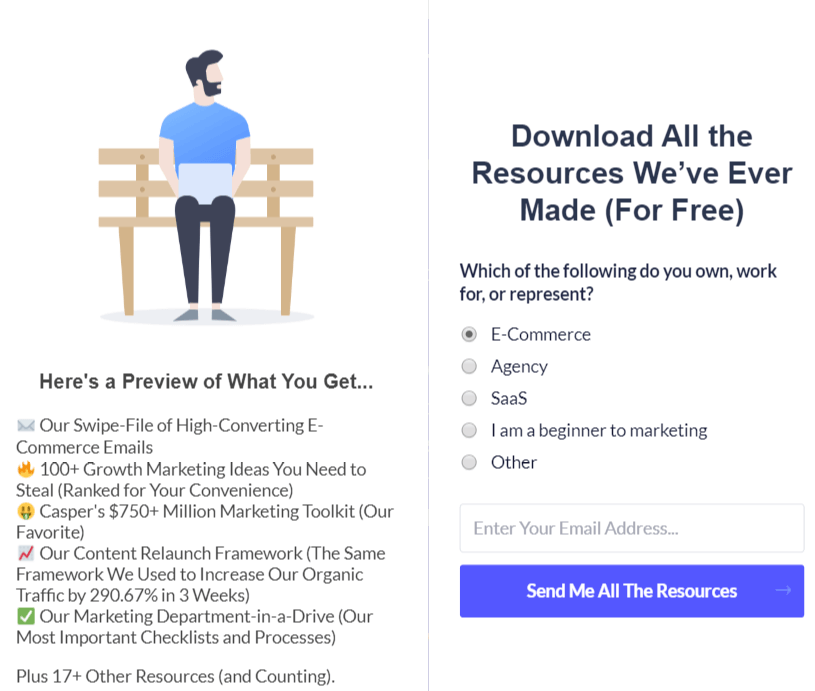 8. A series of emails, audio or video lessons
This format is similar to a manual but here you share the content in portions, and the user gets used to it and to you. Simply saying, this is a split guide that you send to the user over a period of time. Better if it is a maximum of a week.
Benefits:
split information is easier to understand;

the user is not confused, as if he tried to solve the issue in one attempt;

a potential client spends more time with you, if he is satisfied with the result, he would like to work with you further.
You win extra by using the video. This format is easier to understand and it grabs more attention. Therefore, people often prefer a video rather than a book with several dozen sheets. It is also more convenient to watch videos on a smartphone than to read. There are topics that can be fully explained only with the help of video. For example, how to apply makeup or do massage.
9. Additional content
Publish the beginning of an article or study, and for the opportunity to read the continuation request an email. Some companies go even further and provide only the beginning for free, but you have to pay to continue. The main thing here is that competitors may look more generous than you.
10. Calendars
Suggest a calendar template that you can print or use online. There the user will celebrate their achievements. The format is suitable for weight loss programs, fitness classes, getting rid of bad habits, and personal growth.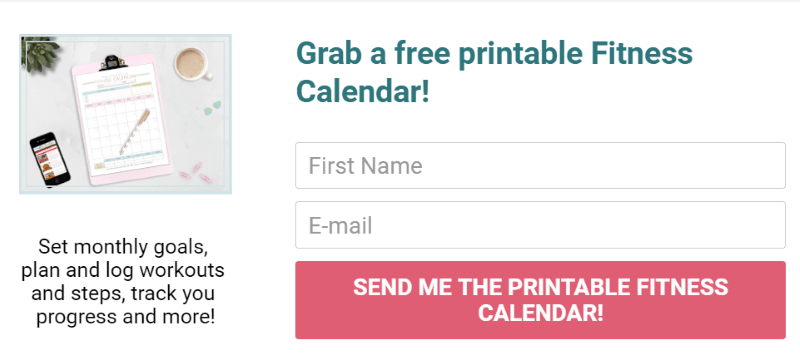 Fitness calendar
11. Trends review
HubSpot consolidates information about the changes that have taken place in the digital world in the form of lead magnets. But this format works great in niches that relate to fashion, design, makeup. This is a very variable field and it is not easy to follow it.
Users will be grateful if you provide them with a ready-made collection. For example, on the eve of the holidays, a beauty salon can offer a lookbook with the most relevant New Year's looks, an analysis of colors, styles, and makeup trends.
12. Quizzes
People love to learn new things about themselves. And as a lead magnet, the quiz is a perfect thing. You don't say anything about yourself, only about the client. Another advantage is that the quiz results you can paste a message that a customer needs your product. Perhaps he was just thinking about it and doubting, but the quiz confirmed this.
Lots of people are vain, so if they like quiz results, they can share it on social media. Ask for contacts at the end, as the person has already spent the time to take the quiz, so he doesn't mind to share an email to find out the result.
13. Catalog
It may seem that such a lead magnet is selling, and this is contrary to its principles. But not in the case when it comes to a product for which the visual component is important. Paints, fabrics, clothes, house designs, interior items — invite your customers to consider this better.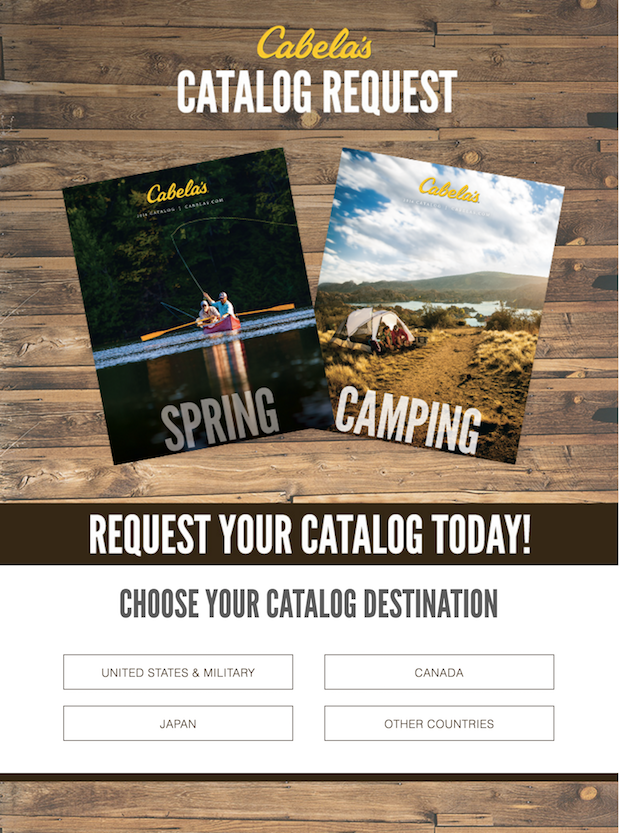 14. Consultation, audit
This is the easiest thing to start because there is no need to create content. But there is also a downside as you are wasting your time with a "cold" client who is initially skeptical. Therefore, it is better to first "warm-up" it with the lead magnets described above. A consultation should be carried out when he is already more loyal to you.
This format works well for legal services and B2B. Some agencies provide free express audits. For example, they help you find points of growth in the sales funnel or tell you how to use numbers to understand when something went wrong. This is an additional point to your expertise in the eyes of the client.
15. Free trial
Trials work great for SaaS. Especially for those services that sell complex services. The user gets the opportunity to look at his account, try the product in action, get acquainted with its capabilities. If it fits, then the company will get a loyal customer. For example, Ringostat has a free two-week period. During this time, the user gets an idea of what call tracking is. 
These are not all lead magnets, but we have covered the most popular ones.
To sum up
If you want to build a database of contacts and gain customer loyalty, you need to offer something useful. This could be content or a service, depending on your industry.

When thinking over a lead magnet, keep in mind the following points: it should be associated with your product, be useful, and clearly target your audience.

Before designing a lead magnet, conduct interviews with potential clients to identify their pains. This will help determine the topic and describe solutions to eliminate them.

Lead magnets can be roughly divided into discounts and loyalty programs, useful content, quizzes, and trials.