There is no denying the power that Facebook ads hold. But having a vast audience doesn't benefit a business if you're targeting is off. Many businesses have found that advertising online may not get the quality of leads they desire, but this vastly depends on the quality of targeting. Here are a few tips to get you quality leads with Facebook Ads for your business, which are shared by Chelsea Cris Crocker from SocialPilot.
Social media marketing is a stranger to no one. Even non-marketers are aware of Facebook ads, and sponsored posts. Throughout the entirety of Facebook's journey, promotions on the native platform have evolved. Facebook has given back to marketers and creators as much as users have spent time on the platform. Given Facebook's expansive data, the platform has learned its audience, and therefore, has an unmatched targeting system. Below we give useful tips on how to make it even more effective and find exactly the target audience.
Let's start with some general advice.
Choose the Higher Intent Lead Form while setting up your ads. When you create a lead generation form on Facebook, select the Higher Intent form option. Opting for this adds a confirmation screen to the lead generation form; making the information more accurate.
Include More Features to your Intro Screen. When creating the form, there is a Paragraph option that allows you to add detail to your ad. Since this paragraph has no strict character limit, you can utilize this to introduce your brand and products to inform your client better.
Probe for information that isn't auto-filled. When creating lead generation forms, Facebook auto-fills forms using data that users save with their profiles. But this sometimes means people don't really know what they are signing up for.
So choose to be more specific apart from the basic contact details. Perhaps you can ask a question like which product the user is interested in or the number of services a user would be interested in.
But often leads aren't just about creating a lead generation form, people like knowing that the product or services they're signing up for are worth it. So, in addition to all of these points to get qualified leads, here are some other areas of focus to align with your goals to garner leads.
Focus on Your Facebook Presence
Users of every age have spent time on Facebook/ Meta platforms including Instagram, making it easily one of the best places to showcase your brand and promote yourself.
Not only does this tactic create validity for your brand but also puts you at the forefront in their minds. However, this is probably more practical in theory. As social media platforms, the primary goal for users to get on Facebook and Instagram is to spend time with friends, family, and peers.
Having a brand and advertisements fill that space could be considered spam if done incorrectly.To up your presence, make sure to not only introduce your product or services but also to keep it conversational, and friendly and introduce a human element.
One of the best things to do is to keep your page looking consistent, alternating between different types of content.
While this is significantly hard to do and keep track of, you can schedule these using your Facebook page or third-party Facebook publishing tools such as SocialPilot.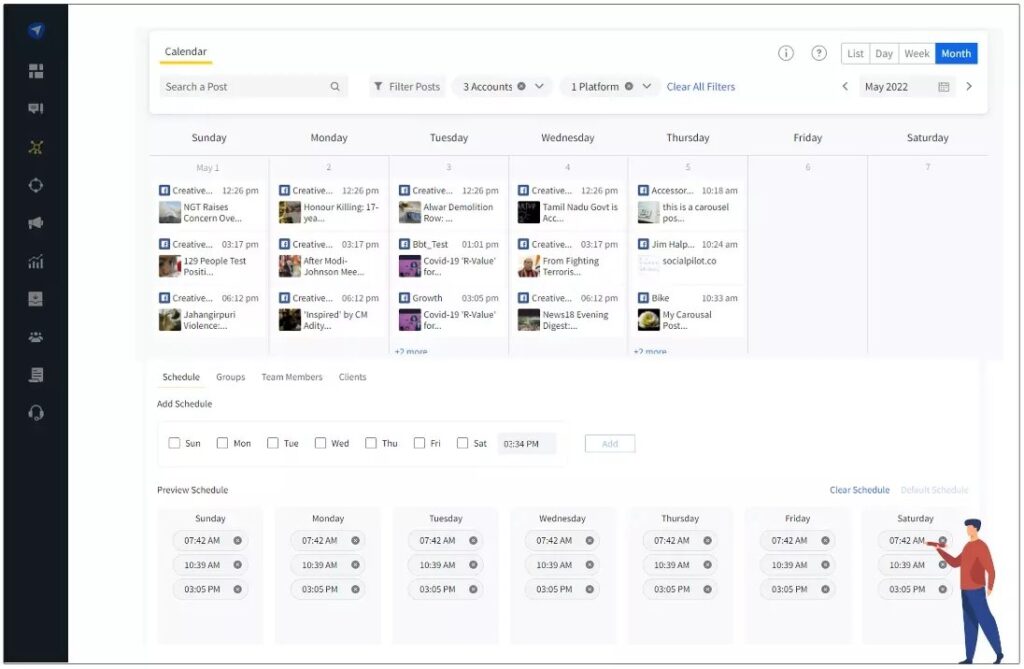 SocialPilot allows you to schedule posts, integrate your drives, provide in-app access to other creative editing apps or features, and more.
Utilize Facebook Advertising
Facebook advertising lets you gather qualified leads because it connects you to the right audience groups at the best bidding price that validates a business's return on investment. Facebook also gives you a plethora of advertising options right from selecting your daily advertising budget to an entire campaign duration, bidding options, interests, and more.
One of Facebook's most popular advertising features is its lead-generation advertisements. If you have your Facebook data saved, Facebook will use that data to automatically use it to fill in the lead generation forms.
Utilize Videos
Of all Facebook content post types, videos have quickly become the users' favorite. Videos are the most engaging, it grabs people's attention as well as can interact. The reason why videos can generate leads is because of how viral videos are these days. Viral videos reach newer and more relevant audiences that could be your potential customers.
Here are some types of videos you can explore:
Focus on feed videos
In recent times, Meta has begun promoting more video content on people's feeds causing the algorithm to show lesser photo or text content. But you can use this move to your advantage and include your branding in the video.
Just remember to create videos that do not oversell something as that is likely to get skipped if it isn't entertaining to your audience.
Experiment with live videos
Facebook Live videos are an incredible substitute for time-consuming and expensive professional marketing videos. Live videos allow anyone to record and publish videos with their smartphone. These videos can also be saved and uploaded onto the Facebook page feed.
These videos add a raw authenticity and create a personal connection with the viewers. They're also great for interviews, AMAs, Q&As, and more. During the pandemic, live videos were great for unveiling new products that couldn't be done live or for other exclusive events that would otherwise require a gathering.
If you're having a tough time creating videos that captivate the audience, consider working with influencers on Instagram or Facebook that are in your niche. They're used to creating video content for their audience, so you can leverage their skills by hiring them to create videos for your brand as well.
Use Facebook Custom Tabs
The tabs on Facebook pages work as menu items. This helps your users navigate through things easily.
Tabs such as the About, Photos, and Events are already made and implemented. But you can add additional custom tabs such as discounts, contests, offers, and lead generation forms.
Host Contests or Giveaways
In a world where everything has a price, people wait for an opportunity where they get something for free, so offer people freebies. Free things grab a person's interest, unlike no others. It is a great way to gain the attention of a new audience while also retaining your current audience.
In turn, this could increase traffic to your website and eventually, generate leads. To host a successful contest, identify your followers' interests or weaknesses — offer that as a prize.
Now build a successful campaign around this. Choose a captivating image or video announcing your contest, explain the rules clearly, and create visual collateral such as stories, teasers, as well as cover photos to highlight this campaign.
Making a dedicated landing page can go a long way since it allows people to participate and also learn about your brand while doing so. And last but not least, remember to ask for the participants' contact information so you gain a lead.
For example: pay attention to this Creeksideclocks contest that combines social media and a lead form.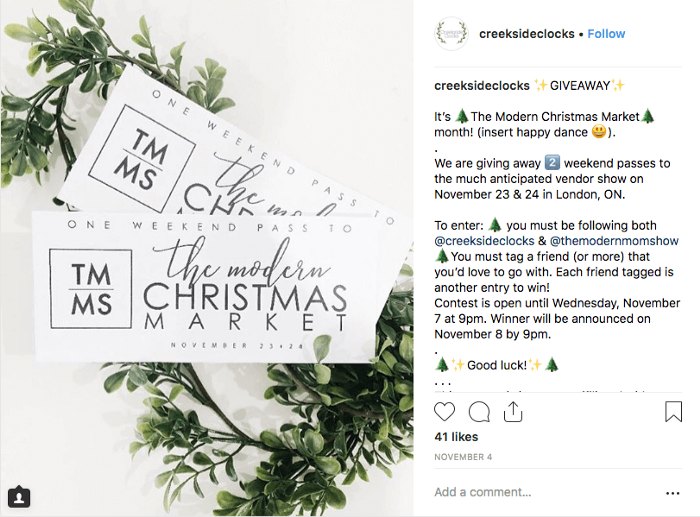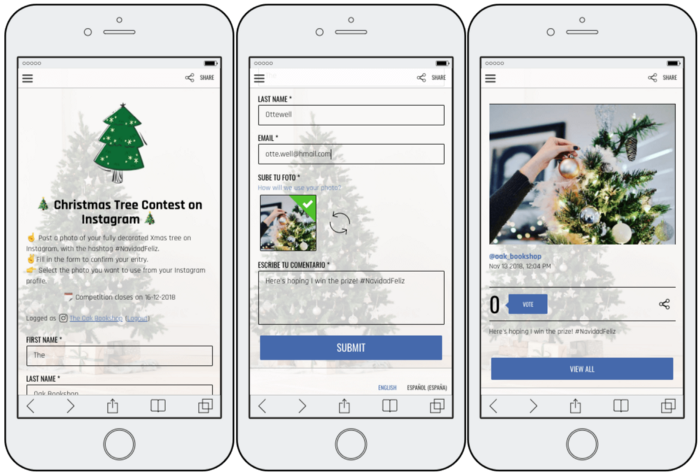 Feature Popular Publications
With effective publication posts, you can focus on users' needs and address their problems. If you feature a CTA alongside the publication, readers can learn more about the business.
Blogs. Recycle your blogs and feature them on your Facebook business page, this can be especially important if those blog posts generate leads and engagement.
News Publications. If you have been featured in the news, on other blogs, or influencers' pages — you can use these to boost your business and generate leads.
Host Facebook Events
Webinar
Webinars are a wonderful way to make your business look proficient and credible. If companies have regular webinars, they can be incorporated into a custom page tab labeled events.
Additionally, these webinars can be promoted and monitored. When this is done, you have the opportunity to connect with your industry and its users. Not only will you be seen as a market leader but it also does the homework for your possible leads that want to learn about your business.
Facebook Event Pages
Facebook event pages can be created along with details of the event including locations, contact details, and more. Events can also enable individuals to register on a landing page where user information can be gathered.
Include correct Call To Action Buttons
Links make everything easier, especially for consumers who are potential customers. Popular calls to action include: "Shop Now," "Sign Up," "Book Now," "Contact Us," "Use App," "Watch Video," and "Play Game."
But don't oversell these. Let's look at a few options for places.
On Your Facebook Page
Facebook permits businesses to set a CTA button at the top of their Facebook pages. Use one of the several pre-made button options and link it to your app, website, contact, or more.
If your business offers a variety of services or has campaigned, you could also switch it up to a seasonal offer, themed high-converting landing page, or whatever fits with your business goals for that period.
Include Links in Captions
While you can create text-only posts with a link. Facebook has proven time and time again that images do significantly better and garner more engagement than text-only posts.
When you use links in your descriptions or captions, not only does it complete your brand reputation but it also makes engaging simpler for a consumer.
Integrate tracking links
Make use of a shortener, such as Bit.ly, UTM tracking codes, etc to take stock of how well a post or product is doing. It can also be used to test how effectively something is working for your brand.
Social Listening
Staying up-to-date on what is occurring in your industry, and who's talking about your business alongside competitors can give businesses beneficial insight.
Meta platforms have search features where you can find conversations about your business. This makes it convenient to be part of conversations where your business or industry is mentioned. As a part of social media marketing techniques, social media listening is also a great way to find bulk orders, business collaborations, and more.
This can help businesses with content creation and how to reach out to potential customers, which in turn become qualified leads.
Social Selling
Facebook is an effective social media platform for building connections with potential consumers. Social selling is done by engaging in social listening activities, and sales practices, and is a crucial part of the lead-generation process.
Social Selling allows you to connect with users that are qualified leads since they are already part of your niche and are probably looking into buying your product or service.
To Conclude
Apart from socializing and making connections, Facebook is a powerful tool for lead generation. From customizing your Facebook page to targeting your audience based on intricate details, this platform ascertains to be a strategy that no marketing team can live without.
Of course, you can generate more qualified leads if you use an app like Novocall. Novocall helps automate Facebook lead forms and calls into potential leads, track performances, and more.