Promotion in the medical sphere is a very difficult process. There are limitations in the advertising of medical services, the issue of trust plays an important role here, and clients come for a variety of requests: from listing symptoms to finding a specific doctor. Let's take a closer look at how medical services are promoted in digital.
A study with 5,000 respondents shows that patients want greater computerization of health services.
58% of respondents

would like to receive reminders of a visit to the doctor by mail or phone.

53%

prefer online communication with doctors.

50% of respondents

expect the introduction of video consultations.
The study was conducted in the USA, but it reflects a global trend — digitalization. People google their symptoms, search the web for instructions for pills, and find their doctors online. So ignoring digital marketing in medicine does not work.
One of the problems of promoting medical services on the network is incomplete analytics. People prefer to find out the nuances of provided services and sign up by phone. Moreover, they also make calls, hoping to speak with a specialist faster. Dynamic call tracking allows you to associate phone calls with specific ad campaigns and inquiries. With its help, it is easy to track the user's journey and the effectiveness of digital campaigns.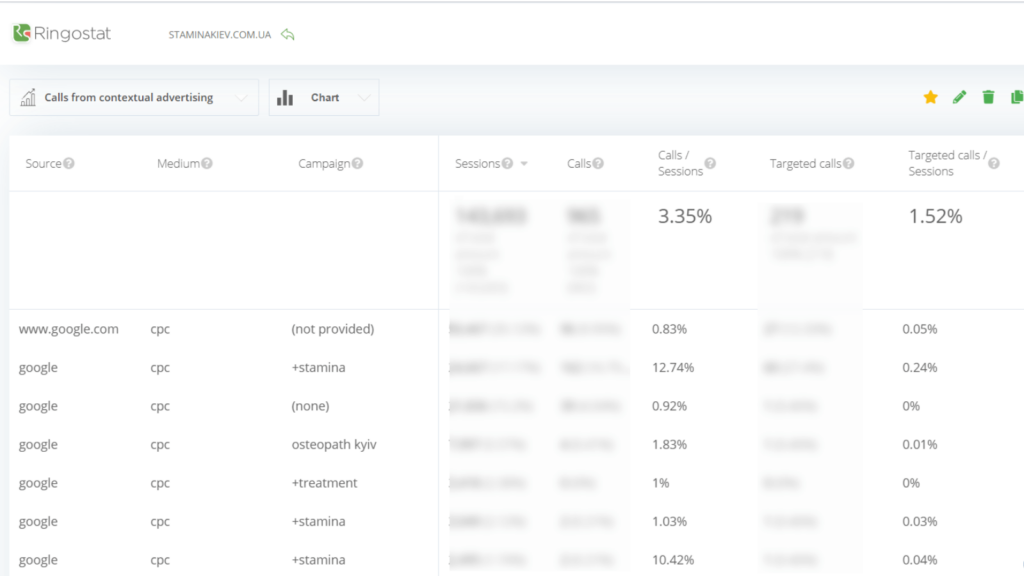 Contextual advertising for medical services
Contextual advertising can be quickly created, easily edited and it will lead potentially interested users to the site, for sure, if a specialist works with it. It allows you to reach a wide audience: people who are searching the network for information about the treatment of specific diseases, their symptoms, doctors and even competing clinics.
Google's limitations for online promotion
The launch of contextual advertising to promote medical services is complicated by restrictions from Google. This search system restricts the promotion of the following healthcare services:
over-the-counter medication;

prescription drugs;

unapproved pharmaceuticals and supplements;

pregnancy and fertility-related products;

sexual enhancement treatments.
However, these restrictions may differ from country to country. That's why before launching paid ads on Google that are related to medicine, it is better to consult with the lawyer. You can see below the limitations for the United States and also find out the full list here.
Healthcare and medicine promotion via paid ads
Once you've created your PPC campaign, pay attention to targeting. It is often useful to carefully select effective keywords in exact correspondence. This is exactly what our partners do, who set up contextual advertising for the dental clinic.

It's also useful to listen to calls from people who click on paid ads. So you can analyze how correctly they understand the message, what questions do they ask, and what medical services they are interested in.. Based on this information, you can change the advertisement so that it brings more targeted calls.
Analyze what requests are most popular among patients, this can bring unexpected insights. For example, it became a discovery for our clients that people are more likely to seek information about joint diseases than backs. Initially, all efforts were put on campaigns related to back, but now the emphasis is on the treatment of joints.
SEO for medicine
According to a study of the medical services market, 74.2% of traffic comes to clinic sites due to SEO. And this despite the many errors that researchers have noticed in the optimization of sites. For example, 84% of resources did not show reviews about doctors, and only 18% of clinics indicated an appointment schedule.
It is important to place information about the doctors working in the clinic, their specialization, certificates, awards. Also, list the procedures that these specialists carry out so that the person understands what will go on. Make an informative site, and traffic will grow. And so that it eventually converts into leads, you need to place the phone numbers and callback form at the remarkable place.
Detailed information about doctors and treatment methods increases confidence in the site and company
Meanwhile, do not forget about the technical optimization of the site. Check pages loading speed, find and fix broken links and images, optimize your site for mobile platforms, etc.
We also recommend you to check the article "Checklist for Regular Monitoring of a Website with Netpeak Spider and Checker" to discover some tips for the technical optimization of the site written by the SEO Classifieds Specialist.
Registration of online maps in databases will help attract patients who are looking for clinics nearby. This applies not only to emergency cases but also to preventive procedures and consultations that are convenient, for example, for an employee that wants to get them near home or office. In addition, the presence of the institution on the map increases the credibility of potential customers.
Registration in Google My Business is a must-have for promotion in this system. Links to the site from reliable sources will be an opportunity for search engines to increase the position of the site in the local search results, and this will attract free and relevant traffic.
SMM
Promoting medicine in social networks is not an easy task. Users are more likely to share memes than the content of the clinic that reminds of diseases. Nevertheless, it is still possible to do. And it is worth investing forces in building an expert image both for individual specialists and for entire clinics.
Make content that will increase the recognition of the clinic. People happily share interesting facts, infographics, motivating jokes on their pages. Clear and creative content is a direct way to increase traffic from SMM.
Social networks are also useful for feedback collection. Comments, likes, polls, and other elements of engagement will help to understand what customers like, what bothers them, and what to focus on to improve their image. Use these tools to discover the most relevant audience.
Conclusions
Advertising in the medical field is limited by laws, so marketers cannot apply all techniques that work in other business niches. We advise you to consult with lawyers before launching campaigns, in order to avoid fines.

Google also has restrictions connected to healthcare services. But they may differ for countries.

More than half of the traffic comes to the sites of medical companies due to SEO. SMM can also be a great tool for collecting feedback and improving services. It is worth developing an expert image for your specialists.

Call tracking will help track the performance of both offline and online advertising. Indeed, in case of pain, people might call and do not wait for them to be contacted.