Podcasts are currently among the most popular ways in the world to consume media. According to 2021 stats, almost 42% of Americans now listen to podcasts at least once a month. Podcasts also offer an intimate experience with the host and their guests, which is not available with traditional media outlets. This makes podcasts ideal for advertisers looking to reach their target audience. Read here how to promote them.
Create Great Content
As a podcast producer, you want to start selling your podcast to get the most of its potential. However, without good content, your efforts will only go so far. But, what makes a podcast great?
Value.

It should have something to offer. The listeners must gain something from the podcast. It could be new information, a new skill set, some satisfaction for curiosity or plain entertainment. You need to decide on what value you can give.

Unique

. Make sure your podcast has something new to offer. It doesn't matter how slight the uniqueness factor is. But, it should have plenty of strong points where the listeners leave with some new perspective around the topic.

Stickiness factor

. Does your podcast stick? Does it have a strong recall value? Make sure that the information you dispense is interesting and listenable. Do some research. Listen to other podcasts in your niche. Study their structure, content style, and format. Write down a list of features you would want to incorporate and improve upon them.
In the end, no strategy is better than providing value.
Submit to podcast directories and aggregators
Also known as a podcatcher, a podcast aggregator is essentially an app that plays podcasts. Apple Podcast is naturally the most famous podcast directory. It's the default app that comes with iOS. However, there are myriad other platforms such as:
Submit the RSS feed on every single of these podcast directories. In this way, all the new episodes you release will be published to all of them. It's the easiest way to gain exposure among new audiences. It's also a highly effective marketing tactic both for beginners and experienced podcasters.
Launch With a Few Episodes Together
Although you might be tempted to start with one episode, it's a good idea to launch with a few episodes together. This will help give the show momentum and show people that your show has potential.
The first episode of your podcast is one of the most important episodes because it sets the tone for what you hope to see from your audience. Make sure that you create a memorable introduction that will encourage people to tune in to future episodes.
Publish Your Podcast At the Right Time
If you're a beginner in the realm of podcasting, it's good to look at the similar podcasts and analyse them. See when they publish the content. If you notice a trend/pattern — it's because there's a solid reason for that. Keep up with that trend, until you have gathered your own data.
Over time, go through your podcast analytics and see when people tune into an episode the most. Experiment a bit and see what timing brings you the maximum traction.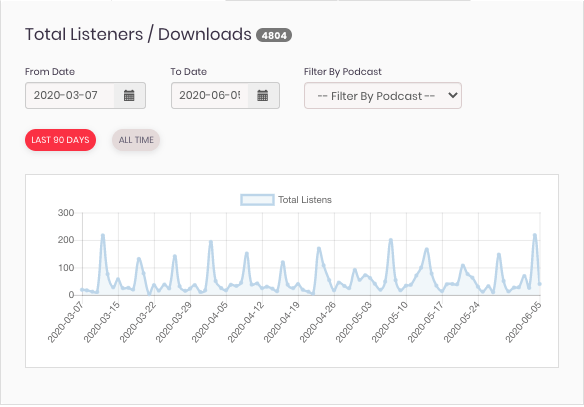 Create a Podcast trailer
In today's day and age, it's tough to get the word out about your new podcast. There are so many other podcasts out there that it can be really difficult to break through the noise.
That's where this podcast trailer comes in. This is a short 1-3 minute audio clip that will do the heavy lifting for you. It will introduce your show and get people excited about what you have to offer. It will also help when you need to reach out to future guests or sponsors, you can simply link them to the trailer to give them a taster. You, your podcast's niche, and any future guests should all be introduced in the trailer.
Promote Your Podcast on Social Media
To more effectively promote your podcast, you need to use social media platforms that are popular with your listeners. If you're looking for the right platform, let's take a look at some of the popular social media platforms.
Facebook and Instagram
We've grouped these two together as you can run paid Ads in both via the Facebook Ad manager. Facebook Ads are great for laser targeting your promotion to your audience. You can pinpoint them down to location, demographic, income, and — most importantly in this case — their interests.
Twitter
Twitter is usually helpful in promoting podcasts since it's easy to find others in the genre by way of "#" searching. Using the Hiking niche as an example you can reach out to followers with:
#nature.

#naturephotography.

#landscape.

#naturelovers.

#mountains.

#adventure.

#wanderlust

#hiking
You can use the above hashtags with Instagram as well if you have a keen eye for photography.
If you're a beginner, share an update about the first episode going live. After that, keep on sharing. Here's what you can do afterwards.
Pin the episode on your Facebook post and tweet it along with the featured iTunes URL.

Use

Pablo

or

Canva

to create quote images. Use these for sharing standalone social media updates along with the relevant iTunes link.

Create soundbite clips no longer than 15-seconds and upload it onto

Soundcloud

. Rehash it on Twitter. Twitter has neat features for integrating Soundcloud audios. This allows listeners to play the audio straight from their Twitter stream.

Release a teaser for the episode a day before the actual release.

Keep resharing the episode several times throughout the day. For Twitter, share it 3x and for Facebook share it twice during the first week.

Use Instagram stories to share behind-the-scenes stuff. People love a little sneak peak.
Repurpose the Content From Your Podcast
You could use a service like Fiverr or Rev.com to transcribe your podcast and turn it into a full-fledged blog post. These services are super-cheap ($1/minute). You can use the transcription to pull the show notes, create excerpts, quotes, and social media posts.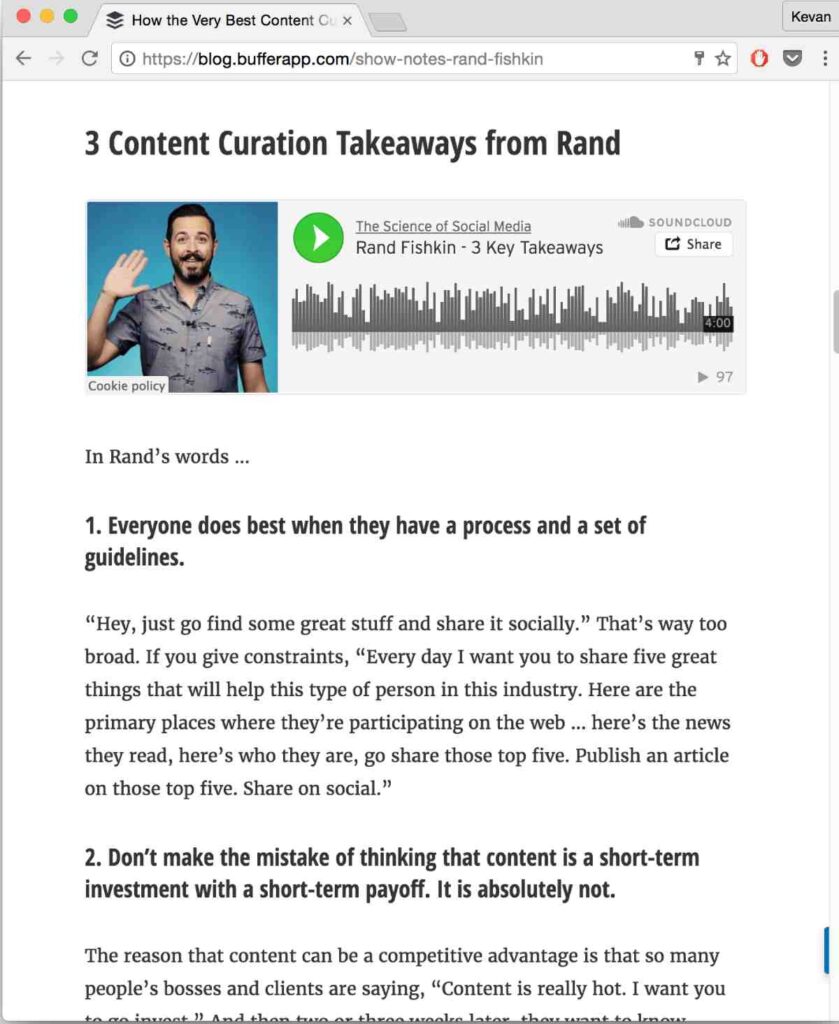 You could also create a dedicated blog section by using the transcription. This practice has a ton of SEO benefits. You can use the blog for collecting leads via capture forms and show notes.
Get Your Podcast's SEO in Shape
Create a Website
Having a sophisticated blog makes sense for myriad reasons.
Shareability Factor.

It's a lot easier to share a post blog rather than a Google or Apple podcast link.

Great for SEO.

Written words like blog posts, rather than video or audio, continue to be the king of organic SEO in Google. In the end, this is what will get you an organic audience.

Access to a Wider Audience.

Generally the podcast audience and blog audiences are different. That means, by creating a blog you are broadening your horizon. You're tapping into a new market. Essentially you're targeting everyone that has a love for both spoken and written content.

Email.

Without a dedicated website, you cannot build an email list and start an email campaign.
What's more, websites always allow embedding for a podcast player. You can use different posts for embedding different episodes. It's just one more avenue for people to access your content.
While SEO is important for all B2B websites, digital businesses such as podcasts need more focus on this aspect as they are among the most searched for and competitive content on Google.
Creating a website for your podcast will help improve its SEO and increase your chances of ranking higher on the first page of search engines.
Add Keywords
Keywords are important in all forms of marketing, so it's essential that you include them in your podcast title and description. In addition, a keyword-rich podcast description is also a good way to reach those who are actively searching for topics related to your niche.
Pick a topic and use Google Trends to input the topic idea.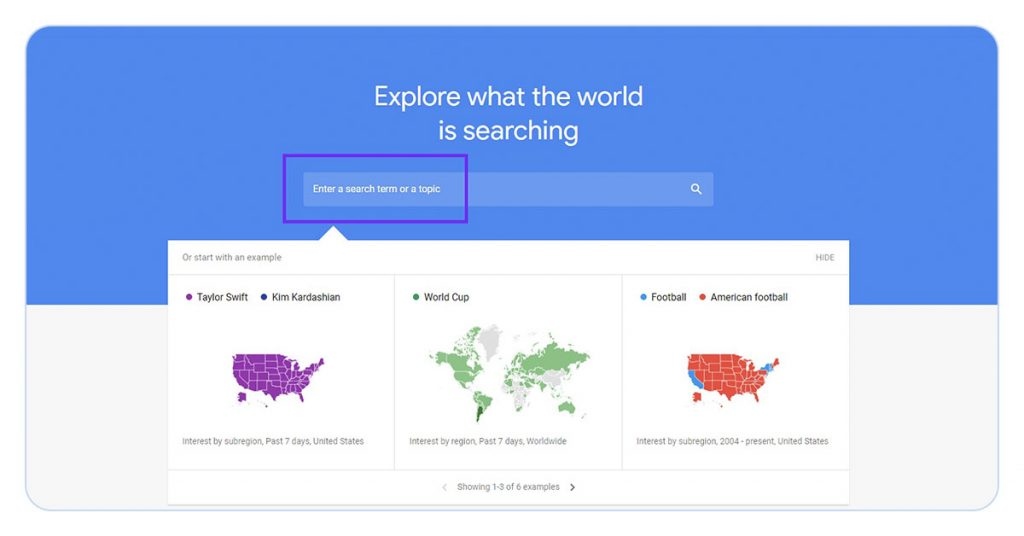 Let's say you input the keyword 'how to start a podcast'. You should see something like this: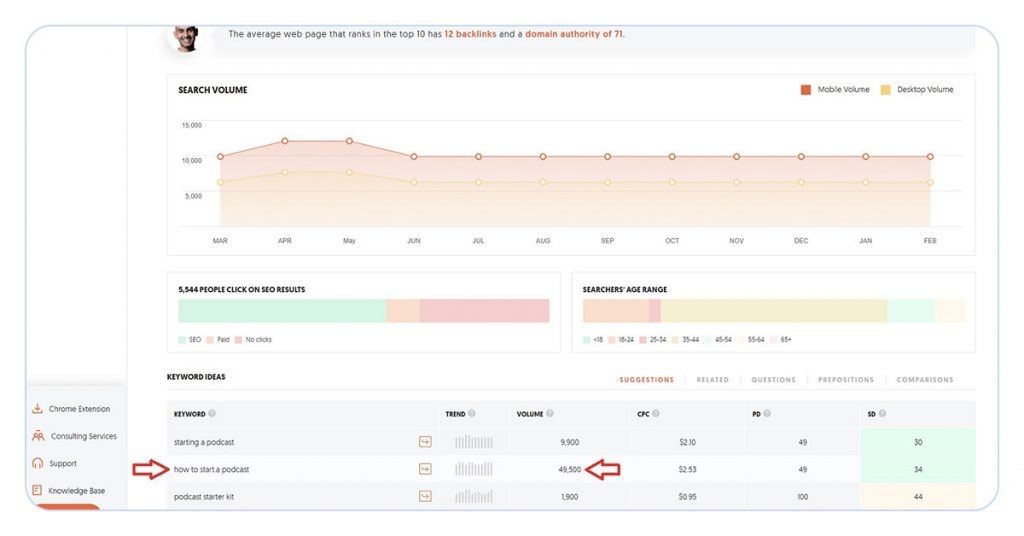 Take into account the keyword search volume and search relevance to pick the right ones.
Here's what else you can do.
Check out Competitor Keywords – You could use tools like

Serpstat

,

Spyfu

to see what keywords your competitors are using.

Brainstorm keywords that best describe your podcast.

Experiment with long-tail keywords. Examples include 'meditation for pregnant women', 'daily routine for pregnant women', etc.
Convert the Audio into a YouTube Video
This is just another way to repurpose your existing content. All you have to do is turn the audio into a video form and publish it on YouTube.
Doing so has a ton of benefits:
you have video-based format to share on social media;

it comes with excellent SEO benefits and organic discoverability;

YouTube automatically picks closed captions and transcriptions — it's great for those who don't want to transcribe their audio.
You can use iMovie for Mac and Windows Live Movie player for PCs to turn a (.mp3) or (.mov) audio into a video.
Here are some added tips:
pick a 2560×1440 pixel canvas for best viewing experience (2K resolution);

use your guest image or show logo as a thumbnail. You could also use both.
Get Your Podcast On All Platforms
Buzzsprout is a free tool that will help your podcast to exist on any platform. From its website, it's easy to upload your audio and get it on YouTube, Soundcloud, iTunes, Spotify, Stitcher, and many more.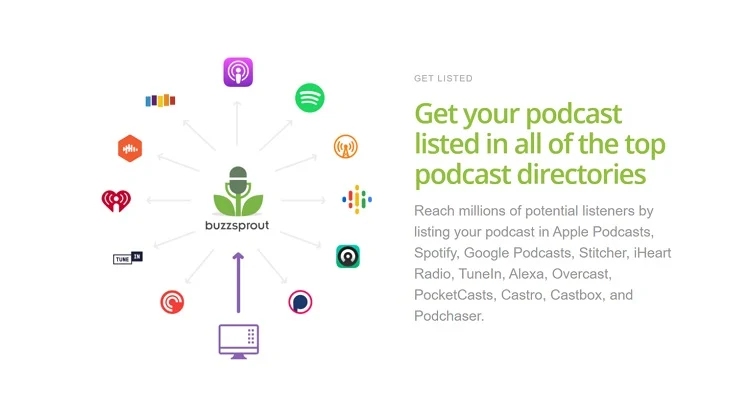 Other alternatives to Buzzsprout are Podbean and Anchor.
Be a Guest on Other Podcasts
This is called "Swapcasting" and can be a powerful way to build your fanbase.
Find podcasts that have similar audiences to your podcast.

Reach out to them and see if they'd be interested in having you on their show.

Work with them on having your episode be one that's relevant to their audience.

Tell them you'll be happy to reciprocate and have them as a guest on your show.
Here's one little tip for you. If you go to the desktop iTunes app, you can get access to other podcasts that share a similar audience. Head to the 'related' tab: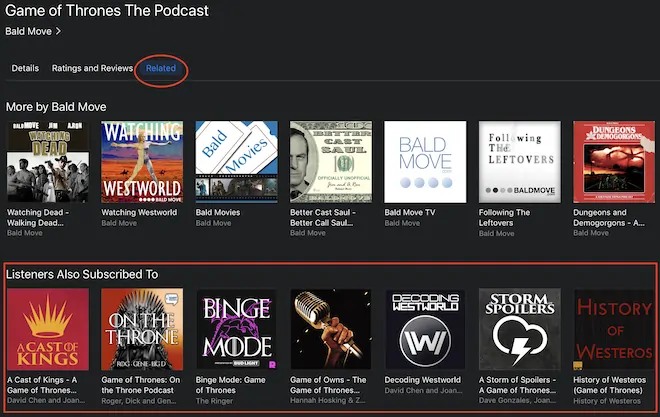 Understand Your Why
Many people are hesitant to start their own podcasts because they feel that the process is too difficult and time-consuming. This can be avoided by understanding what your why is.
You need to have a compelling story for your podcast. This is the most important aspect of your show, and if you don't know what your story is, it'll be difficult to get people interested in your show.
If you are a creative professional or creative entrepreneur, it makes sense that you would start up a podcast about the process of creativity and innovation. If your passion in life is hiking and outdoor life then you should base your weekly show around that.
Listeners want to hear presenters who are: a) knowledgeable about a subject and b) very enthusiastic about it.
Conclusion
Podcasts have been recognized for their ability to reach a targeted audience in a completely unique way. They can be used as an educational tool for those who want to learn something new or discover new topics that interest them. A podcast is also a great way for professionals and entrepreneurs to share their experiences and knowledge with the world.
Your podcast is your baby. You should take care of it and nurture it so people will want to listen to it in their droves. Our tips above will give you the strongest start to do this.