There are so many things Google Ads can do nowadays. It learns on its own, automatically changes bids in campaigns, and determines where and how to display your banners. It seems that Google is so smart that its recommendations should be trusted unconditionally. But not always, as evidenced by the experience of Diana Pavlova, PPC specialist at Ringostat. She will tell you everything you need to know about the recommendations, which ones you should follow and which ones you shouldn't, and why it's better.
What are Google Ads recommendations?
Google Ads is an online advertising tool that allows you to promote your products and services on Google search, YouTube, and other websites. However, this advertising system is quite complex, as it includes many functions and various settings. That is why even experienced PPC specialists can make mistakes when promoting.
That is why Google, for its part, tries to help advertisers and offers tips on how to promote and improve the effectiveness of campaigns. You can find them in your Google Ads account in the "Recommendations" section.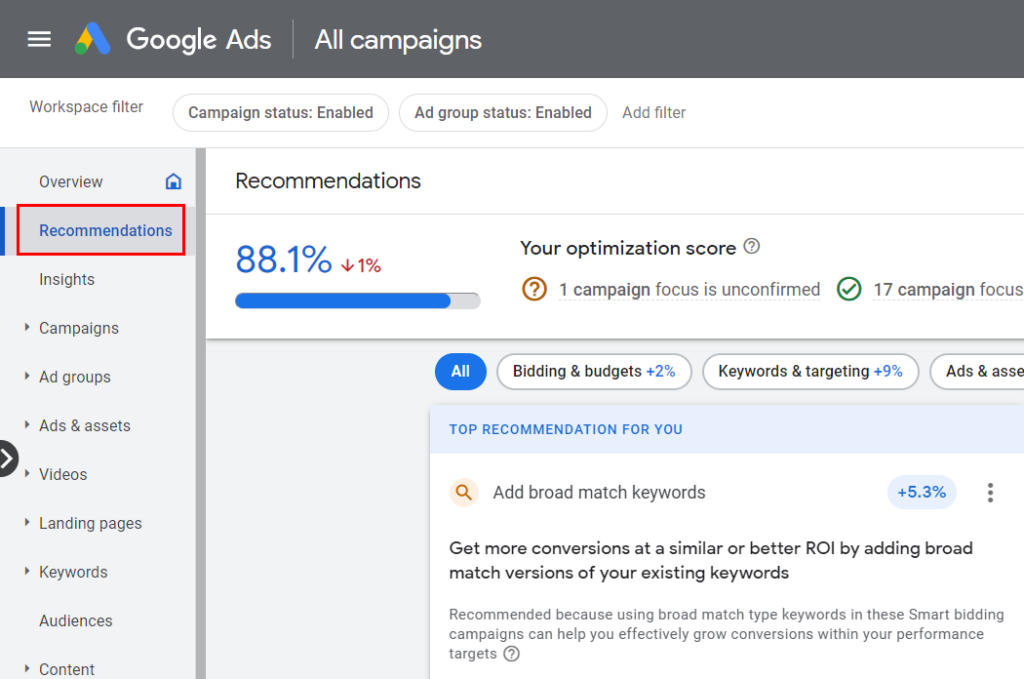 What Google uses to make recommendations
How does Google know what to recommend? According to the system itself, recommendations are the result of a large number of complex algorithms. Google evaluates several parameters of your account and generates a list of actions to improve the effectiveness of your campaigns.
If you have a new account and have just launched your campaigns, the recommendations section will be empty because the system needs statistics and time to process the data. The recommendations are based on data for a period of 7 to 90 days, usually 28 days.
The recommendations feature analyzes data about your account performance, campaign settings, and Google search trends. Based on all of this, the system generates suggestions to improve the effectiveness of your advertising. That is, the recommendations may be different for each account and will depend on your settings, goals, and type of business.
What are the recommendations in Google Ads?
There are two main types of recommendations: regular and automatic. In fact, these are the same tips, but the difference lies in the method of their application.
Normal recommendations will not make any changes to your account until you apply them yourself.
Automatic recommendations can be found in the same section by clicking on "Automatic application". As the name implies, such recommendations will be implemented automatically when the system deems it necessary.

Automatic recommendations fall into two main categories:
managing ads;
business development.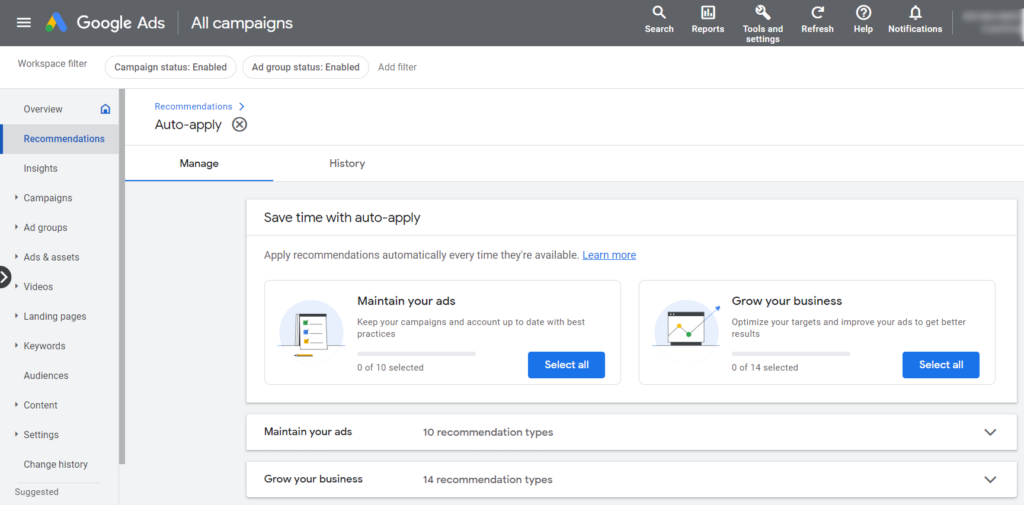 Automatic recommendations are meant to save time, but they should be used with caution. As some of them can harm your account and lead to a significant increase in campaign costs.
What types of Google Ads recommendations are there?
The advertising system offers a lot of different recommendations, which are divided into several main types:
ads and objects;
automated campaigns;
bids and budgets;
keywords and targeting;
corrections;
measurement.
Each type will be described in more detail below.
Whether or not certain recommendations are available in your account will depend on your account settings and campaigns. Therefore, you can find a complete list of all possible ones in Google Help. And to see what types of recommendations you have, you can look at the same tab "Recommendations" which I have already mentioned:

I won't talk about all types of recommendations in this article because there are so many of them. Let's focus on those that are worth using, based on my experience, and those that are not.
Why you shouldn't follow all the recommendations in your Google Ads account
The main goal of Google Ads, and all other advertising systems, is to make money from advertisers. Therefore, many recommendations are aimed at making you spend more on advertising. Similarly, most of the changes or innovations that Google introduces have a very pragmatic goal — ultimately leading to an increased budgets.
Experts who have been working in contextual advertising for a long time remember how it all started. For example, with keywords in exact match, manual bid management, and the narrowest possible targeting. And now we are working with broad match keywords, and auto-strategies, and not narrowing our targeting as much. Or we can hardly do it at all, as, for example, in Performance Max campaigns.
Is this a bad thing? Not at all, because in most cases, it really gives better results. But do we now spend more on advertising, including because of these changes? Yes, we have.
It is also worth noting that Google Ads periodically introduces updates that it offers to apply through recommendations. And they, in turn, may not be finalized at first. In such cases, your campaigns may become a conditional "guinea pig". Therefore, brand-new recommendations should not be applied immediately.
For example, I saw how differently the transition to broad keyword matching worked in different accounts I managed. In one of my accounts, I switched some campaigns to broad match almost immediately after Google started recommending it. And they performed very erratically for several weeks.
I had to clean up search queries and adjust the budget every day. Otherwise, I would have gone beyond the allowable expenses. This is even though advertising on this account has been running since 2014, and the negative keywords have been worked out in great detail over this time. But now, when I switch my campaigns to broad match, I hardly ever face such problems. The algorithm has already been learned and now does not bring so much untargeted traffic.
And also keep in mind that the system's algorithms do not always work correctly — even after a long time. Because artificial intelligence is not perfect and can make mistakes. Most PPC specialists are well aware of the recommendation to add new keywords, which very often suggests adding completely irrelevant keys for your business. For example, for men's shoes, it may suggest adding keys with women's shoes.

So not all recommendations can be applied. First, you need to understand how they work and how they can affect your campaigns in general. Moreover, what works for one advertiser will only make it worse for another.
What Google Ads recommendations should you follow
All recommendations from the "Ads and Objects" type are worth applying if they are appropriate for your business. They are designed to improve performance and increase CTR for ads and objects. You will hardly ever see such recommendations in your account, if your campaigns were set up correctly from the beginning. Because they include basic settings that every PPC specialist should know. For example, you need to add an adaptive search ad in each search ad group.
The same goes for recommendations of the "Fix" and "Measure" types. You should use them because they help you fix problems with your account and can improve its overall health and performance. For example, they can help you identify issues with conversion tracking or warn you if your Merchant Center account is about to be banned.
The Automated Campaigns category contains only one recommendation — it suggests creating a campaign with maximum efficiency, i.e. Performance Max. I recommend using this type of campaign for ecommerce projects. They are also worth testing for all other types of business.
You can learn more about the features, settings, and optimization of such campaigns in the article: "Performance Max campaign: features, settings, and optimization".
Recommendations like "Bids and Budgets" will help you know when you have enough data to convert your campaigns to autostrategies. This is quite useful in the early stages. Which bidding strategies you should use will depend on the campaigns themselves and their goals. However, in most cases, if the main goal of promotion is to get conversions/purchases, you should apply the recommendations for converting campaigns to strategies:
"maximum conversions" — indicating the target price per conversion;
"maximum conversion value" — indicating the target return on advertising costs.
It is also worth applying the recommendation that suggests updating conversion tracking with data-driven attribution. All other recommendations of this type should be avoided or done very carefully. I'll explain why in the next section.
"Keywords and Targeting" contains several useful recommendations that you can safely apply.
Add audiences. Audiences will be added to your search campaigns in the Watch mode with this recommendation. Later, you can analyze their performance in the "Audiences" section and use this data for your display and video campaigns.
Create dynamic search ads. This will help you drive additional traffic to search queries relevant to your website pages.
Download/Update email lists. With remarketing campaigns, you can show personalized ads to users who have not yet completed a targeted action on your website. Or to users who can be offered a special offer when they make a repeat purchase, etc.
Remove conflicting negative words. This a very useful recommendation that will notify you of conflicts between keywords and negative keywords that block the display of ads. Let's say you have the keyword "buy men's shoes in bulk" and while cleaning up your search queries, you or someone else accidentally added the word "in bulk" to the negative keywords. Because of this, ads for this keyword and all other queries that contain "wholesale" will not be shown.
Set up audience sources. Allows you to collect remarketing audiences and use them in campaigns — if you didn't do this when creating your account.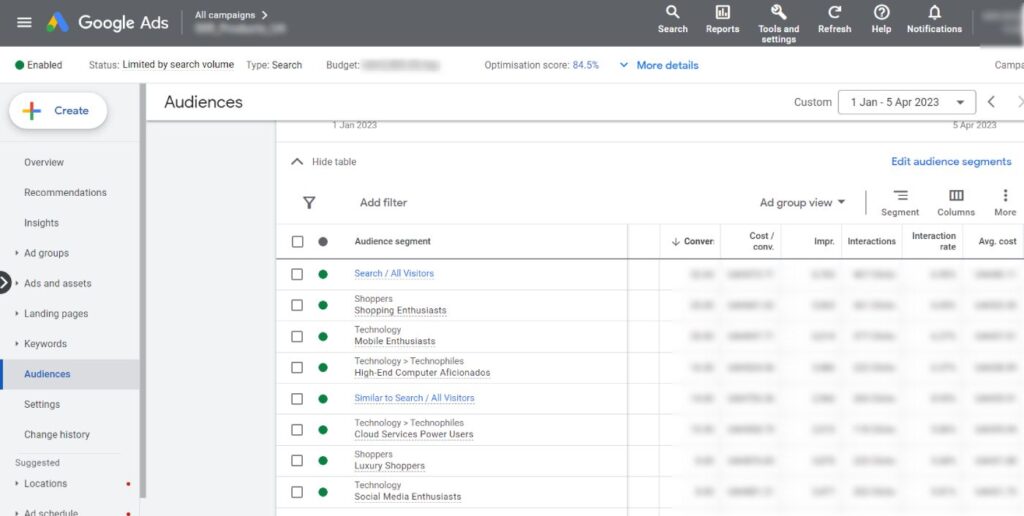 Recommendation of the "Add an audience" type
What Google Ads recommendations should NOT be followed
Recommendations such as "Bids and Budgets", which are specifically about adjusting budgets and bids. All of them are aimed at increasing campaign costs because they are primarily focused on demand, not on achieving your business goals. Therefore, you need to focus on the effectiveness of your campaigns and increase budgets or bids accordingly, rather than leaving it to Google. Don't forget that the main goal of all advertising systems is to make money from advertisers.
Below I will list recommendations such as "Keywords and Targeting" that I do not recommend using.
Add new keywords. As mentioned earlier, the system's algorithms do not work perfectly here and may suggest irrelevant keys. Moreover, this recommendation does not always take into account the structure of your campaigns and can wreak havoc on your ad groups. For example, you have a group with general keywords for men's shoes and a separate group for men's sneakers. The system may suggest adding general keywords with men's shoes to sneakers. This will not only disrupt the structure of the campaign but can also lead to duplicate keywords. Therefore, it is better to manually analyze search queries and add effective ones as keywords.
Increase your reach with the help of Google search partner sites. This topic deserves a separate article. But, in short, this feature allows you to show your search ads not only on Google itself, but also on other search engines with which it cooperates. You cannot influence the budget allocation between them in any way, and in the case of lead generation projects, you cannot reliably know the quality of conversions. Speaking about Ukraine, other search engines are not very popular here. That's why the cost of them will usually be no more than 10% of the total budget. In foreign markets, the situation is very different, and these partners can spend even more than Google itself and be less effective. Below, I've provided an example of the distribution of campaign costs for Europe. Using the screenshot, you can estimate how much higher the cost of conversions is on partner sites.
Use the Add Display Network feature. This is similar to the previous recommendation, which suggests showing search ads on the display network as well. You also cannot influence the budget allocation and evaluate the quality of conversions. Also, the display network can shift costs to itself and in most cases brings more expensive conversions. It makes sense to test these two recommendations only if you have enough budget to buy a significant portion of Google impressions — more than 50%. And you can allocate additional money to scale your campaigns.
Expand your audience. This recommendation allows the system to go beyond your targeting in the display network and show ads to users with similar interests. This recommendation is not relevant for remarketing campaigns at all, because, with this recommendation, such a campaign will no longer be remarketing. That is, the ads will be seen by people who have not visited your website at all. Also, it should not be used for cold interest campaigns. They are already quite broad in their own right, so you will need to significantly increase your budgets to reach all users enough times. Moreover, applying this recommendation will lead to a daily budget overspending unless you lower your bids beforehand. Let me illustrate this with an example. With a wide match, our ads about virtual telephony were once shown on the query "buy a phone". That's because "telephony" and "phone" are the same word. Google also sees that those who googled us also searched for other companies. And it can show their ads at our request. This is not good for a branded company at all, because we want to buy only branded traffic.
Set up broad match for existing keywords. In general, I recommend using this recommendation, but not in all cases. I don't recommend it for relatively new campaigns, because a lot of costs can be spent on untargeted traffic. First, work out the negative keywords well, and only then switch to a broad match. Also, I do not recommend using them in branded campaigns. In most cases, there is not much branded traffic, and with phrase match, you will cover all targeted impressions in most cases. Broad match will bring a large number of non-branded queries that are useless in this type of campaign. For example, queries related to competitors or general queries about products you don't sell.

You can estimate how much higher the cost of conversions is on partner sites
To summarize
Many Google Ads recommendations can be quite useful. They help to identify certain flaws in campaigns and signal problems in your account. In addition, Google is constantly learning and improving, so its advice is often worth listening to.
But some of the recommendations are primarily aimed at increasing costs. They may not pay off and negatively affect the effectiveness of your campaigns. Therefore, do not rely entirely on Google and apply the recommendations carefully.