You don't have to invest extra money to increase the advertisements' effectiveness. It is enough to find out ineffective ad campaigns and simply opt-out them. Thus, you can invest the rest of the budget to the most successful activities. Read below about the experience of an international company that provides satellite communications services and equipment for it. The one that managed to reveal weaknesses in the promotion strategy and wisely allocate the budget.
Reading time is 8 minutes
Client: international telecommunication company providing satellite communications services and equipment for it
Region: the Republic of Kazakhstan
Goals: to find out the effectiveness of advertising channels, to increase the sales department productivity
Ringostat period of use: from September 2017 to the present day
Project peculiarities
This company provides satellite solutions all over the world. That's why on its website you can buy devices for this type of connection only: phones, adapters, modems, terminals, trackers, etc.
The assortment can be called "specific" as the satellite connection is not used for daily needs and costs more than cell service. However, it can be used even in places where not a single provider connects you. Thus, satellite connection is popular in such spheres as:
oil and gas industry — that is especially relevant for Kazahstan;

shipping;

extreme tourism in hard-to-reach locations;

organizations that have safety and high speed of connection in priority — government, media, humanitarian projects.
Due to this peculiarities company's target audience is not wide, however, it has a high average check size. The company usually receives a small number of requests. No wonder that almost 90% of them are made by a call. Their products have a dozen characteristics so customers prefer to find them out by phone.
Satellite solutions are the only communications medium that might save tourists' health and life. People prefer to communicate with a sales rep to make sure that the device is reliable. In such cases, it is not enough to add a product to the basket. Customers who what to know how to connect and pay for satellite services or discuss a tender request are also making calls. There are standard demands as well — to find out the actual product cost and its availability in store.
Background
Since August 2017 the project has collaborated with Smartum digital marketing agency. Considering niche specificity, agency specialists simultaneously solve several tasks at once:
audience increase;

advertisement targeting for those who are interested in the company's product — as it is not simple, they need to be directly oriented on people who understand what are satellite solutions and ready to pay for them;

giving to the special audience information about the possibilities of satellite communications — for example, to such an audience as wealthy tourists.
Agency specialists use contextual advertising in Google Ads, Search Network ads and Display ads, as well as remarketing. Moreover, the agency analyzes social media effectiveness as well as the company's emails and gives recommendations thereon.
Taking into consideration that almost all conversions on the website are requests by phone, specialists advised the client at once to install a call tracking. According to Eugene, Head of Customer Projects, such a situation is typical for Kazahstan as almost all customers in e-commerce prefer to make calls. In this case, without call tracking, it is impossible to find out channels that bring requests. That's why the agency tries not to make the contextual promotion for projects that ignore call tracking.
"The agency can justify its work and show the results to clients, using call tracking. It's not just about providing some graphics and reports. I can say: "Here you have 80 calls — these requests are your 80 potential customers». Moreover, those additional features that you receive using call tracking: conversations recordings and conversions to a call. Everything is highly useful in advertisement activity optimization".
Smartum had already used Ringostat before. One of the results of our collaboration is described in the logistics industry case. The agency specialists were satisfied with the work of the service and its ability to provide data on ad campaign optimization. That's why they once again contacted us while starting this project.
What was found due to calls analytics
Because of call tracking usage, the work of advertising channels became evident as well as the number of calls that they bring. This is highly important for a niche with a small number of requests. The agency specialists could make the first conclusions within two weeks, and the effectiveness of every channel separately became clear in a month. It turned out that the greatest number of calls came from the Google contextual advertisement: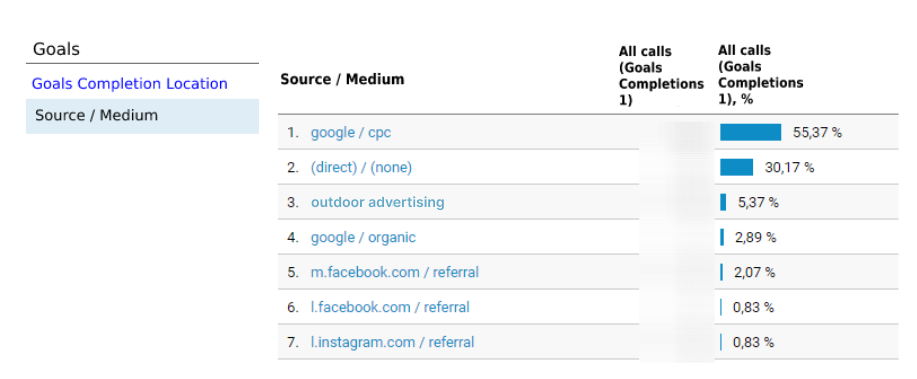 The highest conversion to a call give Search Network ads by general and brand requests. This is because customers who came from them had already formed their requirement:
Apart from the number of calls, agency specialists also evaluate whether these requests come from the target audience. The biggest surprise provided the ineffectiveness of ad campaigns concerned with satellite internet and equipment. Although this area is a priority for the project, so no one could assume that these ad campaigns were wasting the budget. The specialists found out that despite the huge number of displays and clicks for such topic, ad campaigns brought non-target audience.
During listening to conversations recordings, it turned out that most of the calls that were brought by these ad campaigns were made by people who don't understand all peculiarities of satellite connection and its cost. Website visitors who came by such requests as "satellite internet" or "satellite equipment" were usually searching for analogs of home/broadband networks, so satellite connection was too expensive for them.
A nice example is a call from a man who wanted to customize a satellite connection for his country-house. The minimum set of equipment for him would have cost several thousand dollars.
However, the company received a lot of calls from organizations connected with the extraction of gas and oil. Their employees often work in areas with no common mobile connection. Ad campaigns connected with brand requests such as the provider's name or specific equipment brought the greatest number of calls from the target audience:
The agency specialists also mentioned that there are missed calls during working hours. Such a situation is not appropriate for the company with limited requests as each call is highly valuable. Everything became only worth when the advertisement started to bring more requests. Thus, in March there were more than 50% of missed calls. It turned out, that there was only one sales rep in the company and he also had other tasks so he simply didn't have to answer all calls.
"Call tracking is a nice opportunity to make the promotion business-results more realistic. Not only see 500 displays or clicks but understand that we received 50 requests, 80% of which were target calls. We had a lot of cases when call tracking helped to find out the client's problems in calls processing. When the client claims: "Everything's fine here, our sales reps are great", however, the recordings of calls show problems. The same with missed calls".
Results
Ineffective keywords and ad campaigns were turned off. Due to this,

54%

of the budget was saved.

This budget was allocated among ad campaigns that bring requests from the target audience. As a result, the number of calls increased

almost three times

.

Now calls are proceeded by two employees. This helped to decrease the number of missed calls on

67%

— up to 15% by June. The company's management also receives notifications about missed calls from Ringostat.
The growth dynamics of the total number of calls, both missed and target requests are shown below. The rise of the last ratio means that the optimized advertisement brings the target audience: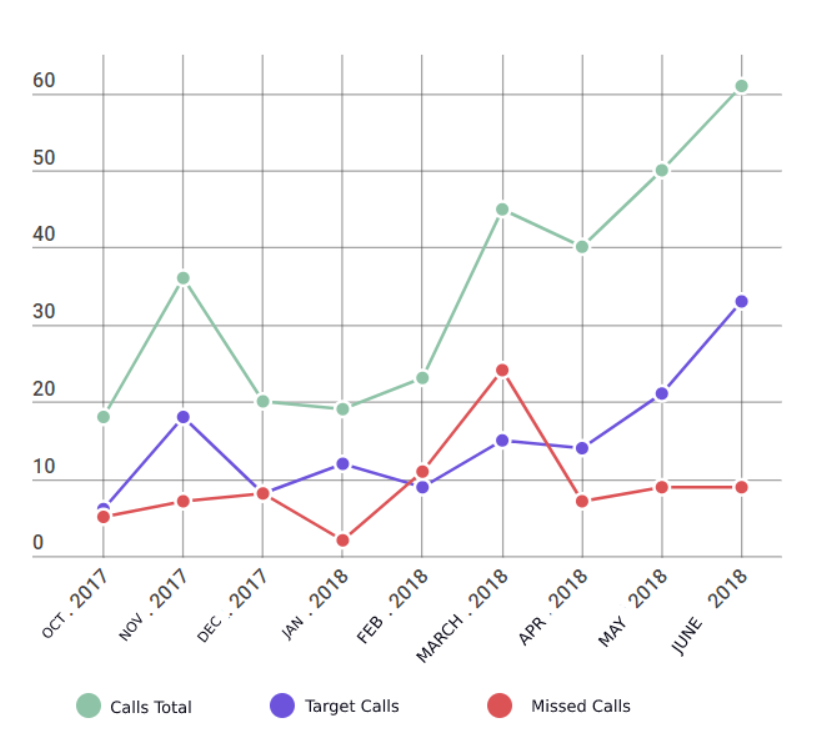 To conclude
The call tracking usage is profitable not only for businesses with thousands of requests per day but for very specific brands as well. Using call analytics such companies can:
find out the most interested in product audience and optimize ad campaigns to specifically contact potential customers;

identify ineffective ad campaigns and optimize or opt-out them;

wisely allocate the budget in favor of effective advertisements and bring more leads by doing so.
If you are a representative of a small company and calls play an important role in your business processes, find out whether it is cost-effective for you to use a call tracking. Contact our chat support, and the specialist will make a calculation using a special formula, or you can do it on your own via a special online calculator.