We celebrate Call Tracking Day and traditionally summarize the results every September. Ringostat is constantly evolving to keep you one step ahead of the competition. No matter what's going on around. For example, artificial intelligence reached impressive heights this year, changing the world and business forever. And Ringostat users can use AI for their business now. Read about this and other updates released since the last Call Tracking Day.
First, let's take a look at the most important numbers and facts in the infographic. And then let's take a look at the main updates since the previous September.
If you are not our client yet, we advise you to get acquainted with our products, which are constantly improving. Just book a demo of our platform. You will always be on the cutting edge of technology with Ringostat 🙂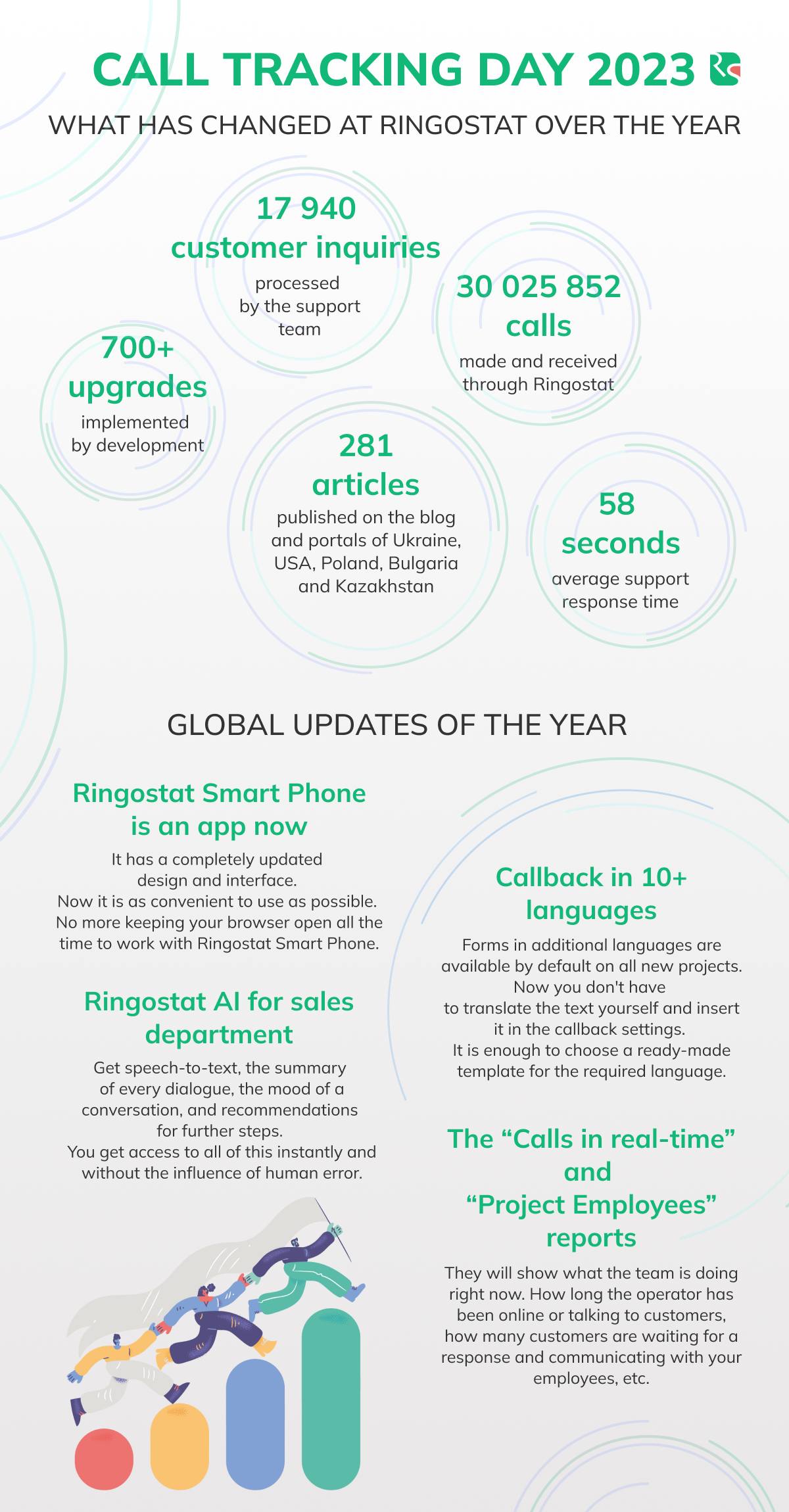 Ringostat AI-enhanced Business Phone System
AI will be your personal assistant to get the most out of calls and help you win deals. Sales reps will be able to work even better, and management will get a complete picture of the department's performance.
You will see additional information on each call in Ringostat reports by enabling AI.
What kind of information do you get from AI?
Speech-to-text. Find out what was said during the conversation by simply rereading its content. You can also click on any phrase to listen to it in a recording. A separate advantage is that the AI understands all languages and does automatic translation into English. This will help control the handling of calls from foreign clients. For example, if clients from France call the company from time to time, and the supervisor does not speak French.
Call summary. The AI describes in a few sentences what the dialog was about and how it ended. This way you can notice conversations that went wrong. And the manager can deal only with those cases that really need his attention. The red flag will indicate this. Compare this to a manager spending hours selectively listening to calls. And the supervisor still runs the risk of missing something important with this approach.
The mood of the dialog. You will see the mood of the client and your employee for each call. This will help you notice situations when the manager was irritated or negligent, behaved unprofessionally, etc. If the customer was nervous, you can read or listen to the dialog to understand what the problem was. And you can eliminate the cause of the issue, increasing the chances of a sale.
Recommendations. The AI will analyze the course of the conversation and advise on what to do next. Use its recommendations to bring the following conversation with the customer closer to the won deal. For example, the AI can advise sending a commercial proposal, a follow-up with key points of the conversation, a call back in a week, etc.
Ringostat Smart Phone has become radically new
Ringostat Smart Phone has been a Chrome browser extension for a long time. Now, it is a full-fledged, easy-to-use softphone for calls and work with CRM. And it's true, handling calls with Ringostat Smart Phone is more convenient than using a regular phone. Go to the website and download it to your device to connect the product.
What's the upside of making Ringostat Smart Phone an app:
no need to keep your browser open all the time and open it first thing at the start of the day;
Ringostat Smart Phone is now independent of Chrome's capabilities;
the application can be updated more frequently and easily.
Communication on the phone will become more comfortable for both you and your customers with Ringostat Smart Phone. Let's take a brief look at what the application allows you to do.
One-click call to the phone number placed on the website or in CRM. For example, if it's in the client's contact card. This saves about 5 working hours per month for each manager.
Useful information about the customer during an incoming call. Find out what the customer's name is, how many times he has already called and been on the site, on what request he came, what product pages he viewed most often, etc. This allows you to accurately understand your customer's needs and increase the chances of a successful sale.
You can correspond with users of different messengers in Ringostat Smart Phone. All messages come directly to the app interface, and the employee can reply right there. He or she will not forget to reply, as new dialogs are queued up.
The app will show you which of the clients who called you earlier are now on the site. By dialing them with one click, you are highly likely to encourage them to buy. After all, since they are on the site, it means they are interested in your offer right now. You'll also know exactly what to offer because Ringostat Smart Phone will show you which page the customer is on.
And all this is available with an improved and pleasant design and clear interface. Believe us, you will definitely want to use such an app 🙂
Learn more about how Ringostat Smart Phone works in the article.
Real-Time Calls and Real-Time Employee reports
Information in the call log and other reports is shown after the call. But frequently the manager needs to know what is happening in the department right now. Two new reports that appeared in the Call Center section will help.
The "Calls in real time" report will show you what is the current load on the department. So you'll know if you need to bring in additional employees to handle the calls.
In the report, you'll see how much:
calls are happening right now;
waiting for an answer;
incoming calls;
employees are talking right now.
There are statistics for each call below that show:
the type of call;
which employee is talking to the customer;
department;
status;
customer number, etc.
Information can also be viewed separately for each department.
A real-time employee report will make it clear who is currently busy. And basically, who is working more and who prefers to rely on more active colleagues. The report will help to balance the workload of employees and notice anomalies. For example, if a sales rep is supposed to be on call but is constantly offline or has selected "Do Not Disturb".
You will see what status each employee is currently in and what department they work in. Hovering over the "In Status" column will show you how long the manager has been in each status for the period.
By clicking on the detailed information for an employee, you can see:
how many calls he or she made, received, or missed today, three days, or a week;
how long the calls lasted;
graphs with the ratio of calls received to calls made, etc.
Callback in 10+ languages
This is a useful update for companies that operate in foreign markets. Ringostat has added basic callback forms in such languages:
Bulgarian;
Hebrew;
Kazakh;
Polish;
Georgian;
German;
Romanian;
Uzbek;
French;
Azerbaijani.
Just activate the callback in the language you need. And the form will already contain the corresponding text.
Another landmark update related to callback was released during the year. Now it is also available for aggregator portals. Their employees can set up a callback form directly in the Ringostat.
Bonus: integration with Google Analytics 4 is available in Ringostat personal account
Ringostat is constantly adapting to changes in digital, so we have had integration with Google Analytics 4 for quite some time. But previously it was only set up by technical support in response to client requests. Now you can do it yourself, right in your Ringostat personal account.
To do this, go to the settings of integrations and find this web analytics system. Ringostat and Google Analytics 4 can be easily configured according to the instructions in the knowledge base. Or just ask our tech support to do it for you. If you are our client, we will help you migrate your call goals from the old analytics version to the new one free of charge.
Such has been the year that has passed at Ringostat since the last Call Tracking Day. When you start or continue working with us, You're guaranteed to get products that don't stand still if you start or continue your partnership with us. And what's more, they are proactively updated so that your business always has a competitive advantage.