The web is full of tips for increasing customer loyalty, but not all of them really work. And some companies take them to the heart rather than use them in practice. In this article, Ringostat has collected working tips and research results about practices to increase customer loyality. We have also supplemented them with our own best practices, which have been successfully tested.

Nowhere is there "no limit to perfection" as in the work of the sales department. And one of the most important tasks is to increase customer loyalty. Why it plays such a role in sales:
86% of people say they would be willing to pay more for an improved experience with companies;
61% of buyers say they will stop interacting with the business because of the negative experience;
59% of customers will leave after several unpleasant situations, and 17% even after one.
Do you want to increase sales productivity and customer loyalty? Read our tips.
1. Switching to a virtual PBX
Some companies still process applications using a cell phone or a standard office phone. In doing so, they deprive themselves of dozens of opportunities, especially important when working remotely. Businesses have long realized this, which is why they are actively moving to cloud telephony. For example, the cloud contact center market is expected to reach nearly $45 billion by 2025.
What are the advantages of virtual PBX for business
With standard settings, it connects in one day. Your office may still have bare walls, but you can already make and receive calls.
Allows you to work from anywhere in the world where there is the internet. This is especially convenient for companies where employees work remotely. At the same time, some services allow you to connect numbers of any country and operators.
Includes many features for convenient call handling. You can set up flexible scenarios for receiving calls, conveniently transferring between employees, and much more.
The manager can easily control how sales reps work. He can do this with employee performance reports, missed call notifications, and audio recordings of calls.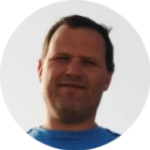 "To be honest, we can no longer imagine our online store's smooth operation and development without Ringostat. With the help of the
Virtual PBX
2.0 module, several important tasks affecting the quantity and quality of sales have been solved. And this in turn has a positive effect on business development in general.
The system is laconic and easy to use, and I was pleased with the set of calls to multiple devices simultaneously. It allows you to give instant feedback on the call, even if one of the employees is on the delivery of goods.
Also, the issue of customer confidence in the store was automatically "closed" — it is a single toll-free number, which can be easily redirected to any device: landline or mobile.
Integration with the CRM
makes it possible to display information about the client on previous orders and address them respectfully by name".
What are the advantages of a virtual PBX for customers:
the client quickly gets answers to his questions;
the customer does not have to wait long in line;
the customer sees the relevant number when they call you;
If a call is missed, it is quickly called back.
How this can be achieved, we will talk about in detail below.
2. Reliability at the top of the list
If you can't get through to the company or if the client keeps hearing static during the call — that's a disadvantage to your image. The former is also fraught with the risk of losing a lead. So make sure that the communication with you is reliable.
Use virtual PBXs that have backup operators. If one of the operators fails, the call will go in an alternate direction. The client won't even notice anything.
It is better not to use SIP-GSM-gateways. These are devices that link SIP telephony and mobile networks. Because they act as an additional link, the quality of communication is worse than when calling a direct SIP number. They also create a load on the stations of operators because of this at peak times customers can not reach you.
Set up backup numbers. They will be called if there is a power outage or Internet problems in the office.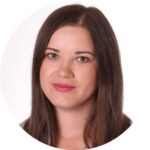 "We always make sure that the project has a backup number set up. Here's an example of our client, an online store for household appliances. He has two different sites which sell the same group of goods. 

I noticed that they had a lot of missed calls. We discussed this with the client and set up SIP accounts of sales reps from another site as a backup direction. They answer all questions — since both sites sell the same products. And if necessary, they let the customer know that a employee from the other store will contact them. In this way, the company has started to miss a lot fewer calls".
3. Availability through different channels
Omnichannel is synonymous with customer convenience. Two out of three customers think that omnichannel service is getting better. So don't miss an opportunity to make a good impression either. Allow the customer to contact you in several ways:
by mail;
via messenger and social media;
over the phone;
using the callback form.
As you think about which channel is best for your customers, keep these scenarios in mind:
someone does not like to call, and prefers to text on messengers;
the customer came in from a cell phone, and it was inconvenient for him to fill out the online form;
the user has social networks and three messengers, but more often he only sits in one;
the client ran out of money on his cell phone account;
it is inconvenient for a smartphone user to copy the number from the site, then paste it in, etc.
Let's look at what tools can help solve these problems.
The clickable number for mobile users
Cell phones now account for 53% of the time people spend online. And smartphone user is often on the road or in a hurry, so they want to make one-click calls. Be sure to set up clickable numbers on your site.
Callback form
In Ringostat's experience, the callback generates 10-15% more inbound calls. Plus, it allows the client to save money on the call. So you can't ignore such a useful tool. A programmer can make a self-written callback form for your site. Or callback can be connected from a special service.
What to consider when setting up a callback:
the form should not have too many fields, one is enough: the phone number;
use a countdown timer so the person can see when he or she will be contacted by the sales rep;
If you connect a form from a third-party service, set it up in the color scheme of your site — so that it looks "like a native";
the form should not pop up earlier than 10-20 seconds after the user is on the site.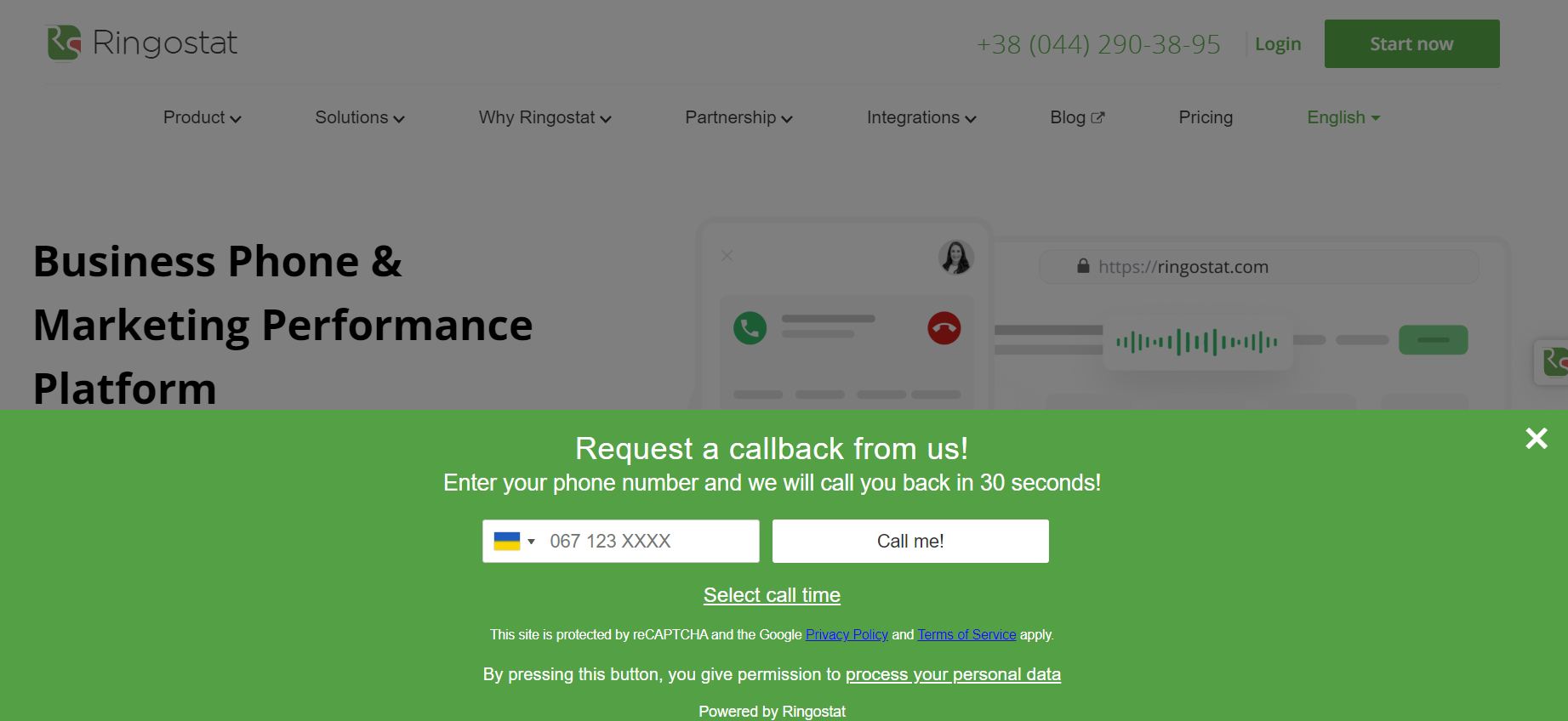 Messengers on the site
Add a form to the site through which the buyer can contact you in a convenient messenger. If you give a phone number and put Viber in brackets, it won't give the impression of a serious company. Ideally, messengers and callbacks can be combined in one form.
It is essential to see all the messages in each messenger in time and respond to them quickly. Keeping many tabs open all the time is inconvenient, and you might miss something. But you can try Ringostat Messenger, which combines Viber, Telegram, and Messenger messages in one interface.
How it works
You integrate the product, with the messengers that you have. On your site appears a new element — an icon, clicking on which the visitor can order a callback or write in his convenient messenger.
When a client writes to messenger, the bot is triggered, and the message itself is sent directly to Ringostat Messenger, where the sales rep sees it.
If several people write at the same time, the employee sees how many messages are in the queue. And can take each of them in turn to work.
A sales rep can answer the customer directly in Ringostat Messenger.
Information about all dialogs is pulled into the Ringostat message log. By clicking on each of them, you can reread the conversation:
4. Promptness of response to customer requests
Each of us has been in the customer's shoes, waiting a long time for an answer to his call or message. And no one wants to repeat that experience. How do you reduce the waiting time so customers don't feel left out?
Set up call forwarding circuits. These are conditional chains that the call will be routed to if the previous "link" does not pick up. For example, set it so that the call:

first came to the office number;
If no one picks up the phone, then the sales rep's cell phone;
then to another employee's cell phone;
If he didn't pick up the phone either, then to the manager's personal cell phone;
at the end of the chain an answering machine is turned on.

Regularly monitor your missed call report.
Use the call queue. All simultaneous calls will be lined up in it if operators are busy. This functionality allows you to set scenarios, according to which calls will be distributed to sales reps.
Set up notifications of them in sms, by mail, and in Telegram. For the latter you need to set up a bot according to the instructions, which will send these notifications.
33% of users say the most important thing to good service is solving a problem in one interaction. This is easily solved by directing calls from existing customers directly to the sales rep responsible for the transaction. This can be done by integrating virtual PBX and CRM.
You should also use the voice menu, which is an audio recording that prompts you to press certain numbers to select a particular department. One press of the button and the client gets straight to the right specialist. Sales reps can also be assigned internal numbers and put them on their business cards, for example.
5. Using integrations
Link your telephony to other services to automate your department. Which means being even more nimble and not forgetting anything. Due to integrations, some events will automatically occur on incoming or outgoing calls in another system. Let's look at two bundles that are the most useful for sales departments.
What integration with CRM gives
Saves time. The integration automatically captures information about the call in the CRM. It creates contacts, tasks, and deals after a phone call.
Control of the sales department. The manager can listen directly in the card of a deal, how the sales rep communicated with the client. Or evaluate the reason for the sales failure.
Eliminating the human factor. Since everything happens automatically, the company and the sales rep are insured against errors. The system "won't forget" to create a deal and set tasks, and will accurately record the client's phone number. If the call is missed, the employee will be assigned the "Call back" task with a deadline.
If you also use the Ringostat Smart Phone extension, then:
During the call, you can immediately see the caller's name – if he is already entered in the CRM;
You can go to a client card or a deal in CRM with one click;
one click to call from any page on the site where the phone number is available – including from the deal card.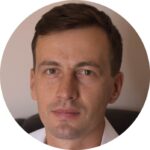 "Integration of CRM with virtual telephony is not just about fixing calls, as it may seem at first glance. It is convenience for employees, efficiency for the sales department, and a control tool for the manager.

It takes a few seconds to find a caller. All calls — incoming, outgoing, missed are recorded in CRM. Records of calls with the client are stored directly in his card, so you don't have to search for the right call. Such calls are recorded as "leads" and you don't lose potential customers. Plus, CRM can notify both managers and executives about missed calls. In turn, the sales rep can see who is calling him, can open the client's card, and see all the communication history on him".
Online forms on the website
This integration will allow you to instantly contact customers who have left a request on the site. Since the communication process is automated, you exclude the situation when a sales rep simply forgot to call.
The form, which the user fills out on the site, introduces a callback – with its help a callback is made.
The user goes to the site and fills out a form with his phone number.
This event activates the callback, Ringostat automatically dials the sales rep, then the client, and connects them.
After a few seconds, the customer is already communicating with a representative of your company and can get an answer to their questions.
6. Control of sales reps and training on real examples
Only 31% of companies strictly control the quality of customer relationships. But this can easily be done if you listen to sales reps' calls. In a virtual PBX, each call is accompanied by an audio recording of the conversation. If you have CRM integration, it is also transferred to the deal card.
It is clear that it is impossible to listen to all calls. It makes sense to pay attention to the calls:
on problematic transactions;
sales reps who have been working recently;
employees who have problems communicating with customers;
abnormally long or short conversations – to see if the employee is communicating correctly;
on the lost trades.
Audio recordings can be used to train new employees. Listen to calls on deals that were successfully closed by experienced sales reps. Give them to new employees for training and ask them to identify effective techniques on their own.
7. Using customer data to successfully close deals
Anyone wants their needs to be understood literally from the first words. At the same time, 34% of sales reps say that they do not have the right data about customers at the time of the request. You can find yourself in a better situation if you use a special tool — Ringostat Insider.
This is one of the Ringostat Smart Phone modules we wrote about above. It is a field that displays information about the client right at the moment of the call:
the number of days since the first and last visit to the site;
the number of calls made;
the number of pages viewed, sessions held;
device, operating system and location of the client at the last visit to the site;
source, channel, campaign, ad group, keyword, and click-through source, where the call came from.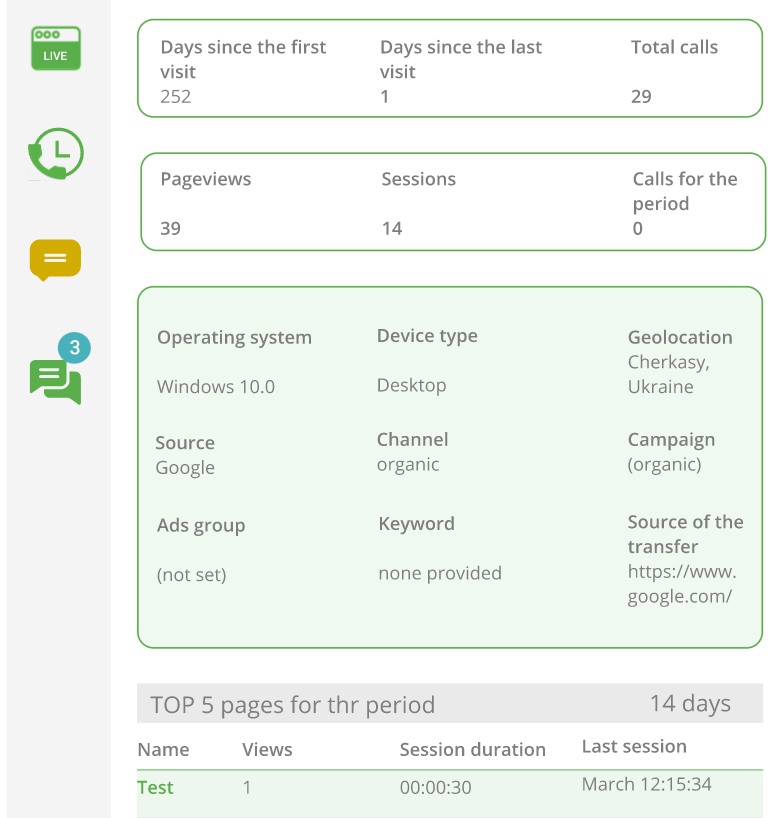 Knowing what pages the client looked at most often and what query he came for, you will immediately understand his needs. You'll be able to offer relevant goods or related products if the customer was interested in those too before the call.
9. Sales rep's proactivity
Even if your business doesn't involve cold calls, your sales reps can be proactive. Especially with customers who are potentially interested in your products and services. How do you do this and pleasantly surprise your customers?
Imagine that the person has already called you, but at that moment he didn't decide to buy. Now he is on the site again, looking for the necessary information. At the same moment, he gets a call back from a sales rep who is ready to help him right away. And what is more, he knows what the buyer needs.
Magic? No, another feature of Ringostat Insider. It displays information about "identified users online. We're talking about customers who have called at least once and are currently browsing the site.
Sales reps can call them first and offer them what the person is interested in right now. That way you have a better chance of closing the deal – because you're talking to a client who is interested in your offer right now.
Make a banner.
Want to apply all these practices to your business? Connect Ringostat:
use a virtual PBX with flexible incoming and outgoing communication settings;
control your sales reps with easy-to-use reports and audio recordings of their calls;
call and make calls through a smart browser extension that will show you valuable insights about your customers;
integrate with dozens of services — CRM, analytics systems, CMS and many others.