The Fortune is smiling on the one who is using call tracking. It prefers the ones who are analyzing each step and make wise decisions. We have collected 8 cards that will help to beat your competitors and become favorites of the Fortune.
It is forbidden to be blind when big sums are at stake. A winning hand is crucial for both poker and marketing. The thing here is about advertising channels that drive calls and sales to a company. Thus, call tracking has cards that will help to define a profitable source and catch the Fortune using clear data.
32 parameters for reports creation
Each player is unique in business and it is crucial for each company to analyze different data. That's why Ringostat offers 32 parameters that can be easily combined as Lego in a custom report. The number of metrics is not limited. You can see in the example below the creation of a report that took only 10 seconds. It's the report on calls from customers who were waiting on hold.

Advantages
While setting up the project, tech support will help to customize reports for the company's needs. Additionally, it is also possible to analyze data using 9 default reports.

They can be exported in XLS or CSV formats. Reports can also be automatically transferred to email.
Division on different types of calls
By analyzing all calls indiscriminately, it is possible to overestimate a campaign that actually performs badly. The quality of calls is more important here than their number. That's why Ringostat assigns different types of calls. Thus, you won't make senseless bets.
Advantages
Calls are separated on unique, proper, repeat, etc.

You can focus on requests that are valuable for a specific niche. For example, the purchase of one car can be accompanied by 5 calls. That's why it is better for a dealer to rely on data on first

proper calls

, etc.
Read more about business niches that need call tracking more than others in the article on our blog.
Callback form with statistics
Ringostat's callback widget drives the information on the advertisement that brought a customer who requested a call. The data are the following: source, channel, campaign, and keyword that led to the request. You can also choose a color, radius, position on a page for the callback form. Statistics on callback form is displayed via funnel and charts: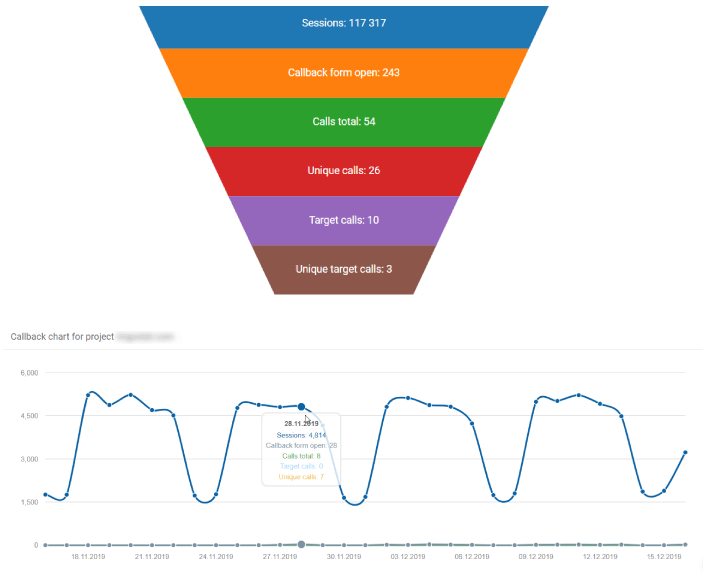 Advantages
The number of calls to a company increases from 10% to 50%.

One more channel for connection that allows quicker reaching customers. A lot of visitors leave the website without making a call. However, a free callback form will help to turn them into customers.
Discover this article for more information about Ringostat's callback widget.
Tools for call analytics accuracy
A sudden traffic boost may distort the statistics. If there are more simultaneous website visitors than numbers for substitution, the system has to assign the same numbers to different people. Then you can say goodbye to accurate data.
Three steps to deal with the difficulty mentioned above.
Dedicated dynamic pools

. It is possible to create a separate group of substituted numbers for each traffic channel. Thus, a traffic boost won't influence the statistics of different groups.

"Call me" button.

Not all website visitors make a call, as a result. That's why it is possible to show a special button but not a number to some users. In this case, a part of the numbers will be reserved.

Automatic calculation of the required amount of numbers.

Each minute a "smart" program calculates whether there are enough numbers for substitution. Thus, the system defines their relevant amount: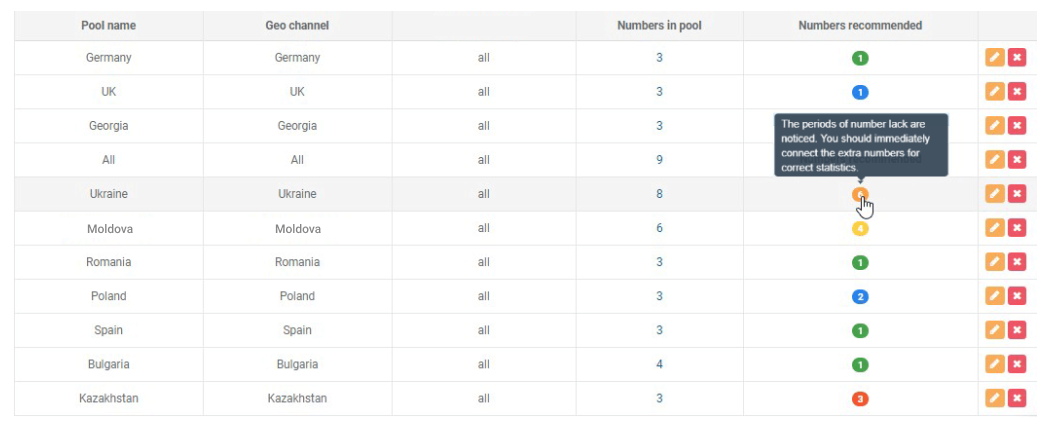 Advantages
Analytics without errors. You will be safe from investments in useful advertising channels and losses. This is much better than throwing up hands when your budget is going nowhere.
Don't miss the article "A clue: how Ringostat defines the needed quantity of numbers for substitution"
And find out how Ringostat's algorithm recommends the needed quantity of phone numbers for substitution.
Voice menu and call queue configuration
Who knows how many deals are losing without sales department control. Sales reps are goofing around, a business has to invest more in advertisements but, all in all, customers and money are wasting.
To avoid this situation, use flexible settings of Virtual PBX and its two main features:
Voice menu

. It allows a customer to instantly connect a needed department. Use prepared recordings from Ringostat that will be played or record your own ones.

Call queue

. Requests will be equally divided among employees so they won't miss calls. It is possible to choose one of the 5 scenarios that will lead calls to sales reps. This tool has lots of settings. So don't hesitate to text chat in the right lower corner in case of any questions, and a specialist will help you with that.
How the call queue works: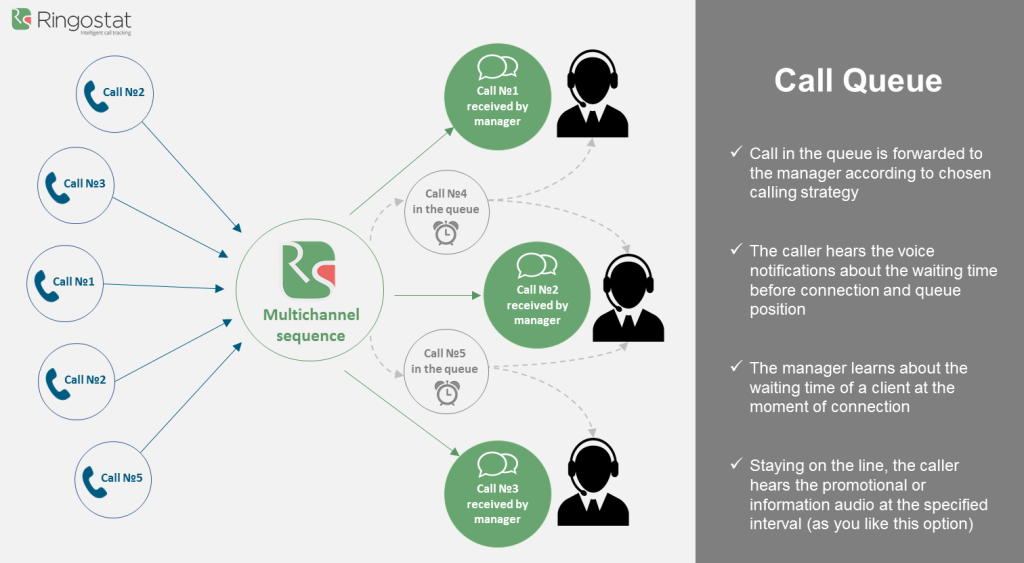 Advantages
C is for a client-oriented approach. A potential customer will have a feeling that his call is definitely important for you.

The number of missed calls decreases as well as the number of customers who preferred your competitors.
Multi-channel funnels
It is a rare case when a person buys something instantly. For example, the same customer can be transferred to a website via paid ads. But a week after he opens it from tabs and makes an order via phone. That's why each purchase has a "chain" of channels that led to the closed deal. That's how may look like their combinations:
Advantages
Knowledge of successful combinations of ad channels and understanding of their role that drove to the final call or request.
Tools for transferring data to other platforms
They are called API and Webhooks. Simply saying, these are the tools that allow transferring data on calls to other systems. Just in case, if you won't find the needed integration among more than a dozen ready-made ones that are already offered by Ringostat.
Advantages
Ringostat's API and Webhooks drive call tracking data to a required system. Thus, the work with calls may be continued there.
Numbers of any region
People prefer to call numbers of their region. That's why to increase loyalty, it is better to show exactly these numbers to the website visitors. Call tracking defines the geo of customers and displays them a relevant phone number.
Advantages
This increases customers' loyalty and allows receiving more calls.
Don't bluff but make wise decisions so your competitors will be left with nothing. We know how to save your money and increase its amount.