Our customers say that they can't imagine CRM and telephony separately — without being connected to each other. After all, this brings many benefits at once. Sales reps have more free time for sales. The manager clearly understands how employees process requests. The quality of service improves, and the amount of manual work decreases significantly. Find out how to automate the work of your sales team and what results in real companies that are already using Ringostat and CRM integrations will get.
What is telephony and CRM integration and why is it needed
Integration is the connection of one service to another. If we talk about the connection between Ringostat and CRM, it means that call data is automatically recorded in the CRM system. But not just that, but by automatically triggering certain events.
This "smart" solution allows you to maximize the use of telephony for sales and increase customer loyalty. The integration will allow:
significantly relieve employees of their workload, as routine manual tasks will be performed automatically;
get rid of chaos and mistakes in the sales department;
build an impeccable customer service system;
get insights into what influences the closing or losing of deals, and thus increase sales.
Currently, Ringostat has about 20 integrations with CRM systems, including many world-famous ones. For example:
What you need to integrate CRM and Ringostat
Have administrative access to CRM and our platform. No additional payment is required — you can upgrade your sales team for free.
15-40 minutes to set up. And you don't need to have technical skills or a programmer's education. Even a student can easily set up the system.
Read the setup instructions from our knowledge base. Or contact our technical support, and our team will set everything up for you 🙂
1. Automate sales and save hours of working time
When a client calls the company or, conversely, a sales rep calls a client, the call is automatically recorded in CRM. It also records whether the call was successful or missed.
After the call, entities are created in CRM:
"call" entity — if your CRM system provides it;
deal — the system checks whether there is already a deal for this customer in order not to create a duplicate;
contact — similarly, only after checking whether this customer is already in the CRM;
a task with an audio recording of the conversation attached.
An example of a HubSpot CRM entry that was automatically created after a call, with the call audio attached
Why it's useful
Sales reps don't need to be distracted to manually create contacts, tasks, and agreements after each call. Automation will save hours of working time per month for each employee. After all, recording each call and the customer's phone number takes about a few minutes. And add to this the time to search for a deal if a customer who is already in CRM called.
No mistakes that affect sales. Unlike when an employee enters phone numbers manually and can make a mistake. Or they simply need more time to record calls during a heavy workload and then forget about them.
2. The entire history of communication with customers in full view
Call data is stored indefinitely in your CRM — for example, in a contact card or a deal. You will see:
how many calls there were for a particular deal — if the client called many times, it means they were interested enough;
whether it was always possible to get through, and if not, whether the sales rep called the customer back after a missed call;
when the communication took place, etc.
By the way, if you use the Ringostat Smart Phone app, your sales team will be able to work even faster. Just click on a customer's phone number recorded anywhere in your CRM, and the call will start automatically. You don't have to constantly copy and paste numbers into the dialer.
Below, you can see the call history recorded in the contact card in HubSpot CRM. You can also see how to make a call with one click using Ringostat Smart Phone. Please note that the extension "remembers" customer names and displays them during outgoing and incoming calls. This way, the employee can immediately address the customer by name and impress them: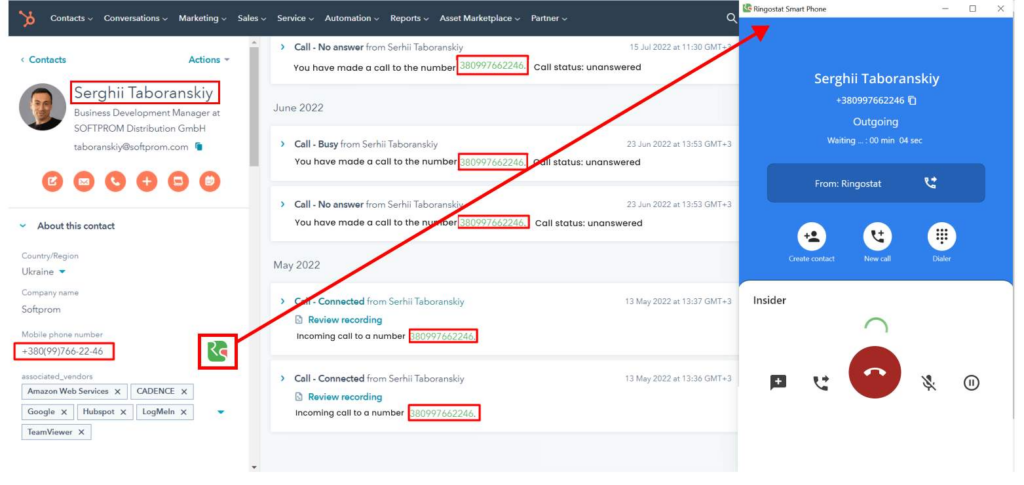 Why it is useful
Management can see how communication with the client is progressing on each deal. There's no need to ask the sales rep every time.
The communication history will come in handy when a customer who has already contacted you returns. This will allow you to recall the tasks and features of the buyer that interest him or her, or, conversely, scare him or her away. If a deal fell through in the past, you can immediately understand what to do this time to avoid such a scenario.
3. Directing a call to the desired employee at once
When an existing customer calls, Ringostat looks up in CRM whose sales rep is responsible for the deal. After that, it immediately connects the customer with the necessary employee.
For example, this was implemented at one of Ringostat's clients, Husky, a warehouse staff outsourcing company. If an existing customer calls, the call is routed to their sales rep. If a new customer calls, an IVR is triggered, i.e. a voice menu that offers to select the desired department. In the Ringostat settings, it looks like this: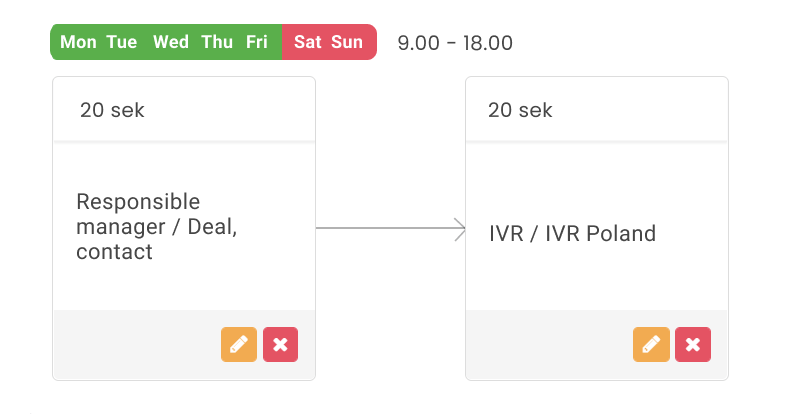 Why is it useful
You save the customer's time. This way, the client feels that the company cares about them, and this affects their loyalty to you.
Sales reps or secretaries don't have to be distracted just to transfer calls to colleagues. They also don't have to search for the person responsible for a particular deal
4. Service quality control and improvement
As we have already mentioned, after each call, an audio recording of the conversation is transmitted to CRM. You can listen to it by clicking on the corresponding notification in the system: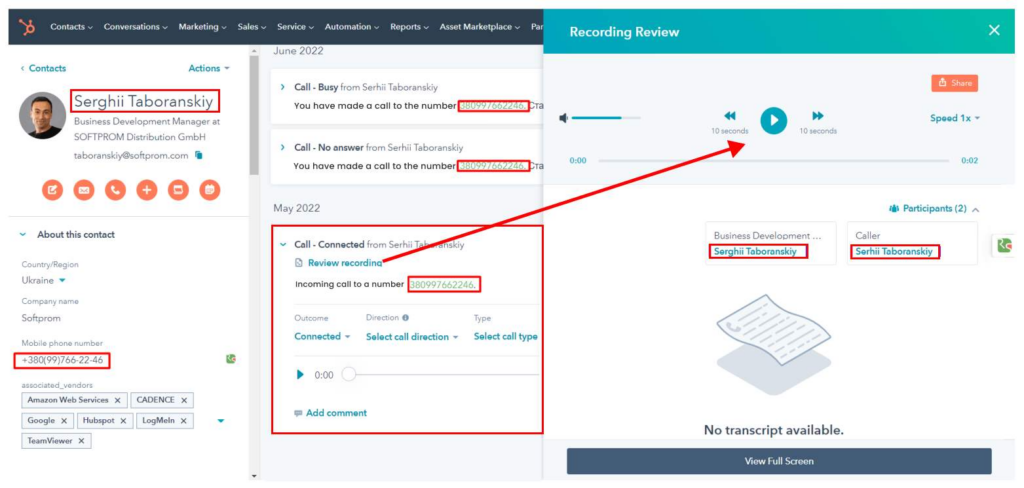 You can listen to the call in HubSpot, conveniently fast forward or rewind, and choose the speed of audio playback
Why is it useful
A supervisor can easily control how an employee communicates with a particular client. And if the deal is stalled, he or she will advise on what to do to close it faster.
It becomes clear what caused the lost deals. For example, if the sales rep wasn't persistent enough, didn't know the product well, or promised to call back later and didn't.
Call recordings are a valuable source of information for improving service. Filter out the deals you've won and download the audio recordings for them. You can train employees based on such conversations. And vice versa, if there are mistakes made by an employee in a dialog, analyze them together with the team to prevent such a situation from happening again.
The sales rep can recall important nuances of the conversation after listening to the call. For example, the client's name, the name of their company, what they agreed on in the end, etc.
5. Reduce the number of missed calls
If a sales rep misses a call, a Callback task is automatically created for it with a deadline of 4 hours: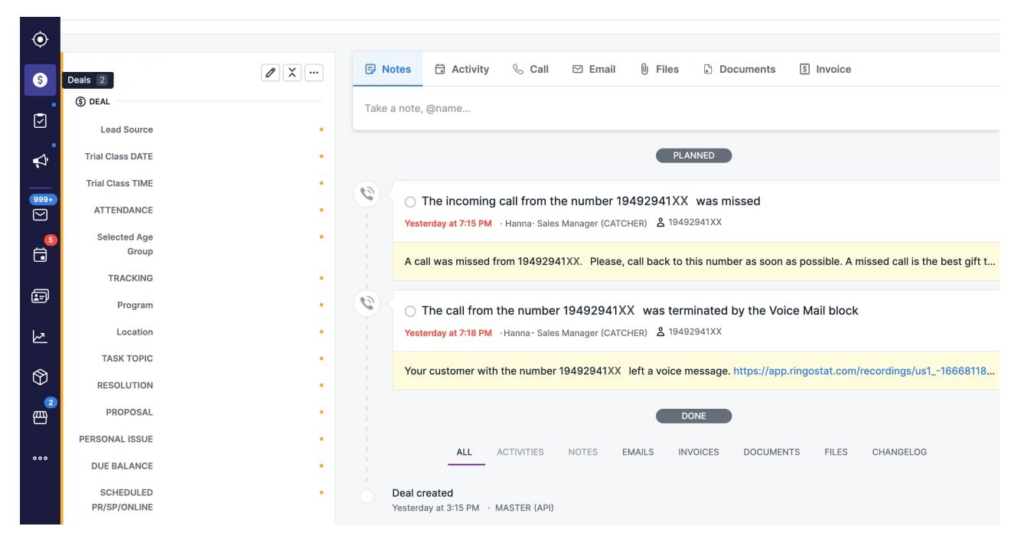 Why is it useful
The sales rep will definitely not forget to call the client, which means won't "give" him to your competitor. In addition, the customer will be sure that you haven't forgotten him or her. And this will smooth out the negative impression that usually develops when a company cannot be reached.
6. Gain valuable insights for marketing and increase the effectiveness of advertising
If you use not only telephony but also call tracking, you have additional opportunities. The thing is that call tracking determines which advertising source the customer called from. It can automatically transfer the same information to the customer's card.
In the screenshot below, we can see in Zoho CRM where the customer called from:
source — Google;
channel — cpc, i.e. contextual advertising;
campaign — in this case, "SER_rent";
the keyword that brought the customer is "minibus rent".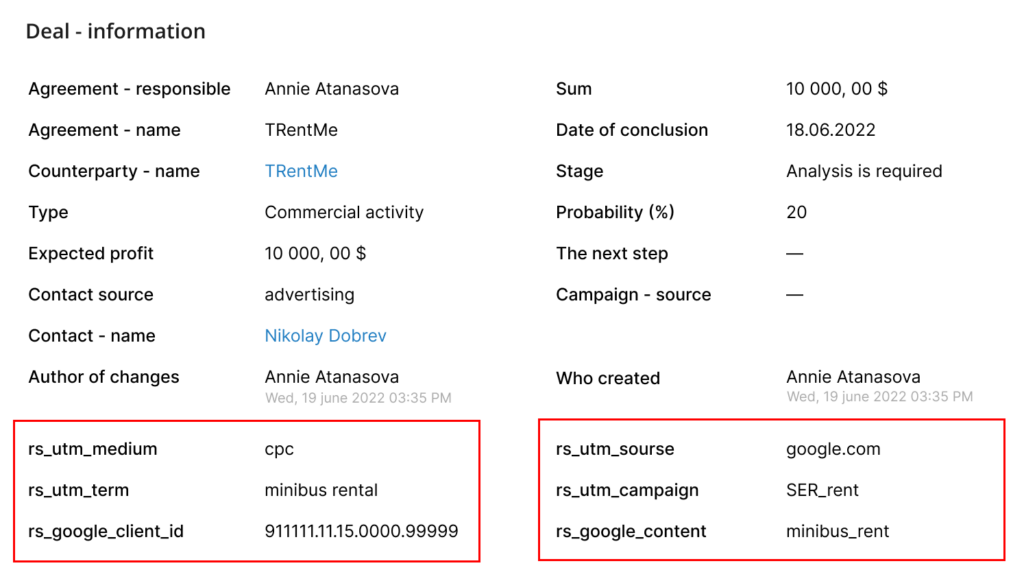 Why is it useful
You will learn how advertising and various marketing activities convert into sales. This will help you understand which ones are worth allocating a budget for and which ones are better to turn off.
A marketer can conclude how customers perceive a brand or google a product. This will be clear by listening to call recordings. Add relevant information or keywords to your website or ads, and you have a good chance of increasing profits.
You can analyze why your ads don't lead to sales. Filter lost deals by customers who came from advertising. Analyze why the sale didn't happen. For example, the ad was too abstract, and the user misunderstood what you were selling. Or a certain type of query brings mostly non-target audiences. All of these findings can be used to improve your advertising campaigns.
Bonus: choose how the integration will work
The integration of Ringostat and CRM is very flexible and can be customized for each business. And you don't need to involve a programmer or integrator. Simply go to the integration settings in Ringostat and check or uncheck the appropriate box. This determines what will or will not happen in CRM after a call.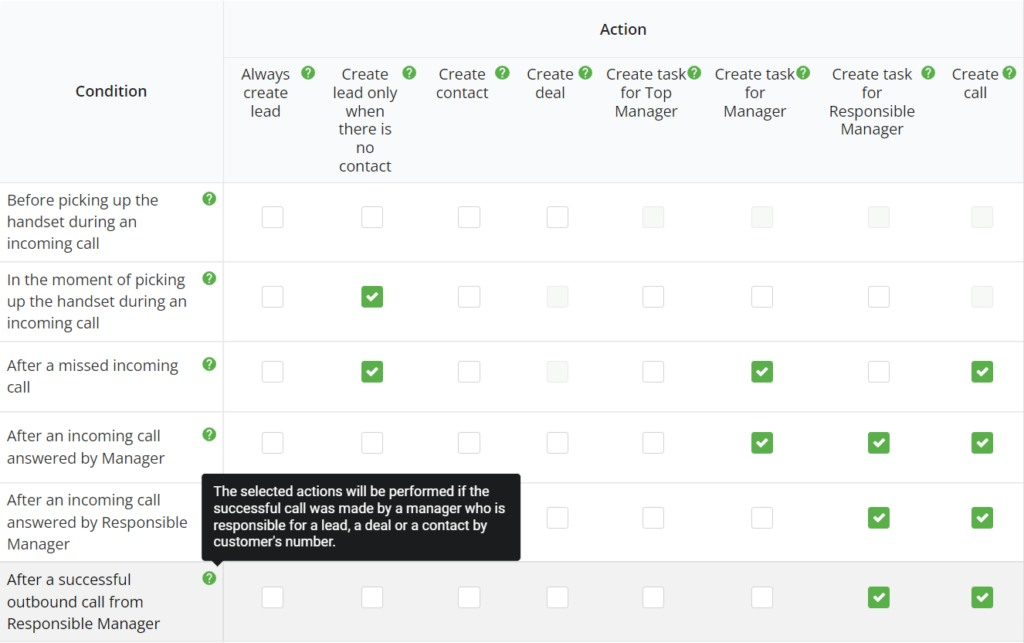 If you hover the mouse over the question mark, a tooltip for each item will appear
Examples of Ringostat and CRM integration for different businesses
Ringostat and HubSpot integration for a business club
YBC, or Young Business Club, is a closed community of young entrepreneurs operating in 30+ countries. To join the club, potential members must first apply and talk to a YBC representative by phone.
That's why the company uses Ringostat and CRM integration for a separate YBC project in the United States, which was launched four years ago. This way, the club solves several problems at once.
Recording all customers in CRM. When a YBC employee calls a new candidate, a contact is created in HubSpot and a Call entity is created.
Recording the results of negotiations and resolving non-standard situations. The first is important because both the club and the candidate share confidential data during the conversation. And audio recordings of calls allow you to make sure that the employee heard the information from the candidate correctly, and that the candidate heard the employee correctly. As for non-standard situations, employees can listen back to the calls to find out the truth. For example, when you need to apologize to a client or defend the interests of the team.
Improving the quality of service. By analyzing call recordings, the YBC team is constantly improving scripts and handling objections that candidates may have.
Zoho CRM і Zoho Desk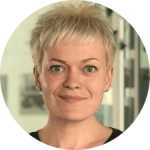 "Ringostat in conjunction with Zoho CRM is, on the one hand, a full-fledged call tracking, where you can track the effectiveness of advertising channels and platforms. On the other hand, it is a
virtual PBX
. This means that marketing always knows how many calls have been received by which parameters and from which advertising channels and platforms. At the same time, each call creates a transaction in Zoho and pulls in all the customer journey data. And sales managers, in turn, can listen to calls directly from the CRM system or an app on their phones.
For example, one of our clients, a B2B business that uses Zoho CRM and Zoho Desk, has integration with Ringostat. His CRM receives calls from customers, and his Desk receives calls from end users who are having problems and need support. Sometimes customers accidentally call the wrong numbers, so it's important to be able to quickly transfer the request to another department.
The client operates in the European Union and Ukraine. The integration of Ringostat and Zoho was a rather large technical task. The Ringostat team always took into account our wishes and promptly resolved all issues. Now all our client's calls are recorded in Zoho CRM and Zoho Desk. It is possible to control all calls — incoming, missed, and outgoing.
Managers in departments do less work. CRM automatically sets a "Call back" task when a call is missed and assigns a deal or ticket to any logic: a specific manager, senior manager, executive, etc. The client likes that he does not have a "zoo" of software. He uses Zoho products to automate his processes, and Ringostat takes care of all telephone issues."
Integration with Pipedrive for a real estate agency
Integration of telephony and CRM is especially popular among our real estate users. After all, buying an apartment or house almost always starts with a call. An example of one such client is the real estate agency M2Realt. This client pays real estate aggregator platforms for listing their properties. Therefore, agency needs to understand whether it is worth paying for advertising a particular property on a particular site. In particular, call data transmitted to CRM by Ringostat call tracking helps with this.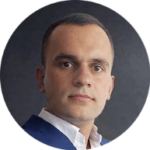 "Thanks to Ringostat, we can record all calls in our CRM Pipedrive, taking into account the advertising source that brought them. This helps us understand how effective our work on a particular platform is. We can also see which objects are the most popular for views, applications, and sales. In general, the integration of telephony and CRM is so useful that I wouldn't even separate the two tools. 

Knowing the number of calls, we can calculate the cost of each call and a specific stage of the funnel. We decide on the budget allocation for the day based on the latter. We essentially buy the volume of leads on integrator platforms, and to understand how much to spend, we focus on conversions. Including the conversion of an ad into a call."
Conclusions
The integration of CRM and Ringostat allows you to automate the work of the sales department, save time, and improve service. The head of the sales department will always be able to keep track of how each deal is progressing.
The combination of telephony and CRM will also be useful for your company's marketers. Specialists will be able to listen to audio recordings of lost deals where customers came from advertising. This will help to understand what exactly pushed the client away. For example, an inaccurate description in the ad or confusing information on the website. Once marketing knows this, they can correct such mistakes.
Integration settings do not require technical knowledge and additional costs.
Ringostat technical support will provide you with all the necessary instructions to set up the integration. If you don't want to do it yourself, we'll be happy to do it for you.