Are you looking to improve the ROI of your Facebook ad campaigns? Basically, are you tired of losing money on Facebook ads? Then you are not alone. This article is actually here to help you climb out of the hole. Read on to learn how to improve the effectiveness of your social media campaigns.
With a few tweaks, you could create the ever-elusive successful Facebook Ad campaign. We sat down with friends from a top-notch digital branding agency and came up with five actionable tips that have the potential to change your relationship with Facebook Ads. Interested? Let's get right into it!
Take Advantage of Look-alike Audiences
If you want to create a highly targeted cold audience on Facebook, look-alike audiences are the way to go. With conversion tracking and the Facebook Pixel, you can record leads, purchases, or whatever actions that matter most to your campaign, as well as create custom audiences.
Once you've created a custom audience, open the Create Audience drop-down menu and select Look-alike Audience.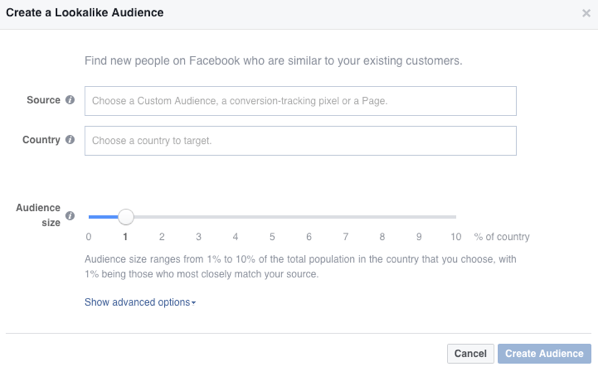 Then, select your audience size and target country in the audience creation window. We recommend starting with a lookalike audience size of 1%, as this will target the closest matches to your source. As you scale ad spend in the future, you can create new ad sets testing a 2% ad size, increasing as you go along all the way up to 10%.
Use Lowest-Cost-Cap Bidding to Improve Performance
Lowest cost is selected by default when it comes to ad set auction bidding. This means Facebook will target the lowest possible cost per result. In theory, this means the system automatically bids for maximum efficiency. However, setting a bid cap enables you to accomplish one of two things, depending on the set value.
Cost Control
The first and primary way to use cap bidding is to make sure costs don't go above an amount you're comfortable spending. This is most beneficial if you know how much a link click is worth to you and what amount you shouldn't go over to still be able to make a profit.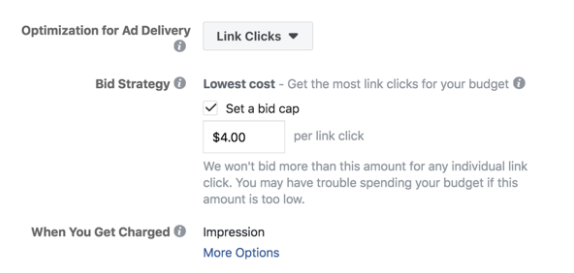 Ad Distribution
You can also use cap bidding to increase your ad distribution. Setting your bid cap much higher than your optimized target cost will allow you to temporarily dominate the market at an added expense. In this case, Facebook will make sure you outbid competing advertisers and target the segment of your audience that is most likely to convert.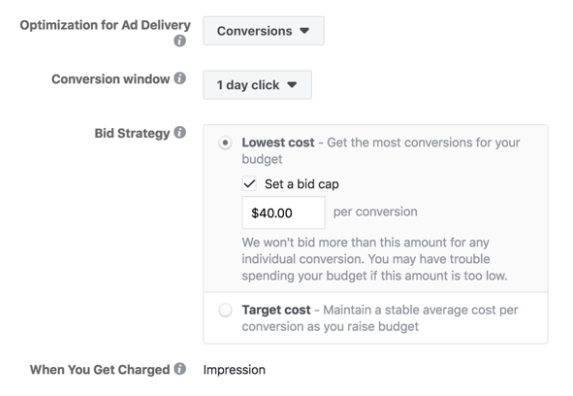 Tailor Your Creative Assets with the Asset Customization Tool
Facebook's Asset Customization tool enables you to increase ad relevancy by adjusting your ad creative. This helps boost ad effectiveness and audience engagement.
To enable the feature, make sure to select Edit Placements at the Placements screen.

Then, look at Asset Customization, and click the link option to select placements.

At the moment, you can customize for the following:
Instagram Feed;

Instagram Stories;

Facebook Feeds;

Audience Network Rewarded Videos;

Audience Network Native, Banner, and Interstitial.
Once you've selected the relevant placements, you'll have two options for customizing your image. The first option is to use a single image, cropped to fit the native format of each placement. The other option is to select a unique image for each ad placement. To do this, click the Use a different image for certain placements menu.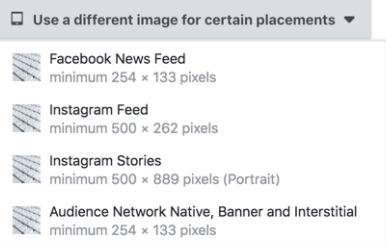 Use the Split Testing Tool to Identify Your Best-Performing Ads
Facebook's native A/B testing feature lets you try out different versions of your ads to see what works best. This enables you to optimize future campaigns.
The split test compares one of four variables — placement, audience, delivery optimization, and creative. You can select up to five versions for each test group. We recommend using Facebook's intuitive creation wizard if you're using the tool for the first time.
Perhaps the best way to use the tool is to test different audiences through an A/B test. For example, you could test lookalike effectiveness with varying audiences of source — one built from Add to Cart actions and another made from purchases.
Go to your Ads Manager dashboard and click Create. Next, choose your objective and check the Create Split Test box. Once you've chosen your goal, Facebook will take you to the ad set level, at which point you can use the Variables drop menu to select Audience.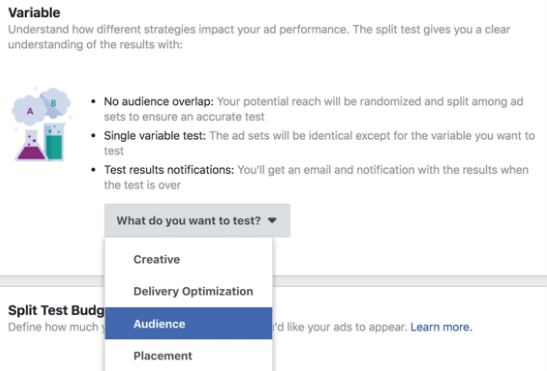 Now, you'll be presented with two audience sections — Ad Set A and Ad Set B. At this point, you can select an audience set you've created earlier or create a new audience.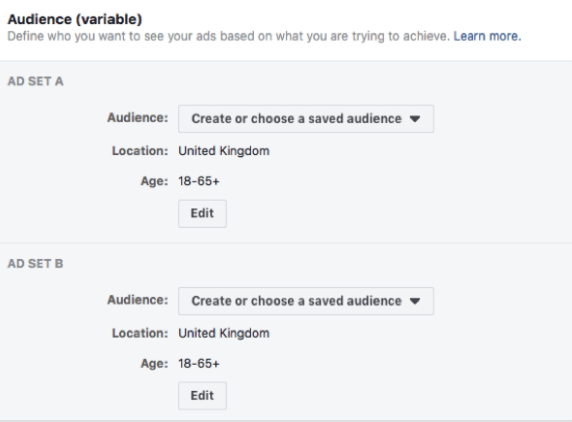 To keep the test consistent, split the budget evenly between the ad sets. Next, select the test duration, ranging from 3 to 14 days.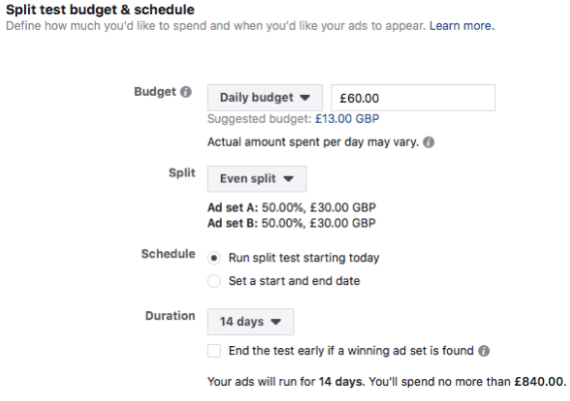 If you have an ad that performed well in a previous campaign, select Use Existing Post. Otherwise, create a new ad through the creation panel.
Structure Your Remarketing Campaign Using a Multi-Step Funnel
A successful advertising campaign depends on having the right strategy. You won't get far delivering a sales-based campaign to a "cold" audience that doesn't know much about your brand or product.
To achieve consistency in leads and conversions, you'll need to make sure your audience knows, likes, and trusts you.
Taking someone from a stranger to a loyal, returning customer takes effort and strategizing. You'll need to show the right ads to the right people at the right time. This might be a challenging task for some business owners, and some of them don't have enough time to master the art of Facebook ads. However, there is always an option to find reliable PPC agencies that will be ready to do all of the heavy lifting.
Awareness is at the top of the funnel. At this stage, you're looking to entertain or educate your target audience, providing value through your content.
Grabbing the attention of your target audience in this way allows you to build custom audiences and group your leads based on their level of engagement. Once you do this, you can capture the most engaged prospects and keep retargeting them throughout multiple stages of the buyer's journey.