Let's explore some cutting-edge mobile commerce trends for 2023 that will help you provide better shopping options for your consumers and 2X your sales. Irfan Ak a tech-savvy & experienced digital content strategist at Branex shares his vision.
With the advent of mobile devices, the buying pattern of consumers has drastically changed. Now they prefer mobile devices to order food, buy a dress, book a ride, purchase grocery items, and much more. According to Statista, nearly 30.6% of internet users in the world made online orders via mobile devices. Ecommerce marketers and online businesses are putting their best efforts into staying competitive in the industry by understanding the evolving behavior of online shoppers.
Consumers are dependent on mobile devices for shopping, and mobile commerce continues to become the preferred channel for online shopping in 2023 and beyond. Online businesses and ecommerce companies have introduced buy buttons in their social media posts to make it easier for shoppers to purchase their products directly from the social media platforms. Many digital marketers introduced a one-click checkout process to their websites to make it easier for consumers to complete the purchase without any hassle.
Tech-savvy users are using smartphones for shopping, which is the leading factor of m-commerce growth. It's the right time for ecommerce businesses and online sellers to stay up to date with the latest mobile commerce trends to provide online shoppers with convenient and better options. So let's take a look at them!
Build Feature-Rich Mobile Apps
Since tech-savvy consumers are using mobile devices for online shopping, it is the right time for your business to develop an ecommerce app that fulfills the shopping needs of modern users. If you have a mobile-optimized ecommerce website, it is strongly recommended to build a mobile app for your ecommerce store. Surprisingly, nearly 85% of shoppers prefer mobile apps to place their orders over mobile sites.
Furthermore, mobile apps can generate more leads than mobile websites. If you want to increase the conversion rate of your ecommerce site and make more money, building a mobile app for your ecommerce site is the answer.
Hassle-Free Checkout Process
Many consumers think that placing an online order is a complicated process, as they have to fill out a never-ending checkout form to complete the process. In this fast-paced world, consumers want to place their orders without filling out lengthy checkout forms. If you want to reduce the shopping cart abandonment rate and close more sales, it is important to work on your checkout process.
Mobile apps have the lowest abandonment rate compared to mobile sites. When it comes to placing an online order via a mobile app, you don't need to manually enter information. Ecommerce mobile apps save customer information, which allows users to complete the purchase process with one click.
When customers complete their online orders from a mobile commerce app with a single click, it will eventually provide them with a memorable user experience. If you want to increase your conversion rate and provide a memorable user experience, you need to optimize your checkout process.
Leveraging Social Media Channels
Many ecommerce businesses are making the most out of social media marketing by motivating them to navigate a social post to a landing page. If truth be told, it is easier said than done.
Thanks to shoppable posts, brands can now provide consumers with an opportunity to shop directly from social media without visiting a website and searching for the product on their own. You can tag your best-selling products in social media posts; if users want to buy the product, they have to click on it and purchase it.
Today customers are using Facebook, Instagram, Pinterest, and other social media channels. They want brands to provide the buying option directly from social media posts. You can make the most of shoppable posts to increase the chances of getting more sales.
Voice Commerce
With the advent of smart assistants, Alexa, Siri, and Google Assistant, consumers are now looking for voice search options when they encounter a website or app. In 2023, it is expected that more and more ecommerce businesses will invest their effort and resources in voice search options to provide consumers with an option to browse or complete a purchase. If your ecommerce business hasn't implemented voice search technology yet, it is the right time to make sure your products can be purchased via voice commands.
According to a survey, approximately 55% of young adults use voice search voice shopping daily. According to a survey, 72% of respondents use digital assistants (Siri, Alexa, Google Assistant, Cortana), and 30% of respondents are planning to purchase a smart speaker.
In 2023, more and more consumers will use the voice search option to research products and make a purchase. Many ecommerce stores are using voice technology in their product pages to improve the customer experience. Some technology companies and digital marketing agencies are using voice technology to gather data and use this information to offer a personalized customer experience. If you want to stay ahead of the game, make sure your mobile app is optimized for voice search.
Mobile Wallets
Many websites and mobile apps have started using mobile wallets such as PayPal, Google Pay, and Apple Pay to make it easier for consumers to complete online purchases without entering their credit card details. In 2023, many small and mid-size businesses will invest in mobile wallets as it provides consumers with a safe, secure, and quick way to shop online.
According to Statista, in 2021, mobile payment transaction volume had increased by $275 billion, which is an annual growth rate of 62%. The best part is these mobile wallets can also be used in physical stores that provide touchless purchasing options.
Chatbots
Believe it or not, chatbots, if used right, can help businesses to provide excellent customer service. Many ecommerce businesses are also harnessing the power of chatbot technology in their websites to provide customer service and send quick replies to customers' queries. But sadly, many online businesses haven't incorporated chatbots in mobile apps yet. It is expected that in 2023, ecommerce businesses will integrate chatbots into mobile shopping apps.
A survey suggests that 54% of consumers prefer a chatbot over a human sales representative, as it saves them a lot of time and helps them make a quick purchase decision. Chatbots are one of the latest m-commerce trends that you should integrate into your business strategy to provide the best possible user experience to your customers.
Augmented Reality
Augmented reality is a technology that is making groundbreaking changes in the digital world. Many high-tech companies have been using this powerful technology to improve the performance of their software products for many years. Augmented reality can combine visuals, and sounds and enhance interactivity. It transforms the way users receive information and interact with the environment.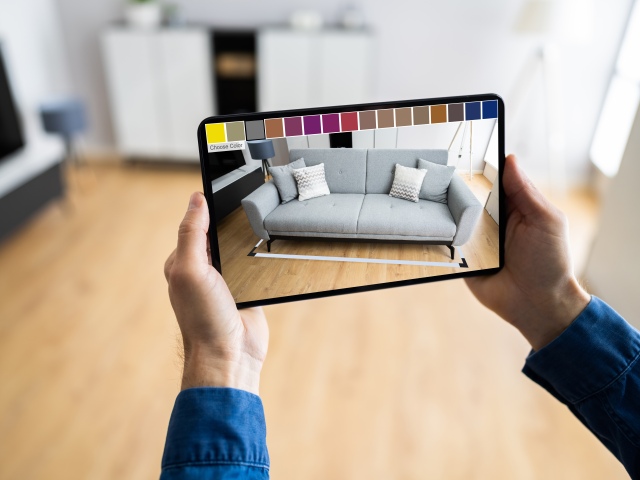 Tech giants such as Apple, Google, and Microsoft are using this promising technology in their software products to yield profits. Many real estate agencies, ecommerce businesses, fashion brands, mobile app development companies, and online furniture and home accessories brands are using augmented reality to allow consumers to try out the products before purchasing.
Smart Search Option
The search button is an essential part of ecommerce websites and mobile apps, as it plays a vital role in m-commerce. Finding your desired product on a small screen is an intricate task; this is why developers add a search option to deliver perfectly matched results. Brands invest their best efforts to improve the customer experience by simplifying navigation, adding dynamic product pages, and autocomplete features to search options.
If users easily find their desired products on a mobile site, they will buy the product, which will eventually improve the conversion rate and boost profits. Make sure the search field is fast and lightweight, enable filters, autofill, and provide suggested searches to provide a quicker and more convenient user experience.
9. 5G Technology
Today's consumers want faster and more personalized experiences. 53% of mobile users will immediately abandon a site that takes more than 3 seconds to load. Thanks to 5G technology, which is up to 100X faster and has a faster data delivery rate. According to Statista, global e-retail revenue would increase to $6.5 trillion in 2022. It clearly shows that more and more customers will make online purchases by browsing faster mobile sites and apps.
Besides providing greater internet speed, and faster speed, 5G technology can also provide a personalized shopping experience by gathering customer data needed to complete the purchase.
Omnichannel Commerce
Retail businesses are continuously looking for effective marketing strategies to increase consumer loyalty, improve customer experience and boost awareness. In this digital world where consumers are more technology-savvy than ever before, nearly 73% of consumers use multiple channels to research the product before making a final decision. 9 out of 10 consumers expect a seamless omnichannel shopping experience from brands.
Omnichannel commerce is a multi-channel marketing and sales approach that focuses on delivering a seamless shopping experience, regardless of the type of device consumers are using to make a purchase decision. Several studies suggest that nearly 90% of retailers use a mobile medium for advertising their products.
Innovative retail brands and tech-savvy merchants deliver personalized calls-to-action at the time and place when the consumer is showing their interest in buying the products. Your brand can also use this sales approach to provide a personalized shopping experience at every channel and touchpoint.
Dynamic Pricing
Believe it or not, a poor-pricing strategy can make or break your company. It is one of the most important factors that play a huge role in the success of your online business. It is also an important factor that helps consumers decide whether or not to buy a product. In fact, for 80% of consumers, price is one of the most important decision-making factors.
Dynamic pricing is one of the cutting-edge mobile commerce trends that requires brands to fluctuate their products' prices by considering different factors, conditions, and predictions in mind. It is recommended to consider industry standards, market conditions, as well consumer expectations in mind. Mobile commerce brands are advised to continuously monitor their competitors' pricing strategies to set the right price for their products.
Internet of Things (IoT)
IoT is continuously making a great impact in the ecommerce market. Since most consumers now prefer to browse and buy via mobile devices, the connected gadgets and devices make it easier for buyers to switch between online and offline shopping experiences. IoT is transforming m-commerce stores and providing consumers with a personalized mobile shopping experience.
Are You Ready to Embrace These Trends for Your Online Store?
These are the top mobile commerce trends that are expected to make groundbreaking changes in the ecommerce industry. Ecommerce business owners are advised to adopt these m-commerce trends and tweak their business strategy to achieve their sales goals. Focus on mobile app development for your ecommerce website and provide your customers with an opportunity to shop from your website.