TikTok marketing is essential for e-commerce stores because it boosts your visibility, engagement rates, and sales. But you have to learn how to do it right — and you're on the best page for that. You'll discover eight e-commerce-specific TikTok marketing strategies that you can use immediately. David Morneau, the co-founder, and CEO of inBeat, a hybrid micro-influencer marketing SAAS/agency, will show you actionable steps and tips to get started. Plus you'll find plenty of great examples you can draw inspiration from. Keep reading below.
Why TikTok Marketing for eCommerce Brands Works
Search Engine Journal claims that:
35% of TikTok users buy products advertised on this social channel;
37% of TikTok users immediately purchased a product they found on this channel;
44% of TikTok users find products on this platform after seeing branded posts;
44% of TikTok users find products on TikTok by seeing ads.
TikTok stats show that:
TikTok users are twice as likely to recommend products found on TikTok to their loved ones than those on other social channels;
TikTok users are 1.5x more likely to convince their peers to make a purchase;
37% of TikTok users are in the top third of spenders, which is 61% more than those on other platforms;
shoppers who used TikTok in their customer journey spent 1.6x more than those who didn't;
the feeling of post-purchase joy is 25% higher with TikTok users than with other social media users.
8 eCommerce TikTok Strategies That You Can Implement Today
After reading those stats, you may be more eager to get things running, so we'll dive right into the eight TikTok marketing strategies you can implement today.
Remember: Choose the right strategy for your marketing goals, audience profile, and budget. Not all these techniques below fit every brand.
1. Build a TikTok Storefront: Best for Long-Term Sales Increase
Building TikTok storefronts is probably the most obvious solution for e-commerce brands. If your main business goal is to increase sales, what better way than through a shop?
TikTok storefronts are not like ordinary websites. Social selling and, by analogy, social buying are more powerful than mere selling & purchasing.
Your TikTok storefront has in-built solid advantages:
social proof;
an aura of desire;
a supportive community that can turn your products/brand viral.
Downside: This strategy may not be available in your region.
Solution: Pick one of the other TikTok marketing strategies for sales increase below, such as using a link in bio or paid sales ads.
How to build a TikTok storefront
Sign up at the TikTok Seller Center.
Upload the required documents.
Enter your bank account details.
Upload products.
Pro tip: You can also use an ecommerce platform that offers this TikTok integration. Shopify and Square are both good places to start.
Melaa Cosmetics is one of the e-commerce stores using this feature to attract more customers.
Once TikTok users click on the storefront icon, they can see a slew of products and prices. Clicking on those products leads to a product page with description and purchasing options:
2. Leverage TikTok Ads: Best for Short-Term Sales Increase
TikTok ads can fast-pedal your sales because they benefit from the same aura of social selling. Effective TikTok ads don't appear as spammy or pushy as conventional ads – and that's a massive win.
Side note: TikTok ads are shown to decrease ad fatigue and CPAs considerably.
That means you can boost exposure at a lower price for each acquisition. If you know how to do it correctly.
TikTok Ads Best Practices
Get insights into what your target audience wants. Leverage those insights to showcase how your products can meet their needs.
Start with a hook to pique TikTok users' interest.
Keep it short.
End with a call-to-action (CTA).
How to Create TikTok Ads
Create a TikTok business account.
Pick an advertising goal.
Set up your budget and bidding.
Create your ad directly on TikTok.
Review and publish.
Insider tip: Choose the right ad format for your current marketing goals.
In-feed ads: These appear in people's feeds like any other post. Since TikTok users can interact with them, these ads build up engagement with your audience. As such, they increase the recall rate as well.
Top-view ads: These ads are best if your current goal is to increase awareness of your products or brand. That's because the ads are full-screen and appear three seconds after someone opens their TikTok app.
Brand takeover ads: These ads appear full-screen immediately after opening the app, but they transform into regular in-feed ads afterward. Therefore, they're best for exposure and engagement.
Branded hashtag ads: This type of ad encourages your audience to create their own posts about your products/e-commerce store using the company's hashtag. As a result, you get a massive library of user-generated content that you can repurpose later. In the meantime, these ads work best for visibility and creating social proof.
Branded effect ads: These ads are best for creating social proof and desire. This time, you ask your TikTok audience to create videos using your branded effects.
Collection ads: These ads increase desire and sales by letting your audience browse products directly from the TikTok app.
Spark ads: If you have high-performing posts, you can turn them into ads with this feature. Using this type of ad saves you some A/B testing efforts because you already know the content is performing well.
This excellent ad from Oula Crystals has elicited many conversions:
Pro tip: Use end-to-end analytics to measure your advertising campaign's results and optimize your strategy.
3. Make Relatable Posts: Best for Long-Term Awareness and Engagement
If you're here, you already know the benefits of having a social media marketing strategy. After all, most people are using social media. That means you should use it too – so you can meet your audience on their own turf.
Why create a TikTok profile specifically?
Many people are using this channel, most of which are your potential customers.
Engaging with this audience on TikTok breaks some barriers. Studies show people are likelier to engage with brands on TikTok than any other social channel.
TikTok users leverage this channel as a product and information discovery search engine.
Bonus: The broader your social presence, the better your SEO. After all, your products rank for more high-search-intent keywords, and you get more links pointing to your website.
Best Practices for TikTok Videos
Leverage trends: ASMR videos work particularly well with e-commerce products, but viral sounds and challenges are also very relatable. Pro tip: To discover the latest trends, visit the Discover Section on the For You Page (FYP) and the Analytics section in TikTok Pro.
Make your posts pop: Leverage TikTok features like GIFs, filters, and titles.
Focus on raw videos: Raw, genuine posts look more authentic. Remember that TikTok users can immediately identify fake content and are very vocal against it.
Be consistent: Build a posting schedule according to your goals and stick to it.
Use stitches and duets: These TikTok features allow you to hop on the beloved trends train, thus increasing your visibility and acceptance. However, make sure your stitches/duets don't look too promotional.
Use the vertical mode: Vertical videos are easier to watch. That's why 25% more people watch them until the end.
Use hashtags and keywords: The right TikTok hashtags and keywords allow TikTok users to find your products faster and help the TikTok algorithm index your post, showing it to more users. Besides, using keywords with high search and shopping intent boosts your SEO efforts.
Pro tip: Apart from brand-related keywords and hashtags, use trending hashtags. You can find more ideas on the FYP or TikTok's Creative Center.
Scrub Daddy is an excellent source of inspiration. The company's TikTok profile is a treasure trove of interesting ideas.
Funny posts using trending sounds:
Videos presenting real-life Scrub Daddy customers:
Employee videos to let customers into the company culture:
4. Create an Affiliate Program: Best for Long-Term Sales
Building an affiliate program entails partnering with influential TikTok users who post about your products and adding affiliate links.
Side note: Not all TikTok affiliates are influencers; some may be loyal customers with regular followings.
These links usually have discount codes. Each time one of your influencers' followers uses that discount code to purchase one of your products, your affiliate gets commission-based pay.
Pro tip: The best types of affiliates are typically nano- and micro-influencers.
These creators address specific niches and have more engaged followings. Thus, they have the time and mental space to hold more conversations about your products.
Best Practices for TikTok Affiliate Marketing
Build your campaign on TikTok Selling Center. This tool helps you make posts and keep track of your sales.
Browse the TikTok Creator Marketplace to find some potential affiliates. However, a TikTok marketing agency saves you lots of time and resources because it vets and onboards the best influencers.
Use gamification to keep your affiliates interested in posting and discussing your products.
Here's an example from Beach Wave curling iron. Beach Wave partners with several affiliates like Sophie, who created this easy how-to tutorial: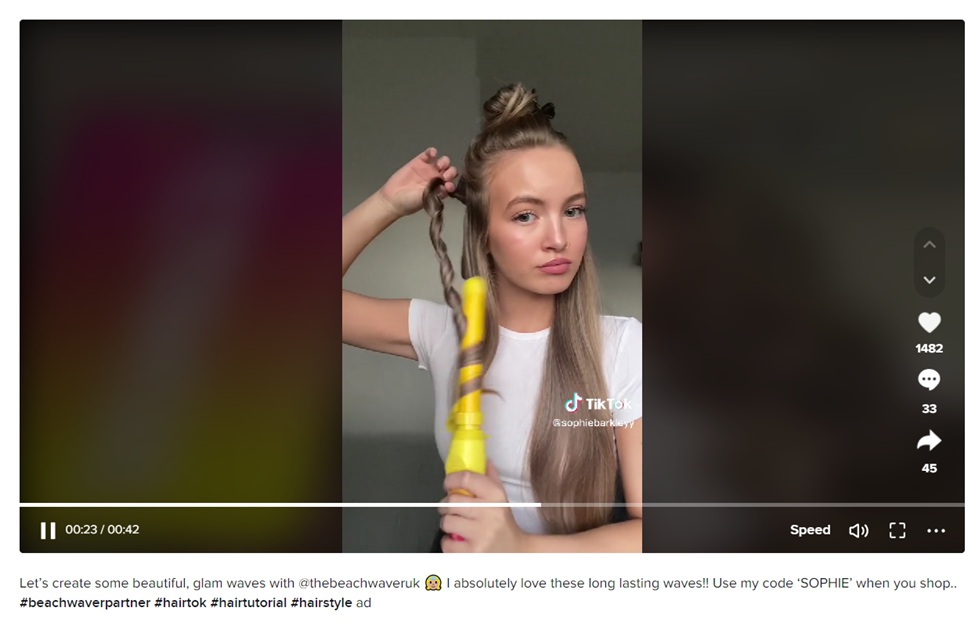 This type of video works at all stages of the marketing funnel:
people in the awareness stage browsing #hairtok or #hairstyle hashtags can discover this product;
shoppers in the product consideration stage see how this curling iron works and are more tempted to buy it.
5. Create a Hashtag Challenge: Best for Social Proof
Creating social proof and desire is essential when:
you've launched a new product;
you want to address a new market;
the sales for your existing products have stalled, and you want to recreate engagement with your audience.
Best Practices for Hashtag Challenges
Ensure this challenge is appropriate for your brand and products.
Create a clear, memorable hashtag.
Be specific that you want people to create similar videos using this hashtag.
Make it fun and interesting for your audience.
Give your audience a chance to win a prize or at least the feeling they're part of a worthy cause.
Curate the user-generated content you receive via this hashtag challenge.
Repost this UGC on your TikTok profile, other social platforms, website, and marketing emails. In case of sharing UGG via email, it's vital to use the SPF record checker and guarantee employees receive it and that this communication is safe from email security threats.
Remember: Even unsexy products can benefit from a fun challenge. Mucinex is one of the best examples:
Notice the memorable #BeatTheZombieFunk hashtag – which is exactly how people feel when they have colds and stuffy noses. Also, the considerable $1,000 prize motivates more people to enact this challenge.
6. Use "Link in Bio": Best for Long-Term Sales
Adding a link to your e-commerce store in your bio redirects more users to your website. As a result, you increase traffic and sales.
Pro tip: Use a link-in-bio tool such as Linktree or Shopify Linkpop. These tools streamline all important links sending users to your website, product pages, and social media profiles.
The benefit of using such tools is that:
People see just one link, but:
But clicking on that link leads them to a page with other specific links. These resources are organized correspondingly, meaning your prospects find the necessary info faster. That means potential customers can purchase your products faster.
Pro tip: You can use the same tactic with your affiliates.
Jersey Frosts is one good example:
Notice the link in their bio and the array of well-organized pages that users are sent to:
7. Go Live: Best for Engagement and Sales
Going live is an excellent TikTok marketing strategy because you:
can engage with potential customers directly;
can explain a new product or innovative product features in more depth;
get more live feedback from your prospects;
can sell your products directly in your live stream — this makes purchasing easier because interested shoppers can buy from the TikTok app.
Pro tip: Use TikTok's Q&A feature for more in-depth social listening.
Kesai Jewelry organizes frequent live TikTok shopping sessions, as you can see from their bio:
8. Leverage Influencer Marketing: Best for Awareness and Credibility
Influencer marketing is different than affiliate marketing because it has a wider scope. Influencers can help you with:
sponsored posts;
reviews;
long-term ambassador programs;
TikTok ads and more.
Besides:
affiliates don't typically have large followings as some influencers do;
while affiliate programs are best for sales increase, influencer marketing can help you reach a wide range of goals.
Influencer marketing can help increase desire, boost your credibility, create social proof, explain why your products are better than the competition's, and more.
All those elements help you increase sales in the short and medium terms. But you can also build a long-term influencer marketing strategy or ambassador program if that fits your brand.
Contact lens company TTDYE fills its content calendar with influencer content:
These content creators showcase the TTDYE lens from different perspectives, helping customers choose the best ones according to their eye color and other specific needs.
This helpful, evergreen content increases the company's organic traffic and purchases.
How to Develop a TikTok Marketing Strategy
To develop a solid TikTok marketing strategy, start with your marketing goals. Audit your company, audience, and competitors to double down on winning approaches.
Then, develop a creative brief using the e-commerce TikTok strategies that make sense for you.
Remember to use the necessary partners and integrations that streamline your campaign. Monitor your results and optimize your campaign, but remember to remain authentic in the process.
Do all that, and your sales will skyrocket.