Ranking high up in results from a search engine is a chance to increase the number of blog readers, the number of purchases made in online stores, or inquiries posted on websites. So, how to start working on your visibility in the most popular search engine in the world? In this article, Daniel Jędrysik, Marketing Manager working for Agencja KS, is going to present 8 valuable guidelines that every beginner will be able to implement to their websites. These SEO tips for beginners will not only help a website appear higher in Google search results but also positively influence its user experience.
TIP #1 Find the right keywords
Finding the right keywords is the first step towards increasing your visibility on Google search (or any other search engine). It's the phase that can't be missed out. Without a proper list, we won't be able to create content that — thanks to search engines — is likely to reach potential recipients.
When we start optimizing a company's or store's website, we should primarily focus on the keywords that are most frequently searched. Getting to a wide audience can contribute to an increase in the number of people who will want to use our service or buy our product. The problem with such top-searched keywords is high competitiveness and a low conversion rate.
The most searched keywords (so-called fat head keywords) may attract a considerable number of users; yet will those users be likely to become clients that are ready to use a given service or make a purchase? Also, the highest positions in search results are occupied by your competitors' websites, so if you don't take wide-ranging action, you won't make it to the top quickly.
The factors mentioned above may lead to — in the case of basing your SEO activities solely on fat head keywords — wasting your budget and concluding that SEO just isn't working.
To solve such a problem, it's better to rely on long-tail keywords or descriptive phrases ("how-to" or informational ones) that, with a bit of luck, can generate website traffic just after several months.
Long-tail phrases are keywords that have relatively few searches, but they exist in large numbers. They are also more likely to increase conversion rates. In the end, when we type in the word "shoes", we look for inspiration; however, the phrase "black running shoes size 43" indicates a strong intention of making a purchase.
In turn, "how-to" or informational types of phrases are words that don't reflect people's commercial intent, but that point to their need to gain knowledge.
When creating a list of keywords, we shouldn't ignore phrases of this type. They constitute a good way of reaching out to clients who are looking for a solution to their problem but are not thinking about a specific service or product yet.
Since we know that keyword research is essential, we need to ask ourselves: How to find the proper keywords?
Trust your gut
… but look for confirmation provided by hard data. You can probably guess what words your potential clients or readers may type into a search engine. Write them down and check whether your hunch is correct. Once your list is ready, enter the suggestions in a keyword tool such as Keyword Planner (from Google), Keyword Explorer (from Ahrefs), or Keyword Research (from Surfer). If the phrases you have typed in have satisfactory potential — bingo! You've managed to discover the keywords that will help you improve your rankings in search results.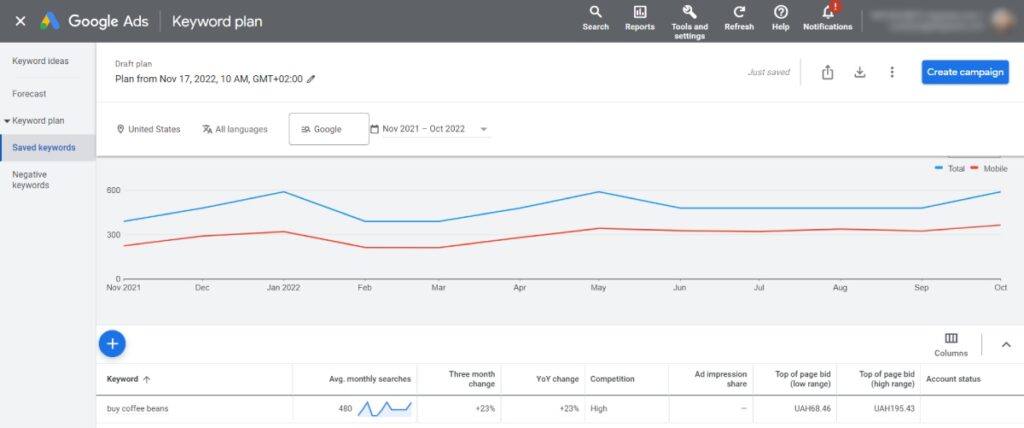 Address your clients
Your clients may look for services and products in different ways. It means they may enter words and phrases that don't match the keywords that you use to name certain services and products. Stay alert then. If a colloquial term is much more popular than the official one, discovering this fact and acting upon it can boost your website traffic. Also, adjusting vocabulary to the language used by your target audience increases the chance of a better conversion rate.
Sneak a peek at your competition
Competitor analysis is an excellent method of discovering new keywords. If our competitors have great visibility, we should check what keywords they rank for on Google search and think about how to use this knowledge to help our website.
There are many ways of conducting an analysis of competitors' key phrases. To complete this task, I prefer the tool called Ahrefs which can not only show what phrases the competition is visible for, but also point out the content gap, i.e., phrases that our competitors' websites rank for, but our websites — don't.
TIP #2 Prepare content that responds to the user's intention
We have our list of keywords ready. It's now time to check the intentions of the users who entered those phrases in the search engine. You can trust your instincts again and determine whether a given phrase is informational or rather transactional.
While checking users' intentions, I follow what I see in the search results for a particular phrase. If shops prevail in the SERPs, the phrase should be aimed at a category or product. On the other hand, if the search results are dominated by articles and tutorials, creating our text is going to be a more effective strategy.
Add to the previously composed keyword list information about what type of content you should create to be more competitive in Google search results.
The keywords found. We also know what the intentions of people who type those words in the search engine are. Time to start creating content.
When you start writing an article, or a product or category description, your objective should be to make the text original, comprehensive, and of high quality. What does it mean?
The text should be original — it means it needs to include your thoughts, opinions, analyses, or insights. Avoid copying content from other websites. By doing so, you increase the likelihood that Google won't index your website.
The text should be comprehensive — it means you should reflect on what information your readers or clients are looking for. If they are going to find what they need in your text, you will automatically increase the chance of keeping their attention, prompting them to take action (e.g., to make a purchase) or encouraging them to come back to your website later. Exhaustive, good-quality content is more likely to be shared via social media.
The text should be of high quality — it means substantive, without unnecessary bloviating, and divided into smaller paragraphs, thanks to which it will read well.
For this phase, I recommend using Content Editor, the tool developed by Surfer. It will help you create content that will match the current search results.
Is your content ready? Time to make Google's robots' job easier!
TIP #3 Help robots understand the site better
Robots and humans interpret web pages differently. Therefore, to help bots better understand the content of your websites, you need to address several elements.
Title
A title is the element of a website that displays in search results. Its role is to encourage the user to visit the page.
What's important, the title is also used by search engines to determine whether the content of a query matches that on the page. Therefore, it is vital to include a keyword in the title.
Try to create short titles (up to about 60 characters) and clearly indicate the content of the page to which they belong. Each subpage on the site should have an individual title. It is a good idea to end it with a brand separated from the rest of the title by a special character.
Description
This is another element that makes it easier for the user to decide whether to visit the site or not. Although Google has long been changing the description we set to excerpts pulled from the page, it is still worth preparing individual meta tags for each subpage.
The description should be an extension of the title and include additional information. It is a good practice to end the description with a call to action that will tell the user what to do next ("Read", "Buy", "Check out the offer").
Creating both the title and description should be assisted by SERP Snippet Optimization Tools, which will help you adjust the length of meta tags to the current recommendations.
Using Tags
Content that is served to robots should be properly tagged. It is all about using HTML symbols that are likely to make it easier for them to interpret certain parts of the text.
It is advised to use headings (<hx>), paragraphs (<p>), and ordered and unordered lists (<ol> and <ul>). Additionally, you can emphasize the importance of a given excerpt or section by writing it in bold (<strong>, <b>) or in italics (<em>, <i>).
URL address
URL addresses are another component that is worth taking into consideration when optimizing a website. The URL should be relatively short, readable, and include keywords. Instead of spaces, dashes ("–") are used to separate consecutive words. We should also resign from using special characters and diacritical marks that are characteristic of a given language.
Structural data
Differentiate yourself or die — structural data not only makes it easier for robots to better understand the content but also allows you to stand out in search results. Using it helps get so-called rich snippets, i.e., the results that contain additional information that is already provided at the Google search stage. Schema allows for displaying star rating and products' prices, questions and answers from the FAQ section, job offers, or carousels with recipes. The multitude of possibilities gives you a chance to adjust the structural data to the content you create.
Another way of standing out in search results is to make use of emojis in the title and description. It's not always possible, though, and not for all queries.
TIP #4 Take care of the appearance of the content you publish

The audience of our content should be mainly internet users, not search engine robots. Changes implemented in search engine algorithms show more and more clearly who should be the focus of online developers. Therefore, when preparing content for our site, it is worth keeping these tips in mind as well.
Formatting content
Nobody likes reading longish blocks of text, in which one sentence can drag on for as long as several lines. We have less and less time to spend on sole reading or searching for information. Therefore, it is vitally important to format the content properly.
In writing articles or blog posts, try to compose short sentences, and put various thoughts in separate paragraphs. Thanks to this, your text will be more readable and user-friendly.
Using headings is no less crucial. Giving a label to a group of paragraphs will let people who are scanning the content quickly find what they are looking for.
Significant pieces of information should be highlighted or marked with a different color than the rest of the text. Don't overdo it, though. A gaudy text will look rather unprofessional and be insufficiently readable.
Present data in tables. There are at least two reasons for using them. First, they are more readable and facilitate quick analysis compared to the information included in the text. Second, Google likes structured data organized in list or table formats, which is why it is happy to display them in search results as featured snippets.
Images and graphics
One image is worth more than a thousand words — it is no different in the case of web content. We consume mainly with our eyes, so graphics and photographs are placed between particular paragraphs. Images work well also as interludes between passages of texts or as embellishments. They can also play an informative role.
Presenting data in the form of interesting and clear infographics will allow your audience to absorb information more easily. What's more, they are more likely to be shared via social media.
When adding graphics to your website, don't forget to include alternative texts for people who use screen readers. "ALT" will be useful for bots to properly classify the encountered image.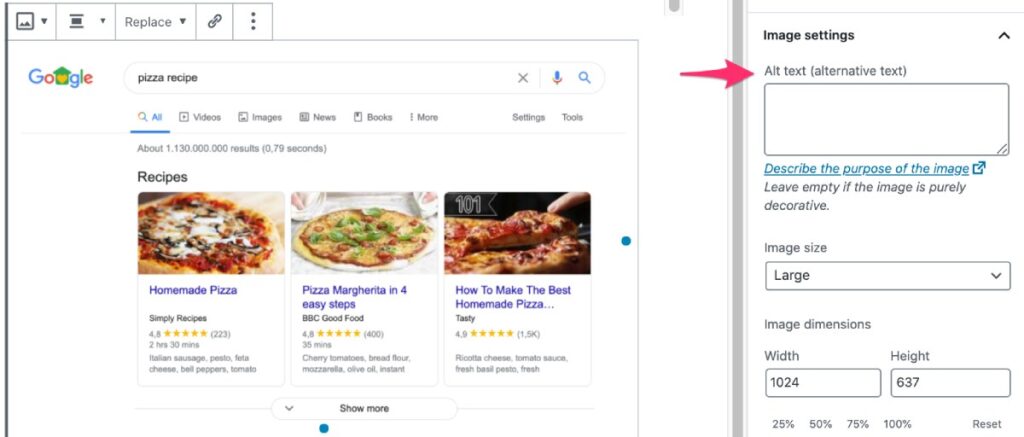 Be careful not to put valuable information only as graphic representations. Although algorithms that analyze photos are increasingly better, it is mainly written content that is evaluated on websites.
Video
Have I mentioned that we consume mostly with our eyes? When preparing content, you need to take one step further and create a video.
Why?
There are several reasons. Internet users are willing to gain or expand their knowledge through video materials. Besides, we can increase the chances that our content will be searched. Uploading your video clip to YouTube — the second-largest search engine in the world — allows us to get to a larger audience, who thus has an opportunity to discover our website.
TIP #5 Improve the speed of your website
Starting our adventure with optimizing, we can't forget about technical aspects. A website that loads too slowly can effectively discourage people from any further interaction with it.
Redundant scripts, large graphics, unnecessary CSS
Beautiful and colorful images, surprising animations, and functionalities may go unnoticed… if the website loads too slowly. Additionally, Google will recognize this site as a not user-friendly one, and limit its display in search results.
Instead of flamboyant effects, go for simplicity and reduce the number of unnecessary scripts and style sheets.
Before placing images on the page, reduce their size and compress them. Thanks to this, you will avoid the situation in which the user has to wait tens of seconds until one photograph loads. It's also a good idea to use appropriate formats. In the majority of cases, simple graphics require PNG format. JPG, in turn, improves compression for photos and raster graphics.
To reduce the number of kilobytes a browser has to download, new graphic formats such as WEBP can be used. They give better compression while maintaining quality, and currently, most browsers interpret this format correctly.
Core Web Vitals
Core Web Vitals are a set of metrics that Google uses to examine whether users will enjoy being on the site. Among them are speed, the time needed to become interactive, or layout shift.
If you want to check if your site meets Core Web Vitals, go to the free PageSpeed Insights tool (https://pagespeed.web.dev/) and run the test. In case of large deviations from the standards, you will probably need a web developer that will help you achieve satisfactory results.
TIP #6 Don't forget about smartphone users
It's been long known that most people use mobile devices to surf the Internet. Google noticed this some time ago and uses predominantly Googlebot Mobile for cataloging resources.
Therefore, if your website isn't adjusted to mobile devices yet, it's high time you changed it. In the first place, check whether the site is displayed properly on smartphones. You can just open it on your device and click through the sub-pages.
You can also make use of online testers such as https://search.google.com/test/mobile-friendly. The downside of this solution is that you can run the test for one page, not for the whole site.
Connecting your site to Google Search Console is a better option. Useful reports that are generated include the one that tells you about your site's mobile-friendliness.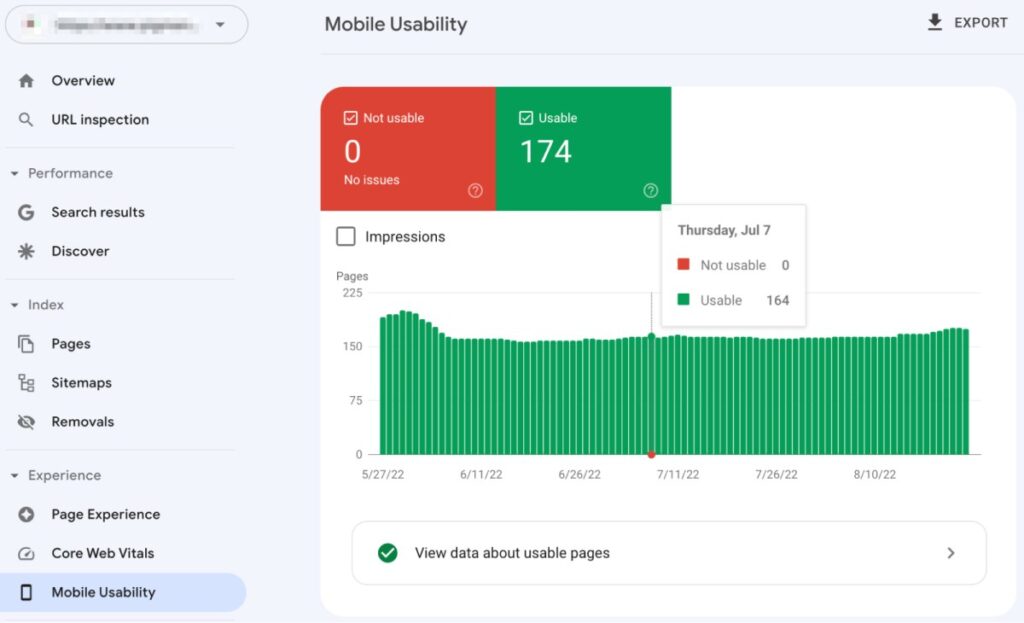 In the report, you will see whether webpages are optimized for mobile devices — if they aren't, the content won't be displayed properly on smartphones.
TIP #7 Create links between your content
There needs to be more than a navigation menu and links in the footer for a user or robot to have complete freedom to explore the content on a web page.
Extensive internal linking will improve user experience and make it easier for robots to locate web pages and classify them. Links that have optimized anchor texts are yet another ranking factor that influences how visible the site is.
When creating the network of reciprocal links within the site, make use of the section "similar articles" and text links.
Inserting text links (also known as hyperlinks) is a method of placing a piece of text on a web page that the user clicks on to be taken to a different page. Make sure the phrases you want to use point to what the user is going to find on the other side of the link.
TIP #8 Get external links to your site
The page ranking mechanism used in the first versions of Google's search engine was based on the number of links that led to it. The more of them there were, the higher the page could expect to rank in search results.
Nowadays, algorithms depend on many more factors. External links are still one of the main driving forces of a site, but what matters now is mainly their quality.
There are many ways you can get external links to your site. In an ideal world, other users would reward your hard work by publishing links to your site on their blogs.
Unfortunately, such actions are rare, and newly launched websites must use other methods to increase their online visibility.
Popular link-building tactics include:
guest posting,
contributing to topical forums,
commenting under articles,
partnering with another site and exchanging links.
When acquiring links to your site, don't cut corners. On the Internet, you can easily buy a package of several hundred links for a ridiculous amount of money. However, no one can guarantee that these links will help you get better positions. They can even be harmful to your site and get you penalized.
A few words in conclusion
Website positioning is definitely a marathon. If you want to pile up and reach new heights of visibility in Google (or any other browser) bet on the content of excellent quality, a fast and useful website, and links from valuable web pages. Over time, Google will reward your efforts and display your site more frequently in search results.