PPC Specialist should listen to recordings of calls from advertisements. Why?
There are two misconceptions about listening to calls. The first is that it is important only for sales reps. Second is that it takes a lot of time. Both are wrong and we will prove it in this article. A specialist can find out unobvious insights about keywords, audience and the reasons why advertising brings untargeted traffic, by listening to recordings. You will also discover how to minimize the amount of time on listening to calls recordings, leave nothing out.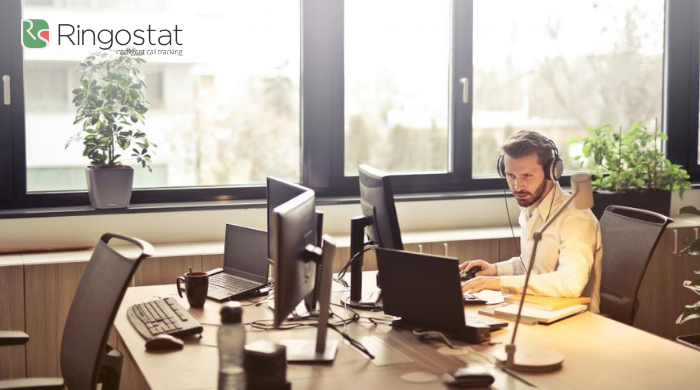 Where can you get calls recordings
The majority of modern companies use at least one of the tools described below. 
1. Virtual PBX. Such systems save the recordings of conversations and place the link on them in front of the data on call. The disadvantage is that Virtual PBX doesn't fix the source of a call: advertisement, search engine, direct transfer to the website, etc.
2. Call tracking. Systems of call analytics also make recordings. It is more convenient for PPC Specialists to listen to recordings via such services, as they can see the source of advertisement next to each request. Up to ad campaign and a keyword. 
3. CRM is useful if the system is integrated with the telephony. You can see and listen to recordings right in the deal. The same if CRM is integrated with call tracking. In this case, the information on the advertising source of the transfer will be added to the system.
How it can help you
1. Prove that advertisement brings leads 
A client may claim that customized by a specialist advertisement does not bring leads. However, analytics systems show the appropriate amount of traffic. The situation becomes more complicated if the sales department claims the same thing, putting the blame for the lack of closed deals on the PPC Specialist.
Follow the next steps to prove otherwise.
Listen to 10-15 recordings.

Pay attention to the customer's words, whether he is ready to make a purchase.

If the customer is interested, notice how the sales rep communicates with him. Probably, it is the employee's fault that the deal wasn't closed. For example, he is not polite, he doesn't handle objections, says "yes" and "no" instead of giving the developed description of the product.

You can find conversations where the customer wanted to make a purchase, however, he did not do this because of the lack of professionalism of the sales reps. In this case, download the recordings and show them to the manager/client. Now you can prove that the advertisement works and deals are not closed due to other reasons.

You can also collect statistics on missed calls during business hours. This will also explain the absence of sales, though, the advertisement is customized, and works.
Thus, our client Promo.ua agency proved his client that the context brings calls from the target audience. However, in the beginning, he argued for the opposite. PPC Specialists found out one more useful insight, by listening to recordings of calls. It turned out that there are not enough closed deals, as sales reps do not tell customers important details about the service. However, such details are a competitive advantage.
Find out more in this case — "The Story about MythBusters: How to Dispel Common Myths and Increase the Advertising Performance".
2. Understand the reason for untargeted requests
During listening to calls, you can understand whether users had correctly got the advertising message or not. Expressions from the advertisement may seem clear to the client and customer. Nevertheless, in the end, users understand them differently. As a result — there are a lot of calls but the majority of them are "junk".
For example, the case of our client, a digital marketing agency Smartum. Their customer is a company that provides satellite solutions. While listening to calls, PPC Specialists discovered that requests "satellite internet" and "satellite equipment" bring untargeted audience.
It turned out that people do not understand what it is and how much it will cost. A nice example is a call from a man who wanted to customize a satellite connection for his country-house. He was really surprised when finding out that this will cost a few thousand dollars. The advertisements that brought untargeted audience were opt-out even despite the high number of displays for such topic:
3. Supplement your negative keywords list
Listening to the recordings of conversations, fix those people's words who were brought by advertisements by mistake. Probably, you will notice the pattern. In other words, the most frequent phrases from advertisements that confuse users and make them think that you are selling something else. These words have to be added to the negative keywords list.
We will set one more example from our own experience. In Ringostat contextual advertising was used a phrase "call monitoring" which is the synonym of call tracking:
We thought that everything is clear here. It is about call analytics. But in reality, we received lots of requests from people who wanted to monitor their homies calls or to find the stolen mobile.
Besides, there were a lot of calls from telephony advertisements concerning phone numbers for registration in social networks, solving problems with Skype and Viber, etc. After listening to calls, we found out all expressions that brought the untargeted audience and added them to a negative keywords list.
4. Expand the semantic core
A PPC Specialist can't always know the professional slang used by potential customers to find the appropriate product. Listening to calls will be also useful here to supplement the keywords list. Listen to the words used by the potential customer and fix them afterward.
This is how the construction company from Kazahstan created the semantic core. Initially, PPC Specialists knew only common names of paints, tools and other products. By listening to the recordings of conversations, they found out how construction workers name them. This helped to make advertisements more effective and bring more requests.
5. Wisely allocate the budget between ad campaigns
Users can enter one request but search for another product. Listening to calls helps to discover such situations and use them to context advantage.
Such a situation is described in the dress salon La novale case. They were listening to call recordings using Ringostat when finding out that almost 60% of customers and their moms are searching for a prom dress via request "evening gown". To strengthen the ad campaign of evening gowns, the agency reallocated the budget and invested in it 40% more. We will also set a quotation of PPC Specialist from this case:
"Listening to calls using the call analytics service allows you to understand the needs of users in a more accurate way. Moreover, you create new ideas to expand the semantic core. Also, listening to the recordings of conversations helps to identify sales reps gaps. These gaps are also influential in ad campaign efficacy. For example, when sales reps miss calls, the analytic system doesn't count the goal as completed one".
How to minimize the amount of time on listening to calls recordings
As we said before it is easier to listen to recordings via the call tracking system. That's why let's see how to do it using Ringostat.
Select only calls from contextual advertising
Open call log and find among defaults report on contextual advertising. Click on it and you will see only calls from paid ads. There will be links on recordings on the right as well. You can listen to them in the account or simply download them.
Choose calls from the needed ad campaign
If you are interested in a certain ad campaign, you can create a special report in a minute. We recommend you to do it a few days after starting a new advertisement to understand how it works.
How to make a report on calls from ad campaign:
a the top of call log click on "Create report";

enter the report name;

at the sampling conditions, set the needed campaign for the utm_campaign indicator — you can see the ad campaign that brought a call in this column;

save settings.
Example of setup:
Speed up playback
Save your time on listening to recordings by speeding up them. Click on the fast-forward icon in the window that opens during listening. You can also choose the speed of the recording at the card of the call. To do so, you need to click on it several times. 
Focus on the most effective calls
There can be thousands of calls from contextual advertising. It is evident that you can't listen to all of them, moreover, there is no need for that. It is enough to choose those ones that will help you to understand the advertisement's efficacy. As well as reasons why it brings untargeted traffic. Let's explore calls that you have to pay attention to.
Proper calls
These are calls that lasted longer than a certain period of time. The time is customized in the service settings and is individual for every business. Such a long conversation may mean that the call was from the interested customer.
There is a special report on proper calls set by default in Ringostat. You can understand how potential customers get the advertisement by listening to proper calls. A big number of such requests is a sign of a working advertisement.
Too short conversations
Create a report on untargeted requests from contextual advertising and listen to their recordings. The shorter is the call, the higher is the possibility that it wasn't the potential customer. Because you can't discuss the purchase in 10-20 seconds. The analyze of such calls will help you to understand the reason for untargeted calls.
How to do it:
create a new report;

at the sampling conditions set:

status

—

not equal

—

target

;

add one more condition:

utm_medium

—

contains

—

cpc

;

save the report.
Conclusions
The recordings of calls are useful not only to control the sales department but also to optimize the advertisement. With their help, a PPC Specialist can figure out how users understand the advertisements.

By listening to conversations, you can understand: why the advertisement brings the untargeted traffic, how to expand the semantic core or the negative keywords list, how to allocate the budget.

The most convenient way to listen to recordings is via call tracing services. This is the only way to find out calls that were brought exactly from the advertisement. You can also easily filter unnecessary requests.