Building high-quality web analytics can be a struggle. Digital experts still have a stereotype that it requires lots of specific tools. Our partner, internet marketing agency Promodo, breaks that stereotype. They managed to build the qualitative web analytics for their clients simply using Google Analytics, Ringostat call tracking service, and Google Data Studio. Let's dig into the experience of two companies that used Promodo's services.
Reading time is 6 minutes
Before the activation of Ringostat
First of all, both companies had to configure call analytics, because they have a whole lot of orders via calls. It's worth mentioning that both companies almost never used call tracking before working with the digital marketing agency Promodo. The dental clinic installed Ringostat one month prior conducting this research. The window replacement company has been using our service for one year, but it didn't quite set up the analytics properly.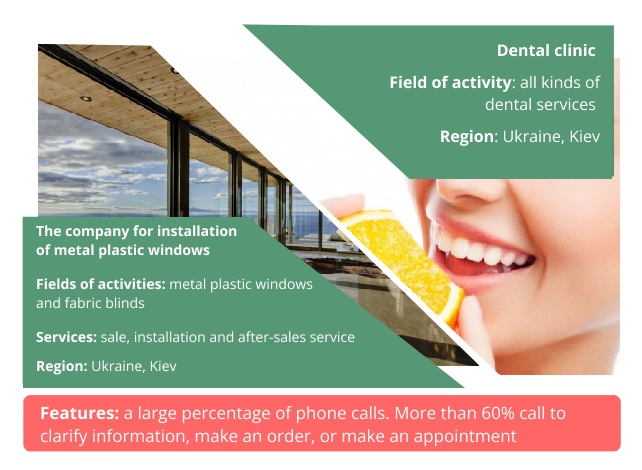 The tasks assigned to the marketing agency
The main tasks for Promodo were the configuration of analytics, report visualization and optimization of business processes. However, these tasks aren't absolutely concrete and clear. That's why the agency's experts divided these gargantuan tasks into several important and specific steps:
clarify the efficiency of different marketing channels
find out which advertising channels generated most orders
distribute the marketing budget in favor of the most efficient channels
improve the quality of customer support
create a convenient online reporting system.
To execute these tasks, Promodo worked out the following action plan:
Activate the call tracking service Ringostat
Organize the work of call agents offline
Organize the online reporting about incoming calls
Visualize the data using Google Data Studio
After having call analytics set up, companies began to get the reports about call generating advertising channels and keywords, call status and incoming numbers.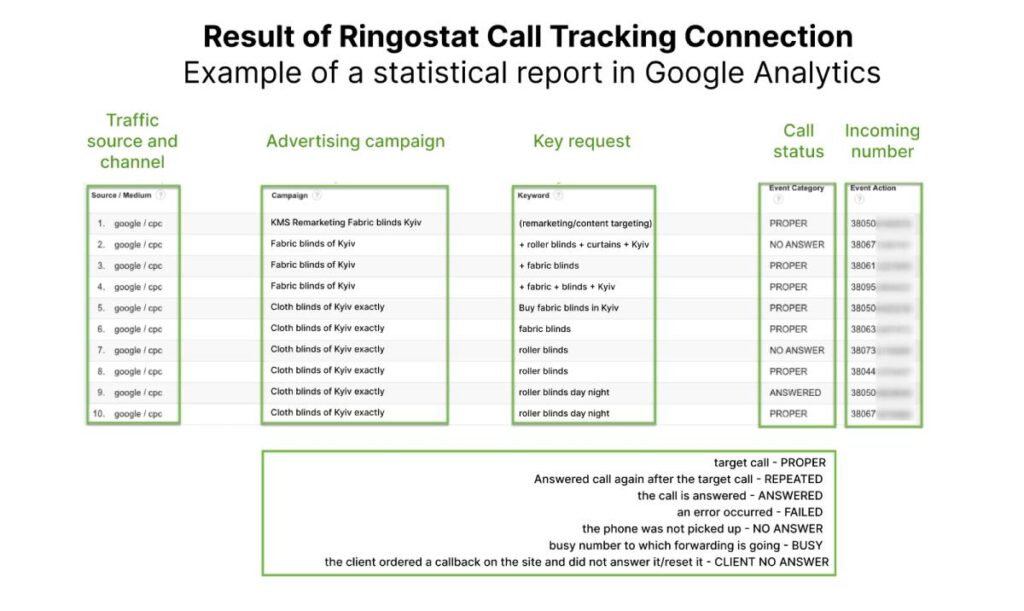 The second step was to organize the workings of the call center. The companies did it without using an IP-telephony. All calls were fixed manually in Google Spreadsheet. It means that managers independently added the information about a date, call status, service type, names of responsible agents and comment to databases.
Incidentally, this kind of spreadsheet was selected by managers because of the low call center volume. Therefore, they didn't use the CRM either. However, if the volume of your call center is incredibly high, that method won't bring you any tangible results.
Okay, let's get back to the question at hand. After collection of online and offline data, the company needed to integrate them. Promodo experts applied this scheme: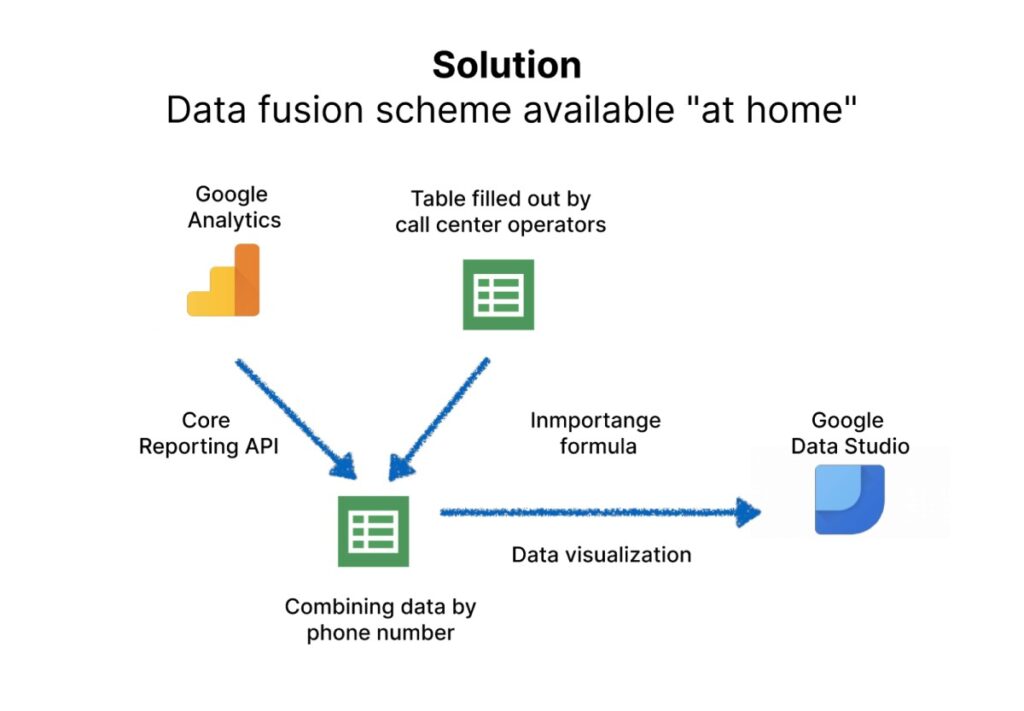 Information from Google Analytics and the spreadsheet was moved to database integrated by phone number. Then, it was visualized in Google Data Studio. 
The results
Thanks to these steps, the managers of the companies gained the opportunity to consider and analyze different reports and understand call center processes better.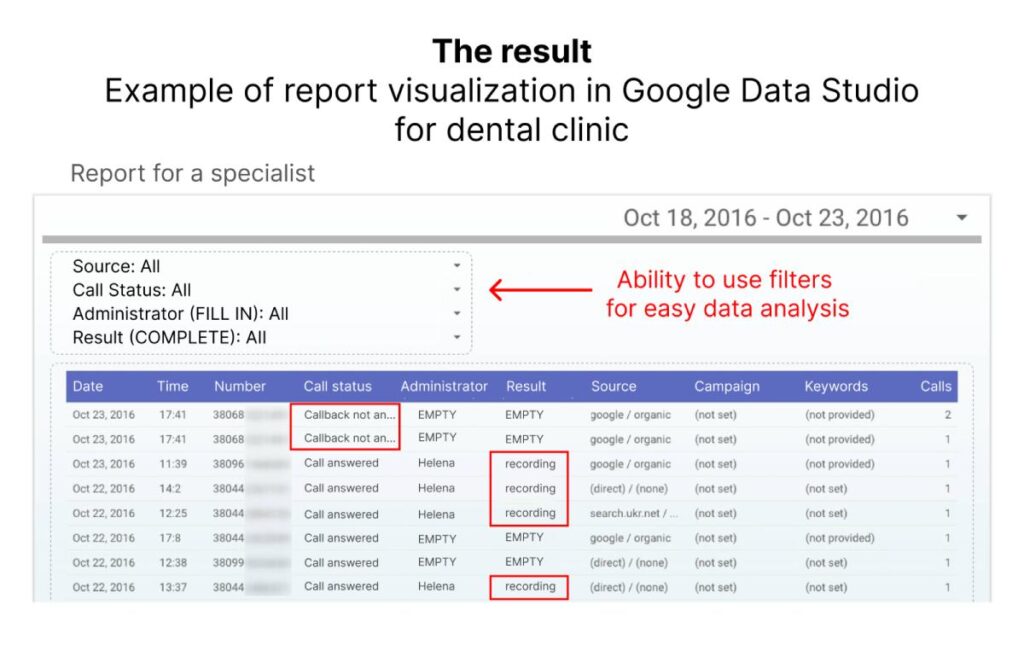 Now the results of Promodo's work help solve several important tasks:
Paid traffic experts optimize advertising campaigns and distribute the marketing budget according to data received
Owing to call analytics, COO controls the work of call managers and quality of call service
The manager understands the effectiveness of different advertising channels and call centers.
Conclusion
If your company gets a lot of orders through calls, call tracking is a crucial tool for building omnichannel analytics.
However, if call center volume is low, expensive CRMs are unnecessary. You can easily integrate all data by a phone number in a single spreadsheet, using call tracking and Google Analytics and visualizing it in Google Data Studio.