The speed of answering the call and processing each order is what "brick by brick" makes up the overall productivity of a call center. And with it, the profitability of the company is increasing. The case study of Swipe.bg online store tells how to grow the team's performance and accept more orders without staff expansion. This became possible thanks to the smooth operation of the call center and Ringostat telephony.
About the project and its features
The Swipe.bg store has been operating since 2021 and has already had 10,000 customers in that time. This online retailer is the first Bulgarian platform that sells and buys used phones.
Visitors to the site can:
buy used Apple, Samsung, Xiaomi, and Huawei phones with quality certificates and warranties;
buy accessories: cases, cables, headphones, etc.;
sell their phones.
The gadget, which will then be sold on the site, undergoes a technical check. All stages of this process are discussed directly with the seller. For example, if he forgot to send his phone, the operators remind him of this. After looking at the seller's phone, employees need to discuss the price, etc.
This makes customer service more sophisticated than in a regular online store. Swipe.bg is the only platform in this niche in Bulgaria that provides this level of service. This combination of automation with live interaction ensures the highest level of service and customer care.
Swipe.bg also has an offline store in Sofia where visitors can buy a smartphone, place an order or offer their old gadget for sale. But customers still often find out the details over the phone first before such a visit.
Why Swipe.bg needed business telephony
According to Swipe's experience, potential customers are divided into several types. Some know what gadget or accessory they need, so they add it to their cart right away. Others require a consultation before placing an order or selling a phone. Even though the website has a FAQ section, people still prefer to call to get answers to the same questions:
how to order a phone, including on credit;
what the terms and conditions are for phone sellers;
how to ship a Swipe.bg device.
There's another reason why calls are a critical part of a company's business processes. It is a matter of trust. First, when buying used goods, people typically want to talk to a consultant to clear their doubts. Secondly, when a person sells their gadget, they want to make sure that the buying company can be trusted. After receiving the smartphones, Swipe.bg consultants tell the sellers what price they can offer. This takes about 150–200 calls a day.
All conversations are recorded, and each call can be easily tracked. This is also necessary for cases where the seller or buyer claims that the operators announced a different price or conditions to him. Employers do not need to contact the client to establish the truth. It is enough to listen to the audio recording of the conversation.
The call center also calls customers to confirm an order or to notify them of how the situation is developing — for example, when the phone passes certain stages of verification.
Swipe.bg used mobile communications to communicate with buyers and sellers in the past, but this approach had tangible disadvantages.
Calls from cell phones are not recorded. Therefore, management could not listen to dialogs to assess the quality of service and give feedback to the team.
There was no data to optimize call center performance. Mobile doesn't record who took or missed how many calls, how long it took to pick up, etc. So Swipe.bg couldn't implement KPIs for the call center and didn't have access to the most important metrics for its performance.
Customer communication channels were siloed. Some customers not only call but also write on Swipe's social network. So the call center needed to keep up with this channel of communication as well. Which is quite difficult, given the load of a hundred or more calls a day.
All of these challenges led Swipe.bg to think about business phone connectivity.

"We learned about
Ringostat
from the digital agency Netpeak. And we decided to combine the agency's marketing tools with a technical solution for customer support.
The telephony connection happened in just one day. The quality of communication is excellent. No complaints whatsoever!"
How customer service is being handled now
Previously, all calls from customers were only handled on a "first-come, first-served" basis. Swipe.bg has now built a more elaborate call-answering scheme. This allows calls to be answered faster and keeps customers on the line without annoyance.
The company can be reached by any number of customers at the same time since Swipe.bg uses a virtual phone number. This is a big plus compared to cell phone service because customers never hear short beeps. Even if someone is talking on the company's number right now.
Every incoming call goes straight to the call center, where it is answered by the first available operator. If all employees are busy, the call goes to the call queue. This is a functionality that helps not to lose customers at times of peak load on the call center.
The call queue works according to the following principle:
While the customer is waiting in line, a message about other communication channels with Swipe.bg is played to the client. At this point, Ringostat calls all operators in a circle until an employee is available. This principle can be easily changed in the Ringostat personal cabinet by selecting one of the five options to customize the call queue.
If operators failed to answer an incoming call, it can be noticed in the missed calls report and called back as soon as possible.
The team uses Ringostat Smart Phone, an easy-to-use application for calling and working with CRM. Operators can make or receive calls, transfer calls to coworkers with a single click, see call history, and even those customers who have already called and are now on the site.
Swipe.bg also use Ringostat Messenger, a functionality for convenient processing of requests from messengers. This allows the team to process all requests in a single window: both calls and Facebook Messenger requests. Let's take a look at how it works.
А widget is installed on the Swipe.bg website, clicking on which the customer is immediately taken to Messenger, where he or she can write to the company's corporate Facebook.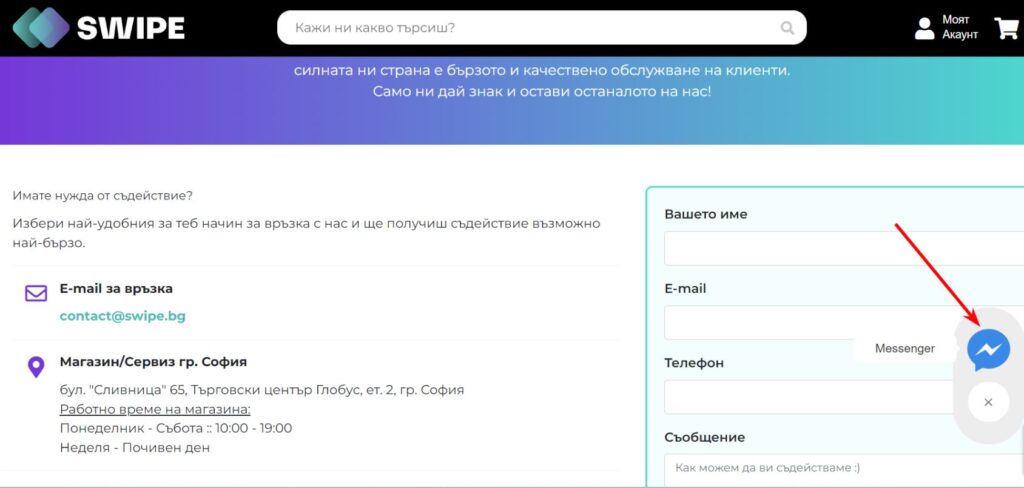 The customer's message will come to the manager directly on Ringostat Smart Phone. There he can also write a reply to the client, as well as request his phone number with a single mouse click. The entire correspondence history is saved in this interface, and new dialogs are added to the queue. This way, the company doesn't run the risk of employees forgetting about a potential customer.
Another plus is that operators don't have to keep Facebook open all the time to avoid missing messages. Notifications about them pop up on the screen as soon as the user has written on the social network. Employees can switch to receiving and making calls, all they have to do is tap on other tabs in the app.

"Ringostat Smart Phone is very user-friendly and makes it easy to dial customers. 

We also find the functionality for communicating in messengers useful. After all, social networks are one of our main communication channels. Nowadays, most people prefer to get information through social networks rather than writing emails or talking on the phone. 

It is much easier for us to track correspondence when it goes through Ringostat. Operators don't risk duplicating a response to the same customer. Because when an employee opens a message, it becomes invisible to others".
How a company uses call data to improve call center productivity
Thanks to call reports, Swipe.bg management can evaluate and track the performance of each employee, as well as the overall productivity of the department. This allows to analyze the workload of the team and competently distribute tasks throughout the day. Let's take a brief look at what reports the Customer Service Manager checks against and what conclusions it draws from them.
Call log and audio call recordings
The manager selectively listens to conversations from the call log or searches for specific dialogs if the situation requires it. This is how the quality of each employee's work can be assessed. Based on this, Alexandra gives feedback to each employee on how he or she is doing.
She also pays attention to the speed of answering the call, the duration of the conversation, and the operator's behavior in different situations. For example, Swipe.bg makes sure that the line is not busy unnecessarily. Knowing the average duration of each call, the manager can notice abnormal situations. For example, some clients like to communicate with operators on extraneous topics. Such conversations are unproductive for the call center. If necessary, operators receive recommendations on how to give the information and how to end the conversation in time without being rude.
Missed calls report
It is very important to call back anyone who has tried to contact the company and failed. Therefore, management and operators review the missed call report so that they can contact a potential customer as soon as possible. Such a report contains the phone number of the client, so the employees immediately understand where to call.
Missed calls can also be seen on Ringostat Smart Phone. They are saved in the call history and highlighted in red font. There is also a separate tab for all missed calls:
Real-time call report
Ringostat has two reports that allow to monitor the workload of the sales team right now. The manager analyzes what employees are doing now and how productive they were during the day, week, or specific period. In Swipe's experience, such reports are very useful when the team works remotely.
The Active Conversations report shows how many:
conversations are happening right now;
customers and employees are waiting in line;
incoming calls from customers are there at the moment.
If you click on an employee's name, you will see detailed information about the employee's workload. How long he was in a certain status: online, offline, "do not disturb", in the process of conversation, etc. How many calls he received, made, and missed, and how much time he spent in total communicating with clients. This allows to understand whether the operator was active or spent most of his time doing extraneous things.
You can also switch to the "Employees" tab to see the current status of each operator. And how long they have been in different statuses. This allows to balance the load on the team. For example, engage an operator who has been offline for a long time for some reason.
Employee Performance Report
This report shows load data for specific operators:
how many total calls were received and made;
how many of them were from individual customers – not repeated calls from the same people;
how long, on average, customers wait to hear from a given manager;
the number of outbound calls that lasted longer than 30 seconds;
the number of outbound calls to individual customers, etc.
This report is used by Swipe.bg to calculate the workload for each operator and compare it for each employee. This report is also very useful when management decides to make changes to the department.
Report on distribution of calls by day of the week and time of day
This sample makes it possible to predict how many calls to expect on a particular day and hour. Knowing this, the manager can distribute tasks so that there are more available operators at the hottest times.
Results
Swipe.bg increased overall call center productivity by 20% with reliable telephony and call data. This figure includes:
the reduction of time for processing each call and request;
an increase in the number of orders processed without the company increasing its staff.

"Working with Ringostat is excellent. We can monitor the work of the department without being in the same office. We know what needs to be improved and how to make the work as efficient as possible by analyzing the data obtained through the platform.

Work is distributed evenly. We can monitor the work of each employee, which helps in finding mistakes and eliminating them. Working with Ringostat Smart Phone is easy, and this also affects the speed of processing requests". 

To summarize the result of our cooperation, Swipe.bg are able to:
improve service quality, as we can now listen to all calls and give feedback to the team;
optimize work processes as we have access to KPIs and metrics;
assess the level of competence of our employees;
combine all customer communication channels into one – this has made our processes faster and more scalable.