Summer events are over but we offer you to rock the new autumn business season. This September, as each year, we celebrate Call Tracking Day and have prepared an offer for you. Go to the website to find out more about headliners of marketing and revenue boost. Meanwhile, we will describe to you what has changed since the previous Call Tracking Day and why it became even more profitable to use this year's offer.

Imagine a concert with Freddie Mercury, David Bowie, Slipknot, Kiss and, of course, Ringo Starr 🙂 The same thing with our offer. It brought together a variety of products for analytics, communication, and sales. And the main guest of the event is the favorite business headliner — benefit. Visit the website with a detailed description of the offer to check the full line-up.
Every year Call Tracking Day brings more and more benefits. Why:
we constantly release updates for our products;

all updates are

free for users

— just connect Ringostat using the offer and get products that are constantly improving.
Let's take a look at global updates released in just one year. We will describe below what you get with each of these updates.
What's new since last Call Tracking Day: Significant Ringostat updates
A completely new and even more convenient Call Log 2.0
Almost immediately after Call Tracking Day 2020, we have globally updated the call log to make it more convenient and visual for users.
New design and features
Now, in addition to the table with data on calls, the call log also includes graphs. So the user can immediately notice if any of the indicators have decreased or increased. You can click on a metric to see it or hide it from the chart.
There is a table with data below, in the middle of it you can find a noticeable button for listening to audio recordings of calls. The selection now has a "Pool Name" column. So you can immediately see the group of numbers that worked when there was a call from a customer. For example, a pool for users from Ukraine.

On the top panel, you can select different types of reports that are available by default. When you click on the "All calls" filter, a list of available selections opens:

If you select "Acquisition", there will open a list of reports designed for different user needs. And if you click on the "Chart" button, you can collapse and expand the visualization.
As in the previous version, Call Log 2.0 has the ability to create reports and download them in a format that is convenient for you.
Call card update
A call card is a separate page with the entire history of inbound and outbound calls for a specific customer. It opens when you click on the call time.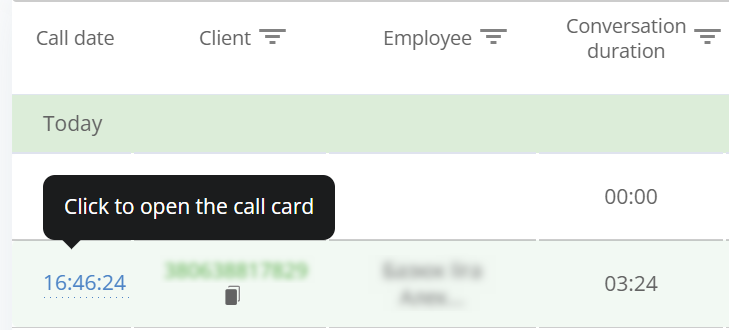 After improving the call log, we added a call card with an updated design. But that's not all. In the new card, you can select the category of the call after you hang up. Go to General Settings — Call Categories to create your categories or simply use the default ones.

Convenient quick filters
Quick filters are displayed at the top of the Call Log 2.0 and help you easily sort the data by the desired value:

To filter information, you need to do a minimum of actions:
when you click on the filter, "Contains" or "Equal" is immediately displayed, depending on the parameter;

the cursor immediately placed on the field for entering a value;

after entering a value, just press Enter, and the filter will be applied.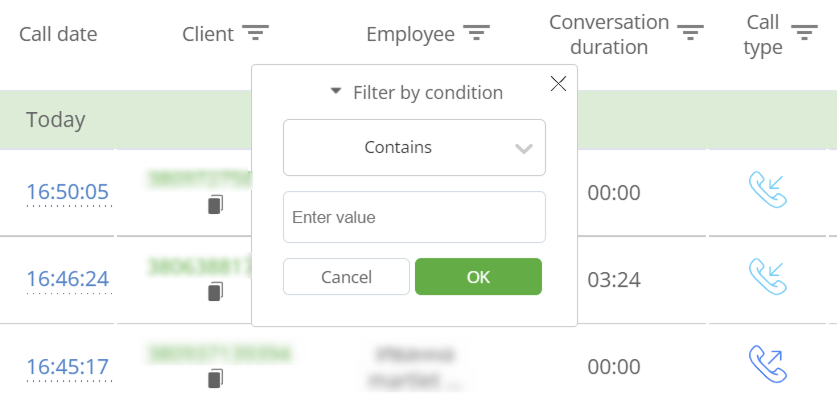 Ringostat Smart Phone updates that turned it into a powerful product
Ringostat Smart Phone is the analytical assistant right in the browser. This is one of the Ringostat products that always wows new customers. For sure it is because we are constantly improving it.
Calling project employees and quickly transferring a call to them
The previous October, we updated the "Employees" section. Now, in the reports, you can see the name of the person who made or received the call. You can manage accounts in the General Settings — Employees section. We also added the entity "Department", so you can add appropriate representatives to departments.
Due to this, you can now easily switch to colleagues in Ringostat Smart Phone. Try this in the "Employees and Departments" tab: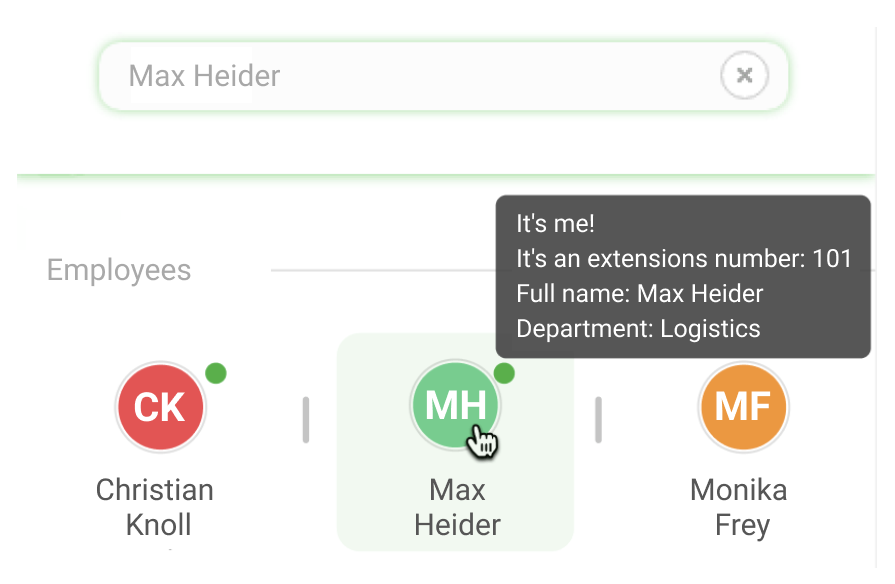 In addition to the names of employees, Ringostat Smart Phone displays a list of departments: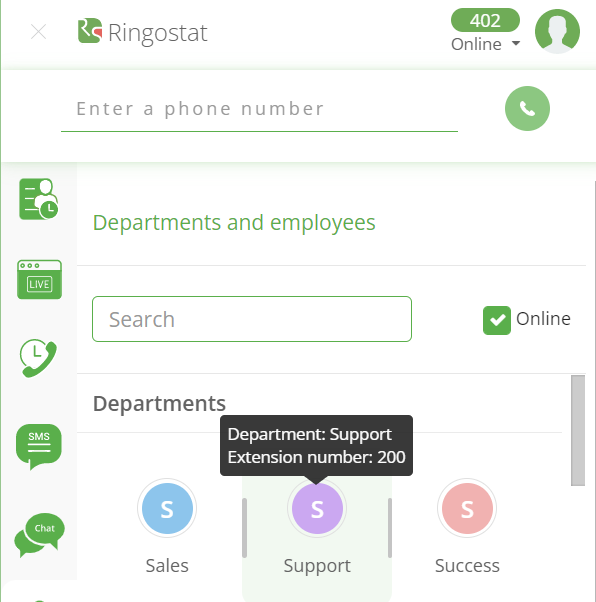 If you click on the employee's name:
Ringostat Smart Phone will connect you with him;

if this colleague is already talking to someone, your call is put on hold

—

as soon as the employee ends his conversation, you can talk to him.
If you are talking with a client, you can immediately transfer the call to a colleague, or first talk to the employee, and only then switch the call: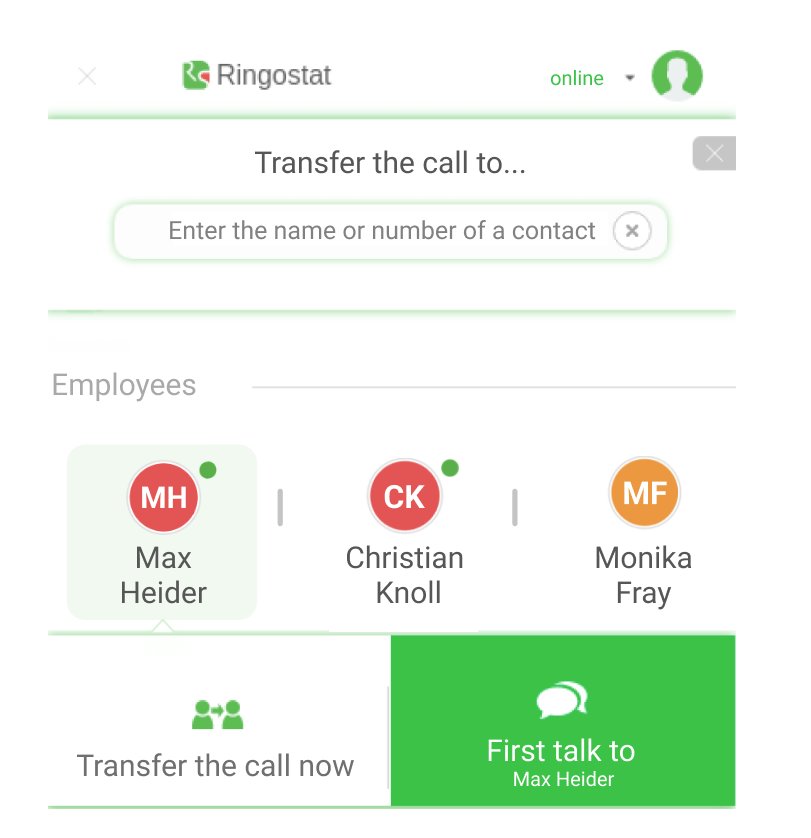 Just a reminder that internal communication between colleagues via Ringostat Smart Phone is free of charge.
Improvements for better user experience
If Ringostat Smart Phone is turned off, you will see a notification. This can happen if the user has not activated the following function in the SIP account settings.

Ringostat Smart Phone shows customer data, even if a lead or contact is created in CRM after answering the call. This happens if, at the stage of integration with the CRM system, the user has disabled the creation of entities before calling.

You can choose how the minimized extension acts when there is an inbound call.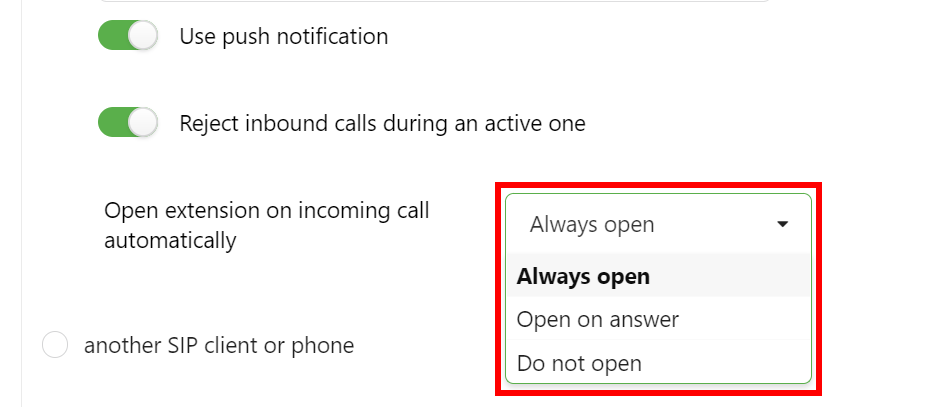 Chat history in Ringostat Messenger
Ringostat Messenger is an extension that allows you to communicate with leads from different messengers in a single interface. Communication takes place in the same working place where Ringostat Smart Phone and Ringostat Insider are located.
Since February in Ringostat Messenger you can see the chat history for the dialogs that are already closed. Just open the chat with the user and click on the blue "Show More" button: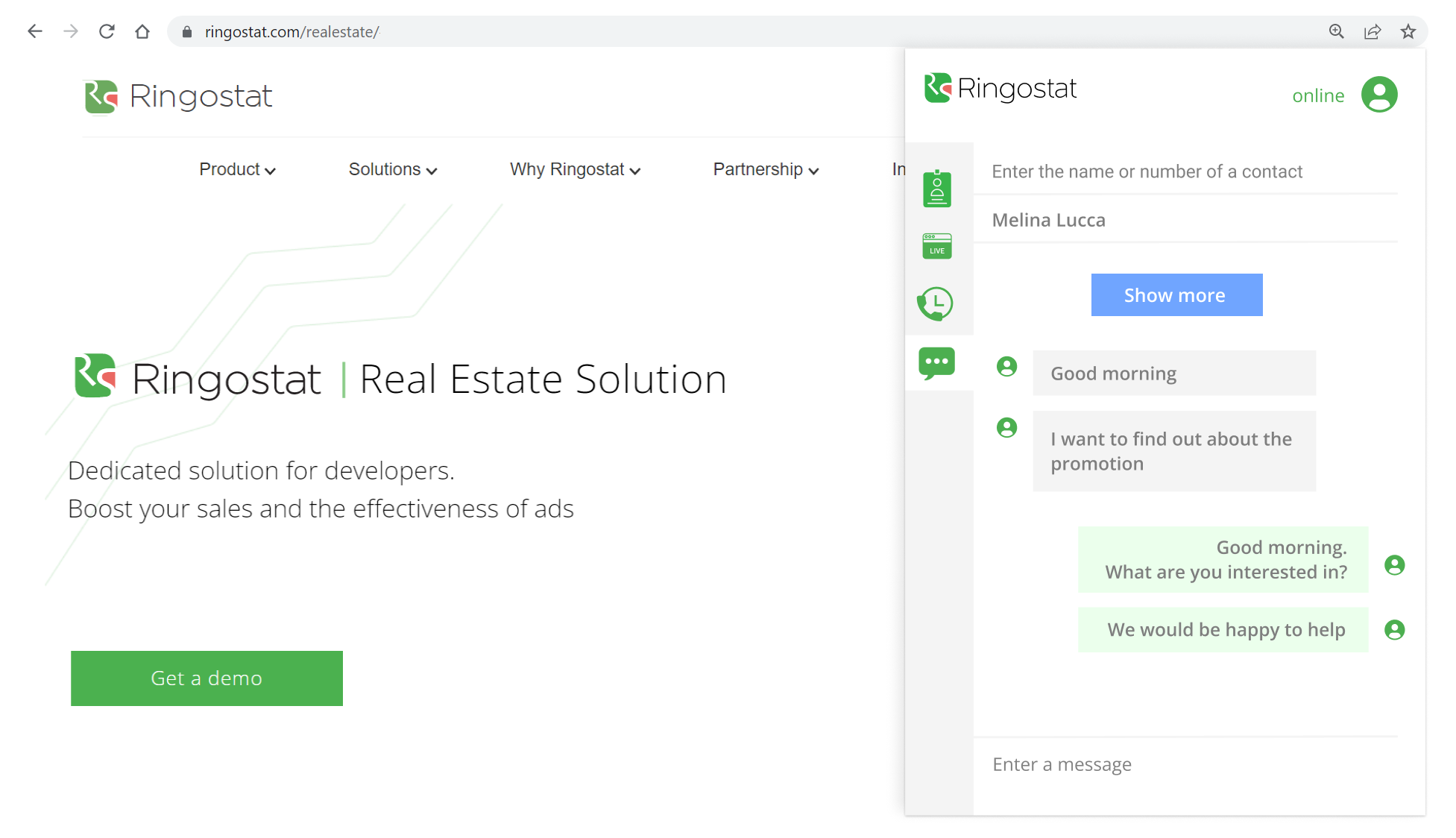 New Ringostat reports
1. Employee performance report. You can select there the desired department or view summary information for all representatives. The report shows all the most important parameters that you can use to understand whether an employee is performing well.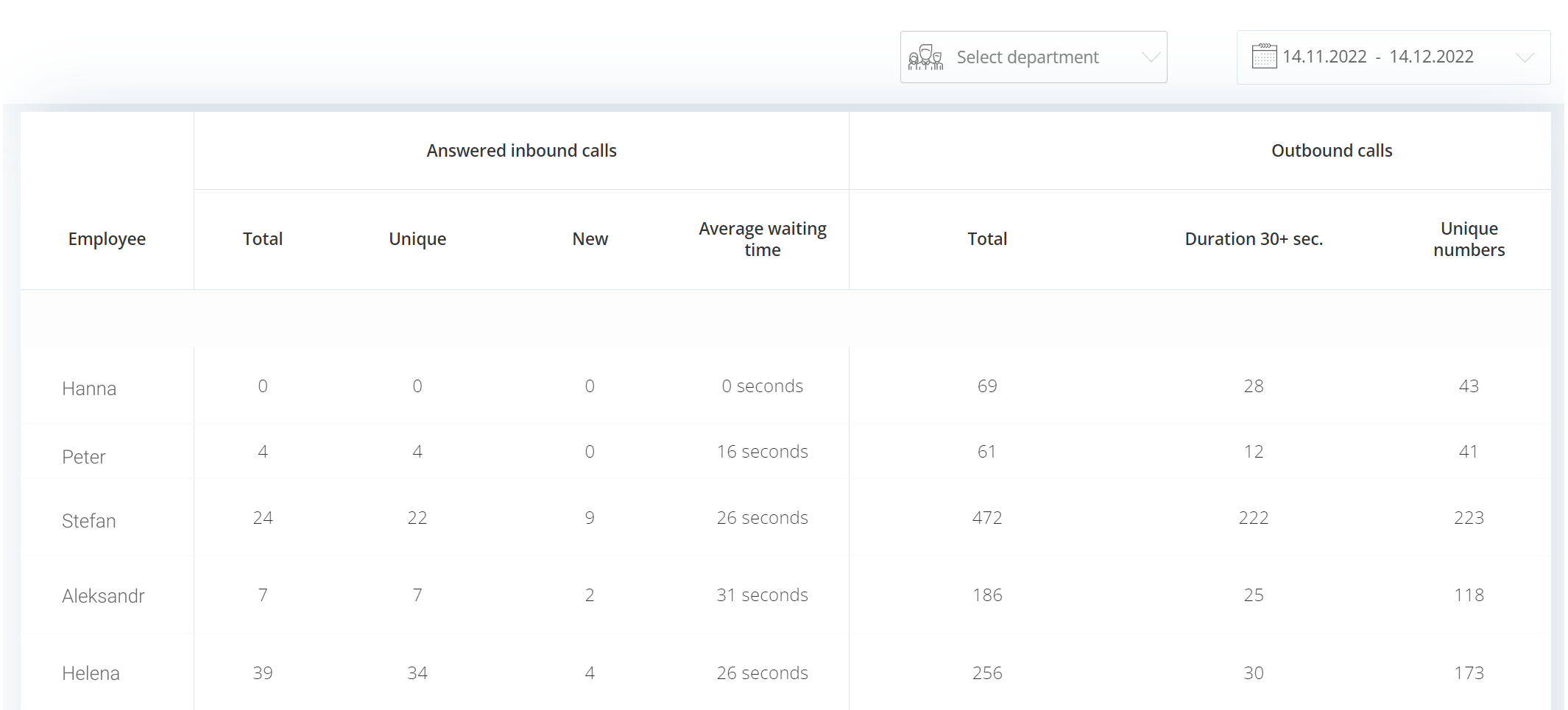 2. Updated multichannel funnel report. What has changed besides the design:
you can set the period for which we analyze the transfers to the site before the conversion;

it is possible to view the chain of sequences for a campaign and a specific ad;

you can choose conversions into targeted calls and into unique ones.
3. Google Data Studio report page. Now our clients can request data visualization from Google Data Studio right in Ringostat. You can also upload any custom report from Google Data Studio to Ringostat.
4. Message log from Ringostat Messenger. Ringostat now has a report that contains statistics on all received calls. You can also read the history of dialogs there.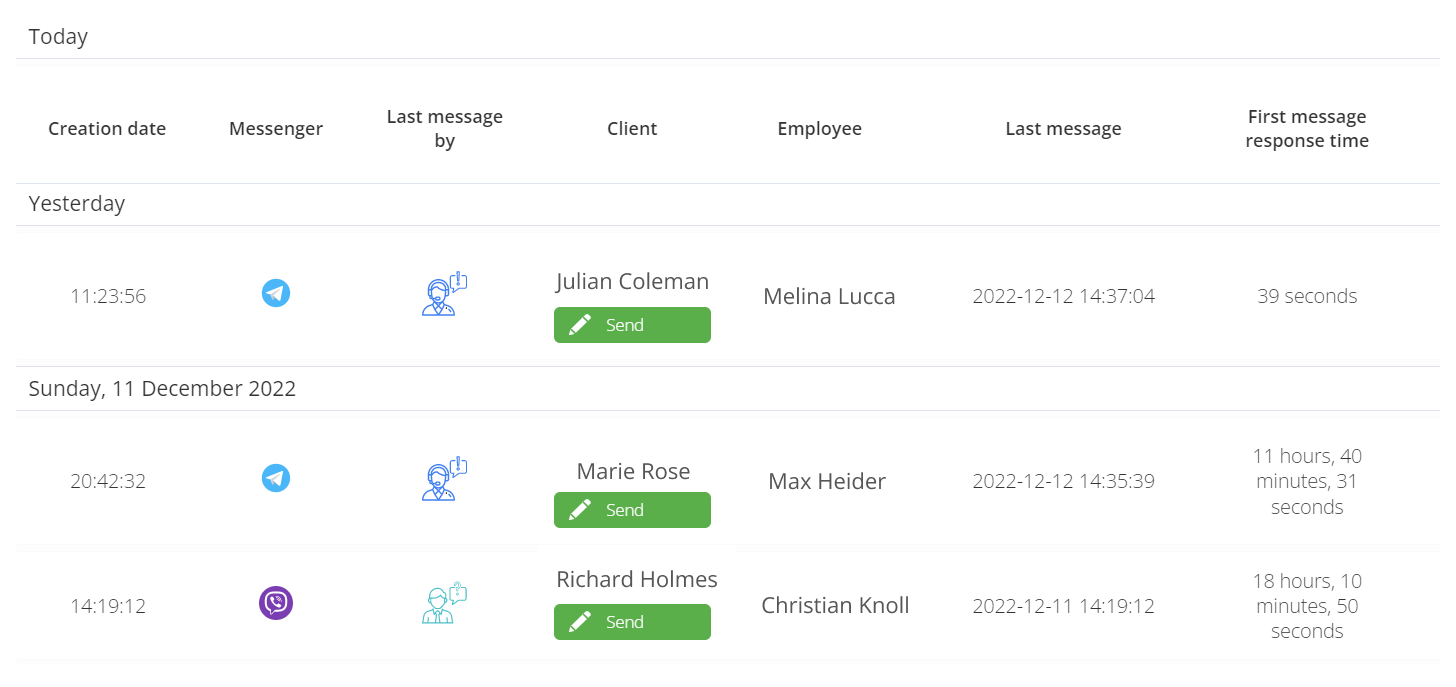 Launch of the Ringostat loyalty program
The Ringostat loyalty program is a bonus percentage that reduces the cost of automatic license renewal.
If you want to use the loyalty program, it is enough to pay for the project once using a bank card. Further write-offs will occur automatically. We make a notification about each of them in advance via email.
The base bonus percentage is equal to the number of months for which the project was paid from a bank card. The bonus is applied to such payments:
if the subscription is configured to renew for 30 days, then each time after such payment, 1% will be added to the already accumulated percentage of bonuses;

while prolonging for 90 days there will add 3%;

while prolonging for 180 days — 6%;

while prolonging for 360 days — 12 %.
And so on up to a maximum bonus of 20%.
Our fast technical support is now on Telegram
Previously, you could call our support, write to the mail or chat from your Ringostat account. Now you can communicate with technical support in the most popular messenger.
"Clients appreciated this update immediately after the launch of support on Telegram. Since the introduction of support in the messenger, we have already been written there 230 times. After all, Telegram is always at hand, and you do not need to enter your Ringostat account to get help and advice.
As always, we are about to reply as fast as possible. We respond to messages in Telegram as quickly as to requests in chat. Now support team replies in the messenger on average in 1 minute 9 seconds."