As the days grow shorter and darker, we want to indulge in bright experiences — shopping and gifts. The Black Friday is actually a bright day for business, as good sales begin that will last until the New Year. We suggest some ideas for original promotions that will help you stand out from the competition and draw attention to your brand. Also, you will find in the article useful tips on how to prepare for promotions and increase sales.
What is Black Friday?
Black Friday is a day when large and small brands, shops, and services organize sales or offer attractive discounts on goods to their regular or potential customers to increase sales.
The discounts usually reach impressive values for the whole year, making this day the best occasion to make the desired purchases. Many users add products to their "wish lists" in advance, waiting for Black Friday to buy at a significant discount.
Black Friday promotions are typically organized by stores that sell popular and everyday goods: electronics, clothing and footwear, cosmetics, and toys. Large companies compete for the most impressive discounts or tempting offers to attract potential buyers. But small brands and local stores also run interesting promotions with gifts, certificates, and contests.
When is Black Friday held?
The holiday of discounts and sales is of American origin, so the entire world adapts to the local calendar of events. The United States celebrates Thanksgiving on the last Thursday of November. Black Friday begins a week later, on the next calendar Friday, between November 23 and 30. Yes, it just begins. Because promotions are rarely limited to just one day. Typically, promotional offers from stores and services last almost the entire next week. This day is also traditionally considered the start of the New Year and Christmas sales season.
Why is it called "Black Friday"?
Version One: a tough day for the police
It is believed that this name was coined by Philadelphia police officers around the 50s and 60s of the last century. The grand pre-Christmas sales began at the end of November, crowds of shoppers filled stores and markets, traffic jams formed on the roads, and quarrels and fights broke out in lines. It was a busy time for police departments, with patrol officers on duty almost around the clock to keep order. That's why tired and irritated police officers came up with the name we know for the sales season. And a little later, sellers and marketers started using the expression Black Friday.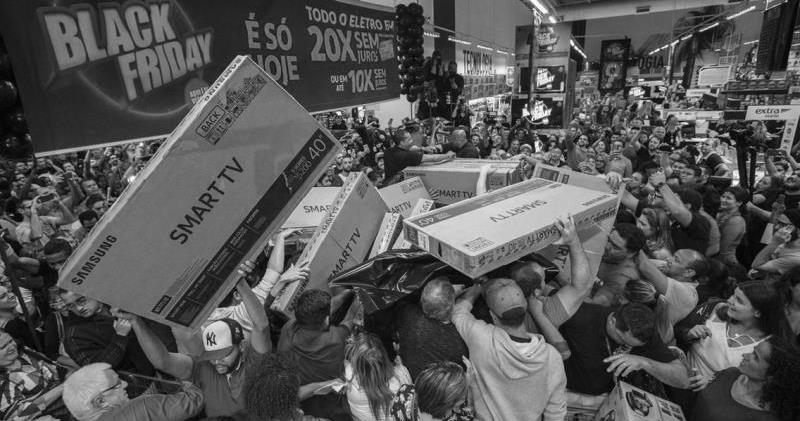 Version two: the color of ink in accounting books
Once upon a time, accounting calculations were done exclusively on paper. The store's income was recorded in black ink and expenses in red in the ledgers.
On the eve of and after Thanksgiving, stores had amazingly high sales as people bought gifts for their loved ones and started preparing for the Christmas holidays. That's why the pages in the income and expense books were written off mostly in black ink. And shopkeepers began to call the day of successful trade black.
Is it worth organizing a promotion for Black Friday?
Back in the last century, Black Friday brought huge profits to retailers, and in modern times, the popularity, and demand for such an event is growing every year.
For shoppers, the essence of Black Friday is quite clear: everyone wants to buy the desired product at the lowest price. And stores are offering discounts of up to almost 90%. So it's no surprise that people look forward to Black Friday with eager anticipation.
But, it would seem, what is the benefit of lower prices for sellers? After all, Christmas is approaching, and thus good trade.
Of course there is a benefit, and a big one at that. Some brands plan Black Friday promotions six months in advance. They use the day as an opportunity:
sell goods that have accumulated in large quantities in warehouses;
gain popularity among buyers;
increase turnover of popular and seasonal goods: toys, gift sets;
sell goods that quickly lose their price characteristics due to technological advances, fluid fashion, trends;
supplement the store's assortment with new products.
Inspiration for marketers: examples of original Black Friday promotions
Shoppers mostly expect discounts on Black Friday. And this is indeed the most common offer from stores and services.
But not every business can afford to reduce prices for goods or services. Also, reducing the price of a product sometimes contradicts the values and mission of brands. Finally, a business may want to attract the attention of users with a non-standard approach to promotions. And offer customers something more original and interesting than discounts.
That's why we offer you a small selection of ideas for your November promotion.
Refusal to hold Black Friday
Unexpected, isn't it 🙂 After all, this article is about holding a promotion, not canceling it.
But this approach can be experimented with, of course, if the business has convincing arguments. Here are a few reasons why brands are increasingly refusing to participate in trade shows:
care for the environment: the growth of purchases leads to an increase in the scale of production, hence to harmful emissions and waste, consumption of valuable resources and raw materials;
boycott of unconscious consumption;
honesty: businesses refuse to artificially raise prices on the eve of Black Friday in order to reduce them later;
the belief that a constant price is justified and fair.
Zurich-based handbag maker Freitag is temporarily closing its online store for Black Friday. Instead, they borrow their bags with the condition to return them in early December. According to the brand, it wants to say "No" to mass consumption and draw attention to a more conscious and careful use of resources. In previous years, the company has also ignored Black Friday, calling for the exchange of bags.
Intangible value instead of discounts
Another fascinating marketing idea for Black Friday that doesn't involve discounts is to offer users something more valuable than money. It is difficult to give universal advice here, as each business sector can have exceptional, unique values.
For example, the Barnes and Noble bookstore made an exclusive offer to its audience — editions signed by the authors themselves. This really impressed avid readers and fans of certain writers.
Caring for the environment
Consumers' environmental awareness is growing. In particular, according to Mintel, 84% of Americans believe that supporting charitable projects is important for business. Two-thirds, or 65%, of consumers are inclined to refuse products from brands that behave irresponsibly towards the environment.
But the problem is that spontaneous purchases, which businesses encourage on the eve of Black Friday, and moderate consumption are exactly the opposite. That's why every year we see new examples of environmental initiatives.
For example, some IKEA branches in different countries organized Green Friday instead of Black Friday and made an interesting offer to its users. Customers could bring to the store unnecessary furniture or household items purchased in branded stores over the past five years and receive a 30-50% refund for new purchases. The used items were not destroyed, but re-sold at a significant discount.
Benefits instead of discounts
If a business cannot afford to sell goods at a significant discount, it can offer customers other material benefits. For example, provide additional free services or deliver the purchase at their own expense.
Some statistics to convince you:
78% of consumers are willing to buy more to qualify for free shipping;
offering free shipping can increase repeat business by up to 45%;
60% of customers say that they are willing to increase their purchases from a retailer that offers free shipping.
Free shipping, as part of a Black Friday promotion, will help businesses in two ways:
reduce the number of lost orders;
increase the average purchase check.
A gift instead of discounts
Another way not to reduce the regular price, but not to deprive customers of a pleasant experience, is to offer a gift. For example:
a gift to choose from among the offered ones;
when buying for a certain amount;
a predetermined gift for each purchase.
For example, a clothing store may offer small accessories or jewelry to dresses and suits. A cosmetics store may give away additional cosmetics with the purchase of basic sets. In the example below, you can see that a brand Fleet Farm is giving away one tool box if a customer purchases a tool box system on Black Friday.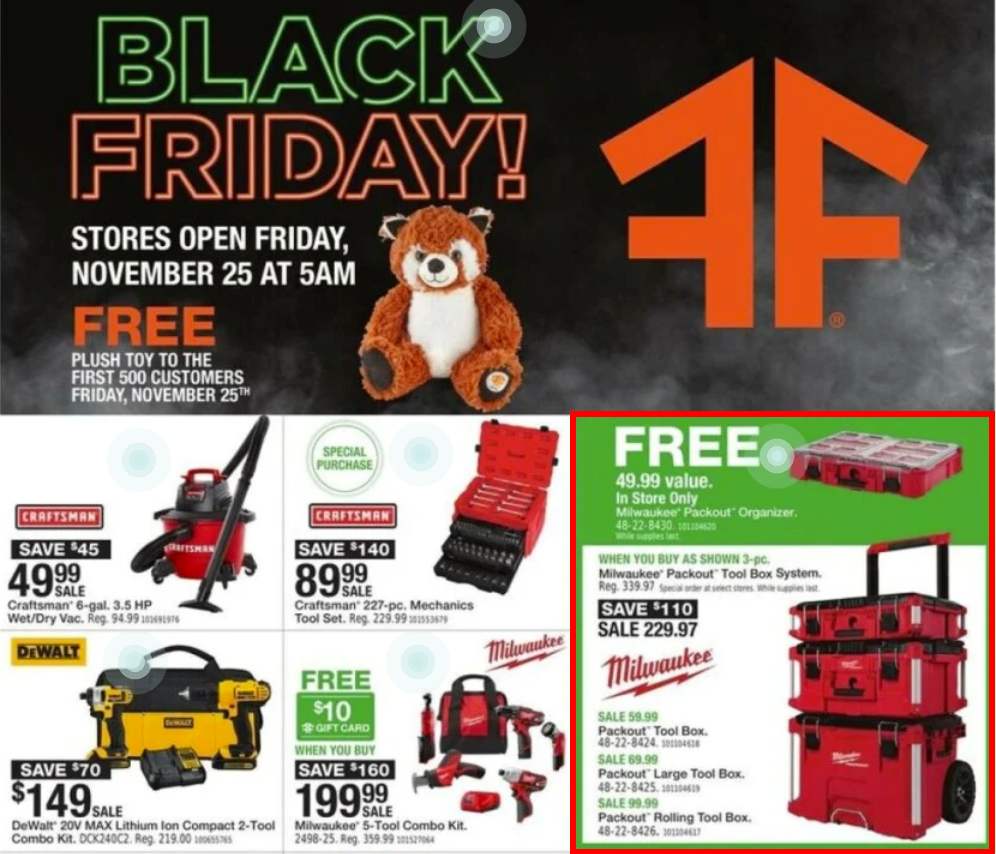 Tip: you can generate more excitement by creating a gift limit for purchases.
Timer
Show your visitors and customers that a promotional offer is about to expire by adding a countdown clock with an animated banner.
According to TrustPulse, 60% of people tend to make purchases due to the so-called fear of missing out (FOMO). And they usually do it within 24 hours.
So you can run a series of short-term offers that last for one or more hours. For example, a certain discount on a specific product. After that, another offer with different conditions starts.
Here's how Game makes its Black Friday offer more compelling with a countdown timer.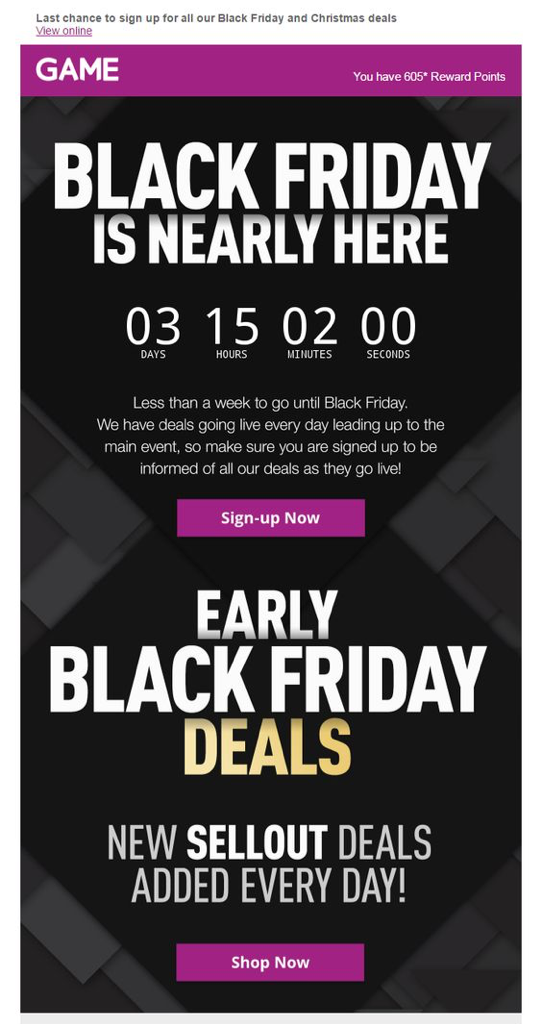 Prize drawing
The classic raffle will probably never go out of style. Consumers almost never turn down a chance to win something. Especially if it only requires filling out a short form or performing a simple action, such as liking or leaving a comment, or spreading the news. You can come up with more complicated requirements for participation in the contest. For example, write a short story on your own social media page about your relationship with the brand or use of the product and use the appropriate hashtag.
Another option is to draw gifts among those who buy your product on the eve or on the day of Black Friday. This is a great idea to encourage your customers to buy more to increase their chances of winning.
New or limited edition product
If your brand offers expensive or exclusive products, lowering prices can damage your reputation. It can also make an unpleasant impression on regular customers, for whom owning your product is a symbol of luxury and status.
Therefore, you can replace discounts with the launch of a new product or a new collection. This is exactly what the Swatch brand did. Instead of lowering prices, it released a new collection of black watches, especially for Black Friday.
Surprise
Play on people's curiosity: offer a secret offer that awaits only those who dare to agree to the terms of purchase. The easiest way to implement the idea is to offer customers an unknown discount amount in advance.
Another idea is to organize a game like a treasure hunt. Place additional promotional codes for discounts and stickers with gifts on your website. Only those who are attentive and persistent and make an effort to find them will be able to get an additional bonus.
Interactive roulette or Spin the Wheel competitions are also always popular among users. Users enjoy spinning the wheel and using the gifts or coupons they win.
VIP offer
According to Accenture, 48% of consumers expect personalized treatment from their favorite brands.
You can send your loyal customers an additional offer that no one else will receive. This will show them that they are special to you. Here's an example of how the Honma brand gives subscribers a sense of being chosen and valued in the eyes of the company through personalized offers: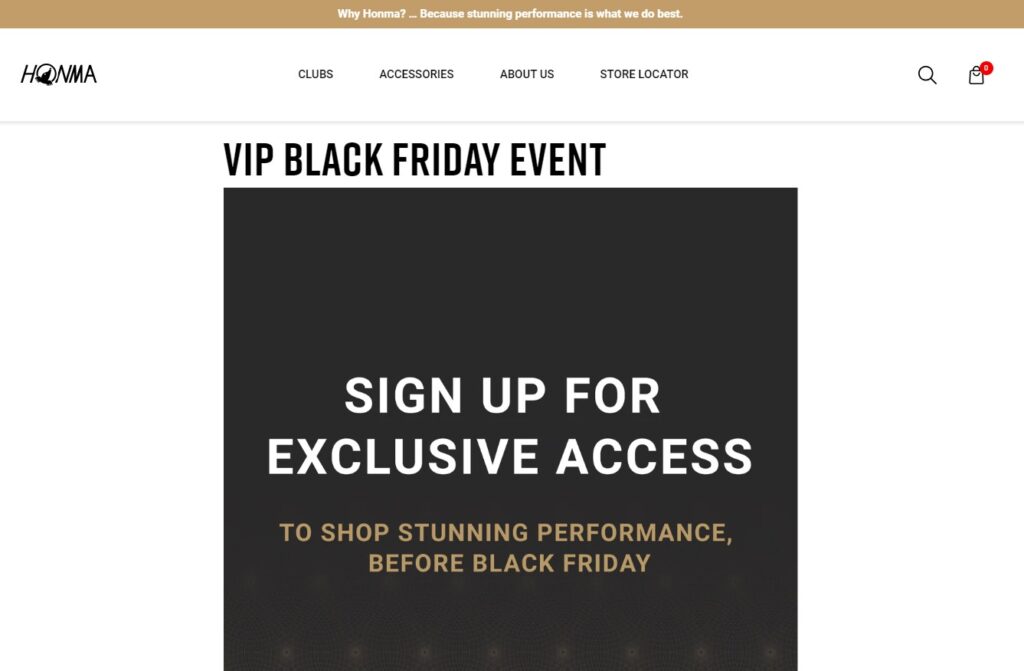 Different discounts for different products
Not all products and services have the same value, so discounts can be different. You can add some uniqueness and appeal to your offers. For example, the more expensive the product, the higher the discount.
The Target not only offers various discounts, but also "sweetens" the offer by providing one product for free with the purchase of two.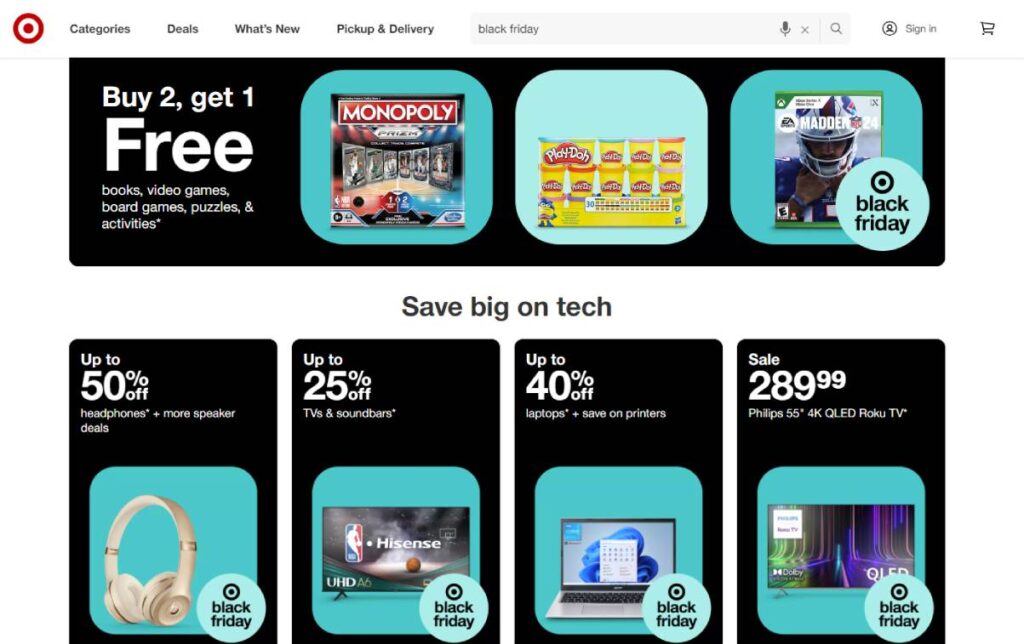 Also, the amount of the discount can increase as the purchase receipt increases. This is a great way to encourage customers to spend more money, or to make one expensive and long-desired purchase, but at the same time realize the benefits received and feel the high value of the purchase.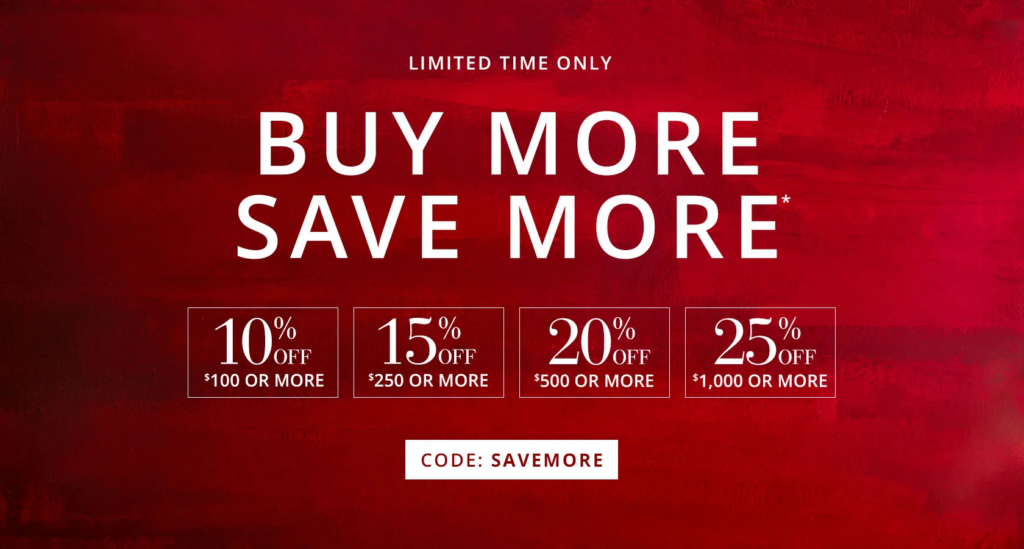 Gift guides
This is a great way to draw customers' attention to specific products. For example, you can divide products into categories like "Gifts for him" and "Gifts for her". Or you can create selections or collections that showcase a great combination of several products and motivate users to buy more, especially if the price becomes more favorable.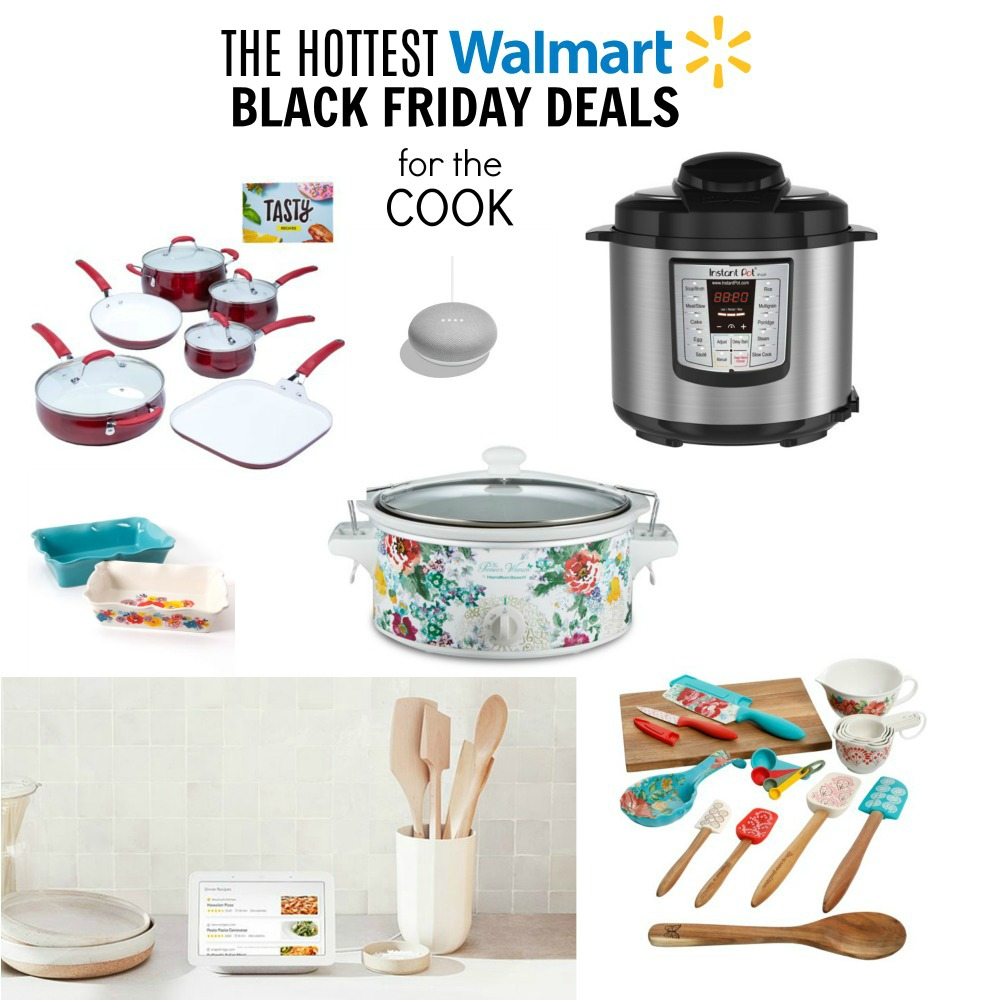 How to increase sales on Black Friday
Prepare your telephony for an influx of calls
If your customers usually call before placing an order, you need to make sure you have reliable communication. Even if your website has a shopping cart option, customers may need advice or consultation on product selection, delivery, returns, etc.
We advise you to provide the following settings for a virtual phone line.
Thoughtful call forwarding schemes. If each call is routed to several employess at the same time, there is less risk that the call will go unanswered. The last link in the call forwarding scheme can be voice mail, so that the customer can leave a message if his call is still missed.
Notifications about missed calls. For example, you can set up an instant SMS or email notification in Ringostat if a call goes unanswered.
Call queue. If you have multi-channel virtual numbers at your disposal, all your customers will be able to call you even at the same time. Of course, if you have that many operators. Instead of a short "busy" signal, they will hear an offer to wait on the line until one of the consultants is free.
Calls during off-hours. Some stores plan to work on Black Friday until midnight or even around the clock. But if you plan a regular working day, you should prepare for night orders and calls. For example, you can appoint sales reps on duty. Such employees don't have to stay in the office. You can set up calls to come to their personal cell phones.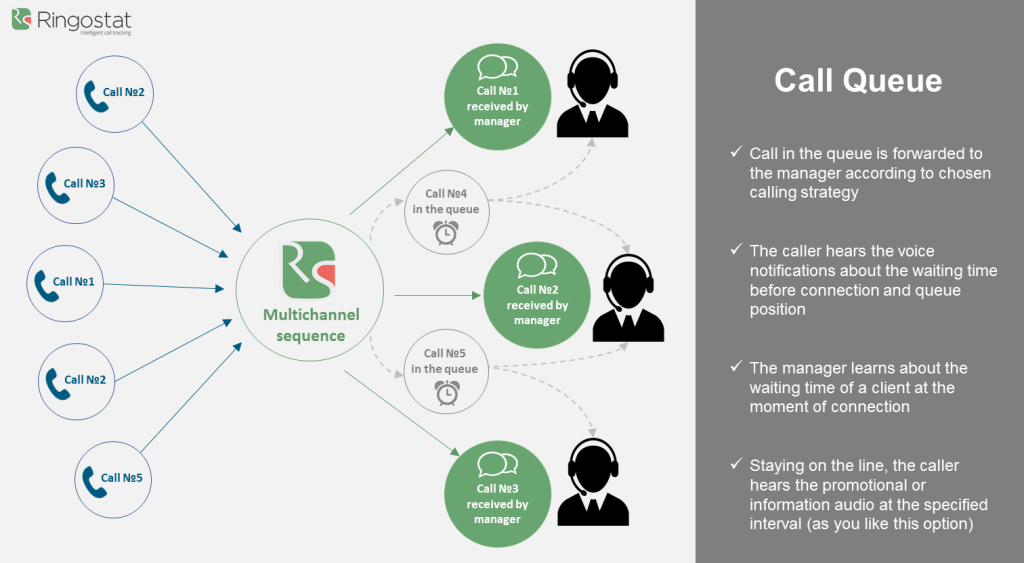 Be sure to start the promotion in advance of Black Friday
If you're thinking about when to start a promotion, the sooner the better! Probably, to create a shopping mood among consumers, stores will launch their first Black Friday promotions at the end of October.
You can start before everyone else. For example, offer to collect coupons in advance that can be used on Black Friday, or subscribe to not miss special offers, start hinting at upcoming discounts on social media.
This way, you can attract the attention of consumers, increase your reach, and subsequently improve your conversion rate.
Ask customers what offers they expect
Better yet, before starting a promotion, conduct research on the needs and pains of potential customers. Perhaps they are particularly interested in certain product groups.The easiest way to find out is to conduct a survey. This way, you can meet your customers' expectations and sell more.
Create a landing page for your Black Friday deals that will run all year round
According to statistics, 61% of users start looking for interesting offers with discounts or gifts during the week before Black Friday. Moreover, the search query often contains the words "black Friday" or "black friday", as well as the brand name and the current year.
Every business should have a separate landing page dedicated to Black Friday that is open all year round. This will help you appear in search results in advance on the eve of Black Friday. If you create a "one-time" landing page for a promotion every year, you won't get to the top of the results because the page will be completely new.
It's best if the landing page doesn't contain any unnecessary and distracting information, except for the terms of the promotion. Make sure the page is responsive and accessible on all devices. To liven up the page, you can add a simple subscription form so that people can receive notifications about your offers and discounts.
Think carefully about the email campaign with your offers and promotions
To make your email campaign effective, follow these preliminary steps.
Segment users based on demographics, location, and previous purchases. You can simplify segmentation by asking subscribers to add detailed information about themselves in their account or fill out a short form.
Personalize your emails. Everyone is happy to receive holiday wishes, but it sounds trite. At the very least, address your subscribers by name. The highest level is to personalize emails by adding personal conditions and offers that may be of interest to a particular user based on their "preference list", place of residence, previous purchases.
CTA. Add a button with a targeted action to your email. For example, to get a promo code or add the day of the promotion to your calendar so that you don't forget to check out the promotional items.
Come up with an interesting subject line that will attract attention and encourage users to open your email. However, avoid "clickbait" – misleading phrases or numbers. Be honest and sincere.
Prepare a plan for abandoned carts
According to SaleCycle, the cart abandonment rate on Black Friday 2021 was 76.63%. So, even if a user likes your ad, visits the site, and selects certain products, they probably won't make a purchase.
The easiest way is to add a pop-up window to your website that will be launched when the visitor tries to leave the site. You will have one more chance to save the sale.
The pop-up can offer additional benefits to the customer: a gift with the purchase, fast or free shipping, a discount code.
Another approach is to warn the customer that adding an item to the cart does not equal booking it, even though such products are in demand and sell out quickly.
You can also return customers who have left a full cart using emails and retargeting.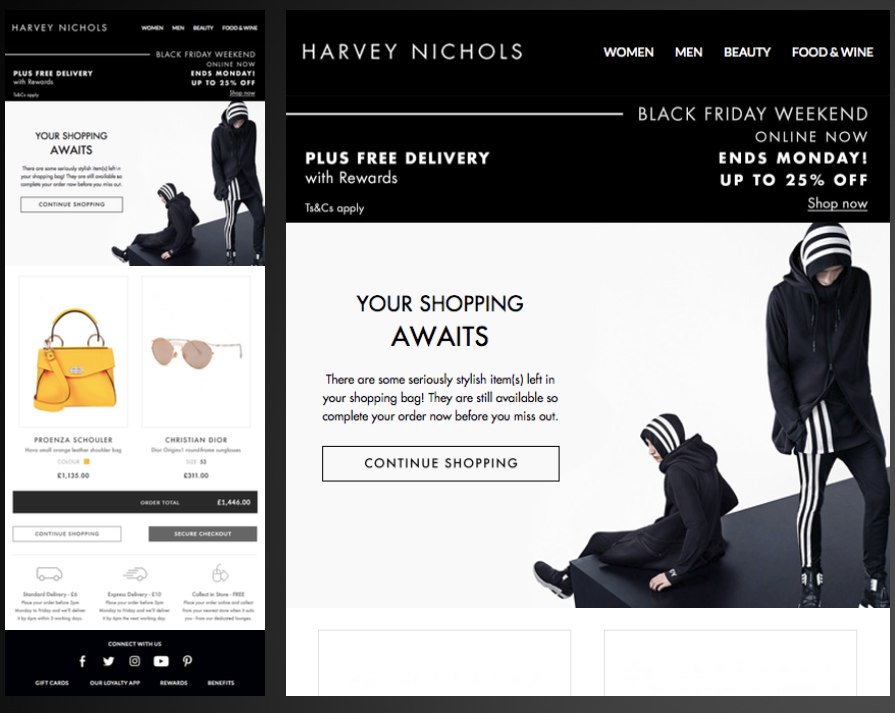 Extend the promo period for the whole week or even a month
It's likely that competition on Black Friday will be extremely high, as many brands will be vying for the attention of users. But you can get the sales you need when the hype dies down a bit if you extend your offers, for example, by a whole week.
Wrapping Up
Black Friday is a day when stores and brands can offer interesting deals to regular and potential customers and increase sales.
Discounts are beneficial not only to customers who can buy the desired product at a lower price, but also to stores. Thanks to the promotion, companies can sell off stock, increase turnover, and draw consumers' attention to the brand and product.
Black Friday takes place on the last Friday of November. However, sales and discounts can start much earlier and last even until the end of November. It is believed that Black Friday marks the beginning of pre-holiday promotions for Christmas and New Year.
Every year, companies compete for the attention of consumers by organizing a grand sale or creating original advertising campaigns. You can take inspiration from these campaigns and offer your customers something special.
To increase sales, prepare a landing page, invite customers to subscribe to your newsletter and prepare an email with interesting offers, set up a chatbot, and think about how to handle abandoned carts.