It is hard to believe but a lot of American companies prefer to invest in Google paid ads, Facebook and Instagram ad campaigns, without knowing whether they bring requests from customers or not. Read below and find out experts' opinions on the benefits of call tracking usage for the US market. To write this article we had 120 minutes of audio interviews with professionals from the United States, sharing their opinion on the benefits of call tracking.

A business that doesn't use call analytics is undergoing time and money losses. Based on the interview with the experts working in the US agencies we found out that call tracking usage becomes more and more important for effective promotion. But, first of all, let's consider issues that experience businesses that don't track call requests. 
Quite important that the number of phone requests from smartphones only, has increased in the USA since 2014. The statistic is persuasive: from 76 to 162 billion per five years.
Here you may say that everything depends on the niche and there are few conversions into calls in the USA's e-commerce market. And you'll be right. It is true that statistic differs from country to country, as well as from specialization to specialization. 
"We implement call tracking only to 75% of our customers. The rest 25% are not interested in calls. They simply don't see it as important. I think people call when there is a problem. Like the support call".
All the interviewed experts were sure that some niches in the United States highly need call analytics. In these spheres, calls are the basis: urgent care in the medical sphere, different types of home services, real estate agencies, and many more.
"Professional services like lawyers and home services, for example, ac cleaners are the ones who receive the greatest number of calls. If our clients generate leads via phone calls they should implement call tracking".
So what to do in such a case? How to understand that your business needs call analytics? Refer to numbers. Thus, if the company receives at least 5% of calls from all requests, it means that it needs call tracking. If customers have to clarify something before adding a product to the basket, call analytics is required.
The budget allocated for paid ads is also important. Request a demo and our specialist will make free calculations for you. Thus, you will know whether it is cost-effective for you to install a call tracking system.
Google Analytics shows you only online conversions of customers that visited your website. However, you don't see the advertising source of the call that is rather important. All mentioned above means that using analytical systems you don't see all the conversions, as well as you are not able to evaluate the whole picture. However, this gap may be replenished due to call tracking usage.  
"We use call tracking at every campaign. It helps us to find out where the leads came from. For sure, call tracking is the best decision for clients that receive a lot of phone calls. And It is true that usually different kinds of services receive the most number of calls".
The last but not the least thing here is that without call tracking, you know nothing about your target audience and its motivation to buy the product. If you are not close enough with customers, in other words, don't hear their real talks, you can't wisely optimize messages for your advertisements. It means that you might spend the advertising budget for campaigns that bring only junk leads. It is also the waste of the sales reps time as they don't close deals, they only answer to customers who are not even interested in the purchase of your product.
Sometimes the USA agencies even provide special training to explain that only collaborative work of marketing and sales departments will bring profit to the client. Thus, the analytics of calls is applied to both branches and makes their work much easier and more cooperative.
"We train our clients on how to improve their sales process. It is especially useful for those who do serious call tracking capabilities. We work with all our clients to ensure that marketing and sales are together".
Still doubting whether to invest in analytics or not? Stay tuned! We will describe all the advantages of call tracking usage below. 
1. Understand the work of your advertisements and opt-out ineffective ones
It may happen that a certain advertising group brings not enough calls or even doesn't bring them at all. In this case, you need to go down to the keywords level for this group and to define inefficient words. This is useful to increase ad campaign efficiency and not to raise the advertising budget in the meantime. Call tracking is useful to define ineffective advertisements. It also helps to allocate the budget among successful ad campaigns and opt-out ineffective ones.
Call analytics services are convenient for agency specialists as they can see the source of advertisement next to each call. They are available up to an ad campaign and a keyword. Moreover, Ringostat, for example, provides a default report on calls from cpc.
"Key features that important for me as a marketer are: ads that drive to the call and duration of the conversation. Source of the call, in other words, channel and advertisement that it came from, as well as caller ID, are also highly important".
Another situation was already mentioned above: the one when your advertisements bring a non-targeted audience. In such a case, for sure you need to change the text of your message. However, there is one more thing. You have to add keywords that don't work to the negative list. This thing is essential if you want to receive "qualitative" requests.
Here we have an example from our own experience. Once in Ringostat paid ads we used the phrase "call monitoring" which is the synonym of call tracking:
We thought that the advertisement is clear. It concerns call analytics. But in reality, we received lots of requests from people who wanted to find the stolen mobile. Besides, there were tones of calls from telephony advertisements concerning phone numbers for registration in social networks, solving problems with Skype, etc. All in all, we found out all expressions that brought the non targeted audience and added them to a negative keywords list.
"Going down to keywords level and making reports let us understand that ad campaign is successful. All in all, I use call tracking to make sure that we did a good job."
2. Obtain all the key data in one service
"We try to put all particular data in one dashboard. By the way, last year we bought new technology. It allows us to create a single dashboard that can be integrated with whatever data point we want, for example, lead generation, revenue, etc. However, it can't be applied for every industry or business as they have their own specialties. That's why sometimes we have more manual work than we would like to."
It's the 21st century — stop making reports manually in tables and let data occupy your life. Sounds funny but making your workflow easier is the right path. Agency employees spend lots of their valuable time on manual actions. That's why they are searching for solutions to make the work with data easier.
As an example, Ringostat just released end-to-end analytics that helps to find out the advertising budget on a specific campaign and revenue from it and ROI in one window without complicated calculations and switching between different systems.
It is not about CTR, CPC and other rates that are far from business. It is about money and sales — the most measurable and valuable company resource. That's why end-to-end analytics is useful not only for marketers but first of all for founders and top managers.
Ringostat not only helps you to understand the advertising source of the call. It also consolidates all this data together in different reports. Moreover, it provides an option to create custom ones. Such reports are available as default:
callback;

inbound and outbound calls;

missed calls;

cpc;

proper call.
Thus, while choosing a call tracking system, pay attention to such criteria as to whether the service provides reports customization and what reports are available as default.

Reports informativeness is highly important to agencies as they operate them while communicating with clients. They provide all data received from call analytics systems via dashboards and reports. It can be also used to prove the efficacy of launched ad campaigns.
3. Listening to call recordings
Analyze at least several calls per week. It won't take tones of time. That's why choose services that allow downloading recordings or listening to them right in the platform. However, there are also three easy steps to minimize the time of listening to recordings of calls:
select only calls from contextual advertising;

speed up playback: Ringostat, for example, provides an opportunity to speed up recordings of conversations;

focus on the most effective calls — proper ones.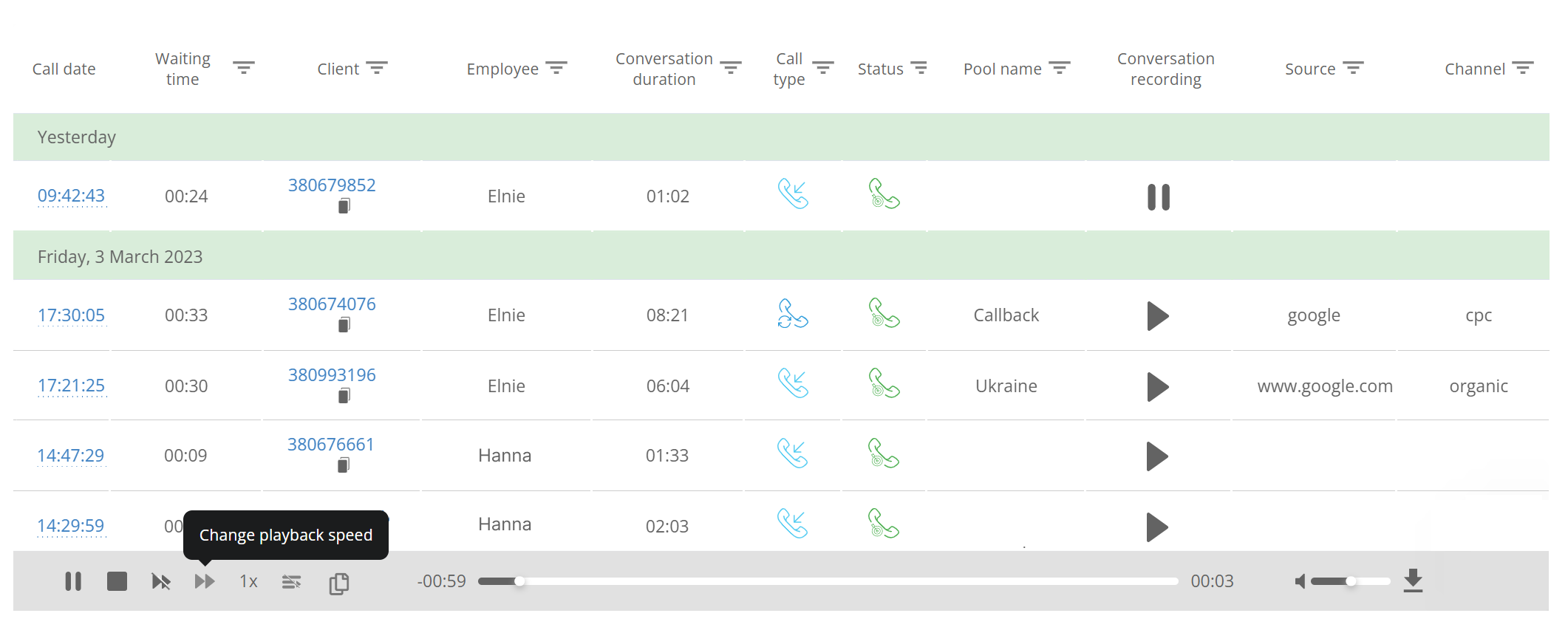 Sometimes marketers can't clearly see who represents the target audience of the company. First, you have to understand customers and what motivates them. Then you need to know how they make purchase decisions, and finally, how they convert.
By listening to calls, you can understand whether your client's website users had correctly got the advertising message or not. Notice that the advertisement may seem clear to the client but customers understand them differently. The result is that there are a lot of calls but the majority of them don't bring profit.
Listening to calls recordings will give a perception of your targeted audience. Whether they are men or women, their age, etc. Sometimes, the final result may be different from your original submissions.
"Among the most important call tracking opportunities, I see the dynamic phone number replacement and call recordings. The last ones allow seeing what leads are brought by advertisements. Whether they are qualified or not".
How to choose a call tracking system
One of the most important features of call tracking, in our point of view, is system flexibility. The platform has to provide different types of customization. It concerns not only custom report creation but also flexible settings of integration with different systems. All in all, the call tracking platform has to be adapted to any business needs.
"For me, TOP 5 call tracking features are lead deliverability and the dynamic function that shows how flexible is the platform. The cost is also important as if the product is great but the price is too high, it's not the best choice. Moreover, customer support capability is also important".
One more thing that is rather important when you choose a call tracking provider is the support reaction. The support team has to be qualified so they could solve any of your difficulties. The same thing is with reaction. You don't have to wait the whole day to receive the answer, as the faster you find the solution, the less money you will lose.
"I would say that the top features of the call tracking are: the cost and fast support reaction. Call tracking also needs to be easy in usage and provided with the opportunity to make integrations with different services".
Pay attention to additional services that provide call tracking systems. For example, some of them offer a callback widget. A customer can always request a call and receive the consult. The additional advantage is the detailed statistics on ad sources that you receive using callback form.
There are two ways to interact with visitors via callback widget:
a visitor clicks on the callback button and entered the phone number;

the widget identifies the interested visitor and offers a free callback in 30 seconds.
Summary 
There are several reasons why the USA agencies recommend their clients to invest in call tracking. 
Call tracking is useful to define ineffective advertisements. It also helps to allocate the budget among successful ad campaigns and opt-out ineffective ones.

Contemporary call tracking systems not only help you to understand the advertising source of the call. They also consolidate all this data together in different reports.

Download recordings or listen to them right in the platform. By listening to calls, you understand whether your client's website users had correctly got the advertising message or not. It will give a perception of your targeted audience. Sometimes, the final result may be different from your original submissions.

Callback widget that helps a customer to request a call and receive the consult. The additional advantage is the detailed statistics on ad sources that you receive using callback form.

System flexibility allows you to adapt a call tracking system to your business needs and peculiarities. Tech support speed is the same value as the faster the reaction is, the less money you lose.