How can you make sure that your telephony and analytics will be top-notch? Talk to the tech support and draw conclusions 🙂 Speaking of Ringostat tech support — users in 98% of cases rate it as "Excellent" and "Good". And today we're going to tell you how we achieved that. Find out how Ringostat trains our helpers and what knowledge they need to have. Find out what allows to quickly solve complex and atypical tasks, and with standard settings, connect telephony and call tracking in just 1 business day.
Meet Tatiana Bereza, Master Customer Support Representative. In other words, a tech support specialist who also trains newbie support representatives.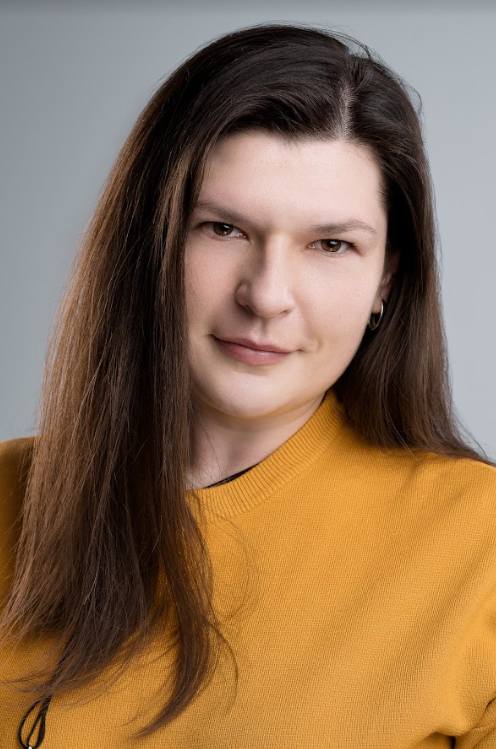 Tatiana has been part of the team since 2019 and used to handle customer requests in chat. Now she adjusts projects and changes them according to user requests. For almost three years she has accumulated such a wealth of knowledge and experience that she is also entrusted with complex and non-standard tasks.
Tanya knows the inner workings of technical support perfectly. That's why we asked her to tell our existing and potential clients about it.
#1. Training, which ends with the compulsory certification
Technical support is not a case where employees are "taught to swim by throwing them in the water". After all, that's how we risk the most valuable thing of all — customer projects. That's why newcomers to Ringostat are trained for 14 days before we "graduate" them to work with users.
What does a future support person do during this time?
Getting to know all the areas to work with in the future:
Ringostat settings;
contextual advertising (PPC);
SEO;
web analytics, etc.
Goes over a detailed plan of what needs to be learned and done. This plan contains links to helpful articles from the blog and our knowledge base. It also includes a list of practical assignments:

Reads the dialogues of team members with clients daily. The newcomer should highlight the essence of the request, what information was provided, what action his colleague took, and whether it solved the client's problem. If not, says what he or she could recommend for a solution.
They take tests to consolidate their knowledge in each section — we have them implemented on the Academy Ocean platform. If the newcomer makes mistakes in answering questions, they are sorted out with the curator.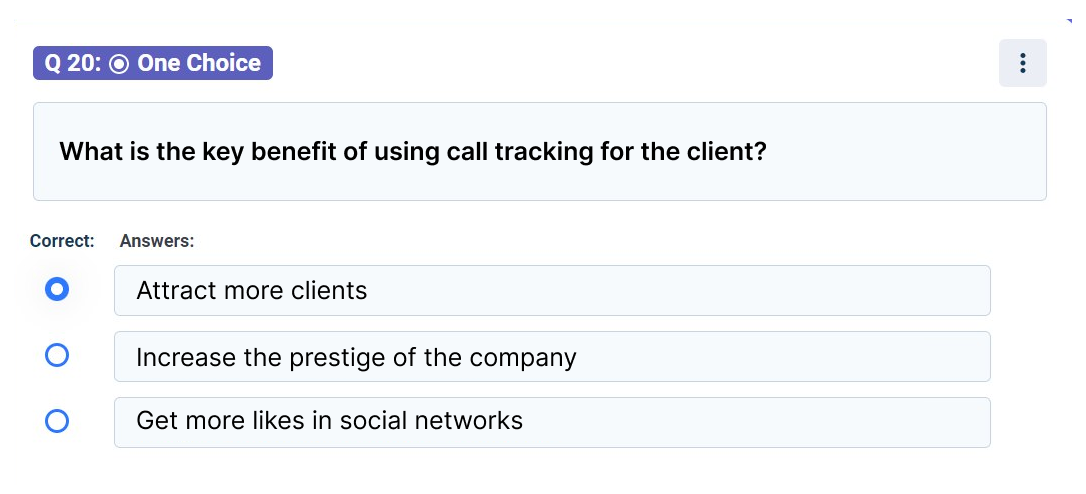 He or she meets with a curator twice a week to discuss the material he has learned and to review practical assignments. The curator can "play a sketch", where he will play the role of a demanding client, whose problem must be solved by the support team.
Performs practical tasks. For example, sets up certain settings in the personal Ringostat cabinet.
After 14 days of training, the newcomer must confirm that he is ready to work with clients. During certification, he answers detailed questions from the supervisor about our seven products and all the topics he or she has studied.
But even after the certification, our specialists learn all the time. Every month dozens of updates are made to Ringostat. Clients may not notice many of them, but our technical support has to be perfectly aware of them. That's why we discuss all updates at team meetings.
If a new employee is talking to you, you can trust him or her completely. Managers or curators look through the dialogs and tasks all the time. And even if they notice any flaws, they fix them right away and then sort them out with the support team.
#2. Speed of response to customer inquiries
Quick help to clients is one of the main "commandments" at Ringostat. That's why we are constantly reducing the response time to requests. Moreover, this is one of the KPIs of our technical support, so our support team is motivated to respond on time as much as possible.
Below is a screenshot from the communication platform we use to communicate with our customers.

On the left, you can see that the average response time to a request is less than a minute. And it usually takes up to 5 hours to completely close tasks. Of course, some issues are resolved much faster. And those 5 hours include:
situations when the client can ask additional questions that appeared after the solution of the problem, which initially asked the user;
weekends and after-hours, when the client didn't respond;
when the user didn't get in touch and couldn't confirm that we solved his/her issue — without such confirmation the support team can't close the dialog.
In addition, we know in advance what kind of requests we receive most often. For example, to change the forwarding scheme, reconfigure number substitution, set up an additional callback, etc. We have instructions for such "popular" cases, so everything can be done quickly.
When a client asks to configure something, the employees set tasks for this:
customer care department — tasks to expand project settings or optimize them;
the sales department — tasks to configure a new project or change settings during a test period.
To work on tasks as quickly as possible, I've compiled a brief FAQ for Ringostat salespeople. It tells in detail how to assign tasks to the specialist who will set up a new project. This is one of the "bricks" on which the efficiency of our work is built. Because this way our colleagues know in advance what to specify from the client, instead of doing it already during setup, waiting for an answer, etc.
#3. Connecting standard projects in 1 business day
We are talking, for example, about cases where you need:
only a virtual PBX with number connection, creation of SIP-accounts to be used in Ringostat Smart Phone or softphones;
call tracking, and phone numbers are placed in a small number of places on the site — for example, only in the header, footer, and on the contact page;
setting up a simple forwarding scheme — let's say just to mobile or to a SIP account.
In such cases, the terms of connection are simple and well-understood by us. That's why specialists can do it in a day, and sometimes even faster. For example, once we were approached by the largest family center in Kazakhstan. There were problems with their PBX, and it was urgent to connect another solution, so as not to lose customers. In just an hour we connected Ringostat telephony for them.
Setting up projects is my main task. I have been doing this for quite some time, and this gives me a speed advantage. In addition, I know the possible nuances well and can suggest an alternative solution — as I have probably already run similar projects.
#4. Regulations for processing customer requests
Ringostat has clear regulations on the order in which appeals should be processed. So you don't have to worry that yours will get lost or "moved" to the bottom of the processing queue.
Here are just a few rules from our extensive instructions on this subject.
Customer requests are of the highest priority. If a manager is doing something else when a user has written — for example, writing an instruction — he must put everything aside and respond urgently.
The support staff should give an answer in 5 minutes at the most. But as I wrote above, in practice, this time is much shorter.
Even if the appeal is taken by a newcomer and does not know how to answer the question immediately, he must urgently write to the manager. He is always in touch and will help give a substantive answer as quickly as possible.
Tasks to connect the project or change settings are processed in the order of priority. But there are tasks with the status of "Urgent", which are given priority — the reason for this is necessarily specified. Such tasks include situations when telephony does not work properly. We process such requests first so that our client does not lose leads.
#5. Availability
A separate advantage is that our technical support can be contacted through several channels at once:
through the chat in your personal cabinet — and there you will get an answer not from a bot, which will make you wait a long time, but from a "live" specialist;
via Telegram;
by mail;
by phone — but this channel is only for emergencies, because when it comes to setting up, you still need to take screenshots, send instructions, etc.
In addition, we are on call for you on weekends as well.
#6. Willingness to set up and replace everything for the client
There are quite a few services that do basic configuration and just instruct users for everything else. And they don't even worry about whether there is someone on the client side to implement it all.
Our tech support, on the other hand, is ready to set up even the smallest options for you. Just ask through any of the channels described above 🙂 And our colleagues — the customer care department — can even help with setting up goals in Google Analytics.
But you can manage 98% of Ringostat's options yourself if you want to. To do this, we have a detailed knowledge base in several languages, with articles written exclusively by our support staff. And they know very well what questions and difficulties may arise when setting up — so they describe everything step by step and with screenshots.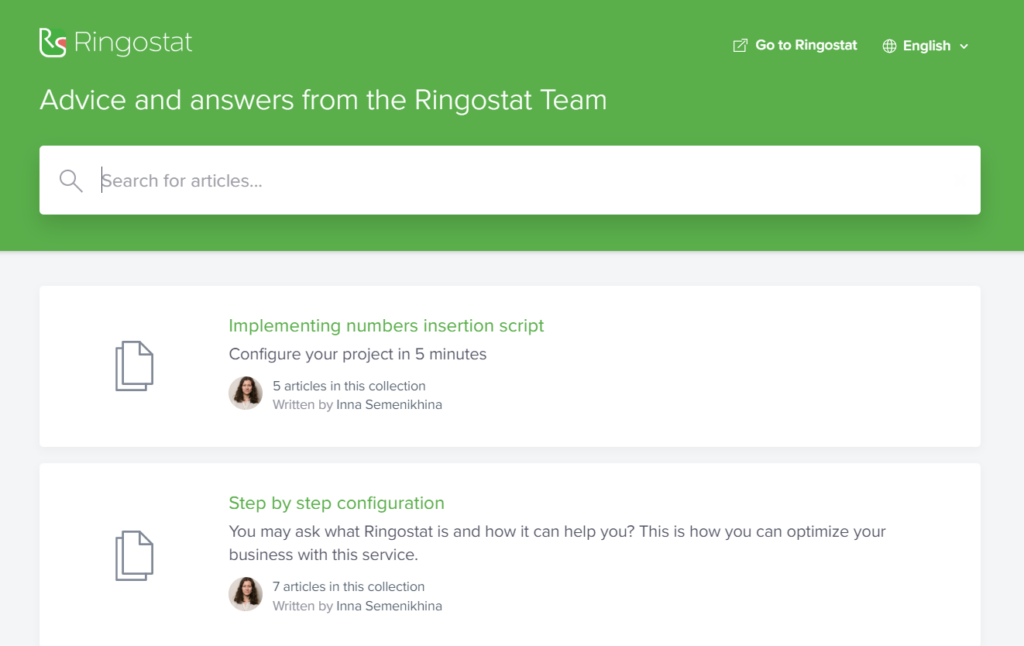 #7. Implementing complex projects
We never give up on difficult tasks, even if we've never done them before. Here are a few examples from our own experience.
A Polish company that manufactures and sells car mats. The client asked us to set up a complicated redirection scheme for eight destinations. We also implemented a voice menu, where calls to certain destinations need to be routed to the SIP accounts of managers with a waiting list of customers on the line. And if the employees are unavailable or busy — backup numbers, where they are sure to answer. For other directions, customers need to voice different informative audio alerts. It was also necessary to set the English-speaking message to the managers, who take the calls through the callback — that it was the ordered call and so on.
In addition, we had to take into account that the customer site is bilingual — so part of the settings have to do with the English version. At the same time, the client has connected call-tracking with the button "Show number", which hides the swapped numbers and so allows you to save them. Although the parameters of the language versions on the client's site were configured incorrectly, we still solved his problem. Thanks to organization, responsibility, and desire to solve the problem we implemented everything in three days.
Another example is Sofia France Auto, the official importer of Peugeot, DS Automobiles, Opel and CITROEN brands in Bulgaria. It's a big company, so there was a lot of tuning, functionality refinement and changes to several tasks. The client was very happy with the result and has been working with us for almost a year.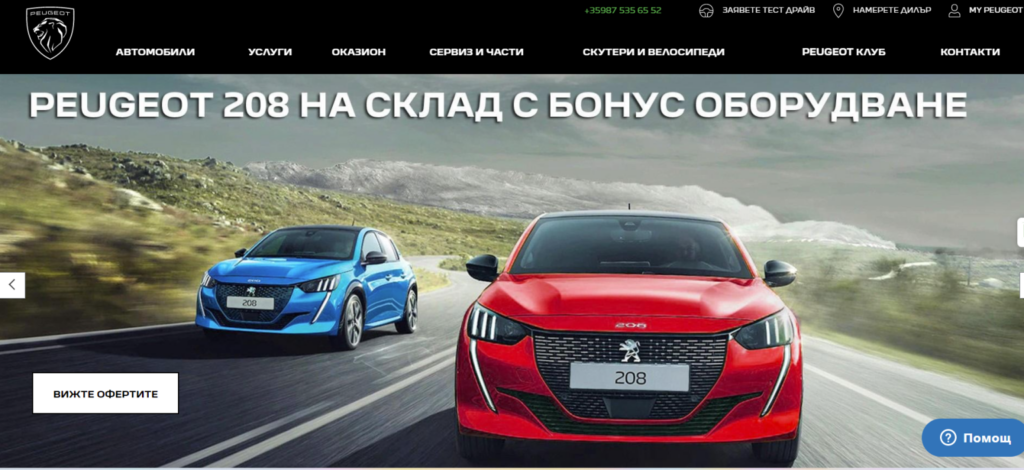 Read the case of Sofia France Auto here.
We even correct deficiencies in solutions that clients had before us. For example, a real estate agency in Dubai could not call properly because of a problem with the telecom operator. The company contacted us, we sorted out the settings, and the connection was set up.
#8. Special attention to the soft skills of the team
When we accept a person into a team, we always look not only at knowledge but also at character traits. The future support team member should:
have a sincere desire to solve a client's problem;
be willing to understand the question in detail, even if time is short, and help the user with this;
be able to work in a team, because the support team constantly interacts with testers, IP-telephony specialists, sales and customer care departments;
be systematic and attentive — both to the details of tasks and to users.
A tech support specialist certainly can't be a "chaotic" person who grasps at one thing and then another. All the more so in Ringostat, where a lot of attention is paid to regulations and systematic work. For example, I, like my colleagues, like order and clarity — and this helps us work well and get high marks from clients.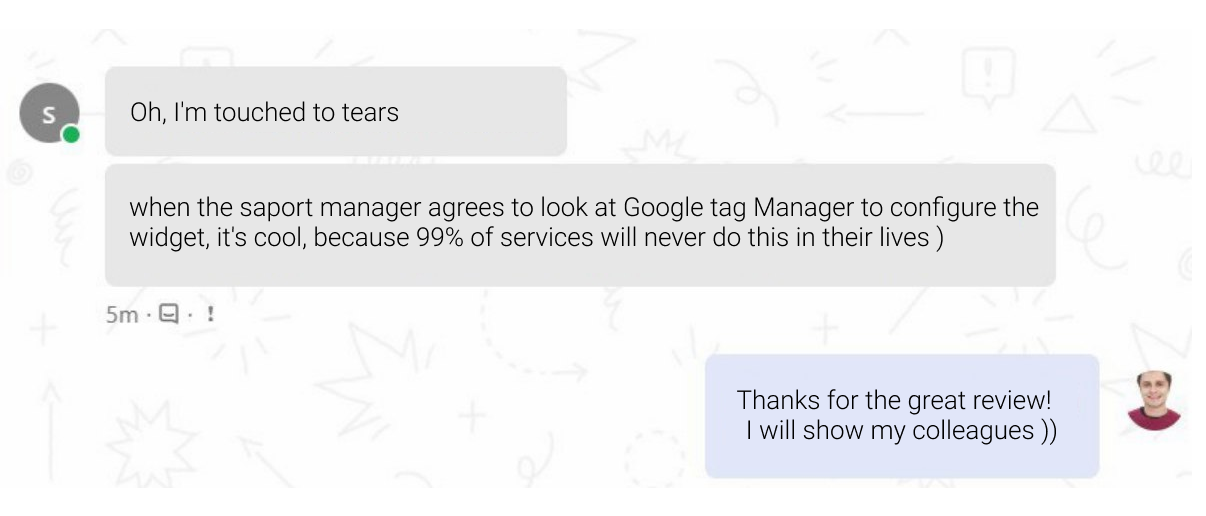 For example, when I take on a task, I structure information about it in Google Tables, arrange a complex task into smaller ones, and record the course of my thoughts and work on the task. I make a note of where I stopped if there is an urgent task that according to the rules should be taken first. This is very handy in case of a sudden absence at work,when the task is "taken" by another member of the team.
Also, a support team must be able to think several steps ahead. Because changing one of the settings can greatly affect all the others. A separate skill is to determine the global problem to be solved. Because sometimes the user makes one request, but actually means something completely different.
Another one of the main qualities of a support person is proactivity and initiative. When you don't wait to be asked to do something, you do it yourself. For example, I always fix for myself the most frequent situations and tasks. And then I make suggestions for interaction between departments and changes in certain processes.
#9. Specialized tools for communicating with clients and solving their problems
We don't skimp on tools. Because they help us serve 1000+ customers quickly and fully, without forgetting anything.
For example, we have a platform for teamwork on tasks. For every project that needs to be adjusted, or where something needs to be changed — a separate task is set up. It has a checklist so that the specialist doesn't miss anything. And all communication is in the comments under the tasks so that the nuances do not have to be found in instant messengers or in the mail. The specialist also provides screenshots, so that the team can better see the settings and have proof that they have been implemented.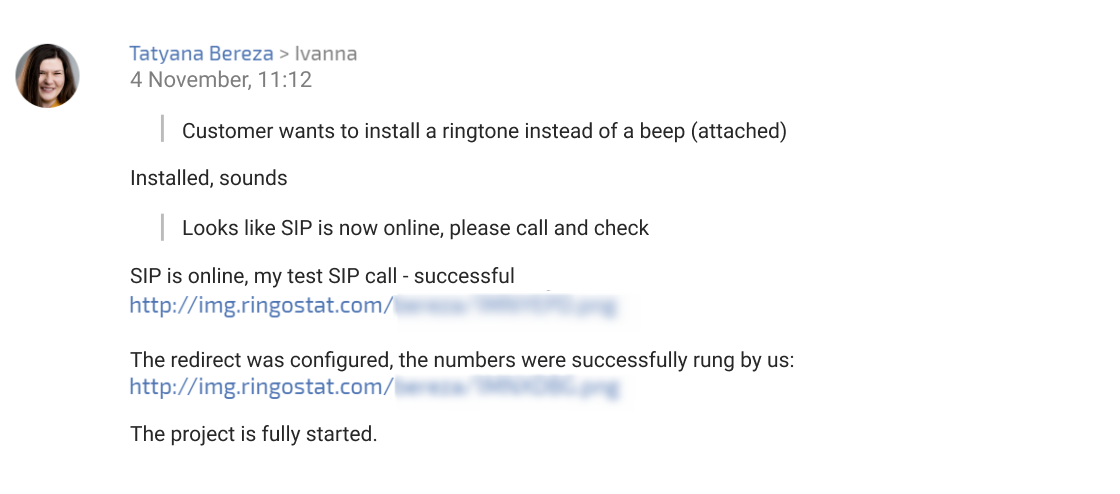 All of our communication with clients is done through the Intercom communication platform. Here we exchange messages with the users who have written to us in the chat room. Here the support team can consult with a colleague directly in the dialog — the client won't see these messages. The curator can leave comments and so on.


Also here we run campaigns on the updates of the month, chats that appear on different pages of the site. We can see statistics on the number of tasks in the work, the average speed per request for a particular manager and much more. This way our department and all clients are at the palm of our hand — so we immediately notice moments that require urgent solutions.
#10. Not only clarity but also friendliness.
I doubt that a person is pleasant when a specialist speaks in dry, well-earned phrases, like a bot. That is why our corporate style is a friendly and "easy" manner of communication. And clients like it 🙂

We always tell newcomers to communicate in simple and understandable language. Because we already have a fairly complex technical product — so there's no need to further "burden" the person who has asked for help. And it's not a sin to dilute the conversation with jokes and funny gifs. Of course, if all the client's tasks are solved properly.
To summarize
To me, the main strength of the Ringostat support team is that it consists of people who really know and love what they do. And this is not an abstract phrase.
For example, I started out by handling chat requests. But then the team noticed that I like and manage to set up projects more. So that's what I do now. Some people like to communicate more, so they prefer to handle requests. And someone ends up going to the customer care department to train them to get the most out of Ringostat. And this arrangement benefits both the team and the users.
What we all have in common is that we all root for Ringostat. For example, it is very important to me that the company I work for is modern and dynamic. This motivates me to contribute to the rapid and high-quality development of our platform.