Any user who is at least somewhat familiar with Google Analytics or Ringostat reports has encountered direct traffic. Let's find out what kind of traffic it is and where such users come from. We will also tell you in which cases traffic is mistakenly marked as direct. In the article, you will find tips on how to get rid of this problem and correctly identify direct traffic.
What is direct traffic?
Direct traffic is traffic that comes to a website directly, not from any of the online channels. Google Analytics also considers direct traffic to be traffic that cannot be identified as its source.
In Google Analytics reports, this such traffic is so denoted as direct (not to be confused with Instagram Direct 🙂
It's the same with Ringostat call tracking reports, which show the sources of all calls to your campaign. If a user visits your website directly and then calls you, you will see this mark:
When traffic will be considered direct
Let's start with the most obvious cases.
If the user has entered the website address directly in the browser bar. For example, if your site has a simple URL that is well-known to users. Let's say, like the famous store ikea.com.
If the visitor came to your site from bookmarks. Or from the browser's start screen, where the most relevant sites are pinned.
When a visitor comes to your site from an offline medium — when he or she enters a URL that he or she saw on a business card, billboard, newspaper, etc.
An example of a well-known brand whose link is easy to remember. In such cases, a significant portion of the traffic will be direct.
Some people think that these are the only reasons. But this is not the case. As we have already mentioned, Google Analytics records direct traffic when there is no data on where the visitor came from. Let's look at the most common cases when this can happen.
The absence of Google Analytics code on certain pages of the site or its incorrect operation.
Errors in UTM tags. For example, if you missed a letter or "_" in utm_source.
When navigating from email clients, such as Microsoft Outlook.
Visiting the site in incognito mode or when using script-blocking solutions.
If the user clicks on a link on a secure page (HTTPS) that leads to an unprotected page (HTTP) and does not have utm tags. The source is preserved if you switch from HTTPS to HTTPS or from HTTP to HTTP.
Incorrect redirect. Long redirect chains, redirects, or JavaScript-based meta updates.
Links in Skype, Viber, social networks, Word, Excel, PDF files, etc.
If the 'rel=noreferrer' attribute is used in the link code. This HTML attribute prevents the transfer of data about the page from which the link is made. For example, it is used by WordPress when you configure the link to open in a new tab.
Mass visits to the site by company employees. Your team knows the website address very well and therefore enters it immediately. Using autocomplete — when the browser offers to "complete" the address that the user has started to enter.
Incorrect tracking in case the user has to leave the site before the transaction. For example, if it is necessary for payment, and then the person returns to your site.
Spam traffic generated by bots.
What to do if there is too much direct traffic
Experts generally believe that the share of direct traffic should not exceed 20%. If this percentage is higher, it's most likely due to errors that prevent Google Analytics from determining the source of conversions. Let's look at how to get rid of this problem.
Make sure that all pages of your website have the Google Analytics tracking code. And whether it works correctly when the page loads.
Use UTM tags to the maximum and make sure that they do not contain errors. For example, the Google Analytics URL builder will help you with this. Here's how you can use it to create a link with a tags for the article: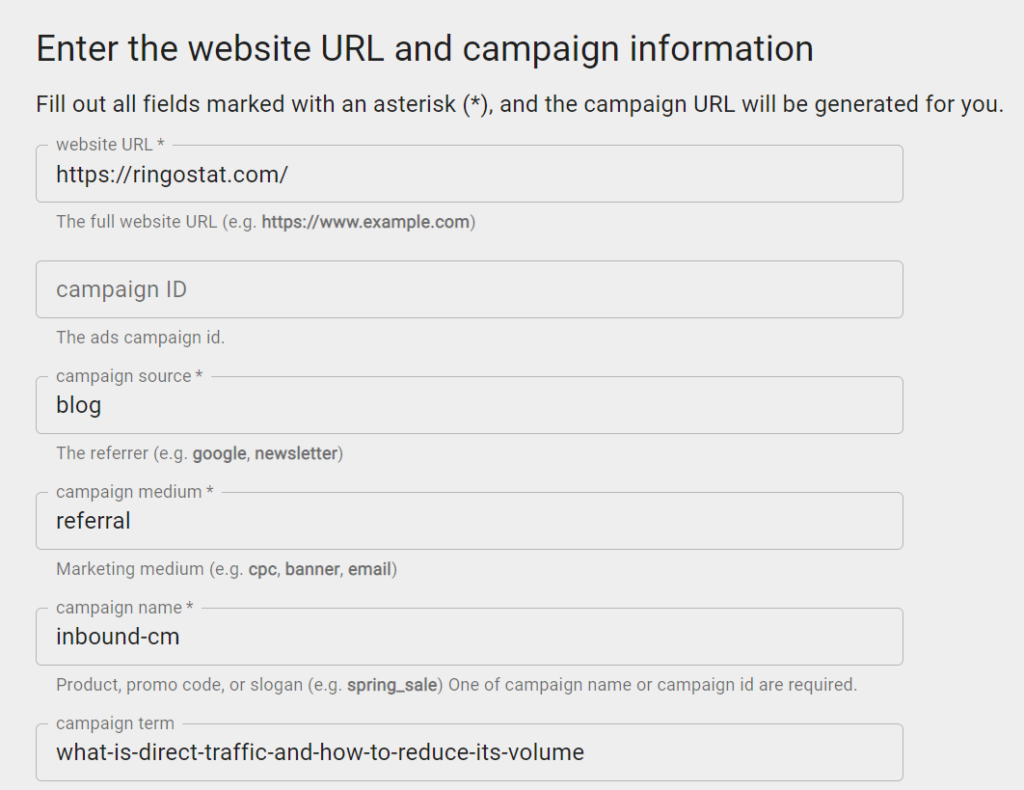 Switch to the secure HTTPS protocol if you're still using HTTP. Although the advantages of the former are obvious, there are still sites that use an outdated and insecure version.
Place buttons with embedded tags in your emails, PDFs, messengers, and social media posts, where possible, etc. You should also add them to your share buttons.

Avoid client-side redirects. Set up well-designed 301 redirects on the server side.
Make sure that your internal links do not contain the rel="noreferrer" tag. This can happen, for example, if you have copied a link from another resource.
Filter out internal traffic according to the instructions — that is, transitions to the site from your employees. After all, as we wrote above, they are the ones who most often enter the address in the browser bar or use autocomplete.
Set up cross-domain tracking if the user has to leave the site and then return. Otherwise, the visit will be divided into several sessions.
Check if your site has fallen victim to a bot attack. This can be determined through special services. It also makes sense to see from which locations, browsers, devices, etc. visitors came from — bots will have identical parameters.
Offer a lead magnet if the user tells you where they came from. For example, a discount for a future purchase, a checklist, an e-book, etc. This way, you will better understand where direct traffic comes from and will be able to spot the error that led to its appearance.
What about users who saw your website on an offline medium and contacted you? There is a life hack to understand what brought the most interested of them — those who called.

Why increase the share of direct traffic and how to do it
Web analysts and marketers usually don't like direct traffic because it's impossible to draw conclusions about what exactly brought the user to the site. But direct traffic is not necessarily a bad thing.
Experts believe that the share of direct traffic should not be lower than 5%. Otherwise, Google Analytics may consider your site suspicious.
In addition, in October 2022, 23% of sales in the e-commerce market were accounted for by direct. This is not surprising, because direct traffic is to some extent a reflection of your brand's strength. A person who has memorized and entered your URL is already sufficiently inclined to buy. Of course, if we're talking about "real" direct traffic, not the kind that's identified by mistake.
How to increase the amount of direct traffic if you have almost none on your website?
Place offline ads: on radio, television, podcasts, and include your website on business cards if they are common in your industry.
Create posts on social networks and blogs with an appeal to go to your website. And don't put links in them.
Place an "Add to Bookmarks" button in the header of your site so that visitors are more likely to click through from bookmarks.
Bonus: how to see only calls generated by direct traffic in Ringostat reports
Let's say you need to analyze only calls that come from direct traffic. For example, to listen to calls and find common features among similar visitors. Or to understand from the audio recording of the conversation where the customer actually came from.
To do this, go to the Call log.
Click Create filter.
Set the settings as shown below.
Save and analyze.

Are you interested in other types of traffic? Ask our technical support team in your Ringostat account. Or leave a comment below this article.