Practically everyone has heard about SIP. However, not everyone understands what it is and how it differs from a simple phone connection. In this post, we'll walk you through the main definitions and details of this topic.
What is the difference between the SIP phone system, IP, and VoIP?
Probably, you've already faced up with these definitions. To avoid confusion, first let's clarify the difference between SIP, IP phone system, and VoIP.
Let's start with the broadest category of IP (Internet Protocol). Actually, we can say everything starts with IP because it connected all computers in the world to the Global Internet. That's why each computer has a unique IP-address necessary for data exchange.
VoIP stands for Voice Over Internet Protocol. Thanks to it, we can exchange any voice data, f.e. make phone calls over the Internet, broadcast webinars, or watch videos from the security cameras.
IP telephony is a common name of phone connection over the Internet. That's a part of VoIP that includes only phone calls and video messages over the Internet.
The SIP (Session Initiation Protocol) telephony is a narrower definition. It's just one of the kinds of IP telephony and connection protocol. They relate to each other as laptops and ASUS.
So let's summarize:
IP is a protocol for transmitting data over a network

VoIP is a technology that enables any type of voice to be transmitted over a network

IP telephony is a technology for calls and video communication using the Internet

SIP is one of the protocols enabling IP telephony to work.
What is SIP telephony?
As you know, SIP (Session Initiation Protocol) is the specific protocol for data transferring. It's like a language that helps devices understand each other and exchange information. It is used for many purposes such as IP telephony, video conferences, and even online games. Put it simply, it follows a pattern " from client to server" by alternating between requests and replies.
Sometimes people understand SIP as the technology of making phone calls over the Internet. However, that's mistaken. So what is the difference between SIP and IP telephony? SIP-telephony is the connection over the internet using this specific protocol. For example, Skype also uses SIP.
There are other protocols for IP telephony. Currently, SIP is the universal standard for data exchange over the Internet. Many experts consider SIP as the best protocol. It's widely used in many spheres. Also, SIP-telephony is available when the internet speed is no less than 64 Kbit/s. That means that it's available almost everywhere.
IP telephony allows us to connect the number to a unique user and that offers major opportunities for analytics. This way companies may learn more about their clients. By the way, this technology is at the heart of call tracking.
How does it work?
Let us take the example of a person who makes a call from the computer with SIP client to the company using SIP-telephony.
During the phone call, the special software (codec) is compressing a client's voice into the digital signal.

The signal is transferred to the device (computer, SIP phone, etc).

Two devices find each other by IP address and start the communication session.

The signal is decompressing. The manager hears the simple voice of the client.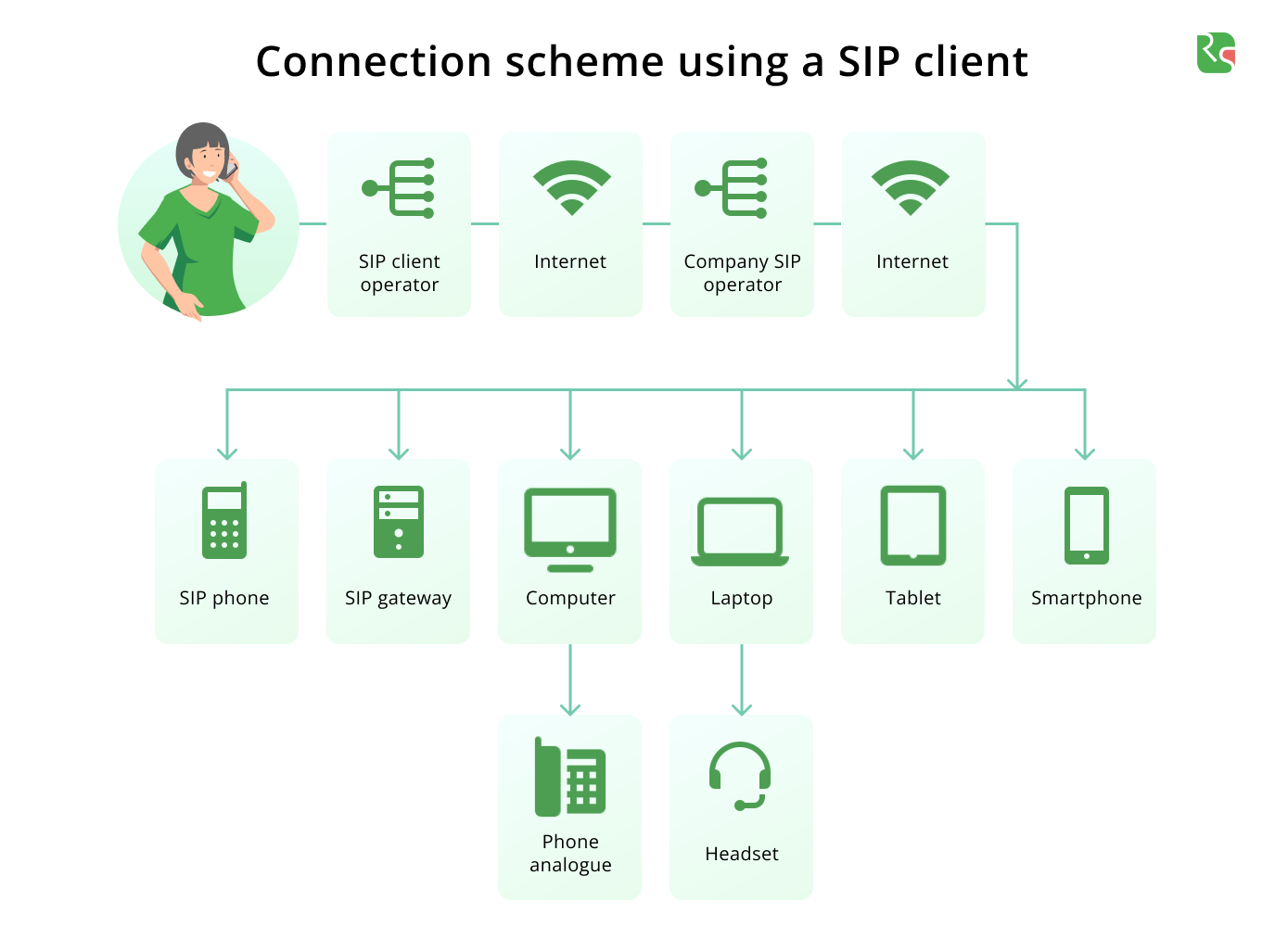 Benefits of SIP
This type of telephony is a comfortable alternative to PBX. First of all, it allows businesses to scale quickly without the cost. Here are other advantages:
That's cheaper than activation and configuration of office PBX. You'll get a multichannel phone number that won't be busy if you have enough sales reps. Also, you may increase the number of call agents in the corporate network without additional costs.

You pay for phone calls according to basic tariff no matter of subscriber's location. SIP phone numbers are cheaper than telephone line installation. That's especially convenient for big companies with many branches and departments in different places.

SIP helps integrate data on calls with CRM and analytics systems and make your business more effective. For example, SIP telephony provides opportunities for call tracking. Thanks to the call tracking services, you can see which advertising sources bring new clients. As a result, you are able to make good decisions for sales growth.

You can take your business global. For example, Ringostat allows activating SIP numbers anywhere with an Internet connection. We provide a high quality of connection in Northern America, Europe, and Asia.

You may create a remote call center and provide it with SIP phone numbers. Thus, you save money on equipment and office rent.

Also, you may customize cloud-based PBX according to your working schedule. For instance, it can forward calls outside working hours to the mobile numbers of your employees. Here's the example of a call forwarding scheme outside working hours in Ringostat.

Conclusion
SIP is a great solution for startups and any companies that strive for workflow optimization. This way you may not only save money but increase the level of customer service and construct omnichannel analytics.
If you have questions regarding this post, ask in comments. By the way, with our service, you can rent SIP phone numbers or activate yours. Ask our Customer Support on how to do it — in chat in your personal account of Ringostat.