What is not controlled is not fulfilled. This is the rightful opinion of Ringostat's client, the GoIT Polska course platform. Sales and training support there are carried out over the phone, so some of the most important metrics to track are related to calls. Read how the company used Ringostat to supplement its custom dashboards, how it helps improve service quality, and how the integration of telephony and Zoho CRM is useful.
About the project and features of telephone sales in Poland
GoIT is an international online IT training platform available in five languages. The project has received numerous awards. For example, the Ukrainian IT Award for Outstanding Contribution to the Training of Junior Developers. The GoIT team also participated in a UNDP project and trained 240 IDPs in front-end development.
Eight years ago, the platform started as a Ukrainian project, and since 2020, it has been actively promoting itself in Poland. It is the Polish branch of the company that will be discussed in this case study.
The company's experience has shown that focusing on Poland was the right decision. The project, as they say, "took off". The main role in this was played by the fact that people who already had experience in educational projects took up the task. But even with experienced professionals, business processes still require daily monitoring. Moreover, the GoIT Polska team is currently working from different European countries.
How the sales funnel is built on the project
The main problem of future students is the desire to "just enter IT," but they often have no idea what they want to do. That's why you can first take a test on the platform to determine and choose one of the available professions:
designer;
front-end, fullstack or back-end specialist;
QA tester, etc.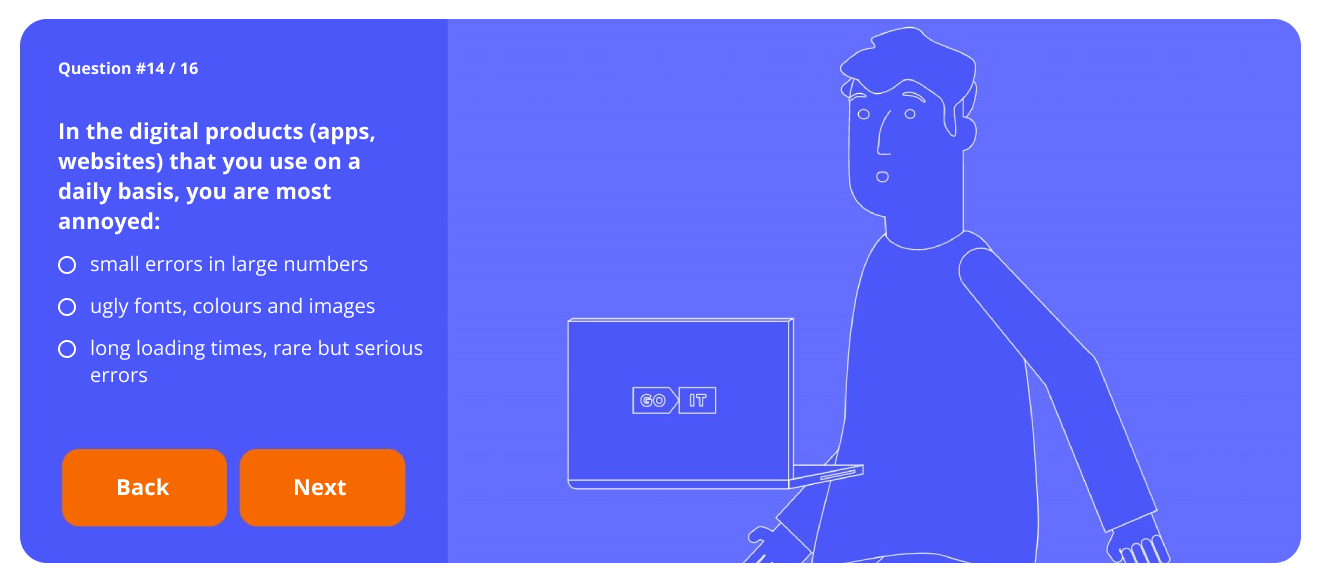 After that, short free courses are available for users. They are designed to check whether a person is really suitable for the chosen profession. After that, students can go deeper into their studies — on the platform's paid courses, which last 10 months. And then they can get a job, which GoIT also helps with.
To receive the results of the test mentioned above, the user must leave their contact information. The same if a student wants to sign up for a course or get a consultation. This is where the sales department comes into play, calling customers and establishing communication with them, which ideally should result in enrollment in paid courses.
So the company has a significant volume of outgoing calls — almost 28,000 per month. Therefore, the platform was looking for a telephony solution that would allow it to process leads conveniently and quickly.
At the same time, working in the Polish market has its peculiarities. Life in Poland is stable and its standard of living is high enough. Therefore, Poles are accustomed to stability and value it very much. This is reflected in the fact that they are not easily interested in knowledge from a radically new field, especially if it is not acquired in the usual format, i.e. not at university. In addition, many people doubt that it is possible to master a new profession in less than a year.
Also, Poles do not like to be called by strangers — even to provide some information. They prefer to find and read it themselves.
Given all this, working with future students requires a"jewelry" approach. Therefore, the company has developed its own methods and different conversation scenarios for the local market. The task of employees is to follow them, and supervisors are to monitor them. Below, we'll tell you how call data can help with this.
What tasks did GoIT set before connecting Ringostat, and why did they choose our platform?
Initially, GoIT used a virtual PBX from Zadarma, but its capabilities did not meet all the company's needs.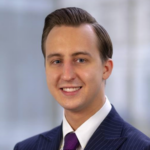 "When looking for a new
telephony system
, we set out to solve several problems.
Transferring call data to our own reports, which include KPIs, profit, number of transactions, etc. Therefore, the virtual PBX must have an open API — that is, a mechanism for notifying third-party systems about events in the telephony platform.
Also, we needed Integration with Zoho CRM, which we have been working with for a long time.
For us, it's essential to redirect an incoming call to the sales rep responsible for the transaction. That is when a student has already received a call from a certain employee, a new call from this student will be directed to the right member of our team.
Ringostat allowed us to solve all this."
How lead processing is organized in GoIT Polska
We have already mentioned that the first contact with a client is initiated by the sales rep. During the call, the employee should:
check the information that the user left in the contact form when taking a test or a free knowledge marathon;
if the client has already completed a free course, ask if the person liked GoIT;
get feedback on why the person went to study — knowing the user's motivation, the sales rep will be able to help them achieve their goal and choose the appropriate paid course as soon as possible.
The main KPIs of the department is the amount of money earned and the conversion from a call to a course sale. In addition, the management closely monitors intermediate indicators. Ringostat helps with this as well.
Thus, each employee has to talk to customers for at least two hours a day. And at the same time, an employee should process 400-500 leads per month. But, of course, the conversation can last for different times. That's why the sales department has a rule of proportion: if a sales rep talks to customers for more than two hours a day, he or she can call a slightly smaller number of leads. And if the communication lasted less, they can "pick up" the indicators with more calls made.
Management monitors this partly in the Ringostat call log. Where you can easily see the status of the call – that is, whether it was an outgoing call. You can also see the length of the call, which is an indicator of the "quality" of communication. In addition, you can listen to the audio recording of the conversation right in the report. The report also draws attention to the time of the call.

In addition, the management analyzes their own custom reports three times a day, which also include call data from Ringostat. For example, they can see how many calls a particular employee made and to whom over a certain period. This helps to understand the workload of employees and correct the situation when someone is "underperforming".
When the company receives an incoming call, it means that a potentially warm lead is calling and needs to be brought to the point of buying a course. And here GoIT has implemented an interesting call-forwarding scheme that further motivates sales reps to show better results.
The screenshot below shows that employees are divided into three groups. First, the call goes to the first group, and if everyone is busy or no one picks up the phone, the call goes to the second group, and so on.

In the first place are the sales reps who are the best at fulfilling the indicators. The second is for those who are slightly inferior, and so on. So employees are interested in getting to the top of the queue to process more leads and generate more revenue.
Control of the sales department
In any industry, it is important to control call processing. Especially in a niche where the audience is not initially inclined to buy or even have a long conversation on the phone. That's why management always listens to calls and makes sure that sales reps are adhering to the company's values.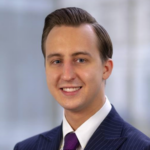 "As a matter of principle, we do not hire people who are looking for a job in a typical call center. Because GoIT is not about making calls from 9:00 to 18:00 and reading out a standard text. It's about a mission to help people and inspire them to change their lives and careers for the better.

A GoIT employee is a consultant and an individual assistant. So we strive to work with each client based on their psychological profile and individual characteristics. We have to act as a kind of "psychologist" for clients to understand their motivation, pains, etc. And, having pointed this out, to offer solutions."
Each conversation with a sales rep can be divided into a certain number of points. And GoIT knows from experience that each of them is a percentage of whether the deal will be successfully closed. Therefore, the employee must carefully go through each point, not ignore what the client says, and respond in the way that is provided by the script for such a case.
After listening to the conversation, the management gives employees tips. For example, if a sales rep didn't pay attention when a client hinted at some circumstances, and an employee didn't understand him and asked a completely different question. All this, plus regular trainings for the team, helps to improve the quality of service.
Integration Ringostat with Zoho CRM
The company chose this system a long time ago because Zoho is ideal for the B2C segment. After integrating with Ringostat, call data is transferred to CRM. But that's not all — the integration logic can do much more.
When a customer calls, Zoho automatically creates a deal and a contact where the user's phone is pulled up.
The same thing happens after a missed call from a potential student. But in addition, a "Call" task is created for the responsible employee with a deadline of four hours.
When the sales rep makes an outgoing call, a contact, and a deal are also created — if they don't already exist for this client, of course. A Call entity is also created in CRM.
At GoIT, a whole team is responsible for supporting the integration, including developers. But any employee, even those without a technical background, can easily change the logic in their Ringostat account. To do this, just check or uncheck the appropriate box here: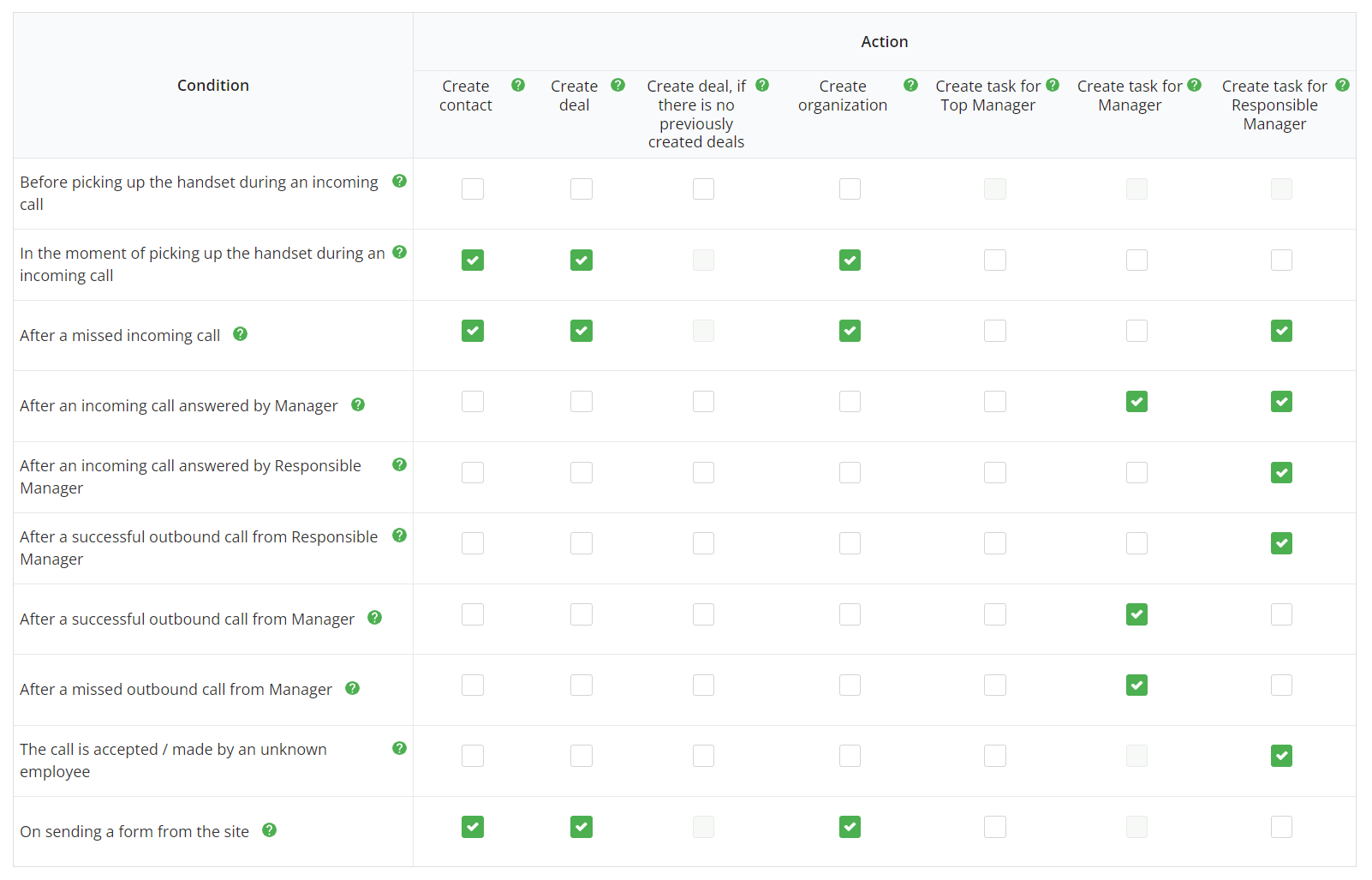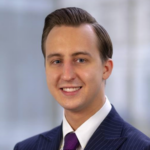 "We have a definite positive impression of cooperation with Ringostat. Thank you for setting up the project and helping us. Thanks to the call data, we have improved the level of customer service and are now able to establish better contact. We also have a complete history of calls to customers and the ability to control processes in the department. This means we can influence our results."