What some expected and some even feared has happened — Universal Analytics has finally been replaced by Google Analytics 4. Despite the radically new approach, one thing remains the same. You must track absolutely all events, that includes phone calls. Read how to bridge the gap between online and offline interaction and understand how to optimize your ads to bring more calls and sales.
Google Analytics 4 is a free tool that helps collect and analyze website visitor data. It provides information on how users find a site and how they interact with it and ads. By collecting this data, you can understand how to improve your site and campaigns, attract more visitors, and provide a better experience to potential customers.
What is the global difference with Universal Analytics? In a nutshell, Google Analytics 4:
allows tracking user actions on the site and in the application in a single interface;
builds its analytics around events, not sessions;
provides AI-based statistics and analytics, uses artificial intelligence and machine learning for predictions;
integrates with various media platforms, etc.
But why do you need to have call data in such a system at all? Moreover, from the description above, all analytics is built solely based on data about users' online actions. Let's get to the bottom of it.
Why calls should be tracked in web analytics
You need to understand the complete customer journey to attract more customers and get more sales. But what complete journey can we talk about if we ignore at least one of the stages a customer goes through? That stage is the call in most businesses.
There are dozens of types of businesses where a phone call precedes almost all sales:
in real estate, clients call to discuss the possibility of a mortgage or the availability of a desired apartment;
in medicine — to make an urgent appointment with a doctor, to discuss contraindications and recommendations for procedures;
in education — to find out what certificate will be given after the courses, and for what level of knowledge they are intended;
in the service sector — to explain what is needed, for example, cleaning a sofa of a certain size and covered with a certain fabric;
when making something to order — to describe the dimensions and features, to agree on the master's visit, etc.
There are additional nuances. The longer the transaction cycle, the more often communication takes place over the phone. When a person buys something expensive, such as a car, he does not put the goods in the shopping cart, but first calls the phone. Also, customers prefer to hear a "live voice" in many areas to make sure the business can be trusted.
In all these cases, it is not enough to track only online conversions, i.e., visitors' actions on the website. You need to capture calls and the sources that bring them in Google Analytics as well. Otherwise, you simply won't realize which ads are really working and which are just wasting your budget.
Let's imagine a typical situation. A new business has just started to promote and has decided to invest in several activities:
SEO;
Google contextual ads;
targeted ads on Facebook.
How does a business reason if it doesn't track calls? Customers are calling, so the advertising is working. We keep investing money in all of this. If there are no calls, we'll turn something off, like Facebook ads. Just because we ran it last.
If this company tracked calls, it would clearly see how many conversions each channel brought. For example:
15 customers called from Google contextual ads, this is a good indicator for a young business, so this advertising should never be turned off;
was received 4 calls from organic, which is not so bad, SEO is a "long game", so it should not be abandoned after the first statistics;
and there were no calls at all from targeted ads on Facebook.
So, the last campaign can be optimized or disabled and more money can be invested in Google contextual ads or SEO.
Call tracking provides insight:
what kind of ads works and what kind of advertising wastes money;
how best to allocate your budget;
whether everything is in order with the running advertisement.
if there are no calls from it at all, perhaps the ad is unattractive or there is a mistake in the phone number.
Why it's important to track calls specifically in Google Analytics 4
As we've said before, Google's new version emphasizes users rather than the session(s). So it's unified all analytics around the events that visitors generate. For example:
go to specific pages;
download the price;
subscribe to a blog;
put a product in the shopping cart, and so on.
The traditional model of Sessions and Page Views that existed in Universal Analytics has been replaced by the Event-Driven Data Model.
In this case, it is the calls that are the events that can be used to assess the quality of traffic quite accurately. Phone calls are indicative of visitor interest. After all, a person spent time picking up the phone, dialing your number, and talking to an employee.
A call is an indirect marker that a quality lead has come from an advertisement. Especially if the call was targeted, i.e., the conversation lasted long enough.
Google Analytics 4 by itself is not capable of tracking conversions to a call, because nothing happens on the website during the call. This problem can be easily solved by integrating your call tracking service and web analytics system. The key is to make sure your call tracking platform supports the integration.
You can transfer call data to Google Analytics 4 thanks to call tracking. This way you will link the actions of site visitors with their calls, see the number of calls, the sources that brought the calls, and evaluate the quality of leads. It will also allow you to find out the conversion rate from site visits to leads, taking into account the phone calls.
Google Analytics 4 is a brand-new analytics system, so the data will be different from the old version of analytics anyway. Most businesses have already noticed that the total number of conversions in the new analytics is usually lower. But that doesn't mean something is being tracked incorrectly. It's just that Google Analytics 4 has a different approach to data collection.
However, this can have an impact on ad campaigns. Because the fewer conversions, the worse the Google Ads system is trained and optimized. So this is another important argument for why it's worth tracking all macro conversions, including calls.
You can track four types of events In Google Analytics 4. Calls refer to one of them — special events. These are events that are not included in the list of recommended events, they do not have specific names, and you need to customize them to your own needs.
The good thing about Google Analytics 4 is that you can create events for specific types of calls. For example:
lost;
unique;
answered;
targeted, and so on.
This allows you to understand exactly how many "clean" leads there were, not repeat leads or lost calls.
It is an example below of a customized event in Google Analytics 4 on unique calls from Ringostat and a summary of them. A unique call is a call that is made from a specific number. This status is used to differentiate between leads and repeat calls.
How to make call data passed to Google Analytics 4
You'll need a few things to track calls in Google Analytics 4:
Admin access to Google Analytics.
Availability of call tracking, i.e., a call tracking platform. What it is and how it works, you can read in detail in the article.
Google Analytics 4 and call tracking integration. It can be easily enabled in your account in Ringostat according to the instructions.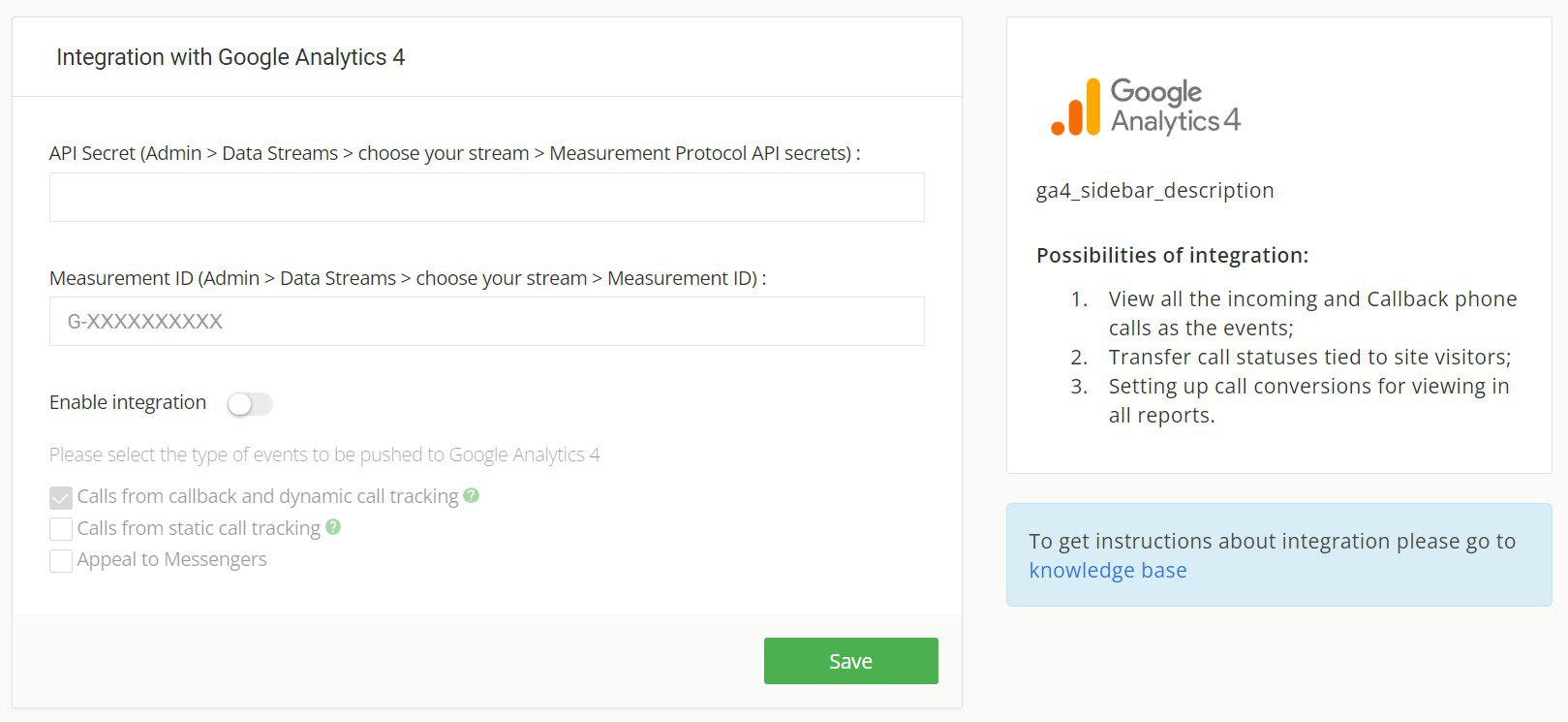 Once the integration is enabled, calls from dynamic call tracking and callback forms will be automatically transferred to Google Analytics 4. All calls will be recorded in the web analytics system as "Ringostat_calls". You just need to enable the settings so that such calls are conversions — as shown in one of the screens above.
And we advise you not to limit yourself to the "All Calls" goal, but to customize the goals for different types of calls. Otherwise, you won't see a clear picture of whether the ads are bringing leads rather than just traffic and conversions.
In Google Analytics 4, you can set up to track such goals related to phone calls:
unique calls — calls made from individual phone numbers;
targeted calls — these are calls that have lasted long enough;
answered calls — calls that have been answered by your employees;
calls via callback — that is, a feedback form placed on the website.
Each of these events can be customized using instructions from our knowledge base, which are added in the links above. For now, let's describe the general principle of customization.
A few words about how goal customization in Google Analytics 4 differs from previous customizations. It was done by adding a category and action in the goals in the old version, but now it is done through audience triggers. Then an event appears, and a conversion is created based on it.
NOTE: do you use not only dynamic but also static call tracking? For example, if you do this for offline advertising or ads on aggregator portals. You can transmit such calls to Google Analytics 4 as well. To do this, enable the corresponding setting in the integration connection interface in your Ringostat personal cabinet:
Call events from offline ads are named "Ringostat_static_calls". And will be displayed in the events report as well as in the conversions report, but always with a direct/none source.
In which reports you can view call data, and what data is available
Setting up goals will allow most Google Analytics 4 reports to visually evaluate the conversion of traffic into calls. We will show just a few examples of such reports below. But don't rush to look at the statistics after setting up events. Keep in mind that it can take up to 24 hours from the time an event occurred to the time it is sent to Google Analytics 4 reports.
You can see call data in the main report by traffic source, similar to the old version of Google Analytics. This is the main report that will help you evaluate the effectiveness of your promotion channels.
You can also view Google Ads campaigns in the "Overview" section of the same traffic source report. This allows you to evaluate individual ad campaigns.
You need to select the appropriate conversion to do this.
You can also click on the conversion itself in the admin section:
You can go straight to the interactions report after that:
The following metrics are available about the call for each event:
number — how many times the event was recorded;
users — number of users for whom the event was recorded.
You can go to the statistics for the corresponding indicator by clicking on an event.
Don't want to set everything up manually? Just connect Ringostat, and we'll set up the integration and all call goals in Google Analytics 4 for you. If you are already our user, just write to our tech support.