Launching a new company or product is a challenge not only to finances but also to the creativity of the entrepreneur. Often, everything stops at the stage of choosing a name. And often, even hours-long brainstorming sessions don't yield successful ideas. Ringostat will tell you how to easily solve this problem and choose a domain for your future website.
Reading Time is 4 Minutes
Finding a brand name and a website's domain is not easy if you do everything on your own. At first, the team thinks for a long time about good names. And when they find them, it may turn out that the domain with that name is already taken. So they have to go through the whole process again. Here is a life hack on how to solve this problem in a few steps.
Ask ChatGPT to advise on brand names
Think about what your future product or industry should be associated with. Or what exactly does the customer want to get when buying your product or ordering a service. Here are some simple examples:
real estate — home, coziness, family, house, warmth, comfort;
goods for children — baby, fun, carefree, miracles;
insurance services — protection, safety, reliability, responsibility;
gift shop — surprise, souvenir, romance, gratitude, celebration;
goods for the garden and the vegetable garden — greenery, harvest, nature, flowers, plants;
educational courses — development, self-improvement, knowledge, new opportunities.
By the way, ChatGPT can also advise you on associations.
After that, make a prompt, i.e. a request:
I need to choose a name for a new brand and website [your topic]. Please suggest me 50 short words (maximum 6 letters) in English that are associated with …
Save all the words from this list that you like.
Get a list of domains
Now let's move on to choosing a domain. To do this, go to the Namecheap portal and click "Beast Mode":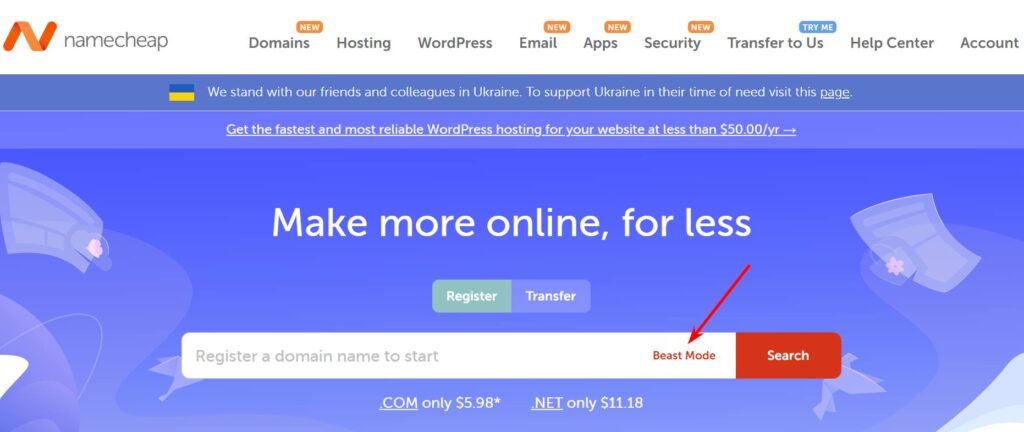 You'll be taken to a page where you can enter all the words you copied from ChatGPT into the search box. You can also choose additional settings, for example:
specify the maximum price for a domain you are willing to pay;
whether to show busy domains;
transform the domain name in several ways;
choose the theme of the site that will be displayed in the TLD — top-level domain.
IMPORTANT: Namecheap is not suitable for some local domains. Therefore, we recommend this tool for companies that are focused on the international market.
In the example below, we have revealed the options for the "Popular" section. But Namecheap offers TLDs for a large number of topics. For example, finance, video and audio, sports and hobbies, beauty, etc. You can also just choose a .com or net TLD, which will suit most areas.
Let's say we are satisfied with the maximum price of $3000 and are not interested in busy and premium domains. So we checked/unchecked the appropriate boxes.
Among the TLDs, we have chosen several options that are close to our topic. As a result, we got the following options for available domains with a price per year:
Check if the domain is "clean"
It is better to make sure that your future website domain has no "history" and that it has not hosted anything prohibited. That's why we recommend checking the chosen option through the web archive at the end. Follow the link and enter the domain you want into the search box. Ideally, you should get the following response:
That's it! All you have to do is choose the most suitable domain and start working.
Just remember that in the future you will have to regularly check the effectiveness of your website. And this is where Ringostat will help you. It will help you find out if there are any calls from your website.