This case study illustrates how Ringostat helped the huge network of auto shops increase the service quality and determine the effectiveness of advertising.
Company: ATL
Region: Ukraine (42 brick-and-mortar stores in different cities and online store)
Industry: Auto parts, auto repair, and auto service
Particularity: All services under the same roof. The company provides the whole range of auto services such as auto diagnostic, repair, and auto parts selling.
Goals: To decrease the number of missed calls, work with closed deals, increase the effectiveness of cross sales, and track the customer service quality in stores.
Period of Ringostat use: 1 year
Results: Improved service quality, optimized workflow, the number of missed calls is reduced.
Background
ATL is Ukrainian network of auto shops and auto repair services. They have been on the market for more than 20 years. The ATL network consists of 42 brick-and-mortar stores and one online store. The online store provides customers with the greatest variety of goods for the cars and trucks.
The concept of ATL company is unusual for the automotive topic because it provides all auto services in one place. They combine service stations and auto stores. This scheme is convenient for clients because ATL allows them to diagnose the problem and buy auto parts without extra efforts.
Due to ATL concept, the company receives lots of phone calls. Therefore, they have own PBX and call operators who answer calls, consult clients and process inquiries.
ATL constantly runs online and offline advertising campaigns. Their website also brings lots of sales to the company. The experts from the Netpeak agency are responsible for its promotion. The agency sets up PPC campaigns on Google Adwords and launches Facebook advertising for the company. For the 1,5 years of this project, Netpeak managed to increase CTR, decrease customer acquisition costs, and boost advertising reach on social media.
We discussed the goals and tasks assigned by the company before Ringostat activation with Inna Buzina, Head of Marketing at ATL. She has been working at ATL for 20 years.
Previously the company hadn't tracked and analyzed phone calls at all. Despite the managers and marketers understood the necessity of call analytics, they couldn't afford PBX extension.
"Before Ringostat activation, we didn't track phone calls. We always wanted to do it but the PBX extension seemed expensive to us. However, I knew about Ringostat and understood that we needed it. The last straw was the recommendation of Netpeak agency. Finally, we made the decision to activate Ringostat."
Assigned tasks
The priority was to determine the number of missed calls and reduce them. ATL call center consisted of two phones and two managers. The company didn't outsource for the following reasons.
Firstly, it's much more difficult to track remote call operators. Secondly, the car parts selling is a complicated and specific process. Therefore, it's better when call operators offer correct consulting, find a necessary product, know everything about product pricing, availability, terms of delivery etc.
Another important task was to track the performance of call operators and improve the customer service quality.
Besides, ATL wanted to determine call sources and effectiveness of both offline and online advertising channels.
Call tracking implementation
According to the requirements of ATL, Customer Support managers activated and configured Ringostat.
Now, Alexander Ulyanytskiy, Customer Success Team Lead at Ringostat helps ATL company configure own recordings for the voice mail. For example, the client wanted to replace usual set-up signal by the popular song about a driver.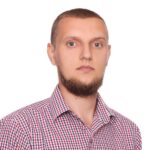 "Guys made cool recordings on the auto topic. The company is engaged in auto repair and auto service. So when the clients make phone calls, they hear the melody about a driver. In my opinion, it's very cool."
Also, the company configured two voicemails for non-business hours. The first one informs customers that call center doesn't work but there is the opportunity to visit a brick-and-mortar store. The second one informs callers about off hours and tells that all the phone calls will be processed by call operators.
Thanks to the successful marketing activities, the number of site visitors grew. You can see it in the screenshot below. That's why it's important to be ready for traffic growth and get the accurate data on phone calls.
Therefore, ATL is adding more numbers for the dynamic insertion.
Results
In terms of missed calls
ATL saw results of work with Ringostat right after the service activation. Their priority was tracking the number of missed calls and this information is available right after the activation.
Now, ATL gets the notifications about missed calls and calls them back. The missed phone calls accounted for 5%.

Besides, based on call distribution charts on weekdays and time of the day company decided to change the working schedule. It turned out that sometimes clients called outside of business hours (after 6 PM and on Saturdays).
Now, the workday ends at 7 PM and call center works on Saturday too. Also, the company hired the third call operator because other two didn't have time to answer and process all the incoming calls.
In terms of customer service quality
The work of call center has always been under scrutiny. After Ringostat activation Inna started listening to some phone calls. She sent conversations to the top managers. Eventually, they made a decision to hold training to make operators more client-oriented.

Given a large number of ATL brick-and-mortar stores, it's important to coordinate their work and track the customer service quality. It's crucial to avoid the situations when the call operators provide clients with a wrong information about pricing or product availability. Call listening allows to avoid losses of leads and deals because of the bad service.

By listening to phone calls, marketers analyze lost deals and understand why a client didn't make a purchase.
In terms of analyzing advertising performance
1. ATL decided to boost the paid traffic on the website. That's why they also activated dynamic tracking of clicks from online ads. They needed it for the analysis of user behavior and advertising performance. The company made a decision to use a wide range of channels from PPC ads to social media advertising. The report below displays that the dynamics of traffic growth was positive.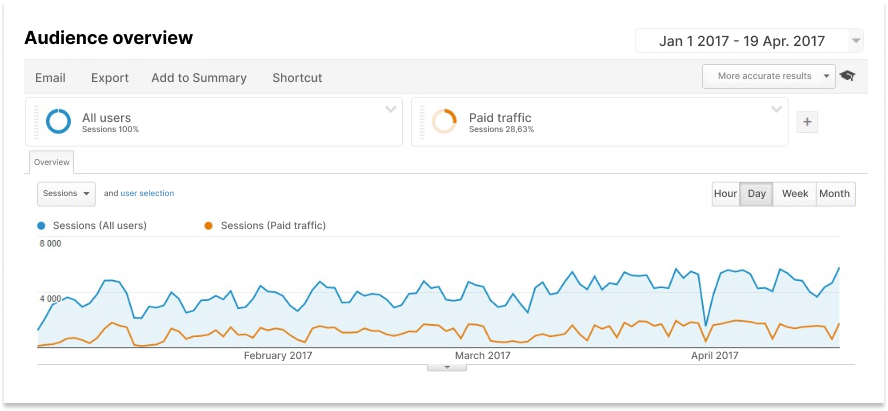 2. The data on conversions from the paid advertising has been collected for a few months. After the analysis, the managers clarified that price aggregators were the most effective channels. They generated warm leads who actively made calls and orders. Call tracking showed the connection of phone calls to paid advertising channels. When it comes to the auto industry, clients often pick up the phone to clarify some details. Particularly, Hotline price aggregator brought lots of target calls.

Google Analytics report also confirms that the paid traffic from price aggregators Hotline and Navadi generated most sales.

3. The knowledge about channels that bring target leads isn't enough, also business needs to constantly track which advertising generates sales. Thanks to Ringostat, ATL determines which PPC campaigns and keywords bring site visits but don't convert to sales and why.
With call tracking, it's easy to dive deeper into the evaluation of advertising performance. The common mistake that results in losses is to get rid of inefficient advertising channels. The screenshot below shows keywords that generated visits but not conversions.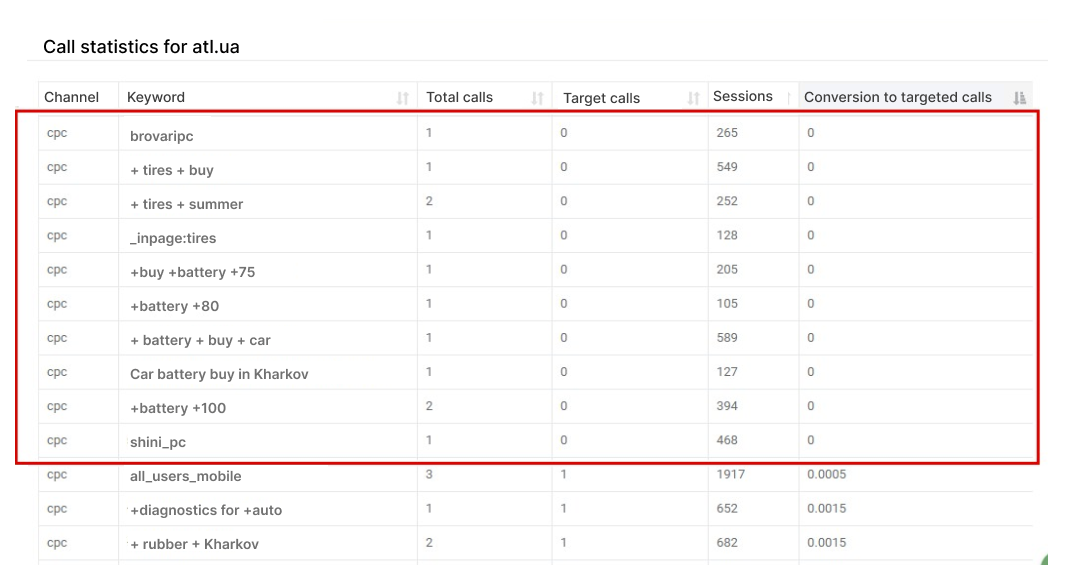 However, Ringostat showed these site visitors made targeted calls to ATL. Therefore, don't hurry up to disable inefficient advertising. Probably, it generates offline conversions such as calls that you can't view on Google Analytics.
For example, the screenshot below shows keywords for which there were visits, but no conversions:

But in fact, the visitors who clicked on them called ATL – and their calls were targeted:

4. Sometimes ATL company experiments with various offline and online advertising channels. They also used billboards, fliers, email newsletters and SMS campaigns. To make correct conclusions about their efficiency, ATL uses combined call tracking.
With combined call tracking, ATL identified that email newsletters were the most effective advertising channel while the fliers weren't effective.
"The reason is the advertising billboards are situated near our stores and serve as signs to them. Probably, that's why people prefer to visit stores than make phone calls."
Sum Up
Now, ATL has been using Ringostat for almost two years. The first task to determine and reduce the number of missed phone calls was solved right after Ringostat activation.
Moreover, the company reached following results:
W

orkflow optimization. Based on Ringostat reports and call listening, the company changed a working schedule and hired one more call agent.

Processing of missed calls. The phone calls don't remain unanswered.

Improved customer service quality. After top managers listened to phone conversations of clients with call agents, they made the decision to hold training courses for employees. It significantly improved the performance of call operators.

Making lost deals work. Now, call operators understand the reasons for losing some deals and enhance business processes.