Let's start with the fact that this opinion is shared by lots of people and companies. According to g2.com, Ringostat is in 10 TOP call tracking systems all over the world. Our platform is used by more than 1000 companies. What makes them choose exactly us but not other services? Read below to discover things most of which you won't find anywhere except Ringostat.
1. Ringostat is an official technology partner of Google Analytics
We are a single platform in Eastern Europe who received this status among similar services. According to Google, Partner's title proves that the company provides a perfect service for its clients.
What are the benefits for our clients
Unlike all other services, Ringostat collects statistics on sessions due to the data streaming from Google Analytics

. It means that the data is the closest possible to the top web analytics system, trusted by everyone. Other services may have a 20% error in comparison with Google Analytics.

We transfer 10+ types of events to Google Analytics.

This allows

configuring goals

more accurate and better understand which ad campaigns really work. Example of goals configuration for all missed calls: 

The platform can transfer page views to Google Analytics.

This will be useful for setting advanced composite goals, for example, a goal for a call + view of a price list. Thus, you will understand which ads drive customers that are interested in prices and who call as well.
And the most important thing — Ringostat defines the source of the call accurately of +95%.
2. Stable work
Breakdowns are a particularly critical issue when we are talking about connection. A customer who couldn't reach your company becomes a competitor's customer. So the money spent on attraction is wasted.
Ringostat has envisaged that provider's breakdowns won't affect your work. We are the only service that is not linked to a specific operator during the inbound and outbound calls. For each region, we have two or three of them. Ringostat also has backup servers and directions. You will not even notice anything in the case of a breakdown that might have a provider.
3. Truly quick and professional support
We are in a good way mad about the speed of the reaction to our clients. And we constantly receive positive feedback for that.
Several facts:
speed reaction of tech support takes in general from two to four minutes;

support helps to implement Ringostat and most of the service settings — you only need to make a technical requirement or text the chat;

clients highly evaluate our tech support:
4. Customer Success Manager — "your" employee in Ringostat
Despite the support, Ringostat also has the Customer Success department. A personal Customer Success Manager is allocated for a project. Moreover, this manager helps not only in technical questions.
Advantages of the Customer Success department
Managers are ready to solve any difficulties and explain complicated situations directly to top managers.

They analyze your project and give recommendations on how to use Ringostat for the full 100%. Sometimes they can even give advice on the sales department optimization and/or the company in general.

Customer Success Managers notice in advance situations that can lead to difficulties and warn you about them due to the automatic program that has a system of triggers. So managers react to them. For example, Ringostat analytics code can't "see" the traffic of your website. An employee will receive a notification to check everything and contact you.
Read more in the article "What is Customer Success: advantages for client and company".
5. Multichannel phone numbers from providers at a price of one channel
Several people at once can call the multichannel phone number. It will never be "busy" if you don't have enough sales reps. With Ringostat you can increase the number of sales reps in a corporate network without significant spendings. Meanwhile, the cost of such a number from a provider is equal to the cost of a basic one channel number.
6. Wide range of default reports
There are few services that provide so large opportunities.
Analytics Reports Builder

includes 10 basic samples for a quick evaluation of the effectiveness of ads on a single screen.

Reports builder

Call log

that includes

seven basic reports

for marketers and sales department.

Report on missed and not processed calls

. A useful feature to quickly notice and process missed calls.

Call card report

with the information on a specific customer: a history of sessions, viewed pages, transfers from ads.

Report on call distribution: daily and hourly. It will show when you need more sales reps and when it is better to increase rates and receive more leads from ads.
7. Flexible settings of custom reports
Do not limit yourself with default reports, even though there are a lot of them. Set any selections by 30+ parameters available in Ringostat. For example, a report on calls from a specific campaign or requests where a customer was waiting on hold long enough, etc.
8. Integrations with CRM in one click
Connection with CRM two times increases the profit from telephony and call tracking. Ringostat has integrations with the most popular systems: Salesforce, Hubspot, and other ones.
Any integration is ready for your business processes. If they change, simply change settings in the interface. It will take you five minutes only. Here are just a few examples:
set conditions and CRM funnels to create deals;

configure which entities in CRM and under what conditions to create, for example, whether to create a deal or a task when there are outbound calls;

indicate whether to forward a call to the responsible person in CRM;

link any parameter from your site to the user — thus, you will transfer it to CRM during a call, for example, the ID of the product of the page from which you were called.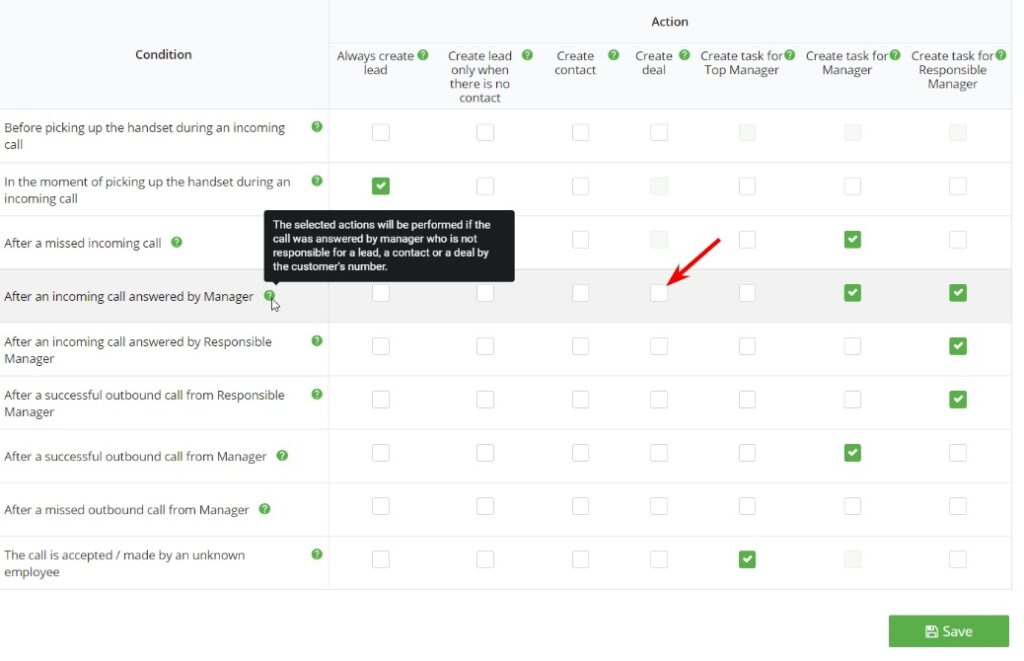 How CRM integrations work, read the example "Profitable cooperation with the world-famous CRM — Ringostat integration with HubSpot and Salesforce".
9. Integration with Facebook Pixel
Facebook Pixel is an analytic tool that allows measuring the effectiveness of ads and discovering the behavior of users on your website.
Ringostat drives data on calls to Facebook Pixel as a Contact event. The integration allows you to target the most interested users, similar to those who usually call you. Based on this data, Facebook optimizes ads so that it brings more requests and sales.
10. Ringostat Smart Phone — "intelligent" in-browser phone in Google Chrome
Call from any browser page or cloud CRM by simply clicking on the number.

Go to a contact or a deal in the CRM in one click, right during a conversation, and call the customer right by name — if his contact is already entered in the CRM system.

You can process calls comfortably for yourself and the customer. Put on hold, turn off the microphone if you need to clarify something with a colleague next to you: the customer at this moment will listen to pleasant music. Forward a call to another employee immediately or only when your colleague is ready to talk.
Ringostat Smart Phone configures in a minute. Everything is intuitive and there is no need to teach sales reps.
Read more in the article "Ringostat Virtual PBX 2.0. Both the sales reps assistant and phone in your browser".
11. Ringostat Insider — super assistant of sales reps
An extension that allows you to literally "read" the thoughts of customers. At the moment of an incoming call, the workspace opens, and information about the caller displays there.
What else you can do with Ringostat Insider:
call customers who reached you before and

who are now on the website

;

see what interests the user on your website during the call;

build a conversation based on his preferences.
All these things will help you to increase the conversion to the deal closure, shorten the sales cycle, and increase the average check size.
12. Ringostat Messenger
People are already used to communicate in messengers. So it is time for companies to communicate with their customers there. For now, this feature is available for Viber and Telegram. How Ringostat Messenger works:
a customer visits your website, sees the icons of familiar messengers and writes to one of them;

a sales rep receives a message in Ringostat Smart Phone;

the information from which ad the customer came from is also driven there.
This will help increase the conversion of the website. After all, lots of people don't like to text companies in chats, thinking that they will respond there way too long. And you also do not risk that the sales rep, upon separation, will take away all contacts with his personal Telegram account.
13. Callback form that fits your website
Customize callback specifically for your website. You can set:
form;

widget radius;

the conditions under which a popup will appear;

the color scheme and the type of widget —15 options are available.

14. End-to-end analytics with custom settings
End-to-end analytics allows you to see which ad is effective and brings profit. All such systems give maximum weight to the last indirect source, sometimes you can configure other primitive models. But it is important to evaluate the contribution of each ad channel as correctly as possible. And for this, Ringostat has special settings.
Use our creation — Event-Driven attribution model.

Choose how much weight to assign to each stage of your sales funnel. So you get data specifically for your business.

Apply time decay.

The more time has passed since the conversion was made, the less value it has. Ringostat automatically takes this into account, assigning weight to each source. The period of time decay you set on your own.

Flexibly customize attribution models

if you need standard ones. Set the method of the weight distribution between the channels that brought the lead. For example, by the first or last click.

Import costs from Google Ads, Facebook, and Instagram

. You can easily manually upload costs from other ad accounts or systems.
Read "6 advantages of Ringostat end-to-end analytics".
15. Calls segmentation by categories
How to understand whether an ad is effective and whether the costs are justified? The easiest way is to segment calls. For example, to separate case appeals from quality calls. Or understand what product gets most requests. Set categories for different types of requests, assign their value, and leave comments.
Opportunities
Automatic definition of target calls by call duration and sales cycle.

Semi-automatic call tagging in the voice menu for the sales rep. A recording is played to the employee and suggests choosing the needed category.

Manual tagging in Ringostat Call Log.
16. Automatic process of requests from the website
Often, to order a product or service, the customer fills out a form on the website. Usually, it includes a phone number because it is the easiest and fastest way to reach out. Once the customer submits this form, Ringostat will call your sales rep and connect him with the customer.
What are the advantages:
instant reaction to the customer's request — he won't even have time to go to the competitor's website;

the wow effect of the buyer from the fact that you respond immediately;

increase the website's conversion.
17. Deals creation in the CRM after filling out the form on the website
There is no more need to integrate the website with CRM as Ringostat will do this for you. As soon as the user enters his data to the form, information about this will be transferred to the CRM. The data on the source of the transfer to your website will be driven there. The setup of this feature takes 10 minutes without a programmer.
18. Flexible settings of inbound and outbound connection scenarios
Show exactly the phone that your customers or partners expect to see and no matter in which city or region they are. This will increase their loyalty to you.
Set up a single number that will be displayed during an outbound call from you to a specific direction — a country or a country + provider. This is convenient if sales reps call clients from different phones or from different offices.

Set a single number that will be displayed when you call from a specific SIP account. It's useful if you need a separate number for a specific employee or department.

Prohibit outbound calls from a specific SIP account.
19. Advanced features of numbers substitution for professionals
Solve complex tasks, improve call tracking effectiveness, and increase data accuracy. For example:
set up "smart" call forwarding based on user behavior on the website;

create geo-channels to select a region, thus, a user from this region will see the need substituted number;

specify a list of domains that Ringostat will not consider referral, and much more.
20. Self-service: opportunity to manage tasks on your own
95% of the settings you can control on your own in the Ringostat interface.
Unlike most competitors, Ringostat allows you to change your project yourself. So that you can configure everything if necessary, we constantly update the knowledge base.
For example, there is a simple way to configure numbers substitution in the interface, where you just need to specify a phone number. Ringostat code itself will find where it is located and will replace it.
Want to beat your competitors? It's time to use solutions that are not available to them. Text us in the chat and connect Ringostat.