We are ready to unveil our pain point. Some clients use call tracking simply to listen to calls. It's like to hammer nails with a microscope. In plain English, it's very strange and irrational. Every time a marketer underestimates other opportunities of call tracking, a fairy of web analytics somewhere falls down dead. The main purposes of call tracking service are to boost the profit and reduce advertising costs. So why not leverage all opportunities to achieve a success?
By researching users of our service, we found out that many customers still use call tracking just to track the performance of sales department.
They think that call tracking is created just for:
listening to how managers are processing calls;

testing and correcting sales scripts;

debriefing and working on mistakes.
Of course, all these functions are helpful and important. However, that's not the main mission of call tracking. First of all, call tracking is an automatic way to determine advertising source generating a call. It serves for understanding the effectiveness of ad campaigns, allocation of marketing budget and boosting sales. No other technology can connect data on calls with advertising. That makes call tracking unique.
One of our clients said, "For marketers, it's crucial — not just listen to sales calls but track where most clients are coming from".
Actually, you can listen to call recording in simple virtual PBX. In its interface you see:
the phone number of the client;

which manager answered a call;

date and time of the call;

time of waiting on line;

duration of the conversation.
Let's compare the capabilities of PBX with call tracking.
This tool collects the same data, but also it provides with detailed information on advertising source generating calls. Here you can see the example of call log in Ringostat.

By the way, it's just a report by default. Additionally, you can construct necessary reports using preferred parameters and get more helpful information.
Thus, you'll be able to learn about:
whether the advertising campaign brings calls from prospects;

a source, a channel, a campaign and a keyword generating calls;

inefficient advertising.
This information is essential for ad budget distribution and creating successful advertising. Moreover, you can disable ad campaigns which don't bring profit.
We'd like to show you a few examples of using call tracking.
Case #1. No phone calls
This situation usually disappoints marketers and digital agencies which set up advertising for business. The money is wasted, but representatives of the company still don't get any calls.
It seems like the marketers' fault. However, if you use call tracking, things can become clear.
First, you need to open the report on missed calls not called back. It collects the statistics on unprocessed calls.
Here's how to find this report.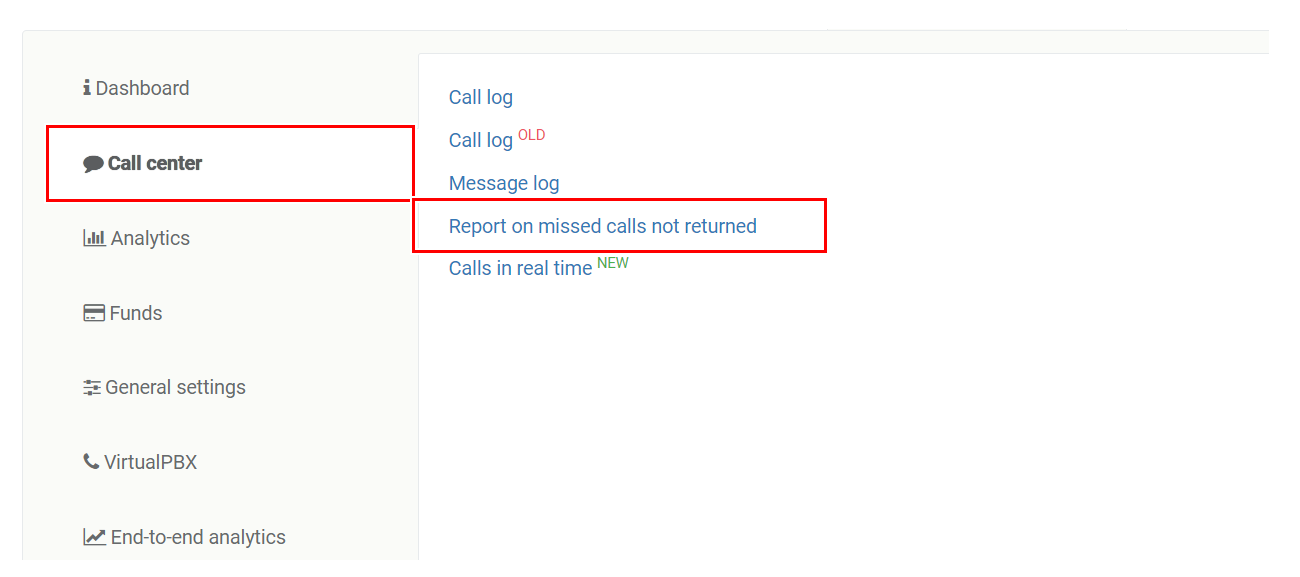 Thus, you can check if the advertising brought you calls. Also, you may upload the report in CSV or XLS format and filter data by the certain campaign.
Moreover, Ringostat has one more report on missed calls. It collects information about all the missed requests, even those which were called back.
Learn more about our useful reports by reading this post.
Case #2. What to do if your advertising budget is wasted?
Call analytics helps find the response to this troubling question. The reasons for getting budget nowhere can differ.
Action Steps:
Analyze keywords and ad campaigns generating calls. Probably, they are misleading. For example, your company sells mobile phones and promises clients to get a special bonus: cell phone cover for 1 dollar. However, the ad campaign is set up wrong, because people see the offer "buy iPhone for 1 dollar". Just imagine how many clicks it can generate 😉 Thus, there's no wonder if the advertising budget is quickly wasted without bringing you any profit.

Сheck out how many calls you get from the most expensive keywords and how often these calls lead to sales. Perhaps, it would be better to replace these keywords with cheaper ones. For instance, one of our clients changed the expensive general requests in their ad campaign to the cheaper low-frequency ones. The company found that clients looking for specific goods or items were more likely to make a purchase than those who had general searches.

Pay attention to keyword match types which are used in your ad campaigns. Google Adwords

Help

explains the different available match types. Sometimes it's better to use exact match in order to hone in on specific groups of customers.
Case #3. You get many spam phone calls
When wiretapping you can identify non-targeted calls. They can be very different — from mistaken calls to cold calls from other companies who want to sell you something. Actually, these issues may happen with every business. But if you get so many spam phone calls instead of targeted ones, consider сlaryfying the problem. Listen attentively to mistaken calls. Especially if the callers are interested in the product you don't sell. Learn about which campaigns they come from and which keywords are used in this advertising. Probably, the campaign may promote incorrect items or offer is ambiguous.
Sometimes it happens that calls are coming from regions where a company doesn't work. In this case, you need to check out geo-targeting settings. Maybe your advertising is shown to the whole country instead of the certain region.
"I can't listen to all the calls. It takes a lot of time", we know you think.
Of course, it's time-consuming, but we don't want you to do it. Instead of this, you simply need to understand which calls you have to focus on. Our reports by default are created to simplify this mission.
At first, we recommend you to look at the report on proper calls. Proper calls are the calls which length is longer than others. This duration is different for every business. For example, length of proper call for women's clothing online shopping store is approximately 3 minutes. When it comes to a construction company, the minimum duration is 15 minutes.
You can manually set up the length of call in project settings. Thus, you have the opportunity to filter out the most important calls for the wiretap. If you want to focus on calls from CPC, you can use our special report on it.
Conclusion
By leveraging call tracking opportunities, your business is able:
To analyze how advertising is converting to calls on Google Analytics. Call tracking transfers this data automatically. By using static call tracking, you may see the calls not only from online advertising but from papers, billboards, and flyers, too.

Distribute ad budget properly and invest in effective advertising.

Experiment with different marketing channels and campaigns and observe their impact on calls.

Identify customer needs more precisely by analyzing keywords and call recordings.

Learn more about the profitability of advertising in terms of phone calls.
These opportunities are just a tip of call analytics iceberg. Companies that make full use of call tracking increase their effectiveness and sales.
Read real success stories of our clients and become one of these lucky ones 😉