Our reply to the quarantine: special offer and Ringostat update to support the business
Ringostat does everything possible to support our clients and partners at this challenging time. But we also take care of a business that hasn't worked with us yet. That's why we launched our new anti-crisis pricing plan that includes must-have products needed for sales. Read more about it and other updates that we released, primarily to support the business.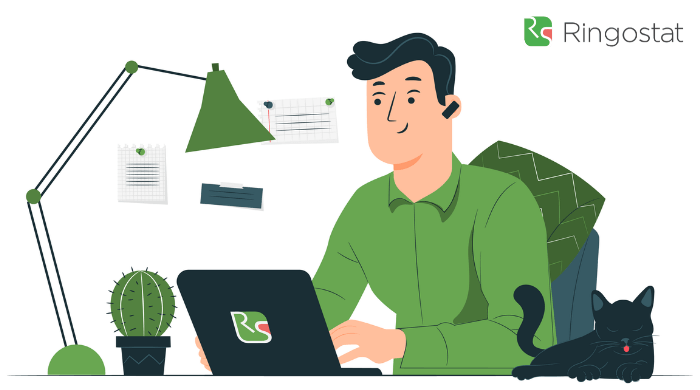 We at Ringostat understand that most of the companies now are in a difficult period. Our mission is to support the business and transform the current crisis to a boost to the development. It's the right time to change positions and give yourself the edge over your competitors.
The demand for several products is constantly growing. And Ringostat will give you all the tools to make the most of this moment. Especially during the quarantine, we are doing so in the most loyal conditions possible. Read how Ringostat will help your business.
1. Special pricing plan — "Anti-crisis PBX"
By our own example, we know what is required to process calls during the quarantine. So we offer especially for you the pricing plan with a full set of tools for business telephony. Due to these tools, we on our own organized remote work for 60+ people just in two days. You can process calls conveniently, no matter where you are.
While connecting a pricing plan, you receive a set of reports on the effectiveness of employees in the Google Data Studio.
What includes the pricing plan
Virtual PBX 2.0 
The pricing plan includes five workplaces in Virtual PBX 2.0.
It allows you to provide a company with a connection in a day. The pricing plan consists of:
the call log;

recordings of conversations;

flexible management of inbound and outbound connection;

voice mail;

connection of any numbers in the SIP format;

detailed reports for the needs of a specific business;

reports on missed calls and their distribution by day of the week and time of day.
Example of the call log
Ringostat Smart Phone
The pricing plan includes five workplaces in Ringostat Smart Phone.
An extension for Google Chrome that is more convenient to use than a smartphone:
allows you to receive, make and transfer a call in several ways;

there is a link to go to the deal in CRM in one click;

displays the name of the customer at the moment of the inbound call, if the user is already presented in CRM;

allows you to make a call by clicking on a number from any web page, including cloud-based CRM;

shows push notification when there is an inbound call.
Discover more information in the article "5 tasks you can solve using Ringostat Smart Phone".
Ringostat Messenger — update of the platform especially for effective sales during a crisis
The pricing plan includes five workplaces in Ringostat Messenger. 
People not only calling but also text. Therefore, we released an update that will allow processing requests received in the messenger. It's a multi-widget that allows the customer to text you immediately from the website in a convenient messenger. And you will answer him directly from the Ringostat Smart Phone interface, without switching between different communication channels. You will also see pages that a user visited and what he did on the website before writing a message to you.
As the customer texts a sales rep, a new dialogue will be added to the queue
What you receive with Ringostat Messenger:
integration with Telegram and Viber;

the opportunity to receive and send messages to customers;

widget for a website;

the possibility of simultaneous work of several sales reps.
Callback
Callback widget for the website that allows you to increase the conversion up to 30%. Opportunities:
a detailed report on calls via callback including the advertising source, channel, campaign and keyword that led to the request;

settings of the display time, for example, only business hours of the company;

15 design options;

you can set the placement on the website and the shape of the widget.
All integrations with CRM, available at Ringostat
Integration settings are as flexible as possible. Moreover, you can change them any time just in two clicks.
Set under what conditions, in which funnels of CRM to create deals.

Configure which entities in CRM and under what conditions to create, for example, whether to create a deal or task at the moment of outbound calls.

Indicate whether to redirect the call to the responsible person in CRM.

Send any parameter to CRM during a call. For example, the product ID of the page you received a call from.
A matrix where you can configure the integration logic
Anti-crisis campaign
Starting from April 1 until April 30, if you prolong the project at Ringostat for six months or a year, you get a 25% or 35% discount, respectively. This will considerably save and fix its value in national currency for the whole paid period. It's especially important in an unstable economic situation.
The advantages
For a long period, you provide your business with products that will help you quickly adapt to the situation, beat competitors, and reallocate market shares in your favor.

With a significant discount, you get a mega functional tool for working with calls.

You do not need to coordinate payments each month. Thus, you reduce the workload of the bookkeeping department and save time that is more important to spend on completely different tasks.
To receive a discount, go to your Ringostat account and form an invoice in the Funds section — "Add funds". Or you can also ask for it in our chat.
Remote work and, as always, quick support
Today, as always, we care both about the safety of our employees and the quality of service. Therefore, with the introduction of quarantine, we took several measures.
Starting from March 16, all Ringostat employees work remotely — in a standard way

. You can still contact sales reps, Customer Success Managers, and tech support with any questions you may have.

We work for you as effectively as usual.

Additional measures were introduced to control employees and synchronize the team during the quarantine. You will not even notice that we work outside the office.

Technical support, as always, is ready to answer you in less than four minutes.

Speed indicators have not changed — we are doing everything possible to react even faster.
An example of a report on the speed of the reaction and the speed of closing the dialog, in other words, solving the client's issue
To sum up: Ringostat's actions to support the business during the quarantine
Launch of the pricing plan "Anti-crisis PBX."

It includes all the tools that are required to build an effective sales department, even when you work from home. You get four tools and integration with all CRM's at a special price.

Anti-crisis campaign.

Starting from April 1 until April 30, if you prolong the project at Ringostat for six months or a year, you get a 25% or 35% discount, respectively. So you get a fixed price in local currency in advance. This is especially important in times of global change.

Bonus to control employee's effectiveness.

This is especially crucial when you start to work remotely. To do so, we are preparing a set of special reports in Google Data Studio, and very soon it will be available to all our customers. 

Help adapt to change.

Now it is essential to learn how to work with customers and communicate with them wherever it is convenient for them, including in instant messengers. Our new product, Ringostat Messenger, will perfectly cope with this task. You can use it absolutely for free if you already have a Ringostat Smart Phone installed.