We have told you already that Ringostat helps to optimize the budget. But that's not all. You can literally earn real money with our platform. And you don't even have to work with Ringostat to do so. Everybody will find profitable conditions. A blogger, a digital agency, and a sales rep — everyone can earn with Ringostat. Read how to get profit from cooperation with us.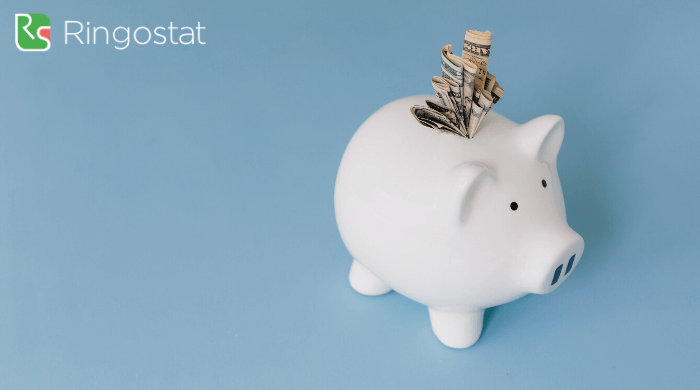 Way #1. Referral program
What's the point
An opportunity to make earnings by simply recommending a great tool to solve business tasks. And there's nothing else you need to do
A partner registers in the referral program and receives a unique link to Ringostat, so he shares it with the audience.

Each time someone goes via the link and connects our service, a referral partner receives money.

A partner receives access to the

PartnerStack

account with a useful dashboard. He can see statistics on all payments, registrations, and the sum of a gained bonus.

Ringostat will offer learning materials and promo of features if a partner would like to receive them.

You can easily withdraw earned money by sending a request.
The process of connecting and working with a referral program is described in detail on the website.
How much can you earn:
15%

of the amount of all payments of each referral during the year;

5%

more is additionally received by the partner who brought the first payments of the Ringostat products for more than $ 1000 per month.
5% bonus is charged to the partner once and it holds indefinitely, regardless of how much his referrals will pay in the future. As a result, in the amount, you can get 20% of payments during the year.
In the article, we give some examples that have approximate sums there. Everything depends on which Ringostat products you connect. 
Example
John registered in PartnerStack as a referral partner of Ringostat and received his unique link.

He shared it with the community of digital marketers as he regularly writes posts there. And he mentioned that users can get a 10% discount if they register via his link.

Nina became interested in the recommendation, followed the link, and connected Ringostat.

After testing the service for 14 days for free, she instantly made a payment for a year.

As the total amount exceeded $ 1000 and was $ 1805, John received not only 15% of the payment, but also another 5% additionally. So in total, he got 361 $.

If Nina connects other Ringostat products for another project this year, John will receive 20% of another sum that is larger.
John did almost nothing to earn this money. He registered in two minutes, and it took him five minutes to make a post for the community.
The referral program is suitable for
Ringostat clients who can recommend our service.

Bloggers, specialists who develop their own brand and regularly write articles, make videos, write reviews, and recommendations.

Educational platforms, schools of contextual advertising, digital marketing, SEO.

Web analytics specialists that have outsourced projects.
Simply saying, anyone who understands the value of our service and can recommend Ringostat.
What do you need to consider
The referral program

does not apply

to those who are already connected to the Ringostat partnership program. For example, agencies, freelancers. We have no less profitable conditions for them, described below.

There are restrictions in order to avoid excesses. The rules are described in detail

in the partnership agreement

. If they are violated, we reserve the right to freeze and stop the payment of the reward.

The link cannot be spammed, and the mention of Ringostat should be relevant.
Way #2. Partnership program
What's the point
The partner registers in Ringostat and recommends our service to his clients.

He connects his clients' projects. For example, a PPC specialist can connect a company that works with him for promotion purposes.

He receives a percentage of the total payments of clients — the more clients pay, the greater is the reward.

He sees data on all client's projects in his personal account Ringostat. And he manages the gained funds — for example, they can be transferred to the balance of one or more projects.

He withdraws gained funds by sending a request.

He can participate in Ringostat events, training courses, information partnerships, writing cases.

Partner is supported by a dedicated customer success manager.
Connect more projects, motivate customers to pay for a long period — get more rewards.
How much you can earn
10, 15, 20, 25 and 30%, depending on the turnover;

the percentage is calculated from each payment of partner's projects during all the time when they are our clients;

the reward is accrued monthly and automatically.
Example
1. Jane is a PPC specialist who works as a freelancer. She knows that her clients usually have a lot of calls from ads.
2. Jane recommends Ringostat to her clients as she will be able to see how traffic is converted calls. And she will understand how to optimize campaigns so that they work better.
3. This month, Jane connected three projects to Ringostat:
two online stores that paid monthly;

and car dealership that paid for a year of service usage.
4. The total turnover in the agent's account was $ 1,950 per month. Jane can be considered a "Master", and she will receive 30% of this amount — $ 588.
The partnership program is suitable for
Agencies that connect Ringostat for their clients as our data are required for successful work.

PPC specialists and freelance digital marketers.
A partnership program participant cannot simultaneously be a referral program participant. And it's more profitable for him to be a partner. Why?
Having a constant flow of clients, a partnership program participant can earn more.

The partner has access to his projects, so they are linked with him. If you connect clients by the referral program, you will have to ask for access to their personal accounts every time.
Each of these programs has its advantages — simply choose the option that suits you better. Text us in the chat and we will help you calculate how much you can earn with Ringostat.