Top 6 tips on how to boost your sales using amoCRM and Ringostat
Damjan Gogovski, Partnerships manager at amoCRM, described how the integration of amoCRM + Ringostat helps small businesses improve their results and boost sales by combining CRM and calls. This is one of the most advanced integrations with opportunities for high-quality call analytics, including call tracking, automatic data transfer to the CRM, analyzing the call log, automatic contacts, and task creation, as well as many other features and functions.
Tip #1: Unite voice & text communication in a single interface
You can not only make calls via Ringostat directly from your amoCRM account but even chat with your customers through messaging apps, including Facebook Messenger. This is possible due to Ringostat Messenger, a part of the Ringostat Smart Phone — intelligent in-browser phone and assistant of a sales rep.
What tasks solves Ringostat Messenger
Work in one window and time-saving.

There is no need to have several messengers opened at once or monitor the corporate chat as

the conversation history with a customer is always near.
Increase of the website conversion.

A customer can request the usual and convenient communication channels that are usually answered by real people and not by bots. Moreover, a sales rep has access to detailed information about the buyer — this increases the chance to close the deal.
Understanding of ads that bring leads.

A business receives detailed statistics on campaigns that drive requests on the website and the ones that waste money.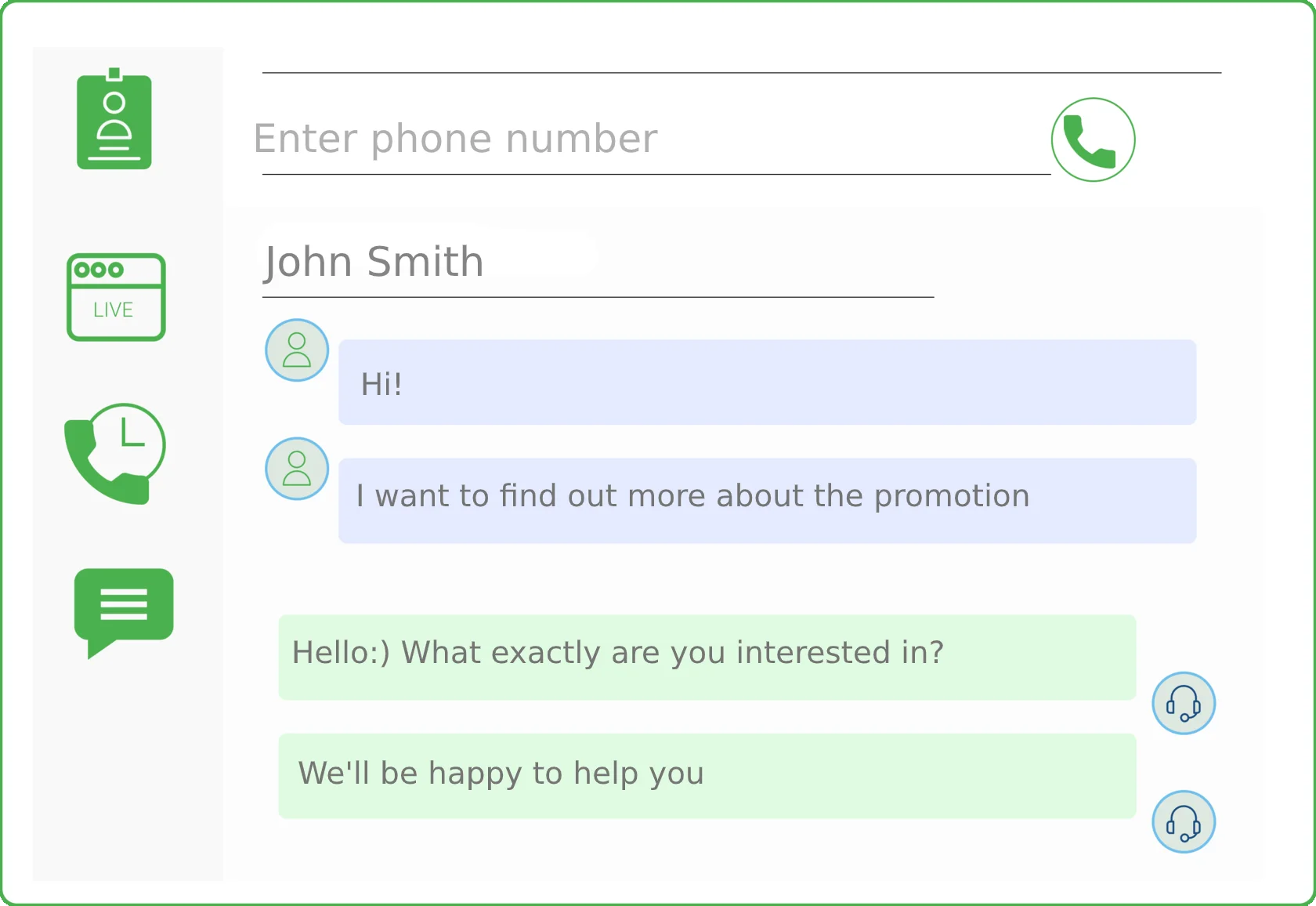 Example of communication with a customer using Ringostat Messenger. A sales rep sends messages from the Ringostat Smart Phone interface. Meanwhile, a user chats from one of the available messengers: Telegram, Messenger, Viber 
By uniting voice and text communication in a single interface, you will save time, and there will be no need to switch between apps to make a call or send a message. You will be able to select exactly which type of data you want to automatically save in the lead card after every call through Ringostat, so it is flexible and can be adapted to the needs of all kinds of businesses.
Tip #2: Record conversations & get info
Once you make or receive a call, the recording is automatically added to your customer's profile. What makes it even more convenient is the ability to add notes after the call in the lead card. All calls are saved and can be replayed or downloaded in the Lead Card. The integration makes your team's life easier as soon as a call comes in, the information is opened up in amoCRM. The screenshot below shows how calls are saved and can be replayed in the amoCRM lead card:
Pay attention that while creating a deal in amoCRM, Ringostat automatically sends information about the advertising source: channel, campaign, keyword, and a unique Google Analytics session identifier. It is a unique ID that Google assigns to the user in order to track all his actions on the site and associate with a certain user his subsequent transitions to the same site. 
Example of the information sent to the lead card in the amoCRM
You can work with this information to analyze the final sales by source. There are several options:
Use the standard amoCRM reporting toolkit to track the number of closed deals separated by advertising sources, channels, and campaigns.

Send information about a closed deal and its amount as a transaction to Google Analytics. This can be done either using the amoCRM API or using the ready-made amoCRM integration with Google Analytics.
This integration allows transferring revenue data from amoCRM to Ringostat end-to-end analytics. Based on this, the platform automatically determines the cost recovery of ads, automatically calculates ROI, and the cost of a targeted call. Check this article for more information about Ringostat end-to-end analytics.
Tip #3: Create new leads automatically
Companies often receive a call from a current or potential customer, but this event doesn't get tracked properly. A sales rep might write it down or simply forget about it. With the amoCRM integration, every call is logged in the lead card. When you receive a call from a completely new contact, a card is automatically created. This way, you will never forget or lose track of a potential customer.
The new lead card will contain all the history of communication with the lead. Phone calls, messenger chats, emails, and an internal team chat within the lead card. Having such a clear insight into all of the previous events with the lead is a game-changer.
As a task is created for each inbound and outbound call, connecting to a specific sales rep, deal, and contact, the business owner or the head of the sales department will see the number of completed tasks directly in the CRM system. Thus, they can get a real picture of the effectiveness of each sales rep in particular and the sales department in general.
Tip #4: Stay notified about missed & new calls. 
If you had an incoming call, but for some reason, you had missed it, a task automatically will be created in the lead card, letting you know that you missed the call. If you have an incoming call from a new number, a lead will be automatically created. 
Additionally, Ringostat Insider provides you with detailed information on callers, including the total number of calls or top-five viewed pages or if the user has called the company in the past.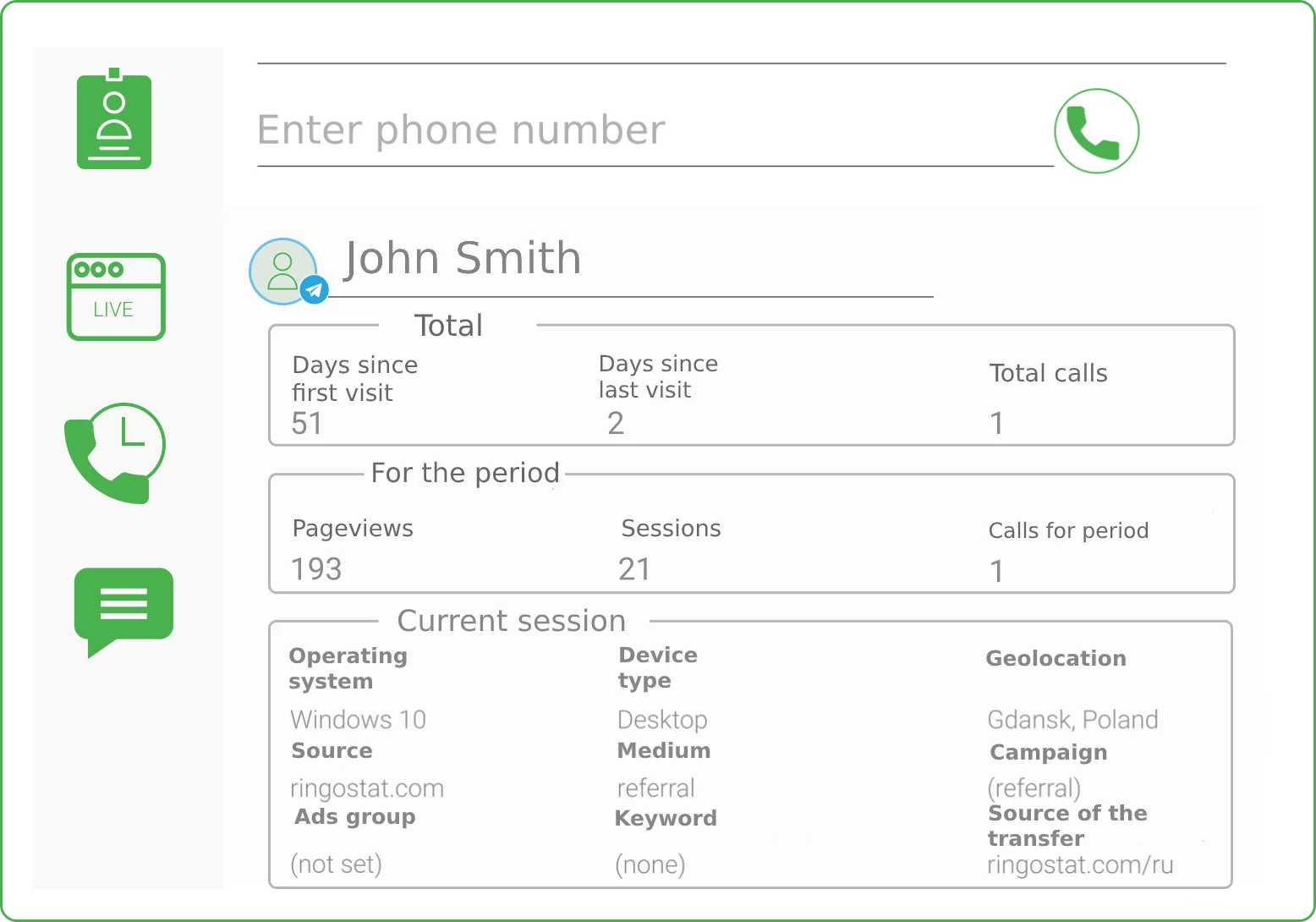 A cool little feature is that you'll always know who is calling you since the name is picked up from the CRM lead card when the customer calls you. So as soon as you pick up the phone, you'll be able to say: Hey Gary, nice to hear from you. How can I help you today?

Or, like Dale Carnegie, American writer and lecturer said: "Remember that a person's name is to that person, the sweetest and most important sound in any language." Addressing your customer by their name from the moment you pick up the phone will make them feel special and valued by your company.
Tip #5: Automate your phone calls
Another way to get more efficient and boost your sales while focusing on what matters more is by having automated control over your sales process. After you speak to your lead or customer, there is no need to manually move them to the next stage of your pipeline. You can set up an automation to make this step done for you.

Once the lead moves to another stage, you can set up many automatic actions, for example: 
create new tasks; 

subscribe to ad campaigns; 

send an email or chat message; 

add tags and more. 
All these things will make you feel as if you have a loyal robot assistant taking care of many manual tasks that used to take up your team's productivity. 
Tip #6: Track & manage your sales team's calls
With amoCRM + Ringostat integration, you can easily keep an eye on how your team is performing. You can view successfully completed inbound and outbound calls both for individual sales reps and for the department as a whole.

amoCRM features a call report section which will give you statistics such as:
the total duration of calls per user;

average call duration;

complete log with call dates, event description, and notes.
Example of the report provided by amoCRM
Example. How does it all come together?
Let's take a look at a real-life scenario and see how the Ringostat + amoCRM integration makes life easier for businesses.
Sarah and Dan are real estate agents. Achieving a sale in this industry is usually a long process that requires multiple meetings and communication with the customers. So Sarah has a call with a first-time customer. There is no lead card or data about him in the CRM. During the call, she promises to call back the next day and provide him with further information. After the call finishes, a lead card with contact is automatically created in the CRM, and a task for Sarah as well. If there were a card for the customer already, it would be updated with the call, and a task will be created.

After a while, the customer calls back with more questions. The call is automatically transferred to Sarah, as she is the responsible sales rep for this lead. Once the call finishes, it is logged in the card, and a task is created.

What if Sarah was showing another customer a new apartment and wasn't able to answer the call? In such a case, the call will be automatically redirected to Dan. The customer should always be provided all information and services on time, and amoCRM with Ringostat know this. Once the call is finished, a task is closed, stating that Dan had the call, and it is logged. A new task is created for Sarah. That way, she can see that her client has called, and Dan answered. She will be able to listen to the call or take a look at a note left.

The same scenario would apply if Sarah went on a vacation and asked Dan to help out and provide the promised information to the customer. Once Dan finishes the call, a task will be closed, and a new one opened for Sarah as she is still responsible for this customer.

What if both Sarah and Dan are unavailable? They are busy showing potential customers some apartments and were not able to respond to an inbound call. In this case, a lead card will be automatically created with a missed call log and a task with a deadline to call the customer. If Sarah's customer called, but nobody answered, a task with a deadline to call back will be created in the already existing lead card.

Outbound calls are logged as well. When an agent calls one of the clients for which there is already a lead card in amoCRM, a task will be closed, and the call will be saved in the lead card. This applies even when Dan calls one of Sarah's customers. She will be notified of this event as well.
Conclusion
You can communicate with customers where it's convenient for them without having to leave the interface of amoCRM and automate many aspects of your daily workflow. You will save time on manual tasks and improve the quality of calls and lead management.
The integration is great if you:
already use amoCRM and Ringostat, but separately;
use amoCRM only but want to receive phone calls data, automate the process of working with customers, and structure the process in lead – cards with contacts and tasks;
are already using Ringostat and are looking to automate and structure your sales and marketing processes with a CRM.
By following the tips mentioned above, you will be able to improve your customer support, get more productive, and boost sales.